"Coin Appraisal is the process of getting to know the actual value of your coin collection."
How are you supposed to have any idea what they're worth? Getting a coin appraisal can help you gauge the value of your coins. When you get a coin appraisal, you'll have a much clearer picture of what your collection is worth if you ever decide to sell it on the marketplace. The value of your coins can depend in part on three factors – age, rarity, and condition. Ready to learn more about the importance of an appraisal and how a coin shop can help you? Read on.
Why Coin Appraisal?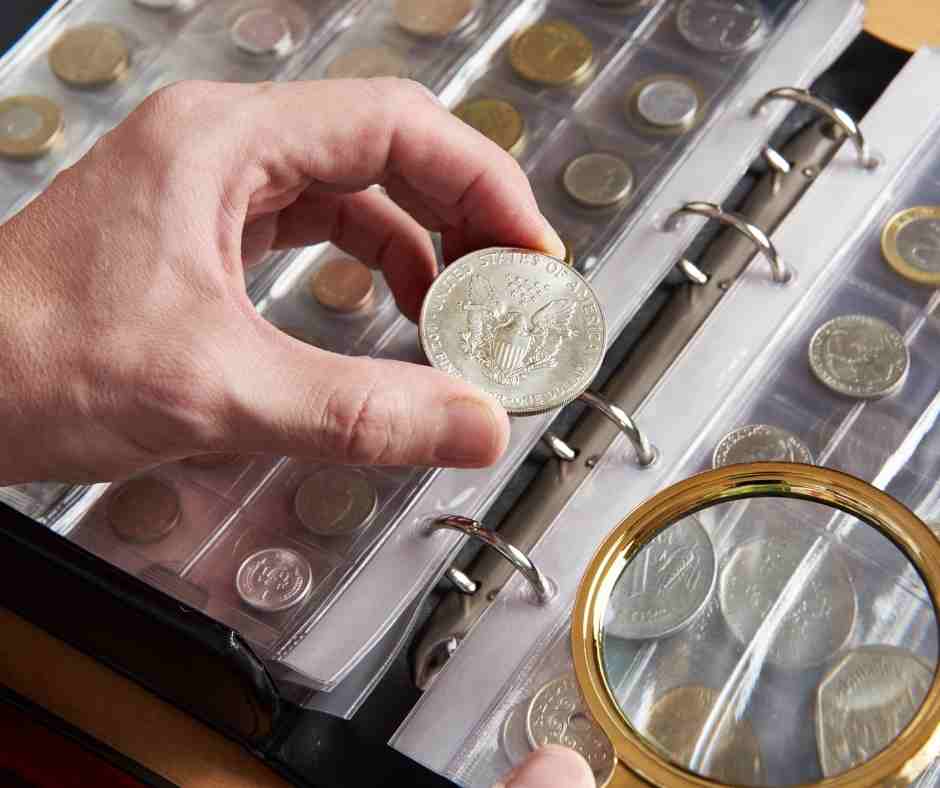 Why would you want a coin appraised? There could be many reasons. Some of these include:
Where To Get Rare Coins Appraised?
With that in mind, it's important to know where to get your coins appraised before deciding. There are many other places where you can get your rare coins appraised, including:
How To Find A Trusted Coin Appraiser?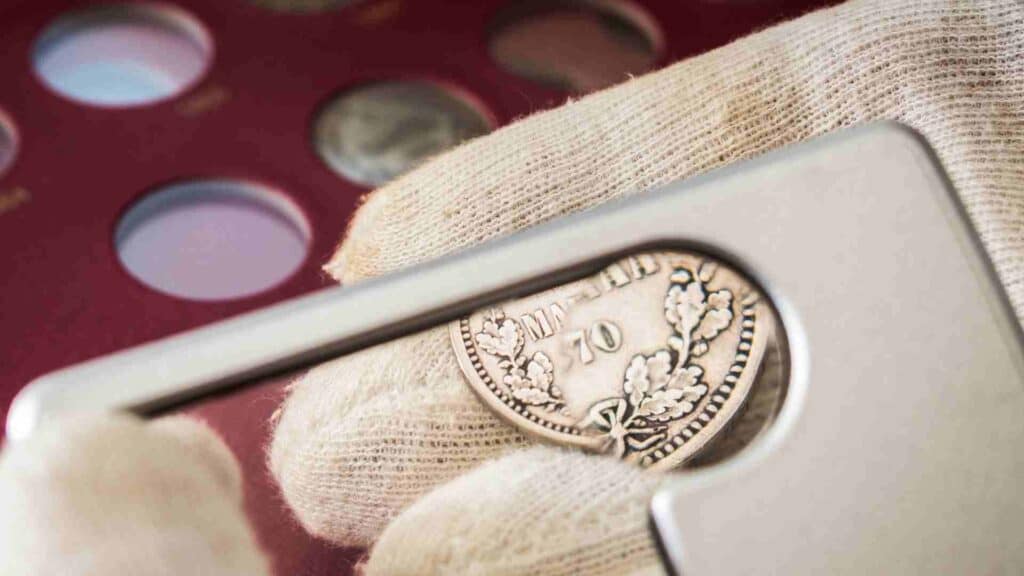 It's crucial to find a reseller or dealer you can trust. In addition, you want to find a trustworthy coin appraiser who is professionally trained and knows exactly what to look for when assessing the value of your coins. Here are a few things to consider when deciding who to take your valuable coins to: 
Check out customer reviews online. Then, ensure you take your coins to someone in your local community with a proven record of honest transactions.
A true numismatic expert can determine whether the coins your uncle left to you are worth anything. Of course, they shouldn't pressure you into selling them if you aren't ready, but they should be able to give you an official opinion of their value.
Find coin dealers who have good testimonials from other customers. These testimonials play a huge role in how trustworthy they are, giving you a much better representation of what you can expect.
Can I Get Coin Appraised Online?
Whether your coin is worth just a few bucks or potentially millions of dollars, you don't have to leave the comfort of your own home (or take off your pajamas) to get an official appraised value.  Getting an online appraisal is incredibly simple, and there are plenty of reputable places to do it.
In fact, many business owners specializing in coin appraisal maintain a website offering free services. For example, Heritage Auction provides a free service that allows you to submit photos of your coins and receive an online appraisal from the company's coin expert. You can also search the site for information about nearly any coin type imaginable.
How Can I Get My Coin Appraised For Free?
So, where can you get your coin appraised for free? Many reputable coin dealers will be able to tell you all about what specific coins are worth and how much they're currently selling on the market. 
However, plenty of online and in-print resources can provide a good starting point if you'd like to go it alone. It's also possible to find an expert who will look at your coin collection and make an appraisal based on the coins' age, rarity, and market value. You may have to pay a fee for this service; however, most experts will be happy to help you out without charging anything or giving away valuable information.
3 of The Best Places To Get Your Coin Appraised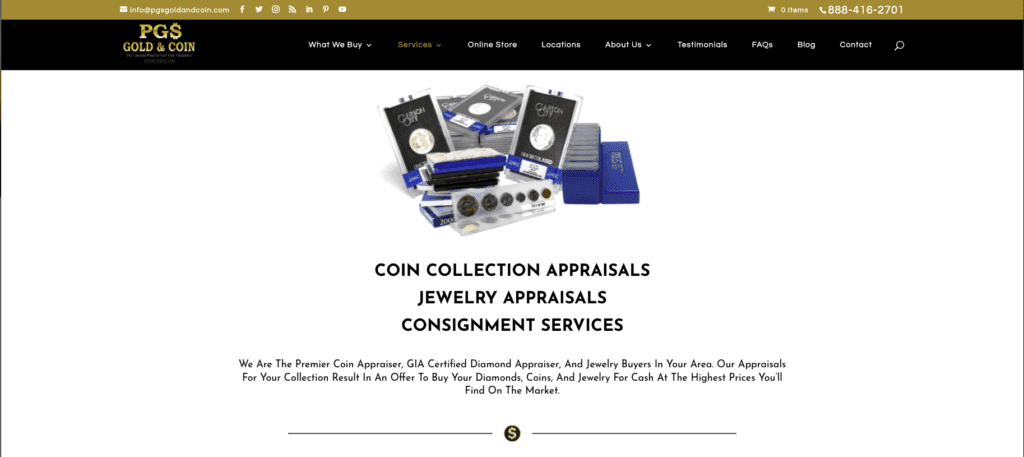 PGS Gold & Coin has a detailed appraisal process that helps users determine their collections' worth.
Endorsed by PCGS and NGC, this family business from Illinois focuses on gold and U.S.-minted coins. The company can appraise your coins in person or remotely and grade and evaluate them for legal, insurance, or personal purposes.
PGS offers two levels of appraisals: verbal and written. Their verbal appraisals cost $75 and are generally used for sales at conventions or to help determine the value of coins or collections to be consigned or auctioned. Their written appraisals cost $175 per hour (a minimum of $175). Two or more professional coin experts review them, making them ideal for estate valuations, legal proceedings, or insurance purposes.

If you're looking for top-notch coin appraisals, Heritage Auctions Coins is one of the best online auction sites. Their numismatic experts provide free appraisal services on auction items. 
Heritage Auctions has been the go-to place for coin collectors since 1976 and remains one of the most respected names in auctioneering today. At Heritage, you'll find all sorts of coins—from rare, old collector's pieces to state-of-the-art technology—and you're sure to be pleased by the company's easy-to-use, interactive bidding process.
For those looking to sell their coins or collections, Heritage offers two appraisal services: a free appraisal and a paid (professional) appraisal. Users can submit their collection details online and upload pictures of the former. Heritage also has a team of numismatic experts, many with ISA (International Society of Appraisers) and ASA (American Society of Appraisers) certifications. Professional appraisals require a fee and are valid for legal or insurance purposes. 
Heritage offers two appraisal services: a free appraisal and a paid (professional) appraisal. Users can submit their collection details online and upload pictures for the former. Heritage also has a team of numismatic experts, many with ISA (International Society of Appraisers) and ASA (American Society of Appraisers) certification. Professional appraisals require a fee and are valid for legal or insurance purposes. 
You can now value your coins and sell them in one place rather than at a series of coin shows or other methods. Heritage serves as an auction house and provides appraisals as well. It's the simplest way to sell, buy, and trade rare coins.

One of the benefits of getting your coin appraised by GreatCollections is that they will help you organize your coin with a pre-build spreadsheet. In addition, you get free online appraisals from GreatCollections. 
The online auction house Great Collections, founded in 2010 by Ian Russell, has listed and sold over $235 million worth of rare coins. The company's current inventory includes U. S. coins and collections worldwide.
Your collection is in good hands when it's with The Great Collections staff, who are certified numismatists and experts. They'll help you sort through what's valuable, what to keep, and how to appraise it. You can even see the history of their past auction sales on their website and get an idea of what your collection might be worth.
GreatCollections offers free appraisals and flexible listings for those looking to sell a coin collection. In addition, clients can submit their coin details online and organize their collection using the Great Collections free excel spreadsheet.
Coin Appraisal App
With the vast array of coin appraisal apps available to download on your smartphone, you can quickly get a ballpark estimate of the value of your coins. For example, the PCGS CoinFacts Coin Collecting app. The app offers the world's most comprehensive coin encyclopedia and includes coin values, images, narratives, auction prices, and more for over 39,000 U.S. coins.
The process is simple: send your coin(s) pictured, and you will get the coin's estimated value. 
Frequently Asked Questions
I have an inherited collection. How much is it worth?

It might be valuable if it's in good condition and there aren't many circulating. The critical factor here is rareness. A rare coin is usually minted in small numbers, or its production could have been cut short by an error in manufacturing. The more specific you can be about the exact nature of your coin, the easier it will be for a professional to appraise its value.

Can Coin From Other Countries Be Worth Money?

This is a great question! And yes, foreign currency also holds high value. So if you happen upon some old rupees or shillings made of gold or silver, they could be worth something!

Should I Get My Coin Graded?

If you hope to sell your coin, grading is a good idea. You can charge more for one that has been graded and certified. (This also works for collectors—it's easier to trust coins that have been certified.) 
In addition, grading is a great way to ensure that the worth of your coin will not crumble over time; it adds value and an extra layer of security against counterfeits. On the other hand, if you don't plan to sell the coin, it may be better to leave it as-is.

How Much Does It Cost to Get a Coin Collection Appraised?

When appraising your collection, the costs will depend on its size and the number of coins. For example, if your collection includes a single coin worth $20,000, you might pay $100, while a collection with 20 coins worth $1,000 each would cost around $2,000.
The numbers can be much higher for very large collections. Sometimes, an auction house may charge you a flat fee just to come out and look at your collection. It's also common for them to charge by the hour, which can easily add up to thousands of dollars!
There are several ways to go about getting a coin appraised. Ultimately, how much something costs will depend on your unique situation and who you choose to hire. You're better off making an informed decision.
Before you go…
Hopefully, this article has given you enough information to do just that! Now you know what coin appraisal is for, why it's essential, and where to go for help with your coin appraisal. All that remains is for you to get out there and make money!
Check out my next article: "
Check out my next article: "How To Organize Coin Collection For Appraisal?"
Related Articles: