Gold coins are one of the oldest forms of currency in the world. They have been used for centuries and are an essential part of our economy today.
Gold coins are sought after not only because they're beautiful but also because they're more stable than fiat currencies like the dollar or euro.
In this article, we'll go over 13 great gold coins you can add to your collection!
Gold Coins to Collect:
American Gold Eagle 1 oz.
The American Gold Eagle 1 oz. It is the most popular gold coin in the world, and it's been minted by the United States Mint since 1986.
It features a face value of $50, but its actual worth is much higher—currently around $1,335 at press time (an increase of 2% since last year).
It's made up of 22 karat gold—in other words, 91.67% pure 24k gold with a fineness level of .9167—and weighs one troy ounce (31.1 grams).
The design on both sides changes yearly; coins from 1986 to 1991 feature an eagle with wings spread out over a field, while later editions show an eagle landing on rocks with "Liberty" inscribed on their surface above them.
Canadian Maple Leaf 1 oz.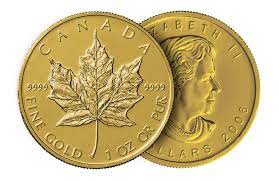 The Canadian Maple Leaf is the official gold coin of Canada. The Royal Canadian Mint has been producing it since 1979 when the first one was struck for Queen Elizabeth II's visit to Canada.
The Canadian Maple Leaf comprises 99.99% pure gold and has a face value of $50 (so it's not technically legal tender).
It comes in four different sizes: 1 oz., ½ oz., ¼ oz., and 1/10th oz.
British Sovereigns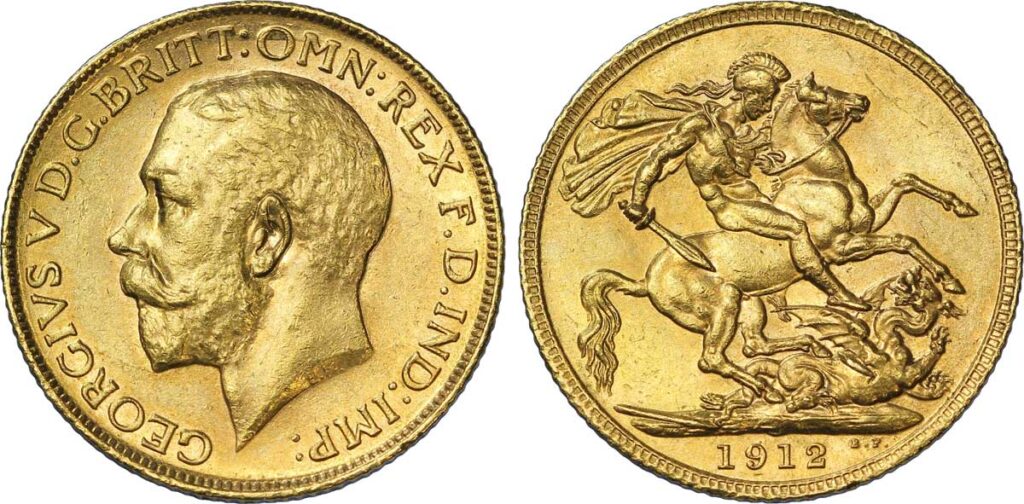 British sovereigns are a great choice for anyone looking to invest in gold coins, as they are one of the most popular and well-known coins available.
Sovereigns have been produced by the Royal Mint since 1817 and were used for over 100 years until being replaced by decimal currency in 1971.
Sovereign coins can be purchased from various mints worldwide, including the United States, Canada, Australia, and South Africa.
However, British sovereigns tend to be more sought after due to their higher purity content than other coins on offer, as well as having lower premiums over spot price compared with similar coins from other countries such as Australia or New Zealand, which can cost up to 15% more than their British counterparts!
South African Gold Krugerrand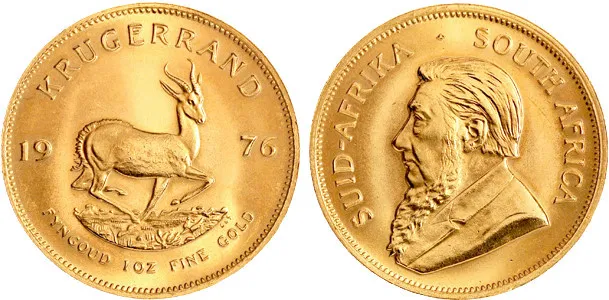 The South African Gold Krugerrand (1 oz) is a gold bullion coin introduced in 1967.
The Krugerrand was the first modern gold bullion coin and remained one of the most popular.
It's also one of the most recognizable coins in the world, thanks to its distinctive design and popularity among collectors.
These coins are named after Paul Krugerrands (1825-1904), President of Transvaal and Prime Minister of South Africa from 1883 until 1900—well before these coins were minted!
Chinese Gold Panda 1 oz.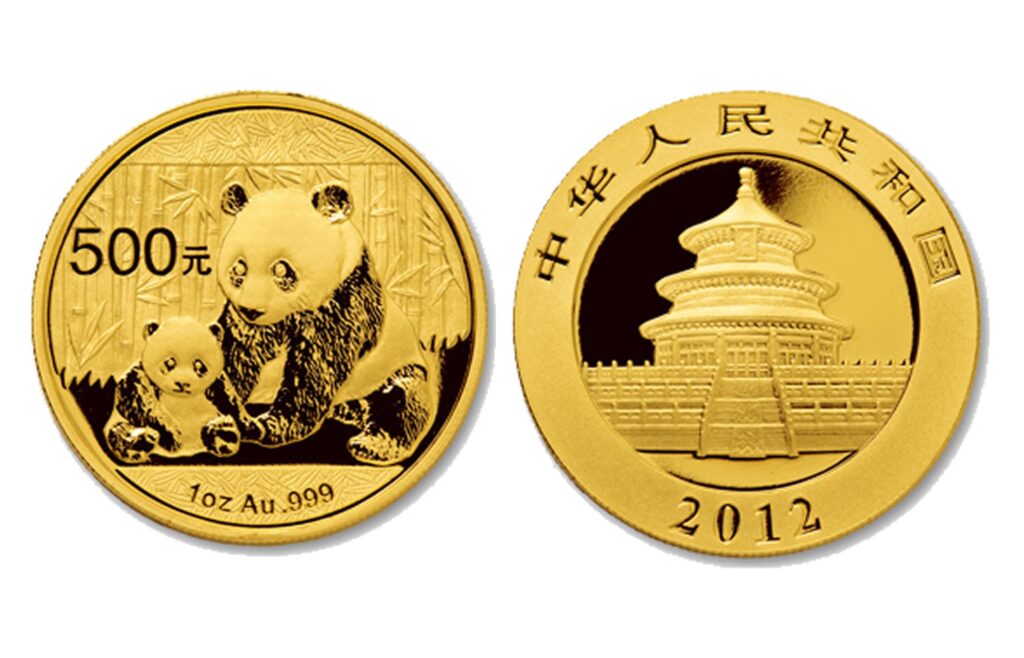 The People's Republic of China issued the Chinese Gold Panda in 1982.
It is now the official gold bullion coin of the country and has a face value of 100 yuan.
The coin has been issued almost every year since its inception—except in 1988 and 1999—and there are many different versions with varying designs.
The panda design changes yearly, with different pandas featured on each side of the coin.
The weight and purity also vary from year to year as well—you can find 1-ounce coins ranging from 31 grams up to 120 grams!
French Rooster Gold Coin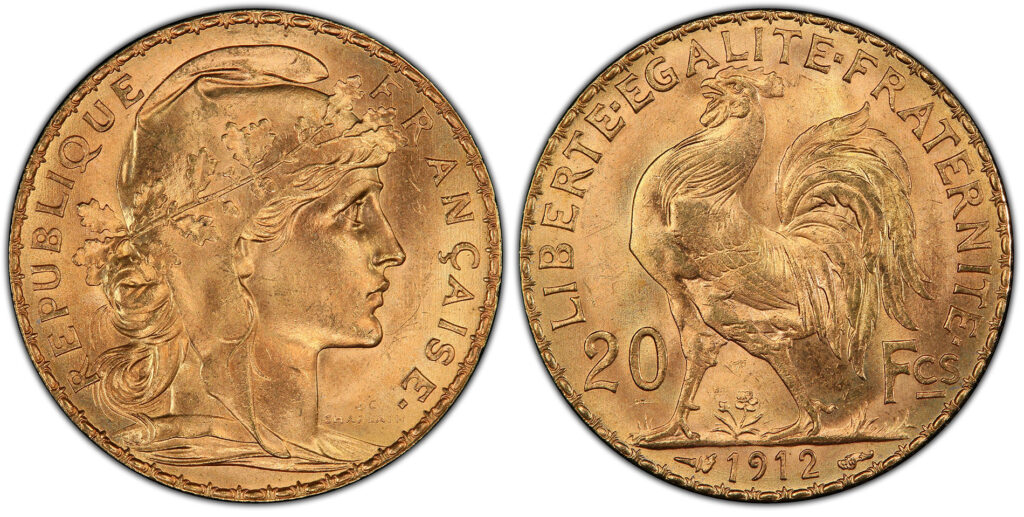 The French Rooster Gold Coin is a collectible gold coin minted by the Royal Canadian Mint.
The coin features a rooster standing on top of a stylized map of France, surrounded by three fleurs-de-lis.
There are three French Rooster Gold Coin versions: one kilogram, one ounce, and one-tenth ounce.
Each version has a different price point based on its size, but all three coins have been minted in limited numbers and are difficult to come by in circulation today.
Austrian Philharmonic Gold Coin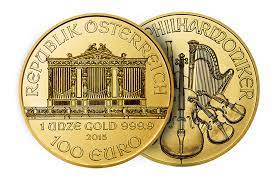 The Austrian Philharmonic Gold Coin is a classic piece of gold bullion.
The coin is available in various sizes, from 1/20th of an ounce to 5 ounces, and is minted by the Austrian Mint, which is based in Vienna.
This beautiful coin was first minted in 1989 and has been popular.
It's made from .9999 fine gold (99.99% pure) with a diameter of 30 mm and weighs 6 grams with a face value of €1.
American Gold Buffalo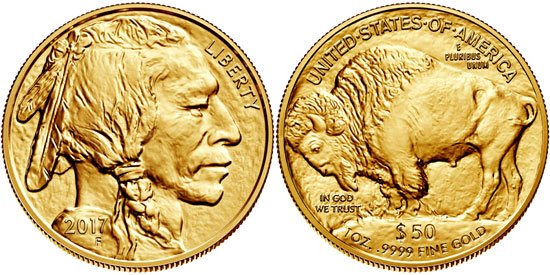 The American Gold Buffalo is one of the most popular gold coins today.
First issued by the U.S. Mint in 2006, it's a 24-karat coin (the highest purity for precious metals) inspired by James Earle Fraser's design for an Indian Head nickel from 1913—the year after his death.
The obverse features a profile of a Native American woman surrounded by 13 stars to represent the original colonies and inscriptions "Liberty" and "In God We Trust."
The reverse depicts an image of an American buffalo (also known as bison), which was selected as a symbol to honor America's western expansionist pioneers who relied upon them as a food source before migrating westward across North America during the 19th century.
United States Saint-Gaudens Double Eagle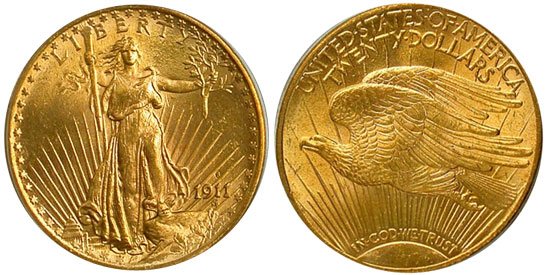 The United States Saint-Gaudens Double Eagle was designed by Augustus Saint-Gaudens and minted from 1907 to 1933.
It is a 22-karat gold coin with 90% gold content that commemorates the 100th anniversary of the birth of President Theodore Roosevelt.
The coin has been valued at $10 since 1933, when it was officially demonetized due to its high value and lack of widespread use in commerce.
Many collectors have been drawn to this particular coin because it's one of only three U.S. coins with an obverse design created by someone other than a president or vice president (liberty bells were featured on two others).
U.K. Britannia 1oz Gold Coin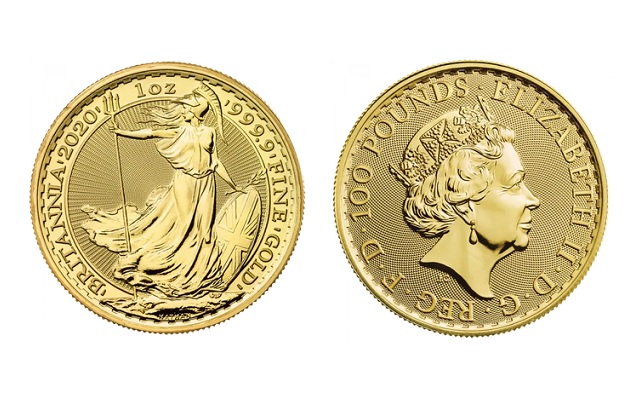 The U.K. Britannia 1oz Gold Coin is one of the most beautiful pieces in the Royal Mint's extensive collection.
It's a highly sought-after coin and has become a symbol of British heritage.
The reverse features a depiction of Britannia, the female personification of Britain who first appeared on coins from 1672 to 1692.
Queen Elizabeth II revived the image in 1987 as part of her Golden Jubilee celebrations (in other words, it's been around for over 300 years).
Britannia holds Poseidon's trident, which can be assumed to be thrown in anger or defiance at any foreign powers that threatened Britain's sovereignty throughout its history.
U.K. Maid Marian 1oz Gold Coin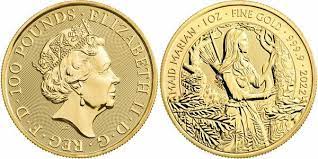 Maid Marian is one of the most famous women in British history, portrayed in countless films and T.V. shows.
Her story was also once told by author Howard Pyle in his book The Merry Adventures of Robin Hood, which inspired many famous versions of the story, including Disney's 1973 animated film Robin Hood.
Australian Gold Nugget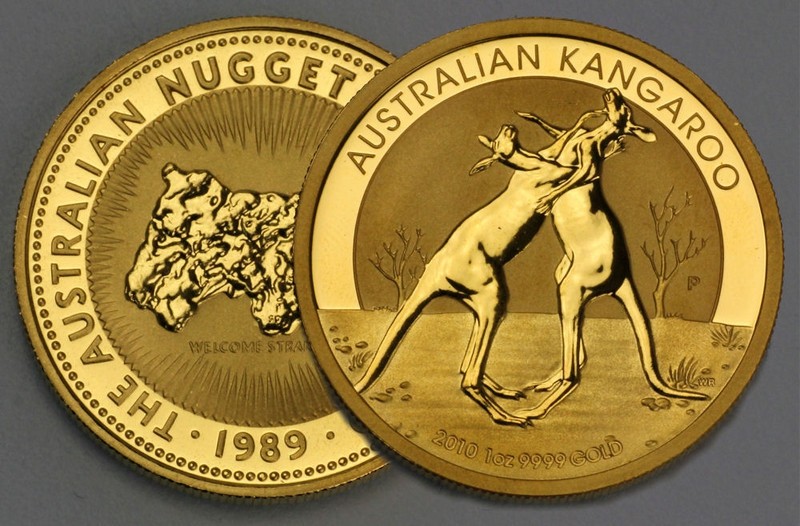 The Australian Gold Nugget is the first coin the Royal Australian Mint issued.
It was made available to collectors in 1987 and has been minted annually since then.
The coin has a face value of AUD 100, but it's worth much more than that due to its gold content: 99.99% pure, which means it contains one troy ounce of actual gold metal.
In addition, the 31mm diameter and 2mm thickness make it easy to handle—even for those with less-than-capable fingers.
1796 Turban Head Gold Quarter Eagle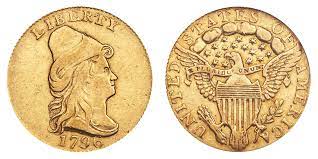 If you're into collecting coins, you should know that some great gold coins are for sale.
There are also different ways to collect them: from buying them off the internet to finding them at yard sales or flea markets, even by searching in your backyard! But what makes these particular coins so special?
They were minted between 1838 and 1908 during America's first "gold rush."
They're easy enough to spot because they have an image of Lady Liberty on one side holding a torch in her right hand while she holds an olive branch in her left hand.
The other side shows an eagle with wings spread out as if flying above a mountain range (as well as 13 stars representing states).
Before you go…
As you can see, gold coins are a great investment that has stood the test of time. They have proven themselves as an asset class that will always have value and provides a return on your investment. They are also very attractive to collectors because they offer unique designs and historical significance. So if you're looking for new investments or want something beautiful to add to your collection, these examples will help inspire you!
Check out my next article: "The Best Gold Coins To Collect"
Related Articles: