The Philippines has a rich, storied history that dates back to pre-colonial times.
That history is reflected in some of the country's most rare and beautiful coins ever minted.
Let's take a look at 10 of these rarest Philippine coins!
Rarest Philippine Coins:
8-Escudos Coins
1799 0.875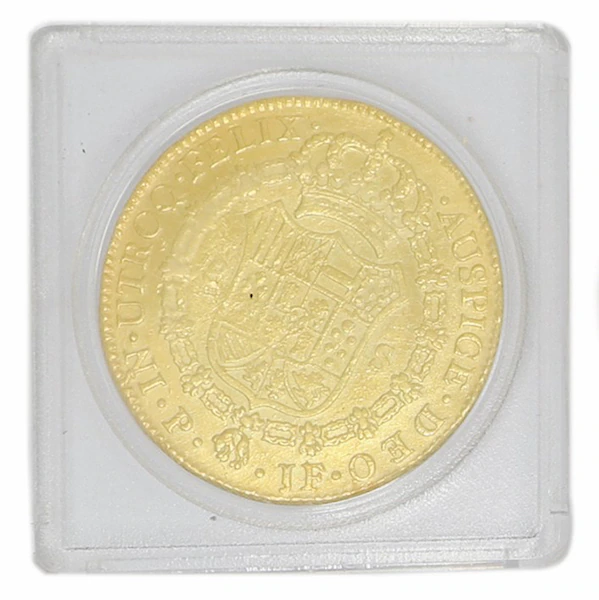 The first on our list is a three-piece! This stunning gold coin was struck in the Casa de Moneda in Popayán, Colombia.
The agreement was signed in 1799 when the Philippines was a Spanish colony. On one side is a portrait of King Charles IV of Spain.
The words "In utroq felix auspice duo" are written in Latin on the back. Happiness while being directly under God's watchful eye.
This coin is over 300 years old and struck from 27 grams of fine gold, so it must be quite valuable.
Despite its rarity and high value, the price is surprisingly low in terms of modern US-Philippine pesos.
In 2021, León Gallery of the Philippines put it up for auction online.
It was included in a group of three 8 escudo coins. Let's examine each separately before we reveal the final sale price.
1809 0.875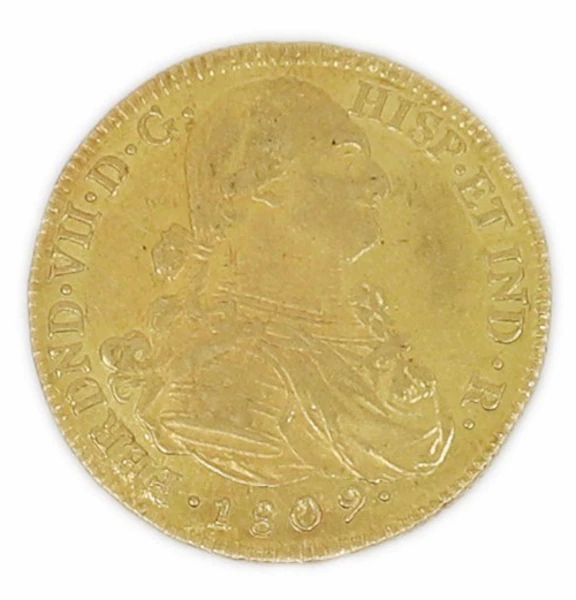 The second piece was also an 8 escudo piece, but it was from 1809. It, too, featured a portrait of Charles IV alongside Ferdinand VII's name.
Another coin made of gold, this time 21-carat pure (875 parts per thousand) gold. 'Another coin made of gold, this time 21-carat pure (875 parts per thousand) gold.
It was also 27 grams in weight, the same as the original 8 Escudo coin. Popayán, Colombia, mints many coins, and this one was no exception.
1818 0.875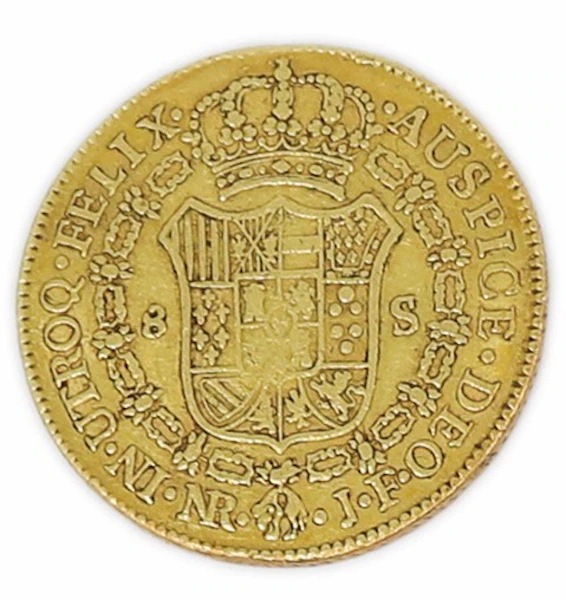 There was also a later 8-escudo coin in the León Gallery lot, making three coins.
This one was struck in Bogotá, Colombia, another Colombian city, in 1818. It, too, is crafted from 21-karat gold, just like the other two items in the set.
As for size and weight, it was comparable to the other two coins in the set.
The portrait of Charles IV appears once more on one side.
By the time it was struck, his successor, Ferdinand VII, had been monarch for five years.
Still, he had to settle for the fact that the coin bore only his name.
When the three coins went under the hammer, how much did they fetch?
The total price for the three was 619,040 Philippine pesos.
About $11,000 is the equivalent of that amount.
These stunning gold coins are a steal when converted to US-Philippine pesos.
1868 0.875 Fine Gold 4-Peso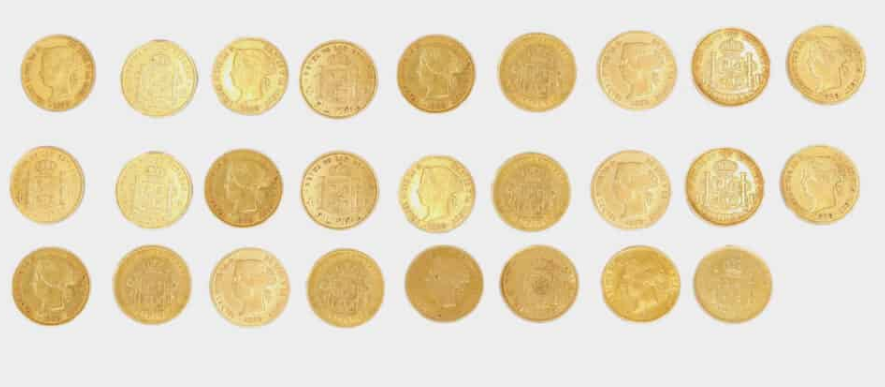 The León Gallery auctioned off another group of 26 coins on the same day, 2021. The total weight of each coin was 6.8 grams, and it was made of 21-karat gold.
The total weight after that was 176.8 grams. They were known as Isabelinas and had a face value of 4 pesos.
The Spanish queen who appears on them, Isabel II, is the inspiration for the name.
An inscription next to Isabel's portrait reads, "Isabel 2a. Por la g. de dios y la const." Isabel II, to God and the Constitution, in glorious Latin.
The Casa de Moneda de Manila struck the coins in 1868. The mint opened in 1861 and for two reasons, the coins it produced are significant in history.
This marked the first time official Philippine coins were produced within the country's borders.
It was also the first time the name "Filipinas" appeared on the face of a currency note from the country.
The winning bidder paid a steal of a price of only 1,109,600 Philippine pesos for the entire package.
About $19,500 can be bought with that amount.
US-Philippines 1904-S Peso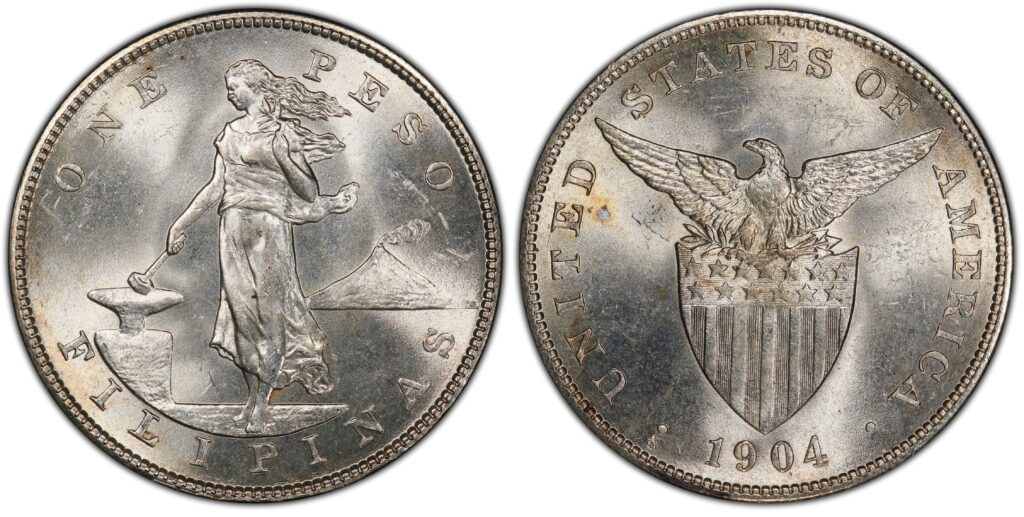 Another common coin that is now hard to find is the San Francisco-minted peso from 1904.
Furthermore, locating a coin in flawless condition is next to impossible.
Only two specimens have been graded by the PCGS at this or a higher level. The grading on the other coin is MS65+.
However, it lacks the appealing blue, gold, and red toning on this coin.
Another coin from the United States has been graded MS65 by the Numismatic Guaranty Company, the other major independent coin grading agency in the country.
However, the vibrant toning is missing once more. This is a highly desirable model because of this.
In January of 2022, it was put up for auction by Heritage Auctions, where it fetched a final price of $31,200 (plus a ten percent premium paid by the buyer).
US-Philippines 1912-S Peso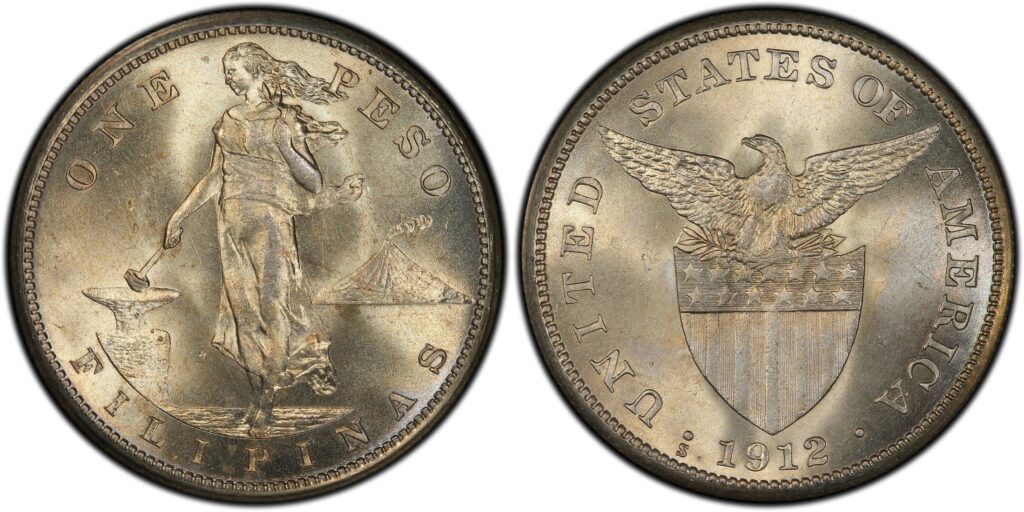 The peso's size had been reduced, which didn't make it more appealing as currency.
Therefore, it was put on hiatus after the 1912 issue and wouldn't return until 1936. Rarely seen in such mint conditions, this 1912 example was struck at the San Francisco Mint.
Only two coins graded a perfect 64 are thought to exist. Only four people on Earth could be considered finer examples.
In 2016, Heritage Auctions, a specialized auction house, put this one up for sale. The final price, including the buyer's premium, was under $40,000.
US-Philippines 1905-S Peso Allen-16.06 Straight Serif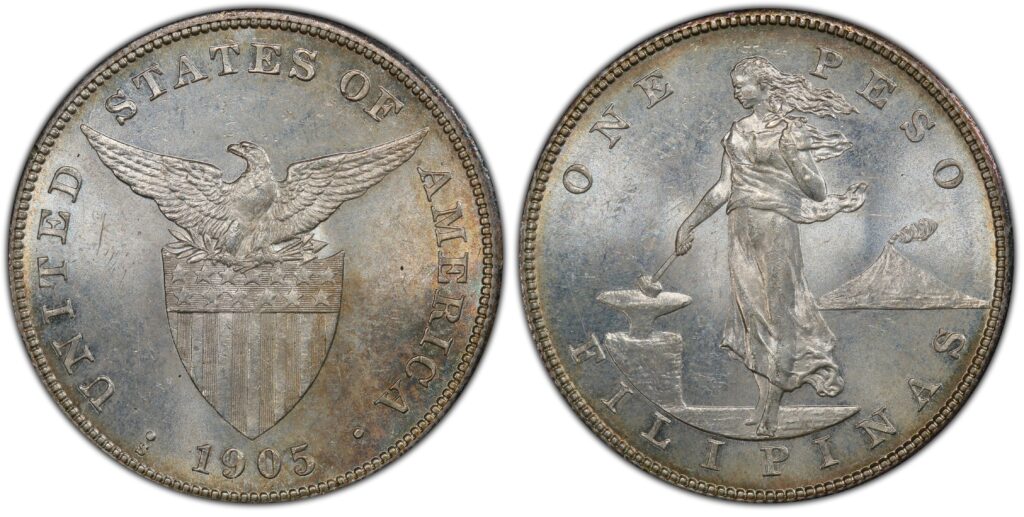 It's fun to see how this coin stacks up against the MS64 curved serif peso in terms of the sale price.
Another 1905 peso, but this one is rare because it has a straight serif rather than curved on the "1" in the year.
However, it is not quite as pristine of shape, receiving a lower PCGS grade of mint state 63.
What factors more heavily into the price collectors are willing to pay, the quality of the coin or the rarity of the type?
The grading a coin has received is one indicator of its quality. Its relative quality is, however, another factor to consider.
To rephrase, the "best" coin in a given category will command a higher price from collectors.
Only four coins have ever been graded by PCGS as MS63. It's not the best of the straight-serif examples, either. Another MS64 exists, but it has never been for sale.
In contrast, the MS64 curved serif coin was one of only two of its kind to be certified as the highest quality available.
This one went for $43,200 in April 2020, when it went up for auction.
Okay, I guess. Despite being of the rarer variety, it sold for significantly less than the MS64 curved serif specimen, which commanded a price of $60,000.
US-Philippine 1906-S Peso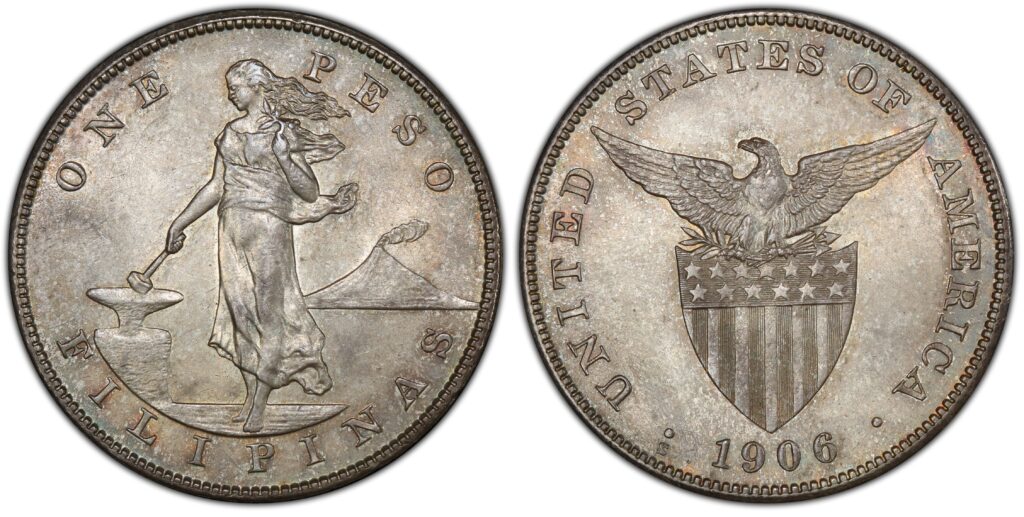 More than 200,000 of these 1906 pesos were minted at the start.
Most, however, stayed in the American Treasury until they were melted down for the same reason that the same amount of silver was used to make both the silver peso and the American silver coin commonly known as the Morgan.
And that was even though the Morgan was worth twice as much.
In 1907, a shift was made to reduce costs associated with making the peso. It shrank, and the silver quality dropped from 900 to 800 parts per thousand.
The old pesos stored in the Treasury were melted down to produce the new ones. This means that 1906 pesos are now exceedingly hard to find.
The PCGS gave this specimen an AU58 grade, indicating that the coin is in good condition for circulation. There are only eight such coins in existence.
Heritage Auctions, a specialized coin auction house, sold it in 2020 for $43,200 (plus a buyer's premium of $1,200).
US-Philippines 1905-S Peso Allen-16.06 Curved Serif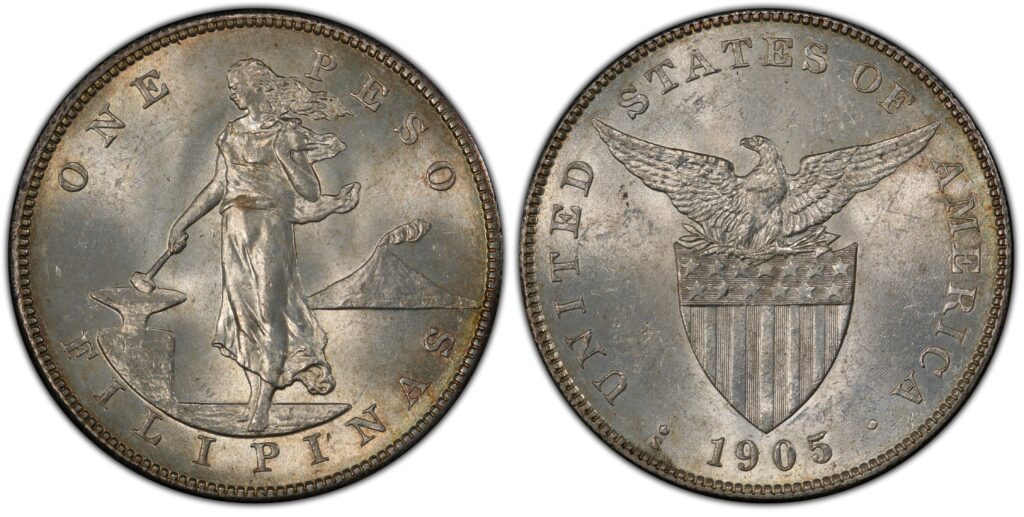 Two varieties of the US-Philippine peso were struck in San Francisco in 1905.
The difference lies in the date's presence or absence of a "1". The Allen-16.06a is a rarer subtype with squared-off feet and a vertically-aligned crown.
The curved feet on this coin are characteristic of the Allen-16.06 type. All 1905 pesos are as scarce as the 1906 version.
After the Japanese invasion, just having US-Philippine currency on their person was enough to label a Filipino as a possible member of the resistance movement.
A death sentence, indeed. So many people hid their wealth because of this.
Even if the coins were eventually recovered, the damage they sustained was permanent.
Another factor against Philippine coins was the country's hot and humid climate. The silver corroded, and the coins became worthless.
So, even with the curved serif "1," an MS64 example of this coin is extremely hard to come by.
The successful bidder at the auction held in January 2022 paid a total of $60,000 (including the buyer's premium) to take possession of the property.
U.S. Philippines 1918-S Allen-4.08b Mule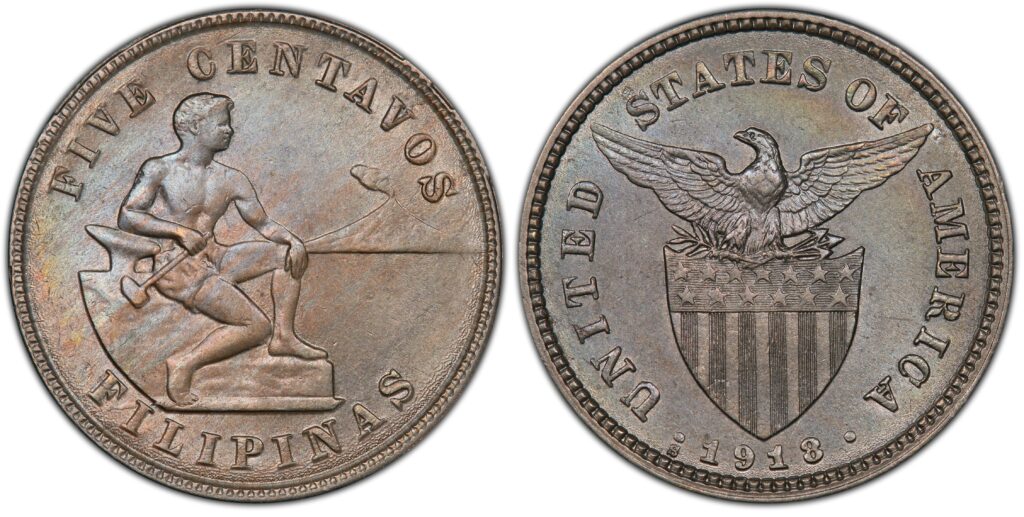 The San Francisco Mint produced this coin once again. It was created in 1918, making it a vintage masterpiece.
Although not proof, this coin has an excellent strike and has been graded a perfect 64.
The fact that it is a mule makes it even more desirable to collectors. That's right; it features a combination of designs you won't find on most coins.
The reverse features the same design as the 5-centavo coin, while the obverse features the same design as the 20-centavo coin.
These types of mistakes rarely occur. This means it has significant collectible value as a coin.
It was in pristine condition as well. The obverse features a portrait of a seated man. The foreground leg is more likely to rub because it is elevated above the coin's background.
However, in this case, there is hardly any trace left behind. When it went up for auction in April 2014, there was intense competition among potential buyers.
The final price, including the buyer's premium, was $41,125, paid by the highest bidder.
US-Philippines 1907-S Peso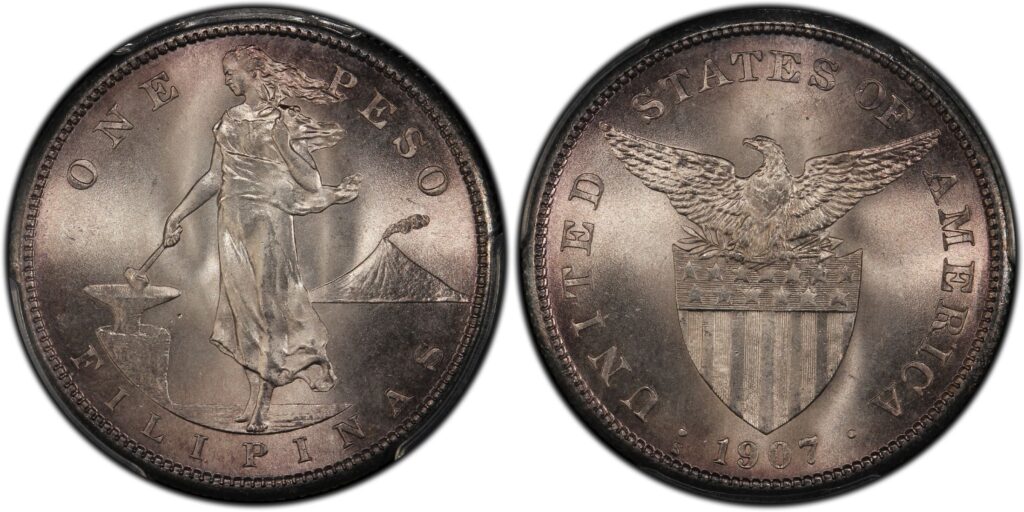 Proofs may be the best of the best in commanding high prices.
However, mint state coins are also highly sought after by collectors because they were struck for use but never put into circulation.
The Professional Coin Grading Service (PCGS) gave this specimen of the 1907 bi-national peso a grade of MS66.
Condition: Mint, as indicated by the MS designation. The 66 indicates that the coin was struck well and is in good condition.
In this context, "gem quality" refers to a score of 65 or higher. If a coin receives a PCGS grade of 66, it is struck to a high standard.
Marks and hairlines are minimal and located in inconspicuous spots.
1907 the San Francisco mint produced at least 10 million US-Philippine pesos.
However, high-quality mint-state coins are incredibly hard to come by. Only one MS66 and three MS66+ grades exist.
One MS67, as well. In 2019, an auction brought in $15,600 for this MS66 specimen.
US-Philippines 1907 Proof Peso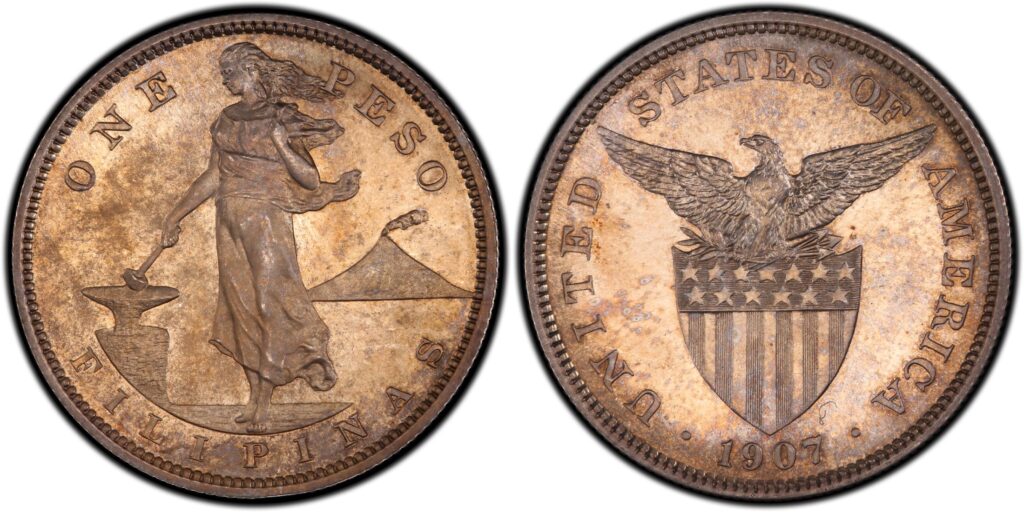 Collectors will pay top dollar for this proof coin because it is unique.
Proof coins are commemorative versions of regular coins never issued for general use.
They have been struck for collectors in large numbers in recent years. However, creating proof is a costly and time-consuming process.
Therefore, much fewer of them were produced in 1907, and their primary function was to be preserved in monetary archives.
One of a series of bi-national coins struck between 1903 and 1908, this proof coin was struck in the United States.
The coins featured the Philippines on one side and the United States of America on the other.
The series had stunning design details, including Lady Liberty and an eagle on a shield.
Proofs are extremely rare to find today. There have been only two since 1907.
Each one is one of a kind because it was struck on a planchet of different diameters and fineness.
The larger of the two is currently on display in the Museum of Money in Manila.
In 2018, the private buyer paid under $1 million for this property.
Before you go…
And there you have it, the ten rarest Philippine coins! I hope you enjoyed this article, and if you have any suggestions or concerns, please leave them in the comment section! Happy Collecting!
Check out my next article: "7 of the Coolest Rare Coins in the World!"
Related Articles: