If you're a collector of American coins, you've probably heard of the 1964 SMS Kennedy Half Dollar.
This coin has become more than just a commemorative piece of history. It has become one of the most valuable coins in modern-day America.
If you have ever wanted to own your own SMS Kennedy Half Dollar then now is your chance!
What is a 1964 SMS Kennedy Half Dollar?

A 1964 SMS Kennedy Half Dollar is a valuable coin, as it is the last coin to be struck in 90% silver.
It was also the first year of the Kennedy Half Dollar Series. The SMS stands for "Special Mint Set," which refers to coins explicitly made for collectors and not intended for circulation.
For example, the 1964 SMS silver half dollar was sold only through subscription by mail or at selected banks and post offices around America.
Short History About the 1964 SMS Kennedy Half Dollar
The 1964 SMS Kennedy Half Dollar was minted by the U.S. Mint and was designed by Gilroy Roberts. It is composed of 90% silver and 10% copper.
The obverse side of the coin features President John F. Kennedy's likeness.
In contrast, the reverse side depicts a heraldic eagle holding arrows and a branch of olive leaves with a full circle of stars around it.
The coin was minted in Philadelphia in 1964 with a mintage of 3,950,762!
Is the 1964 SMS Kennedy Half Dollar Valuable?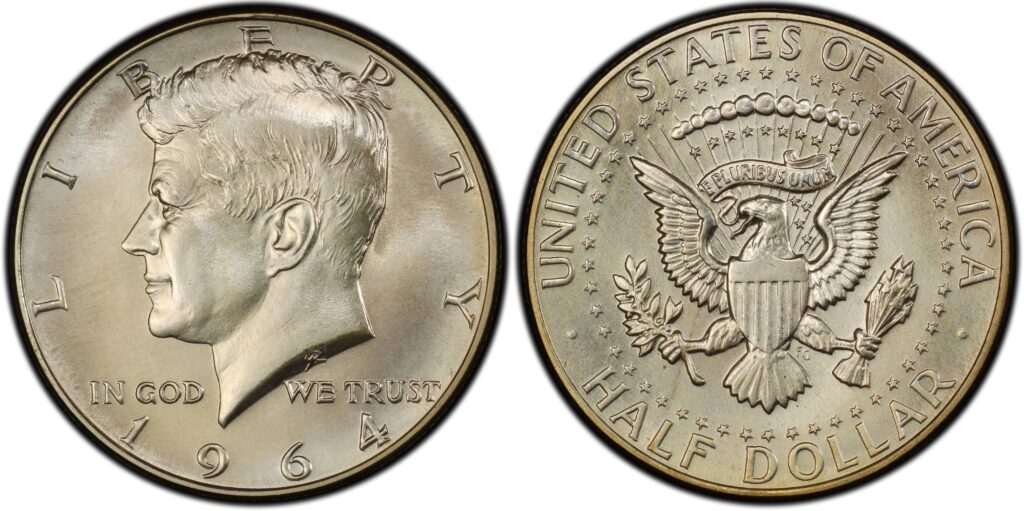 The 1964 SMS Kennedy Half Dollar is a coin that has a highly high-value range, but it's in a different league than some of the other more valuable coins on the market.
The value of a 1964 SMS Kennedy Half Dollar can range from up to $150,000 depending on several factors, including condition and mintage numbers.
The most common date in this series is 50 cents or larger, meaning many people already have them in their collections.
These limits demand these coins and drive down their value significantly compared to the other half dollars produced during this period.
However, if you encounter one of these rare coins that have yet to be circulated much, you may be sitting on a small fortune!
One of the rarest 1964 SMS Kennedy half dollar was sold for $156,000 in 2019 with a grade of SP-68.
Is it Worth it to Collect the 1964 SMS Kennedy Half Dollar?
If you're interested in collecting the 1964 SMS Kennedy Half Dollar, it's worth your time.
The coin is a good investment and collectible, as it's an attractive design with historical significance.
It can also be an excellent gift for someone who wants to start their collection or is interested in American history.
No matter why you want to add this coin to your collection, it's essential to understand how rare they are before making any investments.
The rarity of these coins makes them a valuable asset for collectors and investors alike—but only if you know how rare they are!
Where Can I Buy a 1964 SMS Kennedy Half Dollar

It's important to buy from a reputable dealer. You want to ensure you buy an authentic coin, not just a reproduction.
Some of the things to look for in a reputable dealer are:
Reputation — Do they have a good reputation? Are there any complaints about them online?
Return policy — Is it easy to return something if it's not what you expected?
Grading — What kind of grading do they use? Does it sound reasonable?
Tips for Buying 1964 SMS Kennedy Half Dollar
If you're buying a coin, make sure it's from a reputable seller. It's easy to get scammed on eBay or Craigslist and end up with an imitation.
If you buy from an online seller, have them send you photos of both sides of the coin so you can verify its authenticity before paying for it.
Also, check out their feedback rating and reviews from previous customers to get an idea of how trustworthy they are in terms of customer service, shipping times, and quality control measures.
Before you go…
Well, that's all for now. If there is one thing we want you to take away from this article, the 1964 SMS Kennedy Half Dollar is an interesting piece of history and a great addition to any coin collection. With its unique design and low price point, it's worth buying at least one if you can find it!
Check out my next article: "1967 SMS Quarter – Do You Need This in Your Collection?"
Related Articles: