Hello there, fellow collectors! I have purchased a Dansco US Dollar Coin Album, a handy storage solution for your coins.
I made this review to look at the Dansco US Dollar Coin Album, what it does, and how it works.
We'll also discuss where you can buy one and whether it's worth buying one. So let's dive right in!
What is a Dansco US Dollar Coin Album?
A Dansco US Dollar Coin Album is a type of coin album designed to hold the United States one-dollar coins.
The name of this type of album can be a little confusing because it's also called a "Dansco Supreme" album.
This type of album is used by collectors who want to keep their coins organized and protected for long periods.
They can be purchased at most coin shops or online dealers like Amazon or eBay.
An Overview of the Dansco US Dollar Coin Album
The Dansco coin albums are made of high-quality materials. As a result, they are durable, long-lasting, and easy to use. In addition, they come with good instructions for inserting coins in their slots.
The Dansco coin albums come in a variety of sizes. There are also different coverings, such as leather or vinyl (plastic), which you can choose depending on your preference.
The Dansco coin albums have an affordable price tag, and you can get these folders for any denomination of coins you collect or hobby you pursue.
Dansco Early Dollars Coin Album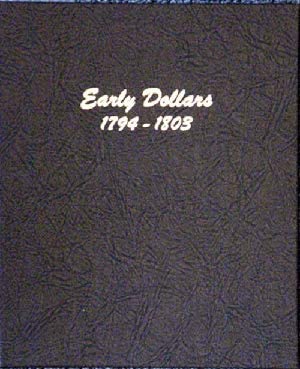 This album has two pages and contains US dollar coins from 1794 to 1803.
Dansco albums have two gold-stamped posts to keep the pages inside the brown leatherette binder.
In addition, each page contains clear plastic slides, which provide secure storage and enable the more accessible display of both sides of the coins.
The description on every coin is imprinted on the sheet beneath the slot for the coin. This Dansco Supreme coin album showcases Early Dollars minted from 1794 to 1803.
The Dansco model number for this album is 6170. It is compatible with a 5/8-inch slipcover which is sold separately.
When I first saw this album, I was excited to put my collection in it! I love how sturdy it is and how presentable it looks! For me, this is one of the best coin albums out there for US Dollar coins!
Review: 4.5/5
"Good coin album, can be expanded, if need be"

Smoke
Dansco Eisenhower Ike Dollars Album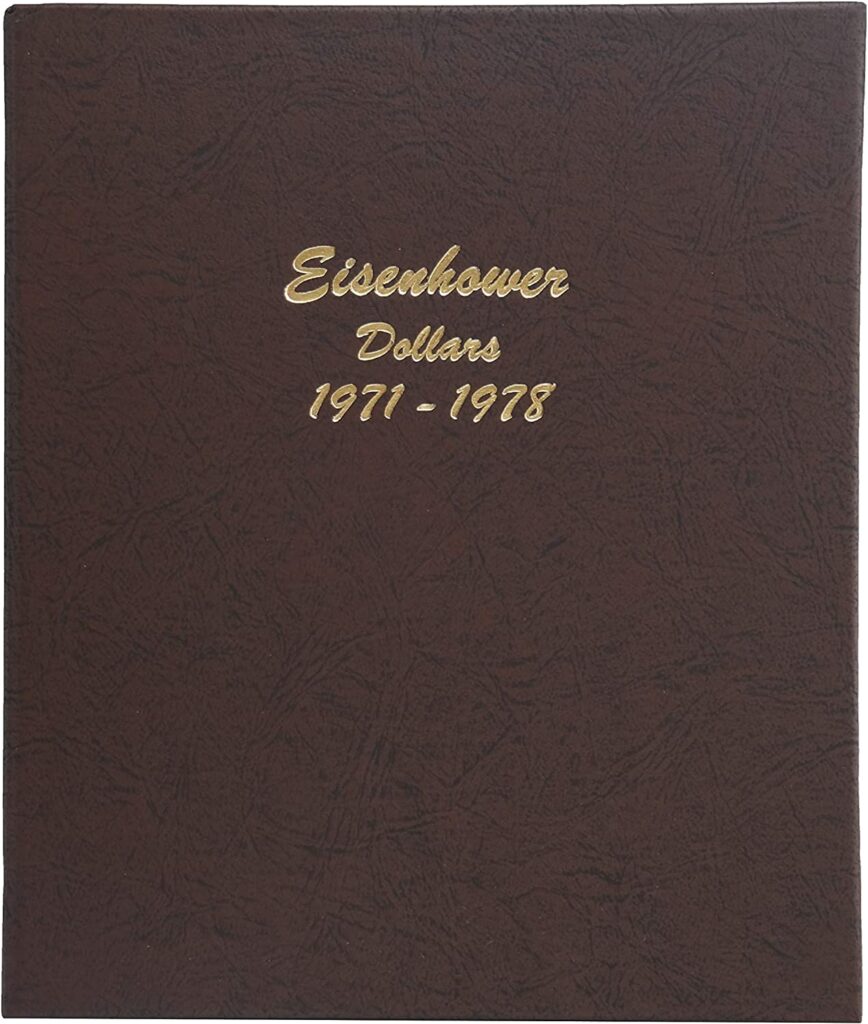 Another album I bought is the Eisenhower Dollars 1971-1978 Dansco Album, a binder album that can hold up to 24 coins.
The album contains two Dansco pages, each holding and displaying all Eisenhower dollars produced between 1971 and 1978.
Engraver Frank Gasparro designed the new coins. It's a great addition to my Ike dollar collection. Even if I don't have many, what I love about these albums is that you can display your coins organized!
Review: 4.3/5
"Dansco Eisenhower coin book.
Best price, with quick shipping.
Received before it was suggested when purchased.
Would recommend."

Connie
Dansco US Presidential Dollar with Proof Coin Album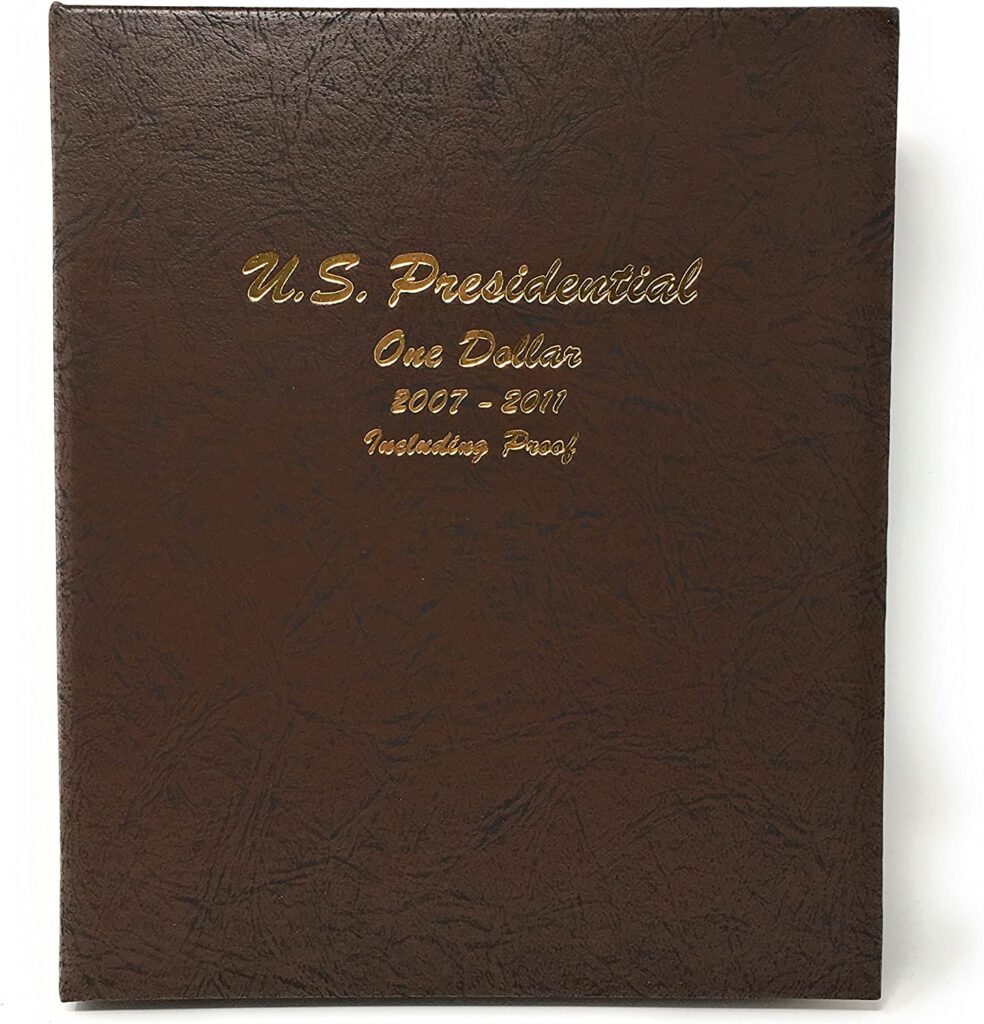 The Presidential Dollars 2007-2011 Vol 1, P&D with Proof Dansco Album is a binder that can hold up to 60 coins.
The album has five pages, each holding and showcasing all Presidential dollars launched from 2007 to 2011, including proof coins. The Presidential $1 Coin Program commemorates past presidents of the United States.
Every year since George Washington, the U.S. The United States Mint issues four new coins featuring portraits of previous presidents on the obverse.
The Statue of Liberty is depicted on the coin's reverse. The program says that only dead presidents are qualified to be honored. The slogan "In God, We Trust" was controversially engraved on the coin's edge.
For collectors of Presidential Dollars, this album is a worthy coin album to protect your coins! If you're looking for coin albums for your Presidential coins, I highly suggest this album! You will not regret it!
Review: 4.8/5
"Very handsome coin collecting album. Well made product. Enjoy being able to 'page' through looking at my collection. Provides a place for each of the years and mint marks."

Robert B.
Dansco US American Silver Eagle Coin Album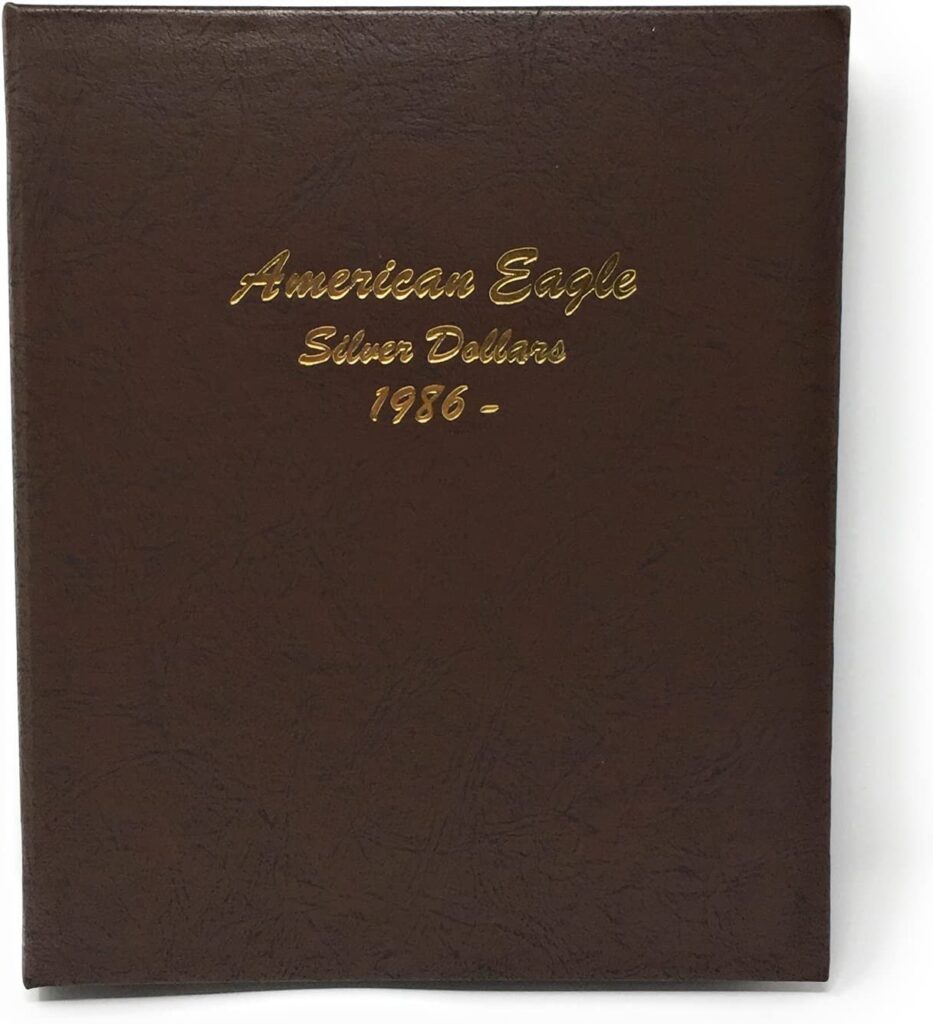 The American Eagle Silver Dollars 1986-2021 Dansco Album is a binder album containing up to 36 coins.
The album has four pages, each securing and showing all American Eagle Silver Dollars minted from 1986 to Date.
The silver eagles are 1oz—silver coins with a one-dollar face value.
The obverse side features the same Liberty Walking design as the half-dollar. John Mercanti designed the heraldic eagle on the reverse.
The United States Mint began releasing silver bullion coins with natural and historical sites on the obverse in 2010.
This was the first album I bought, and it's still intact today! I love how it protects my coins from dust and hairline scratches!
My silver dollars kept their condition due to the albums' protection! This is a must-have for collectors who are collecting silver dollars!
Review: 4.7/5
"My husband needed a new book for his coins, so I ordered this. It's great, once you figure out how to use it. There are no instructions and he ended up ripping apart a couple of the pages to get the coins in. Spoiler Alert: The plastic sheets slide out the side. Slide the top one out, pop the coin in, slide it back in…. It would have been really fantastic if instructions had been included so he didn't ruin the book."

sarahmc
Dansco US Kennedy Half Dollar with Proof Coin Album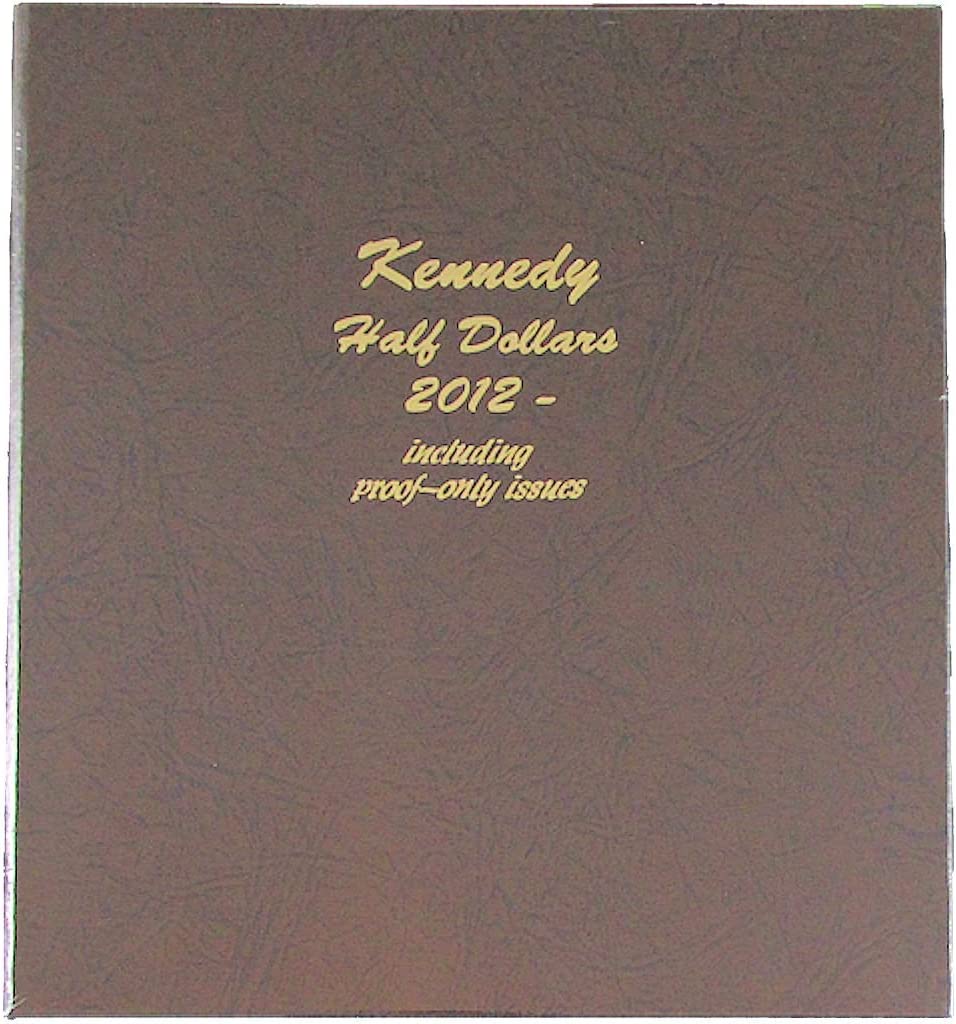 The album has two pages, each securing and showing all Kennedy half dollars produced from 2012 to Date, including proof coins.
One of the most favorite U.S. coins, the Kennedy half dollar, vanished from circulation shortly after its release in 1964.
Its expensive silver and a sense of mourning at the recent Kennedy assassination rendered the currency unusable.
To address the issue, the United States Mint altered the metal composition from 90% silver and 10% copper, as seen in the 1964 coins, to 40% silver and 60% copper for the ones struck from 1965-1970.
Review: 4.9/5
"This was a great follow up album to the earlier Kennedy album. Has all the necessary openings for the more current coin issues. They all fit perfectly. This is a great album for those collectors who wish to proudly display their coins. I love Dansco albums."

rhw109
Where to Buy a Dansco US Dollar Coin Album?
Where can you get the best deal when buying a Dansco US Dollar Coin Album? The answer is, of course, online.
Online dealers offer products at all price points and have no overhead costs for brick-and-mortar stores.
When I bought mine, I looked at many online shops to find the best deal! Before settling for this Dansco album, I researched different types of coin albums for my coins, but with no luck.
Most of them can damage my coin over time. That's why I went with Dansco albums because since I bought mine, my coins retained their condition, and it looks great to look at my coins organized by year!
Takeaway:
Overall, the Dansco US Dollar Coin Album is a great way to store and organize your coin collection. It is built to last and will not disappoint you even after years of use.
Take it from me! The album has been designed to allow you to remove coins easily from the slots provided, making it easy to do your work without struggling with the pages.

This product is also highly recommended by many collectors who have used it in their collections.
If you are looking for an easy way to organize your coins, getting this album would be one of the best decisions you could make!
Before you go…
The Dansco US Dollar Coin Album is an excellent way to store and organize your collection. It's durable, affordable, and easy to use. I highly recommend this product if you want to expand your coin collection! I hope this article has helped you answer your questions about these albums! And if you have this already in your collection, share it with us in the comment section! Happy Collecting!
Check out my next article: "Dansco Penny Album – An Honest Review."
Related Articles: