This is a guide I wrote to help you with collecting Funko Pops. Bookmark it. Read the entire article before asking questions in the comments section, as they may already be answered later.
If there's anything we missed or you'd like us to add to the guide, please let us know in the comments section below! We're always happy when people share their knowledge so everyone can benefit from it 🙂
What Are Funko Pops?

A true-to-life Funko Pop! has a large head and smaller body for an adorable aesthetic that lends itself well to gift-giving.
Staying true to their original designs, Funko Pops! were made with durability and creativity in mind—and it's this thoughtful attention to detail that makes these pieces perfect for collectors and pop culture buffs alike.
Why Start Collecting Funko Pops?
Collecting might be one of the best hobbies ever. Humans have collected things for decades. Collecting helps relax and take your mind off your daily stress. The Funko Pop is a perfect example of this phenomenon in action.
As with most collectible items, you can play and display these little guys in any way you like. You can put them in glass cabinets, keep them in their original packaging, or display them on trays or bookshelves around your home and office space. It's all about having fun when it comes to collecting Funko Pops!
Collecting Funko Pops is Fun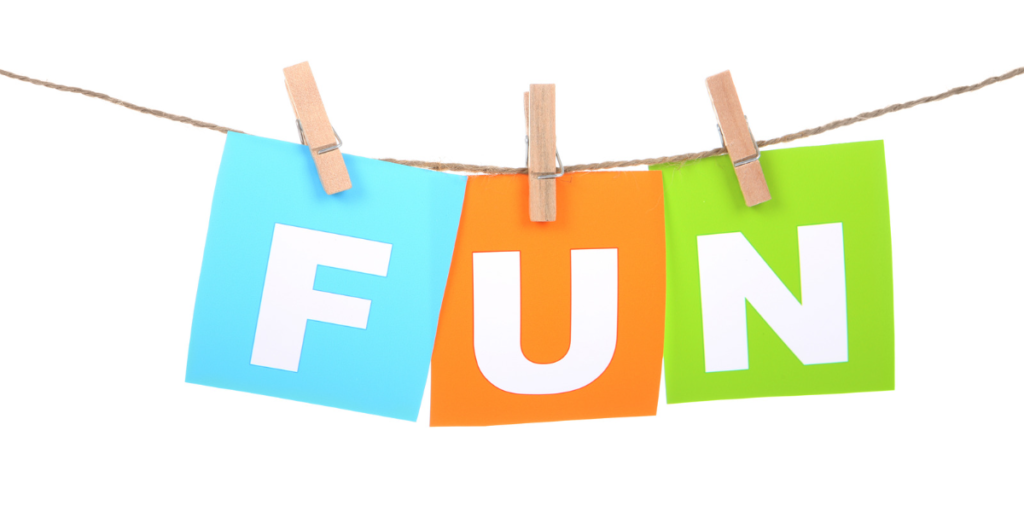 Collecting Funko Pops! is, first and foremost, a hobby. Fun is the name of the game here. Your collection should reflect your interests, and you should have a great time collecting it.
If you're not having fun, then what's the point of doing anything? And if you happen to start making money off your collection. Well, bonus points for you! But don't set out to make money at first; set out to collect something that will make you happy.
Good Way To Connect With People
You'll get to know other collectors, which is an excellent way to connect with people. You can talk about Funko Pops and how your collections are going. It's a great way to meet new people and make friends with people who share an interest in the same thing as you!
Good Way To Show Off Your Interest and Make New Friends
It's an excellent way to show off the fandoms that you are into. People can see what makes you tick just by looking at your collection.
Another selling point is that collecting Funko Pops encourages people to talk to one another about what they like and dislike. This social interaction could bring you closer as friends than ever before.
Furthermore, this is also an opportunity for new friends to be made. If a visitor comes into your home and sees a Funko Pop of their favorite movie character on your shelf, they will want to strike up a conversation and meet someone who has the same interest in them. You might even be able to swap or barter for other figures if you both have something that the other doesn't have yet!
It Can Be A Side Hustle
Whether you're buying and selling Funko Pops to make extra cash or just to pass the time, it can be a fun side hustle. You could sell at pop culture conventions and other places online or offline. 
An Affordable Way To Own Officially Licensed Merch From Your Favorite Fandoms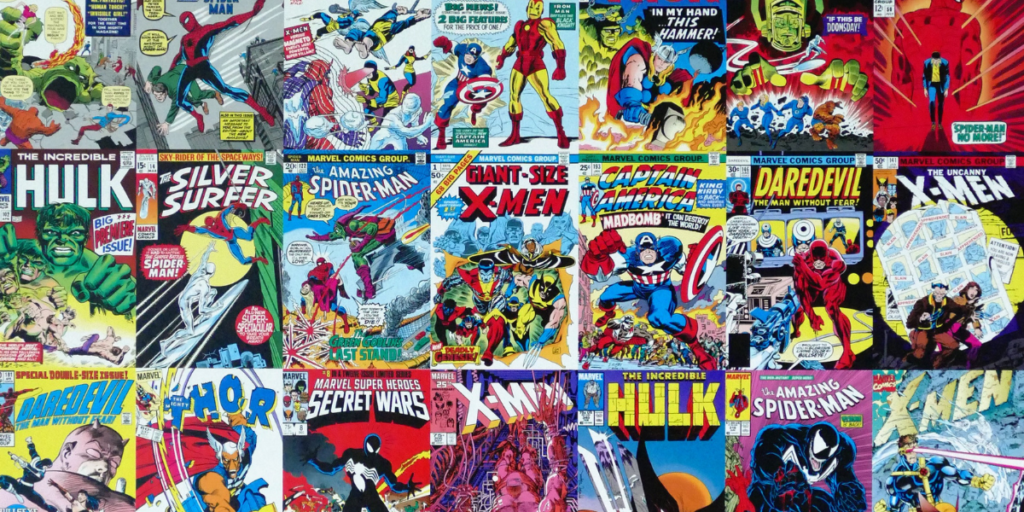 Are you looking to buy something that showed support for your favorite fandoms but couldn't afford a Batmobile? Pops are the perfect alternative. They're affordable, fun, and displayable anywhere in your home or office, and Funko has an official license from every franchise you can think of. If you're passionate about a particular fandom, chances are there is a Pop available for it. The best part? You don't have to spend $5k+ to own one!
Funko Pops Are Cute
Funko Pops! is cute, adorable, and cool. They are fantastic and are fun to collect. They are unique and add a lot of character to your home or office space; they brighten up any room.
Stress Reliever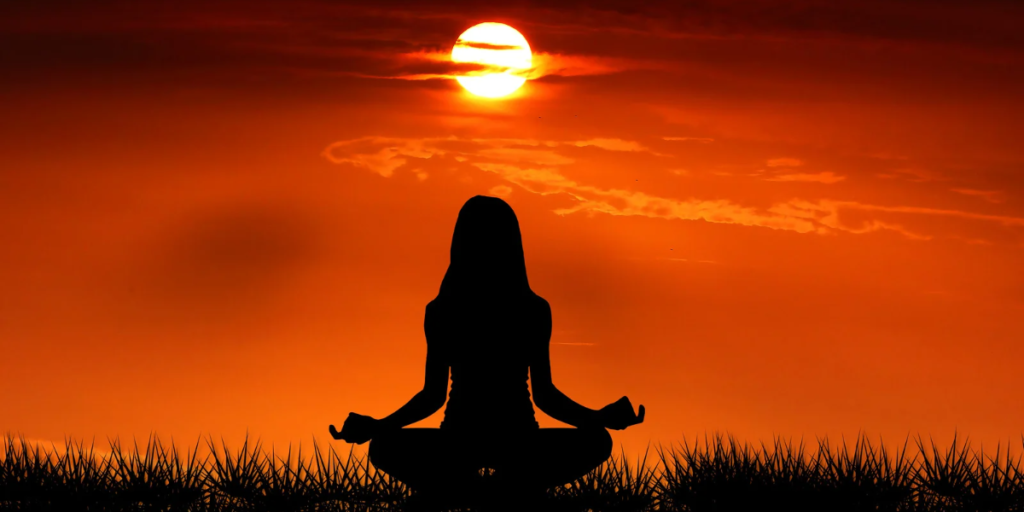 The best part of having a hobby is that it's something you can do when you need to relax. Pop collecting, in particular, is a great way to let off some steam and get your mind off the stress of work, family, and other day-to-day happenings.
Whether it's our wallets or our limited attention spans that are on overload, everyone could benefit from taking some time for themselves to play with toys like pops simply. Plus, it doesn't matter if you have kids or not to find joy in the things Funko has created. It's perfectly acceptable for adults to have hobbies, even if they include playing with toys! So no matter how old you are, there's absolutely no reason not to take up this hobby as an outlet for your stress and mental health.
Collecting Pops Is Nostalgic
You can choose to collect whatever you want. For example, some people find it more fun to collect only Pops they like, while others want to collect Pops of their favorite characters, regardless of how they feel about the Pop itself. This is a personal choice, and there are no rules against doing it either way.
Why do you collect what you do? Probably because of some experience or interest you have from your childhood or adolescence. Why not build on that and add nostalgia to your hobby? Many people with collections enjoy the feeling of remembering where they were when they bought a piece and how they felt when they got it.
Helps Create A Sense of Accomplishment
When you start, collecting toys may seem like a daunting task for your wallet and stress levels. However, when you look back on your collection over the years, there is no doubt that it will bring about a sense of accomplishment. Seeing your collection grow over time is a great feeling! You will also reach milestones in your collection (50 Funko Pops or 100 Funko Pops).
In addition to these benefits, keeping track of what pops you have and which ones you are missing is highly recommended. This will keep you organized and aware of what items to look for in-person or online. If possible, take pictures of your collection to show off to friends and family!
They Are Physical Representation of The Abstract Ideas You Cherish
In a world where collectibles have become a hot commodity, it's easy to assume that all the company has to do is make some plastic statue of a character they want you to buy, and they're home free. 
For Funko, this isn't the case. Collecting their Pops is an exercise in understanding them rather than just buying them. Funko thinks of its Pops as physical representations of abstract ideas that are important to its customers—and thus something it should put time and effort into giving meaning through its products.
How To Start Collecting Funko Pops?
Collect what you like. Why are you collecting Funko Pops? Because you want them! Don't collect something just because it is worth a lot of money, or the value might go up over time. I know people who have spent $300+ on a Funko Pop just because they thought it would go up in value. Chances are, it didn't. Just enjoy your collection and focus on getting the ones that appeal to you most.
Find out what your budget is. A big part of starting any collection is knowing how much money you want to spend each month. You should stick to your budget as much as possible. The nice thing about Funko Pops is that there are some out there for everyone's price range, so figure out what yours is and stick with it!
Start small and start with one fandom at a time. Don't jump into building an entire collection at once unless you have plenty of funds (if that's the case, then more power to you!). Instead, start with one specific set from a particular franchise or movie series, such as the Star Wars Rebels animated series. Starting small will give you enough room to grow slowly but surely within your budget while also letting you explore other options before expanding into other things too quickly or too soon (like I did).
Keep track of what you already have versus what is available/coming out soon.
What Should I Collect?
As with any other hobby, your first question should be: what do I collect? While there aren't "bad" options here, it always helps to have a plan. You can ask yourself the following questions to help narrow down the possibilities: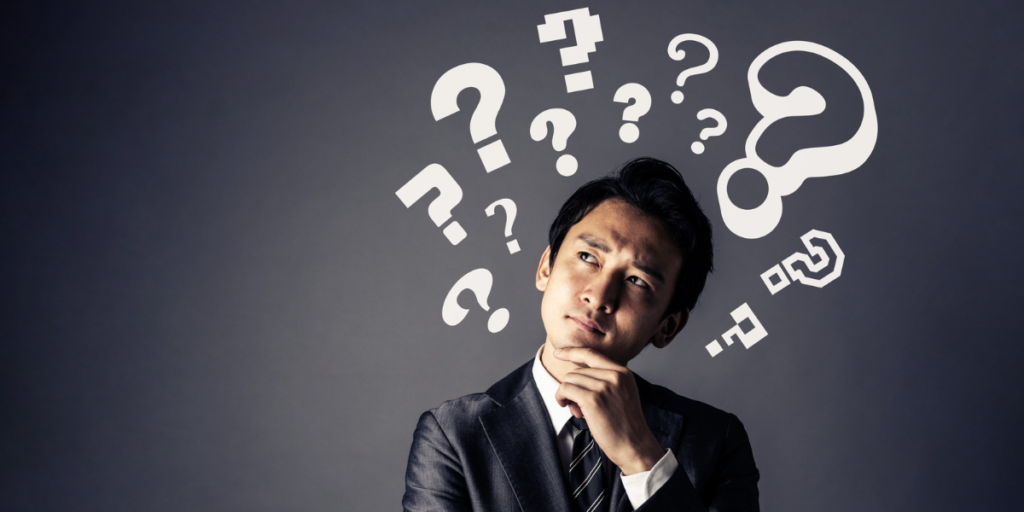 What am I into? If you're coming from comics or video games, consider collecting franchises from those mediums.
How deep are my pockets? If you want to collect something like Star Wars Pops but don't want to drop a ton of cash on it, you may want to consider only getting characters from the original trilogy since those will likely be cheaper than their prequel counterparts.
Select a small achievable theme and continue from there.
I am a big fan of the Big Bang Theory series, so I started collecting them first. Then I expand beyond my other interest.  If you still need help narrowing down your collection, send a comment below, and we will give some suggestions. 
What Types Of Funko Pops Are There?
Funko Pops come in all shapes and sizes. They're made from different types of plastic, are molded into distinct poses and character depictions, and can feature all manner of accessories (or none at all). But unfortunately, some of these variations don't matter as much to collectors.
Not every Funko series or collection has all of the sizes and variants detailed below, but many have at least one. So first, let's delve into the terms that indicate size variations of Pop! products:
Big-In-Box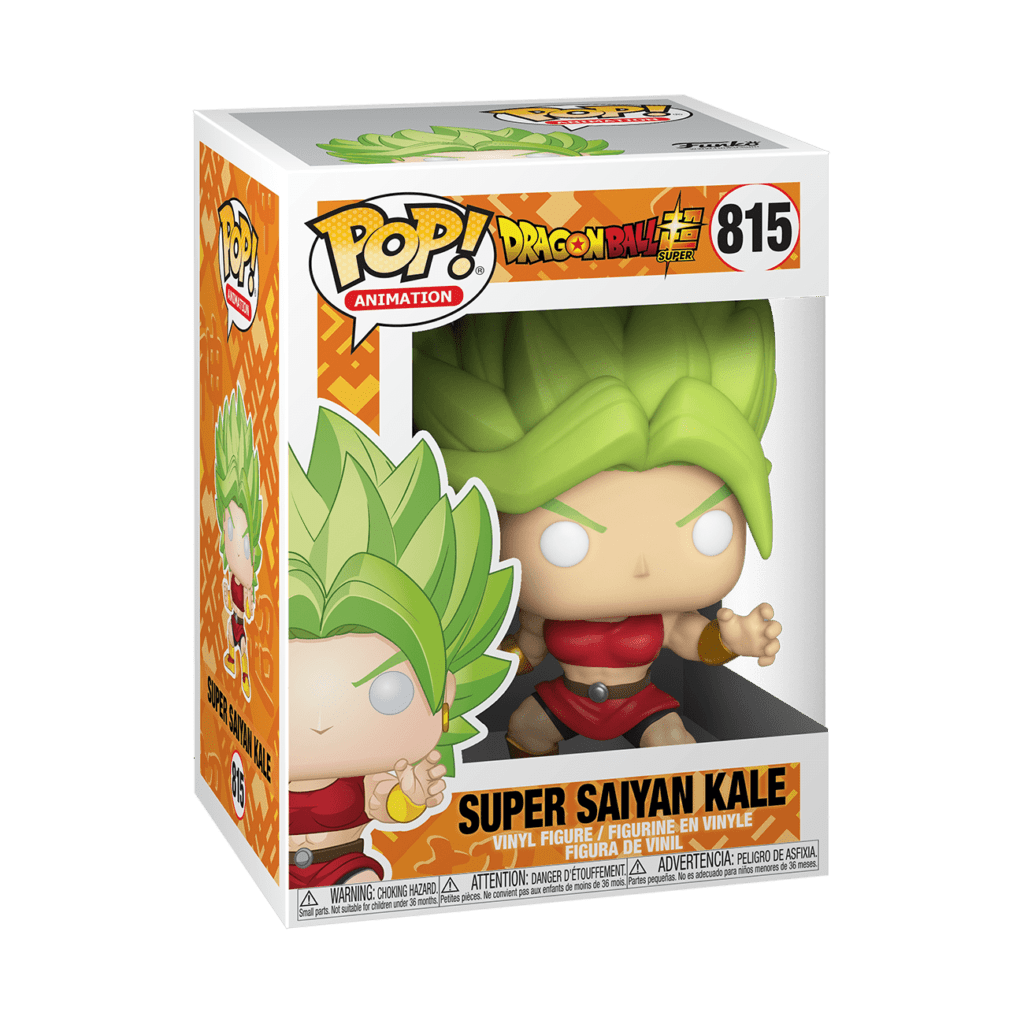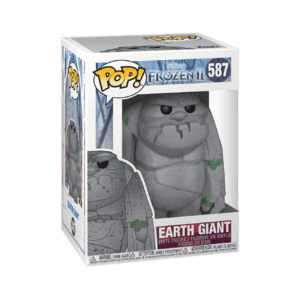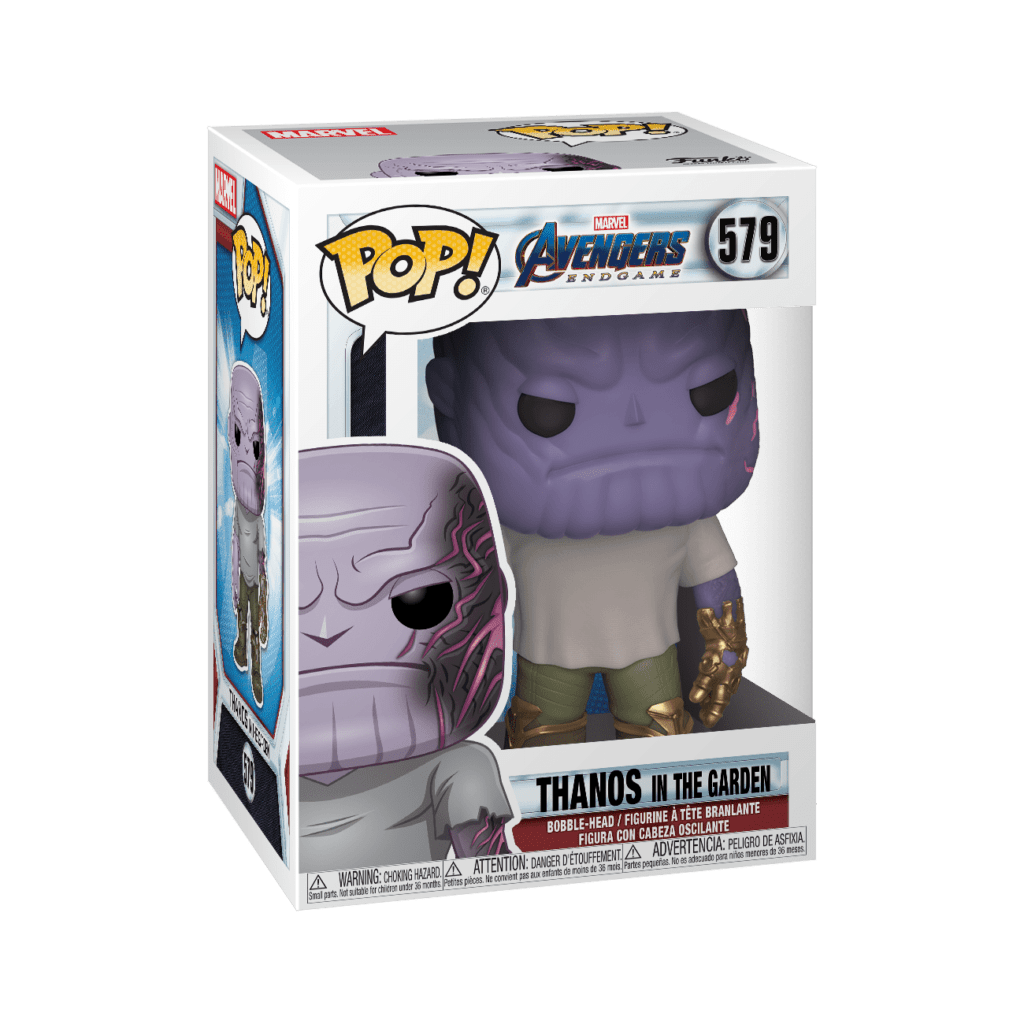 Most standard Pops! are approximately 4-inches tall, though sizes range depending on the character. Figures that are at least 5-inches tall yet still shorter than 6-inches are considered "big-in-box" since they are still packaged and sold as standard size Pop! figures.  This is a technique used by Funko to transition collectors into the world of large Pops! but also to allow fans to collect their favorite larger characters without opening them up.
For example, Super Saiyan Kale from the Dragon Ball Super set measures about 7 1/2 inches in height but can be found as a Big In Box Pop! measuring around 5-inches tall.  Likewise, Thanos from the Avengers Endgame collection measures approximately 6 1/2 inches in size and can be found as a Big In Box Pop! measuring about 5 inches tall.  Lastly, Earth Giant from the Disney Frozen collection stands about 8 1/2 inches in height and can be found as a Big In Box Pop! standing at approximately 5 1/4 inches tall.
Super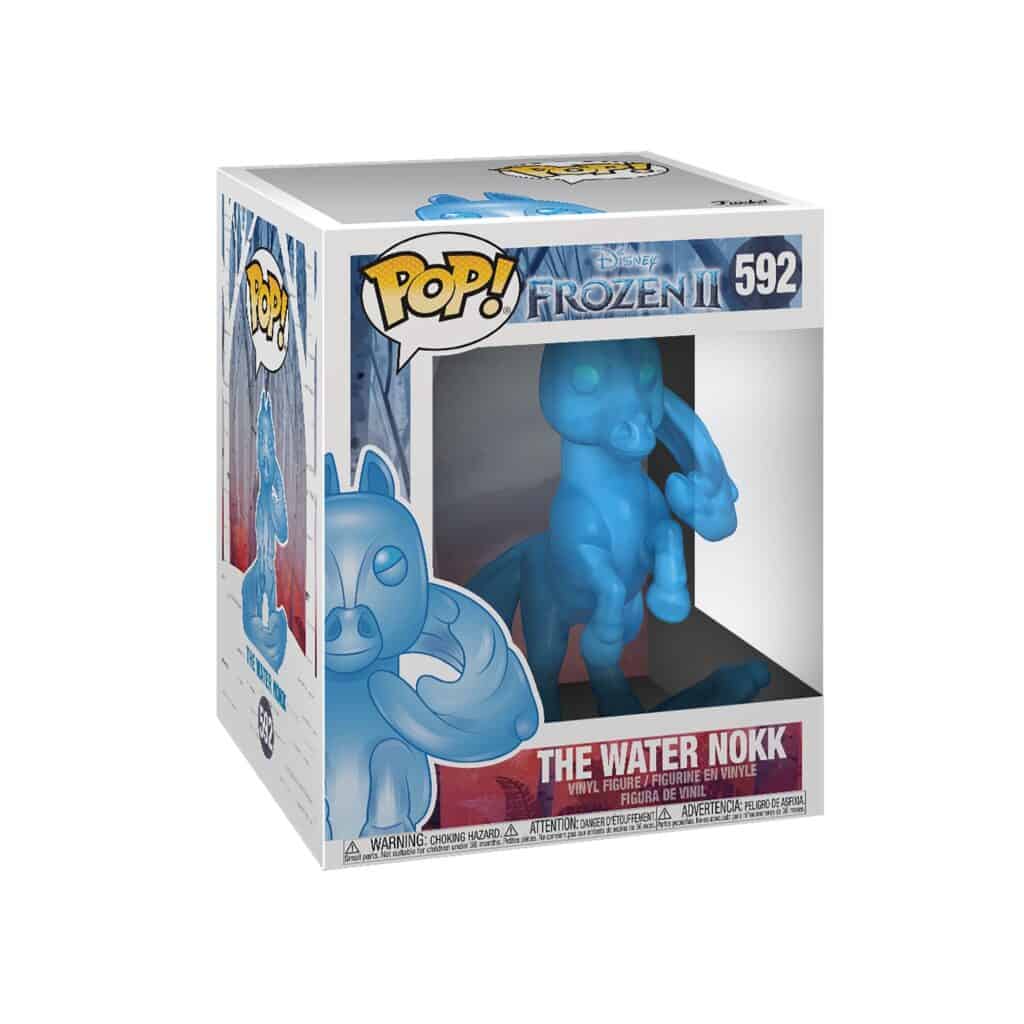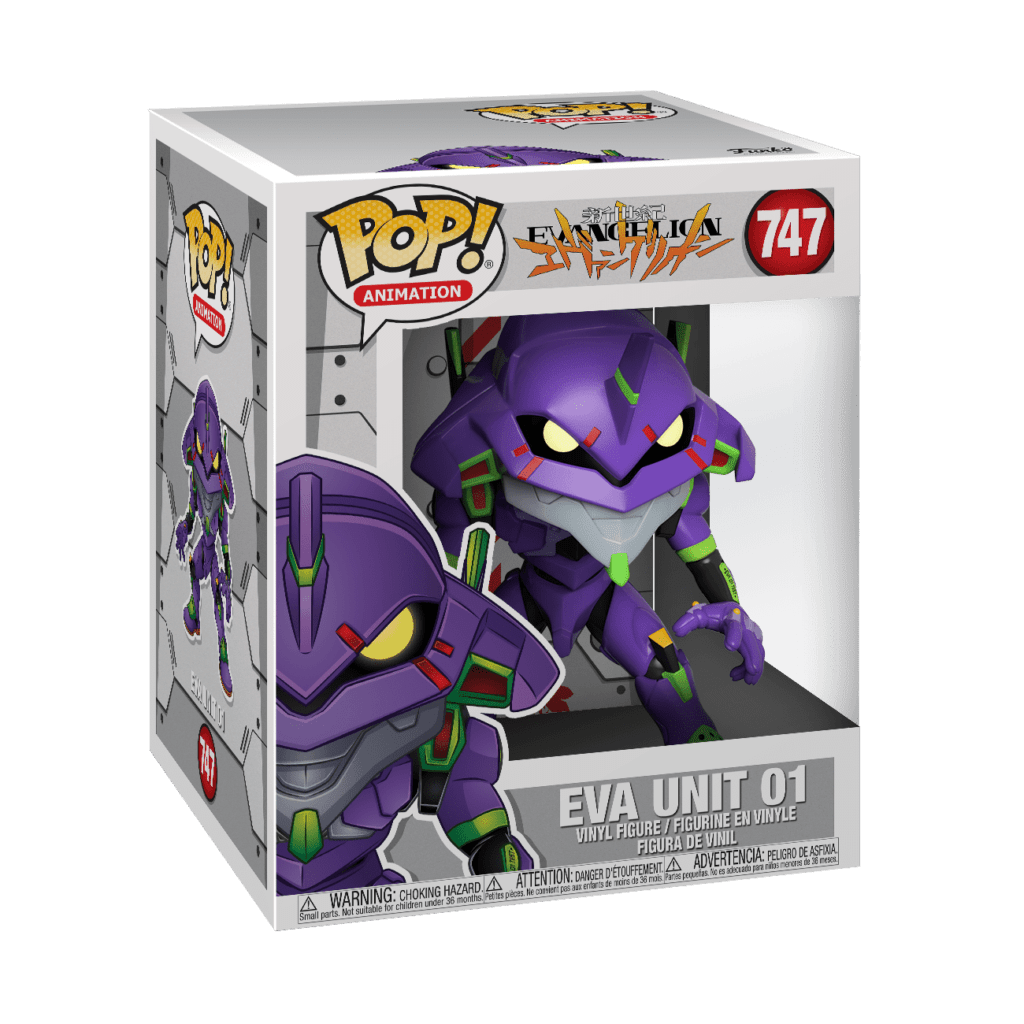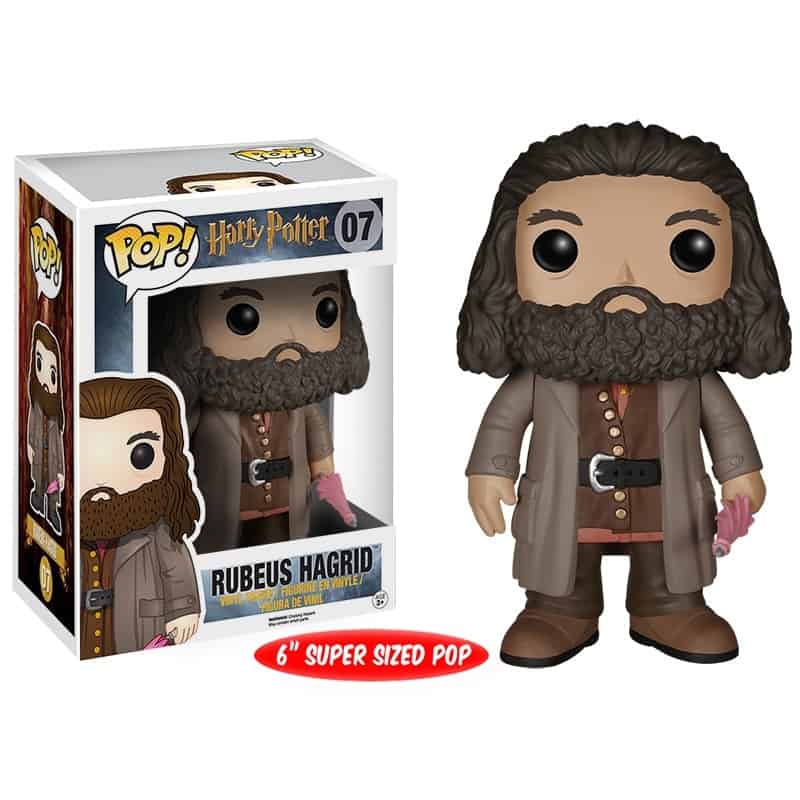 A "Super" Pop! is a 6-inch figure. Super Pop! figures include: Pop! Rubeus Hagrid from the Harry Potter collection, Pop! Water Nokk of the Frozen set, and Pop! Eva Unit 01 (Bloody) of the Evangelion collection.
Jumbo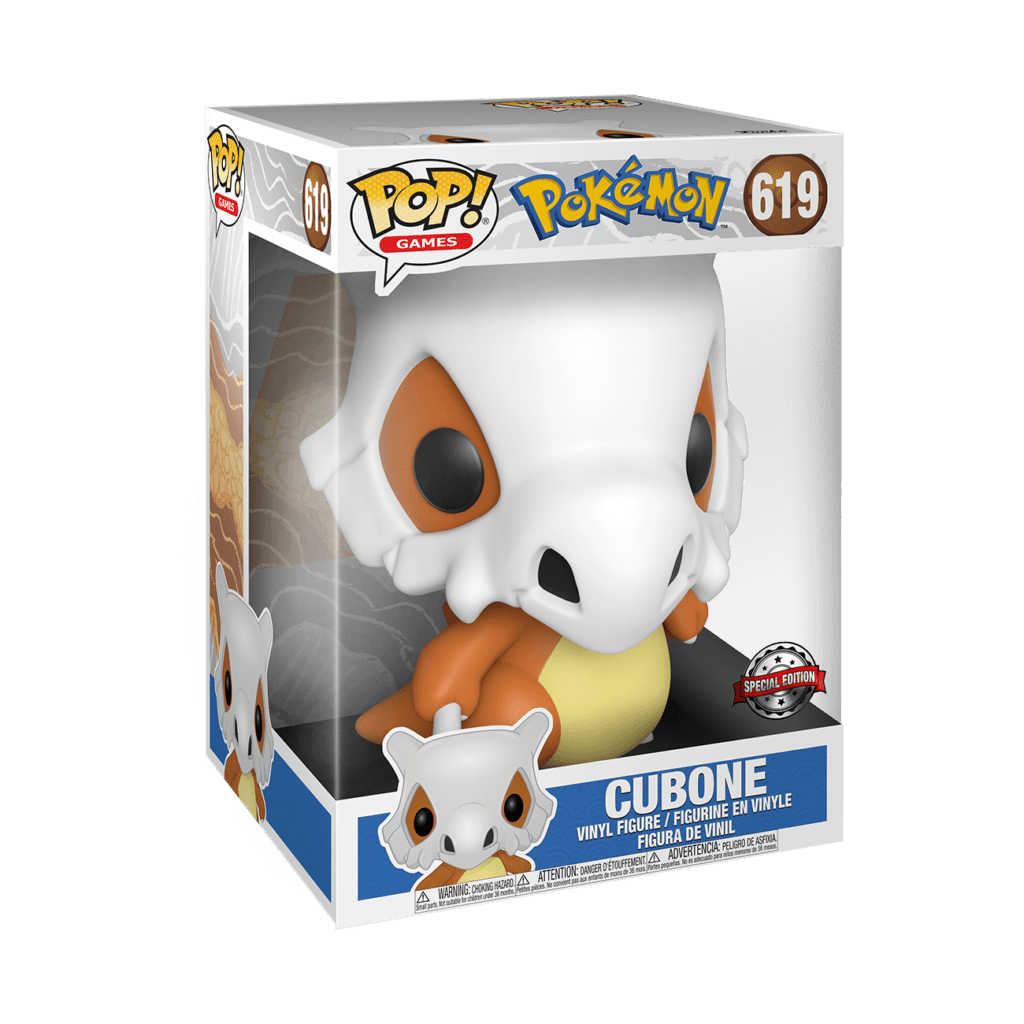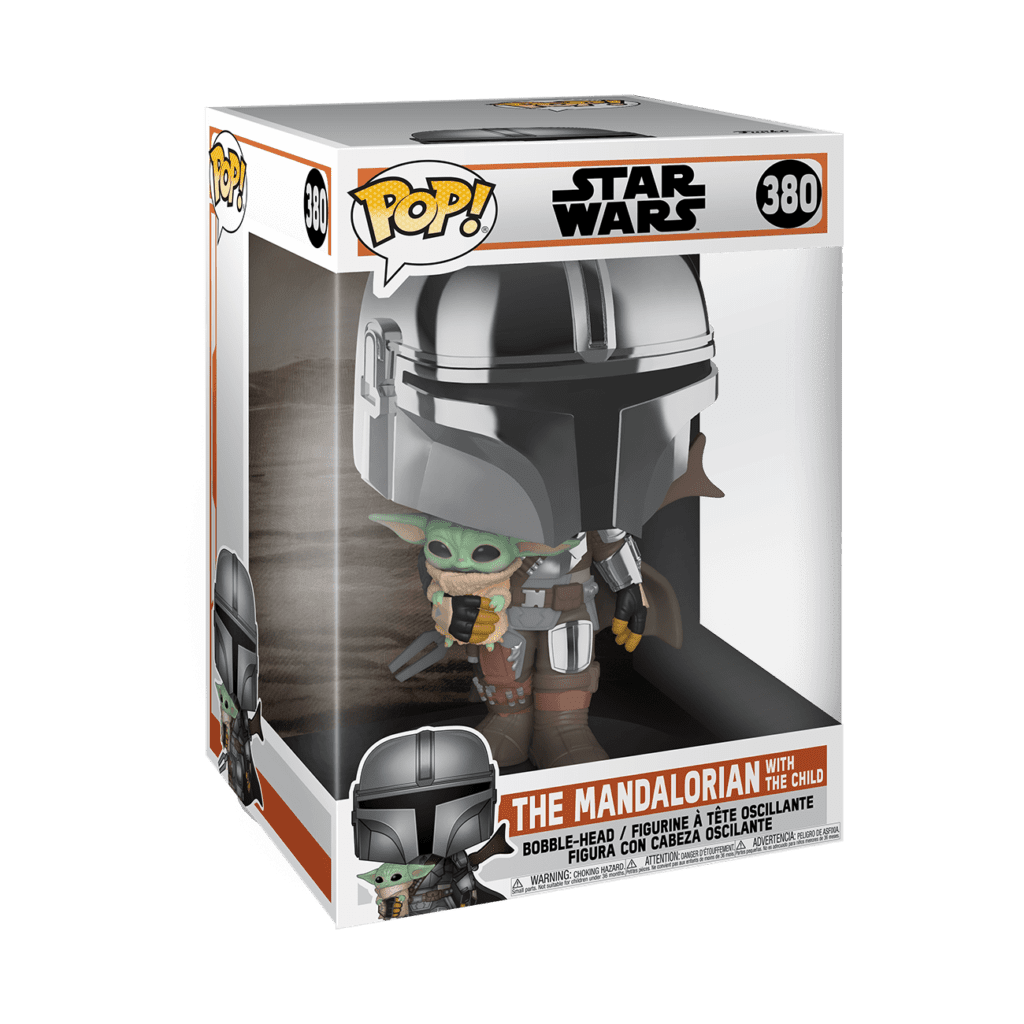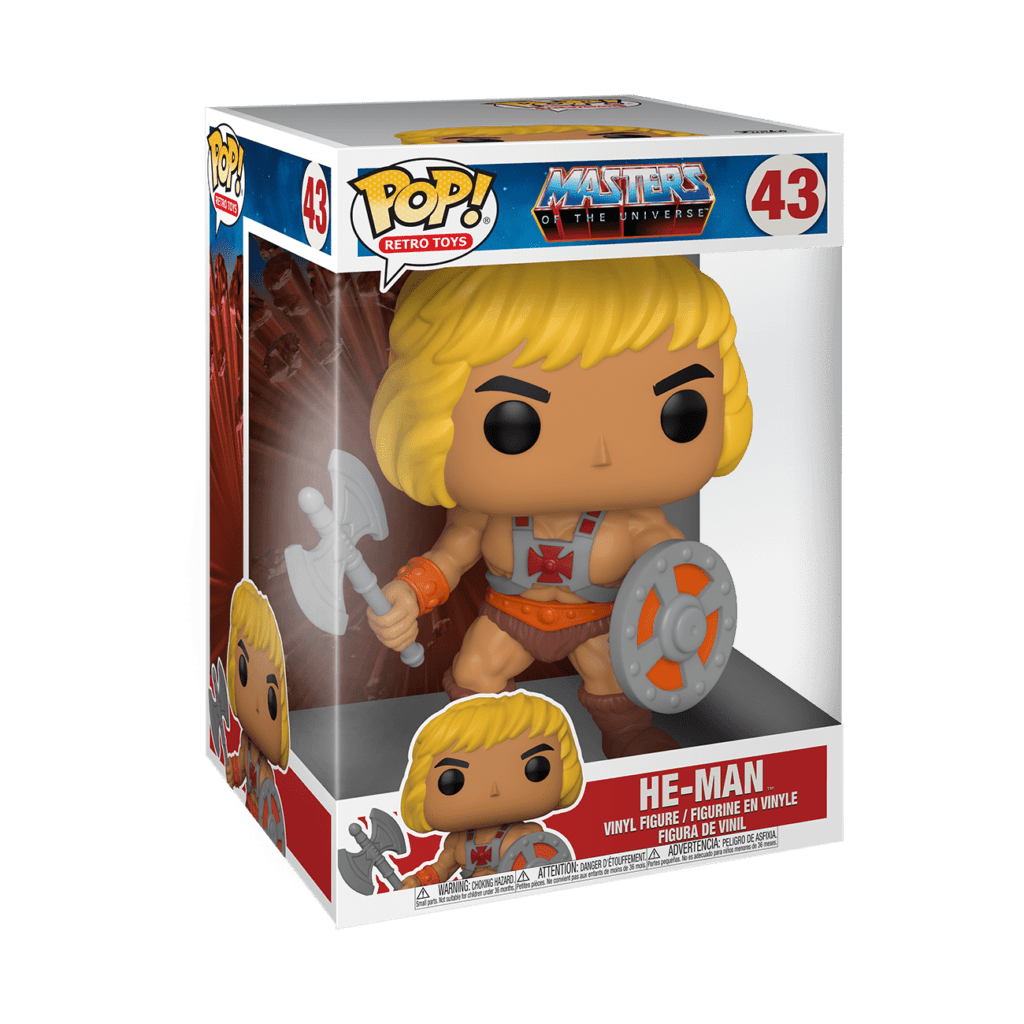 Jumbo Pops! – Jumbo Pops! are 10-inches tall. These big Funko vinyl figures come in various styles, including Pop! Figures, Pop! Heroes and Pop! Animation. Some of the Jumbo Pops! include Jumbo Pop! He-Man of the Masters of the Universe collection, Jumbo Pop! Cubone of the Pokémon set, and Jumbo Pop! The Mandalorian with Child of the Star Wars™: The Mandalorian™ collection.
Mega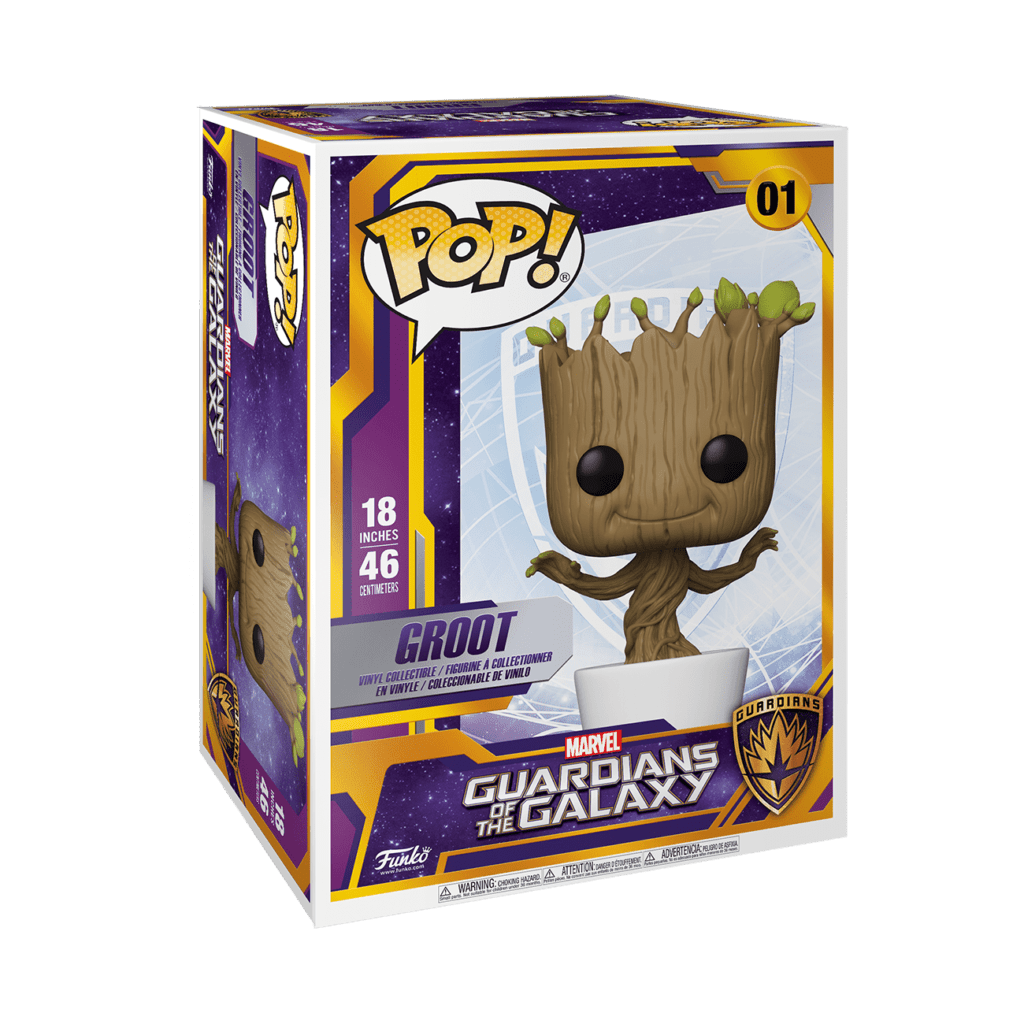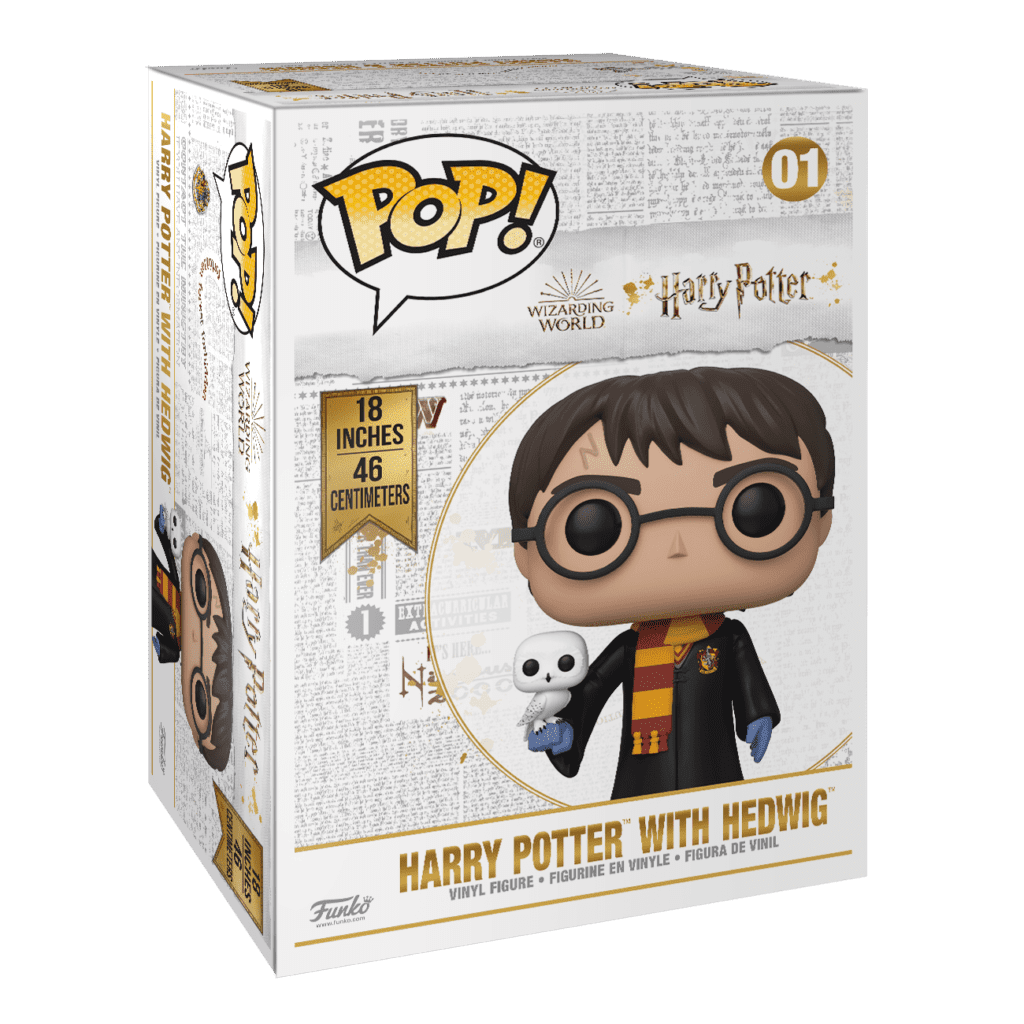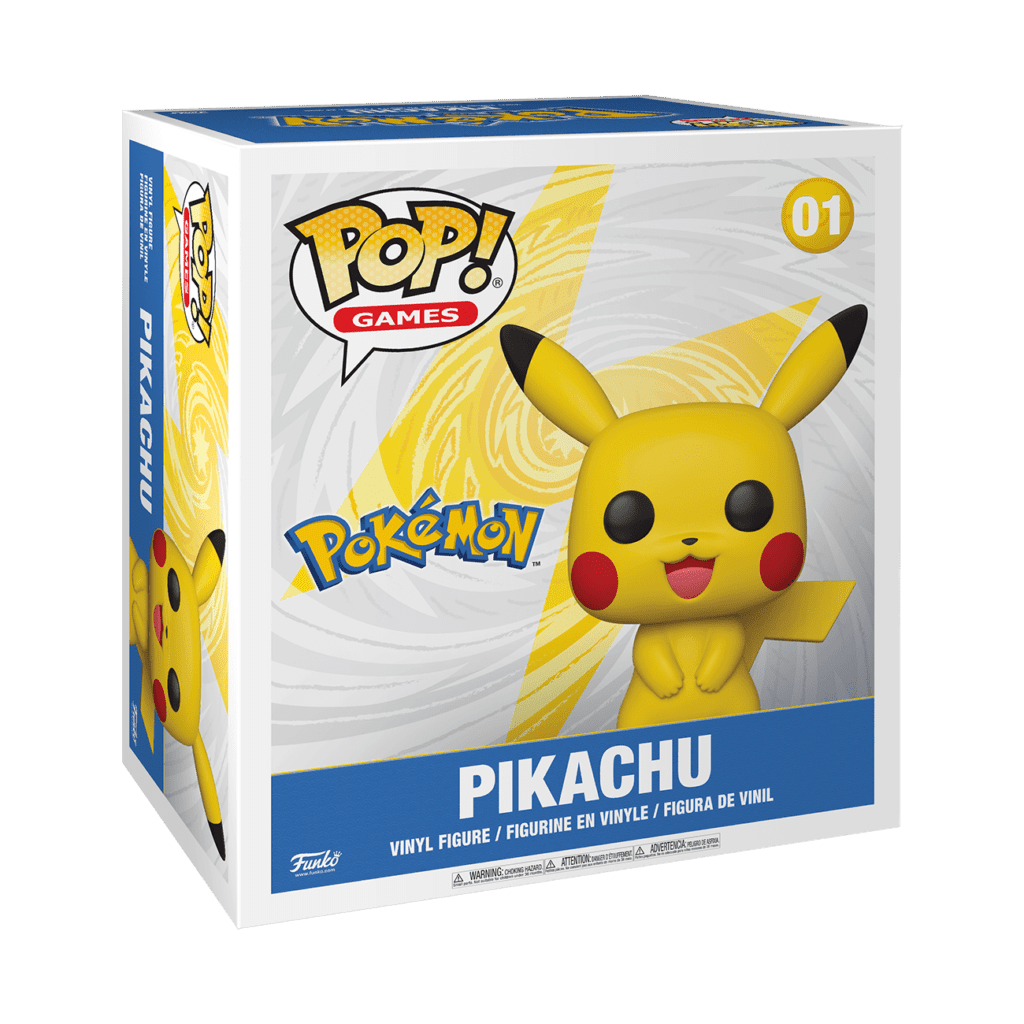 At a whopping 18-inches tall, Mega Pops! will be the center of your collection. So whether you're looking to add something special to your Wizarding World collection, your Pokémon collection, or maybe even your Guardians of the Galaxy collection—you'll find a Mega Pop! that speaks to you. 
Some great examples include Mega Pop! Harry Potter is holding Hedwig—a must for any Potter fan—Mega Pop! Pikachu—a fun way to display your love for all things Pokémon—or maybe even Mega Pop! Dancing Groot. The choice is yours, and they're all irresistibly huggable.
Types of Pop! Products
Along with the varying sizes of Pops! there are also Pop! figures that are different from a standard figure and involve either a scene, recreating a moment, a vehicle, or an additional figure.
Pop! Pen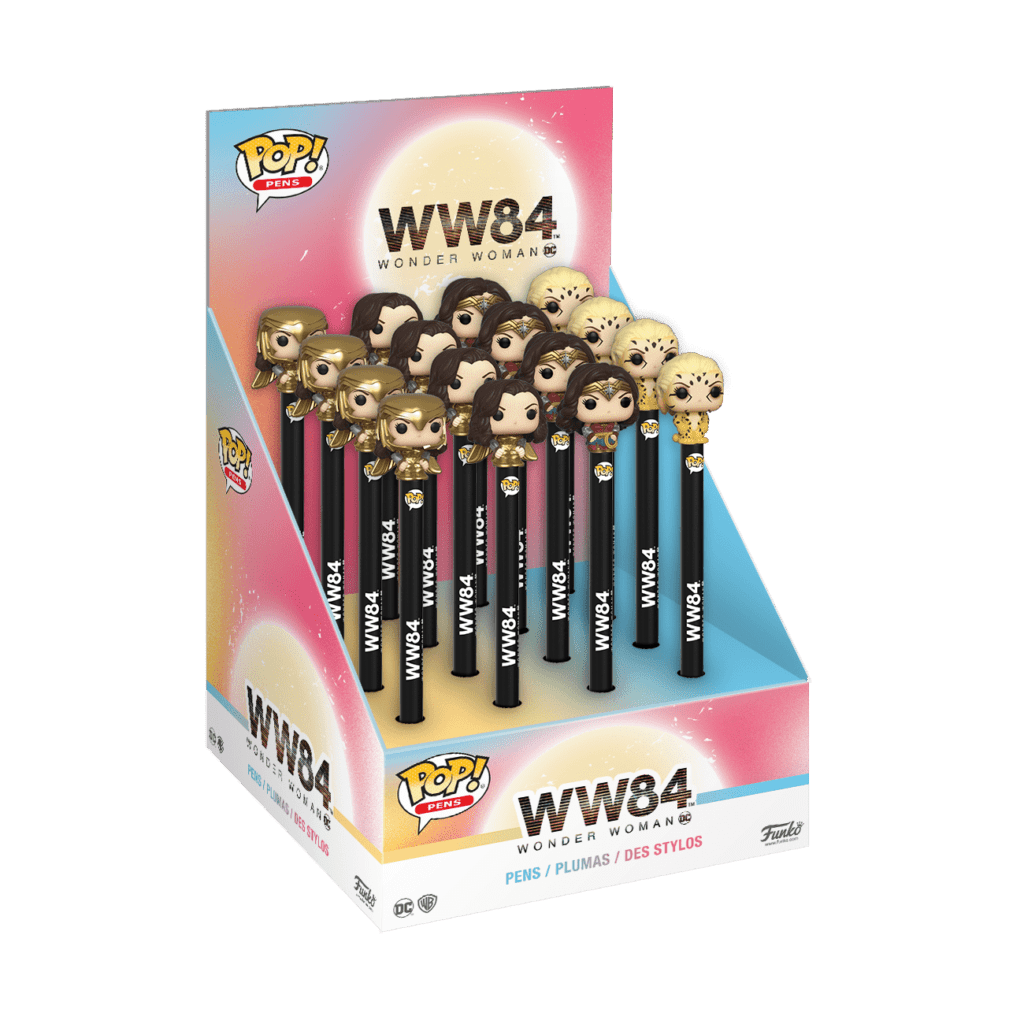 These black ink pens are topped with 1-inch tall Pop! figures. They're super cute and have a bit of weight, which makes writing feel like you have an army at your fingertips. Plus, you can use the pen's head as a bookend or paperweight.
Pocket Pop!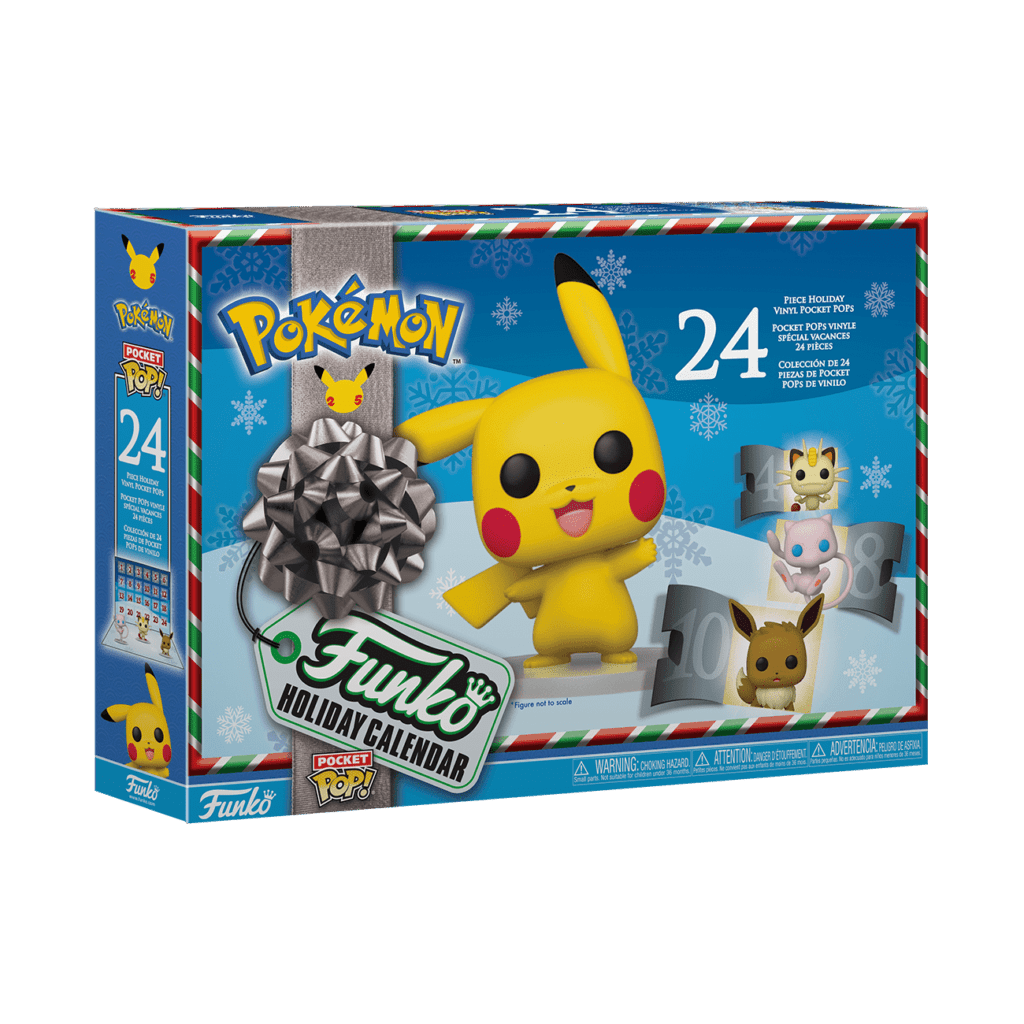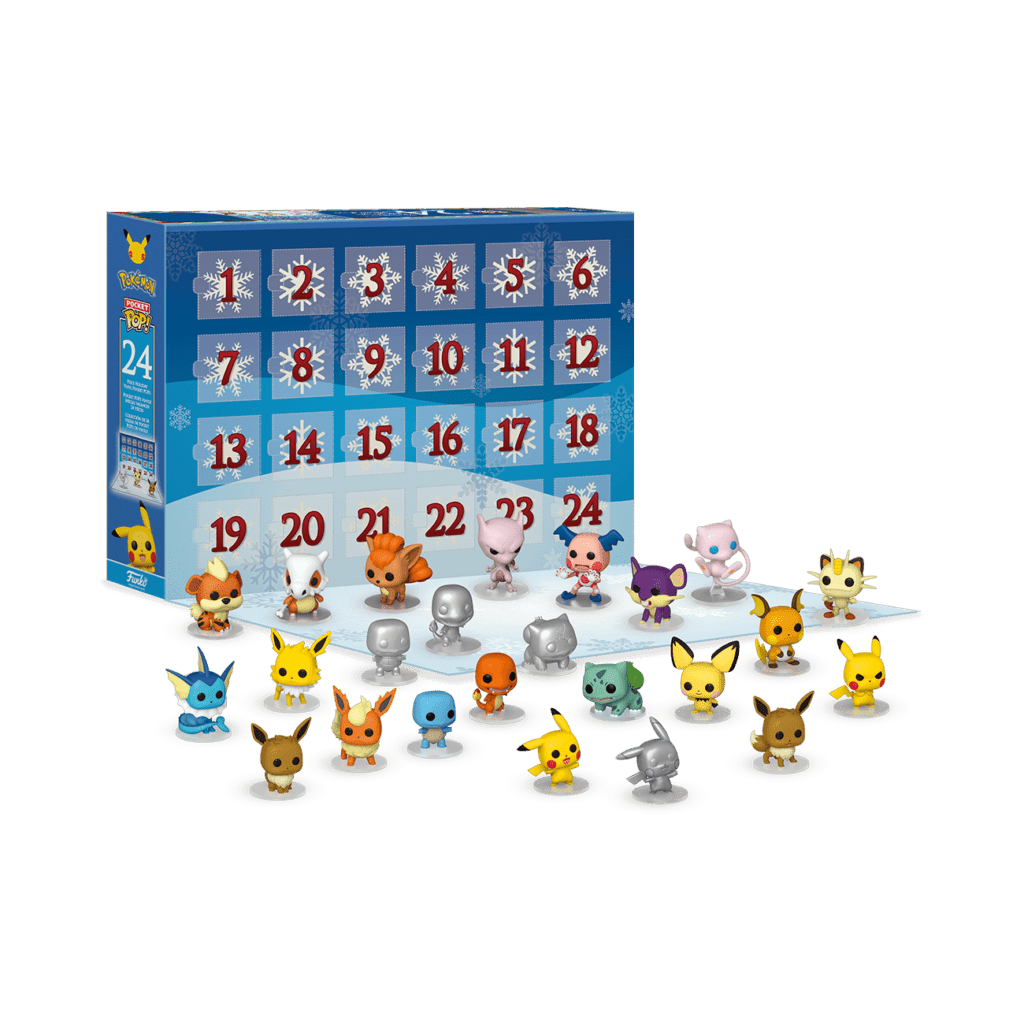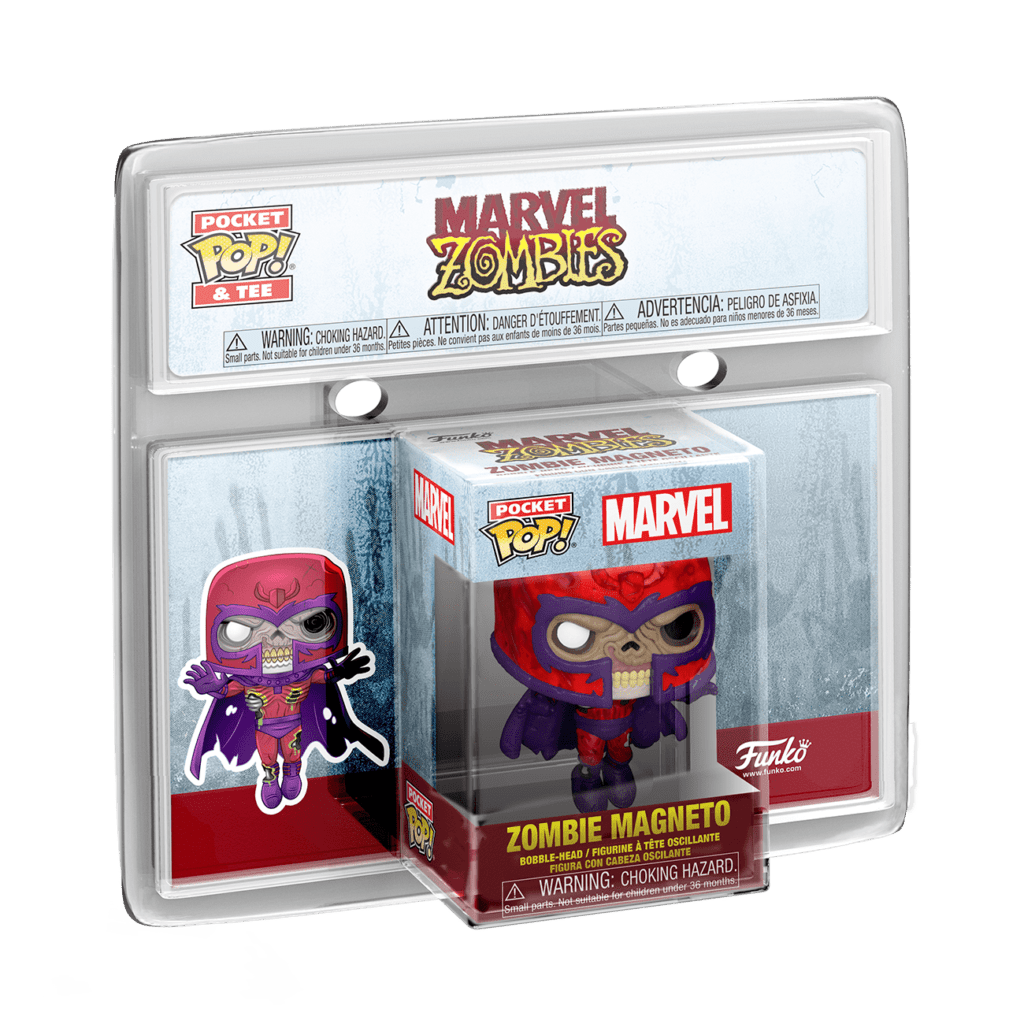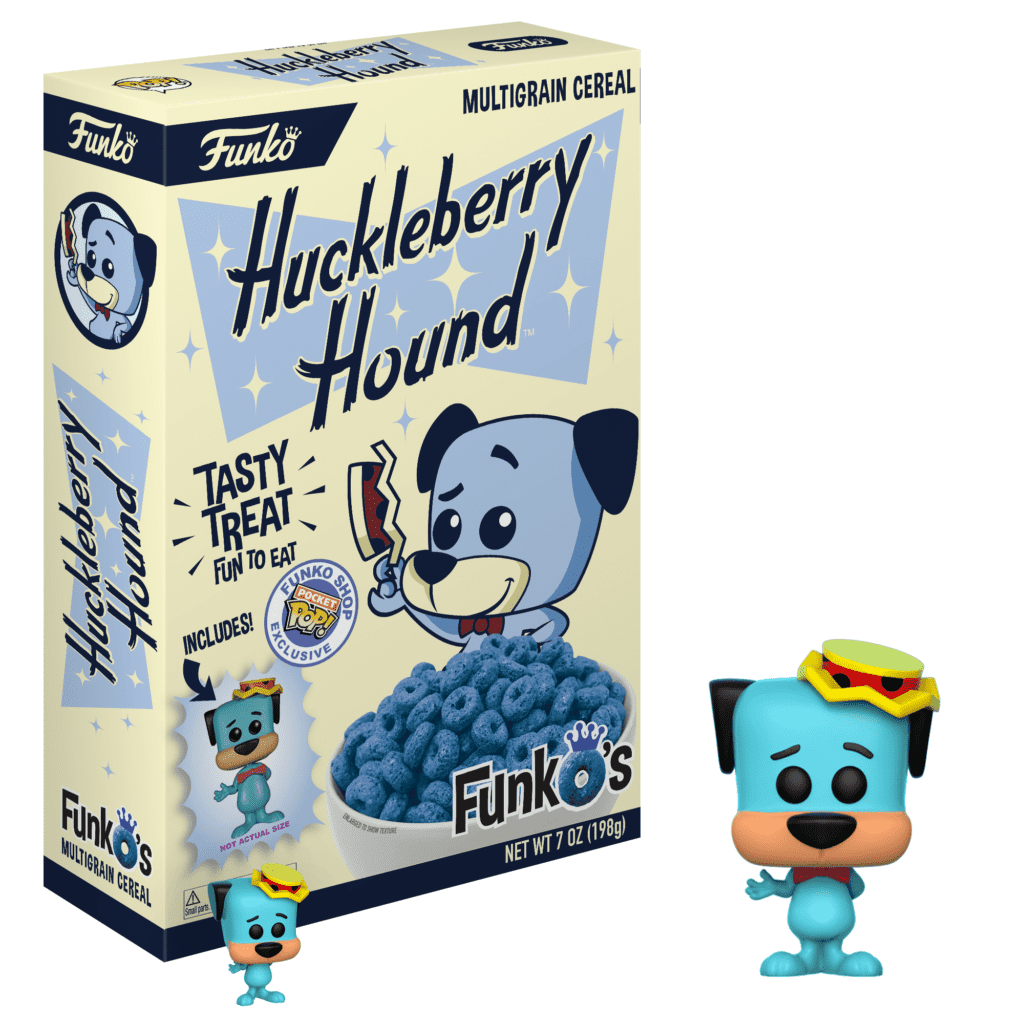 These 1-2 inch tall figures are available through Funko advent calendars, with exclusive tee shirt bundles, or as a special prize in a box of FunkO's Cereal.
Pop! Cereal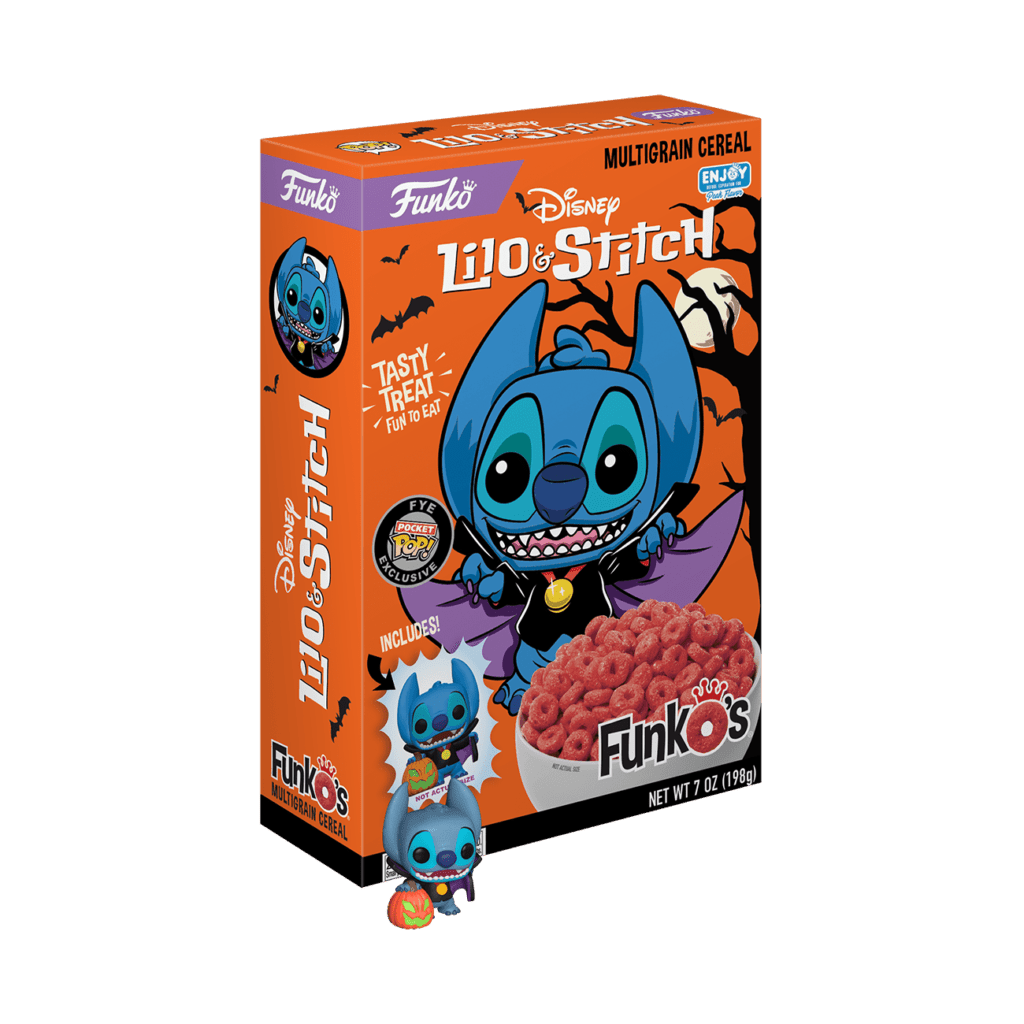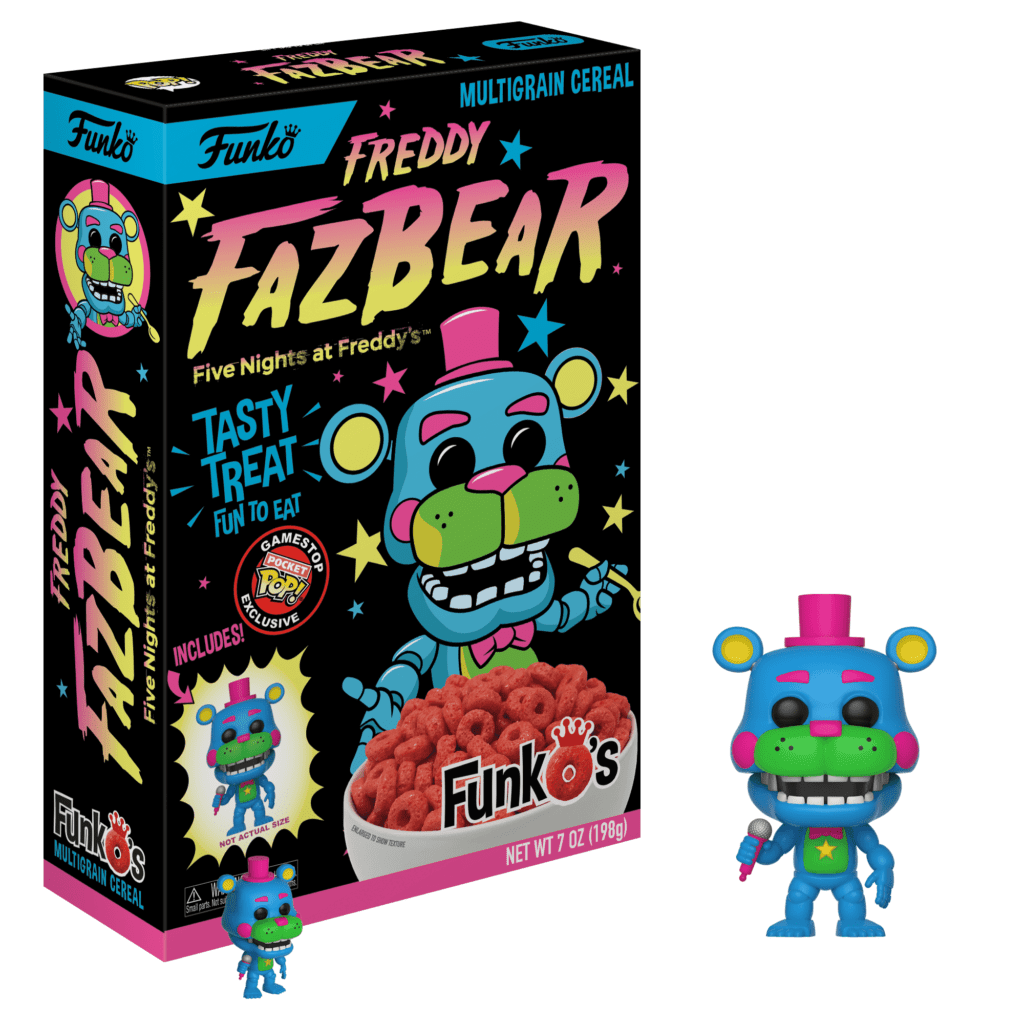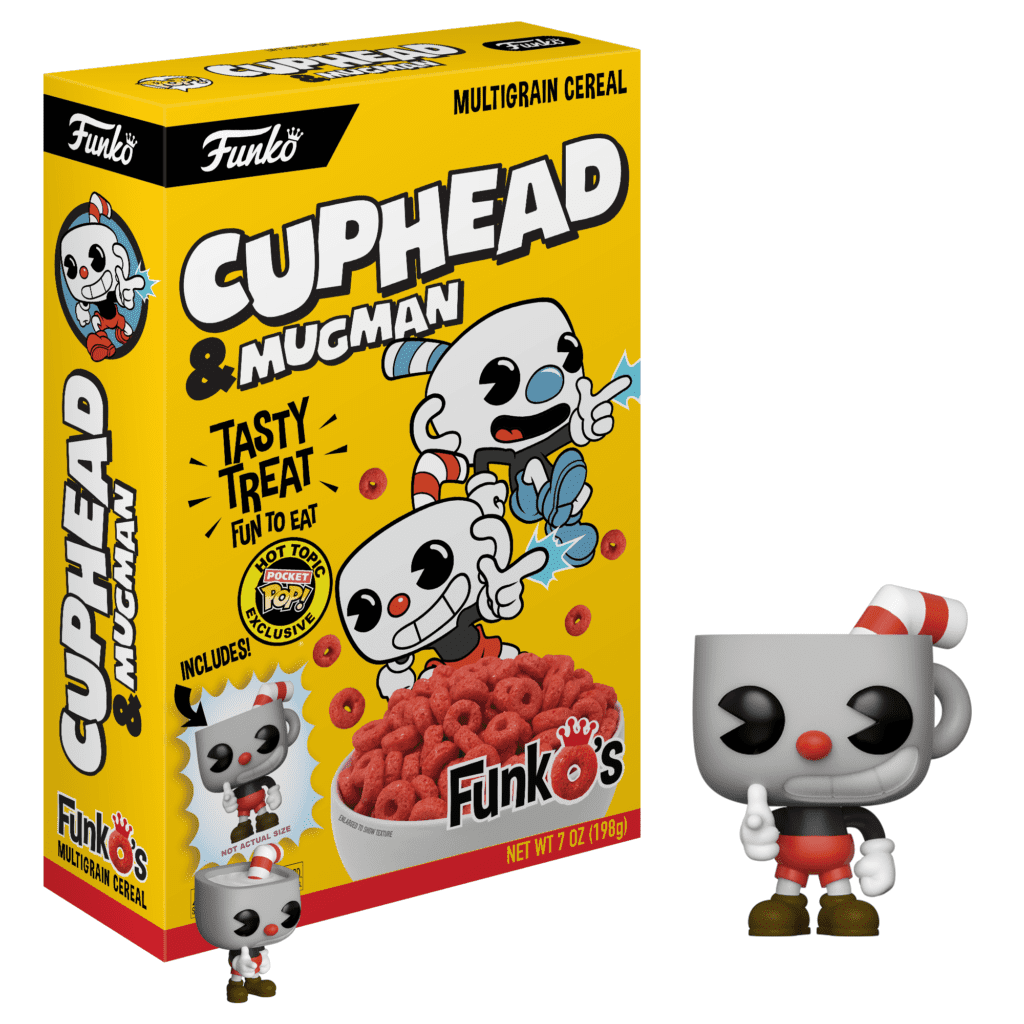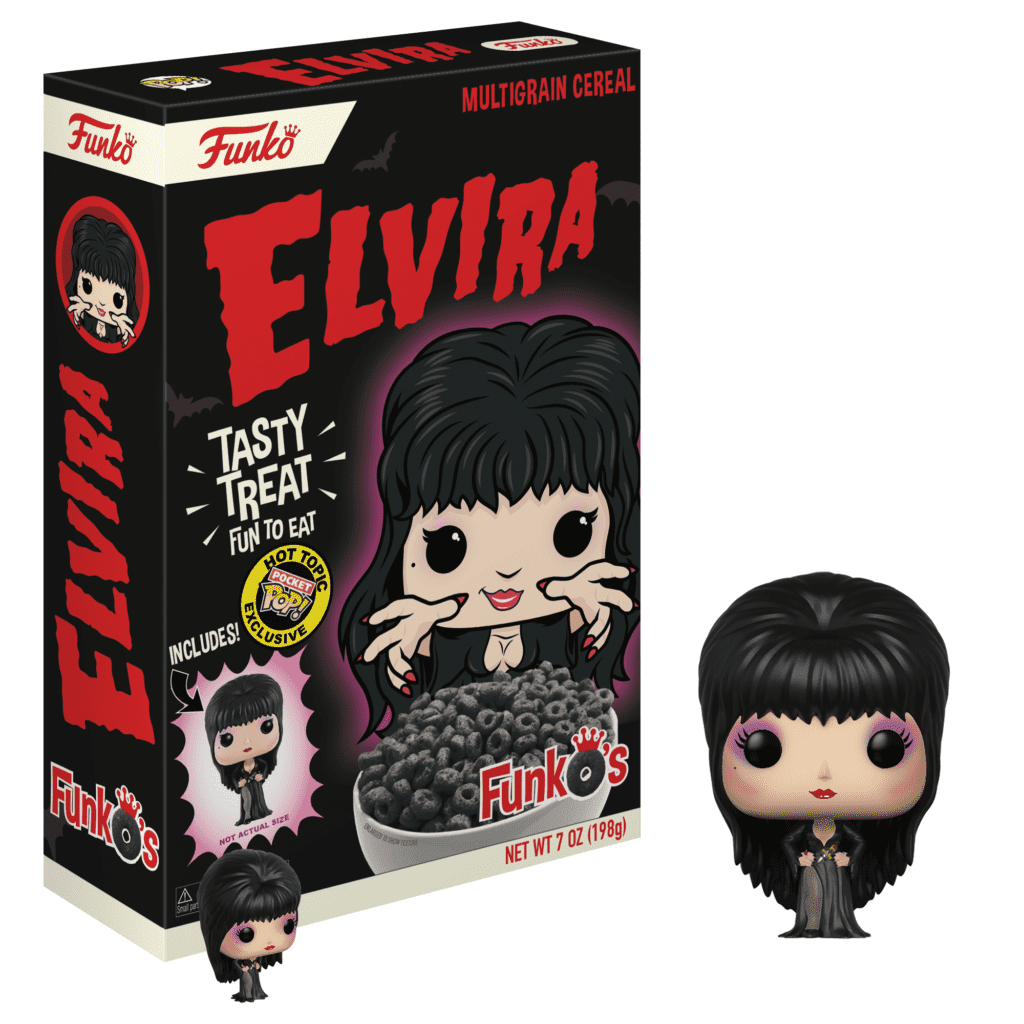 Pop! Cereal is a series of Funko cereal boxes that contain a Pop! figure. Unfortunately, it's only available in the USA. Various cereals are available with different figures inside, and they even have some Limited Edition bits as well.
Something Wild! Card Games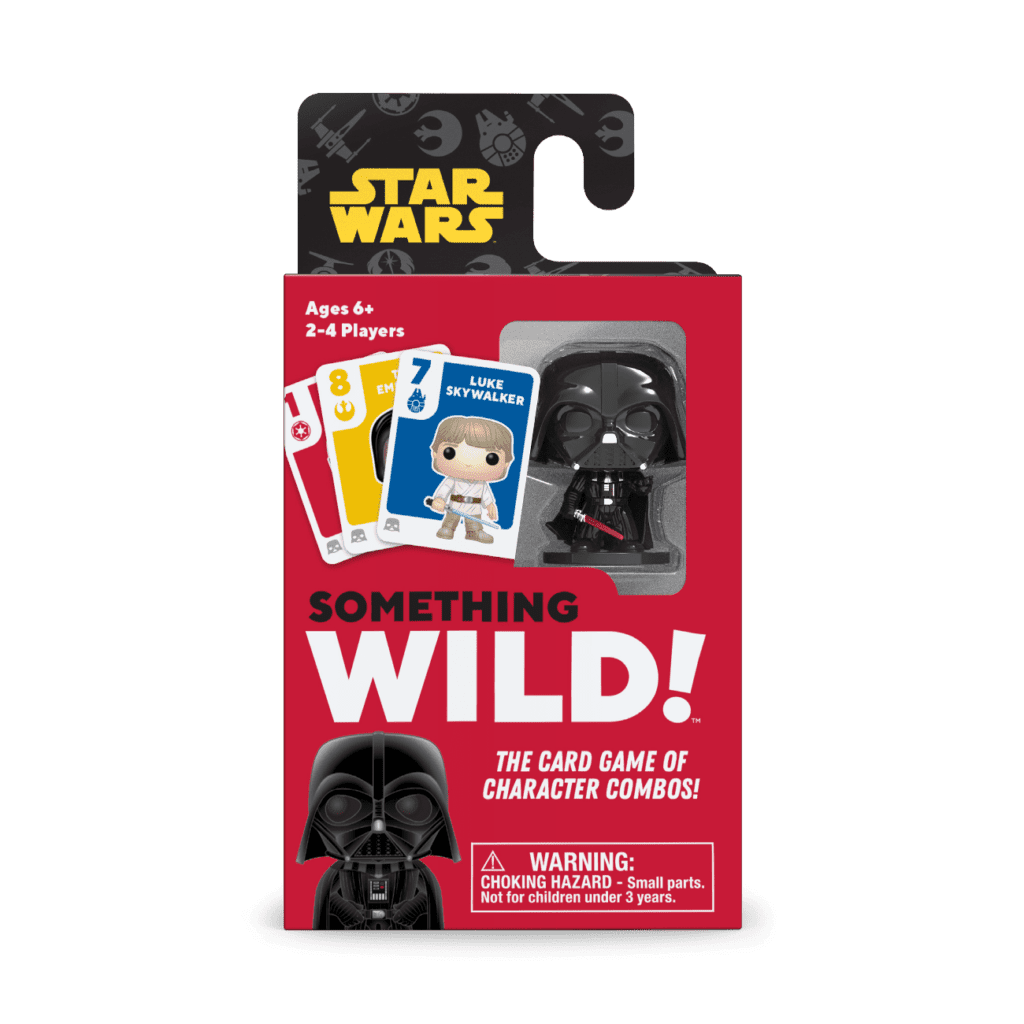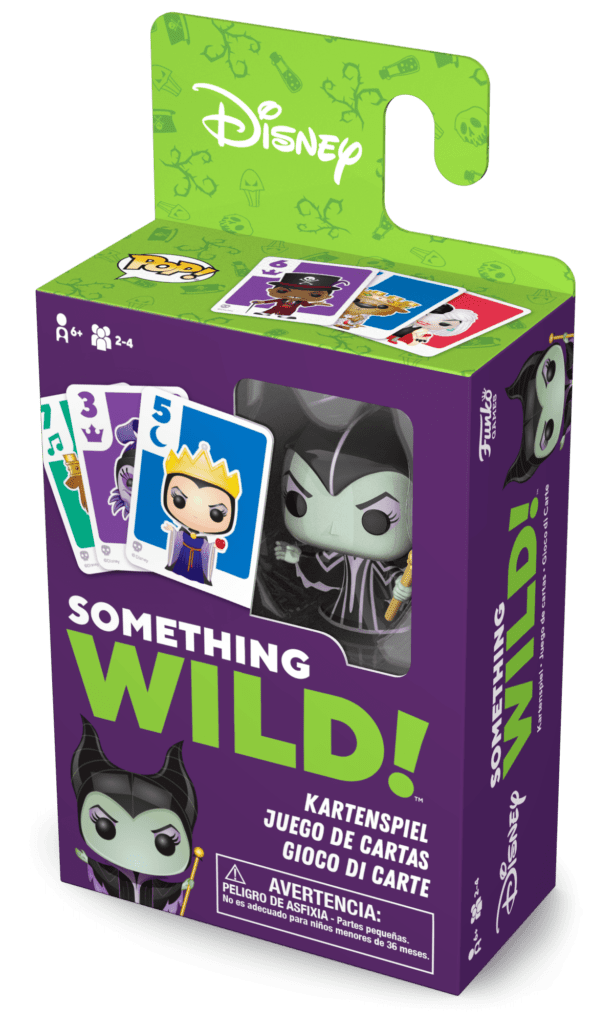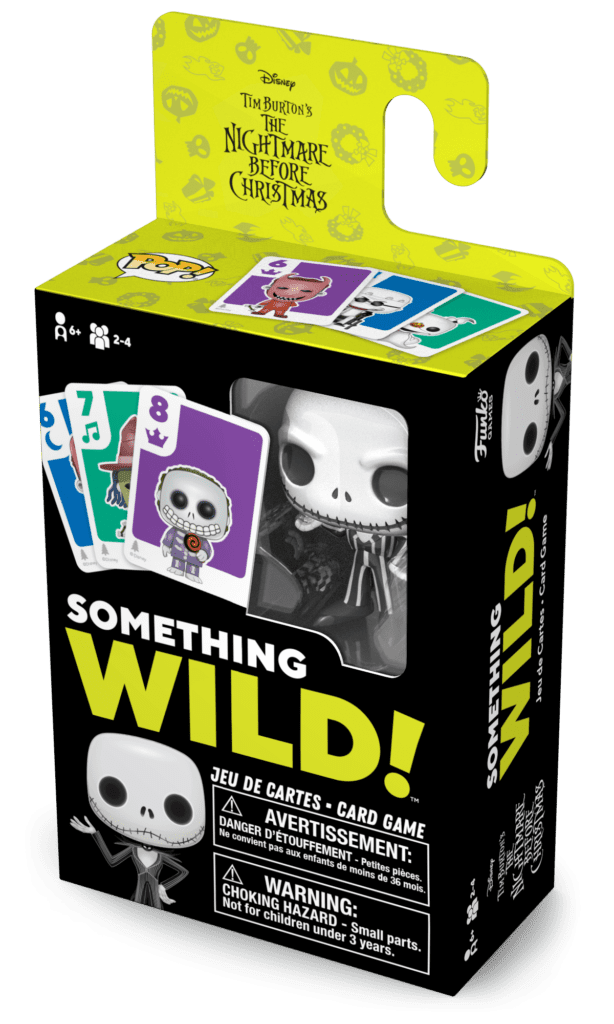 The whole family will have a great time playing an easy and fun card game that incorporates some recognizable Disney characters as stylized Pocket Pop! playing pieces. In addition, sets can be combined, creating fun crossover games that will entertain any group of players. 
There is something for every player, from fast-paced action to more thoughtful strategy. The starter sets come with instructions for playing many different kinds of games, and there are also alternate rules included on the box, allowing you to play even more ways. Many other sets offer completely original gameplay mechanics, and each comes with a pocket pop figure that fits into the cardholder.-
Pop! Keychain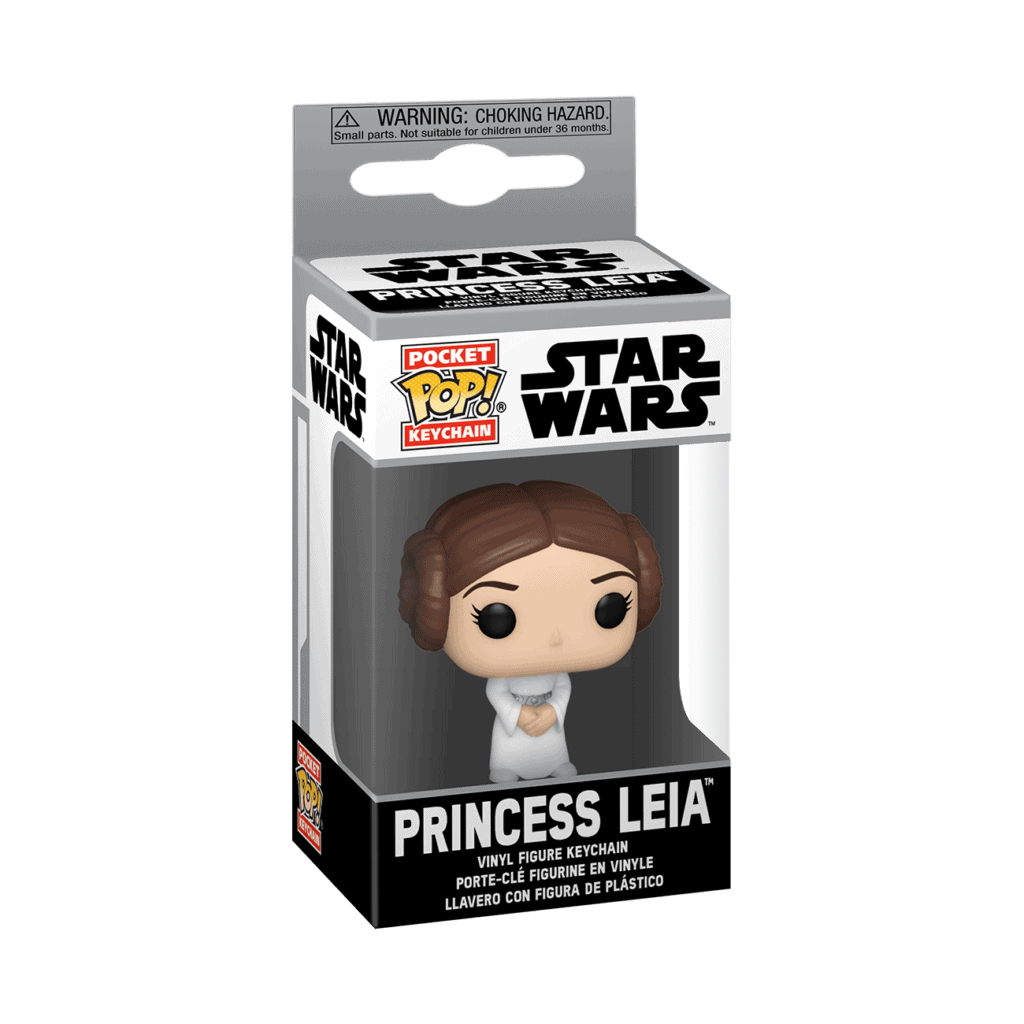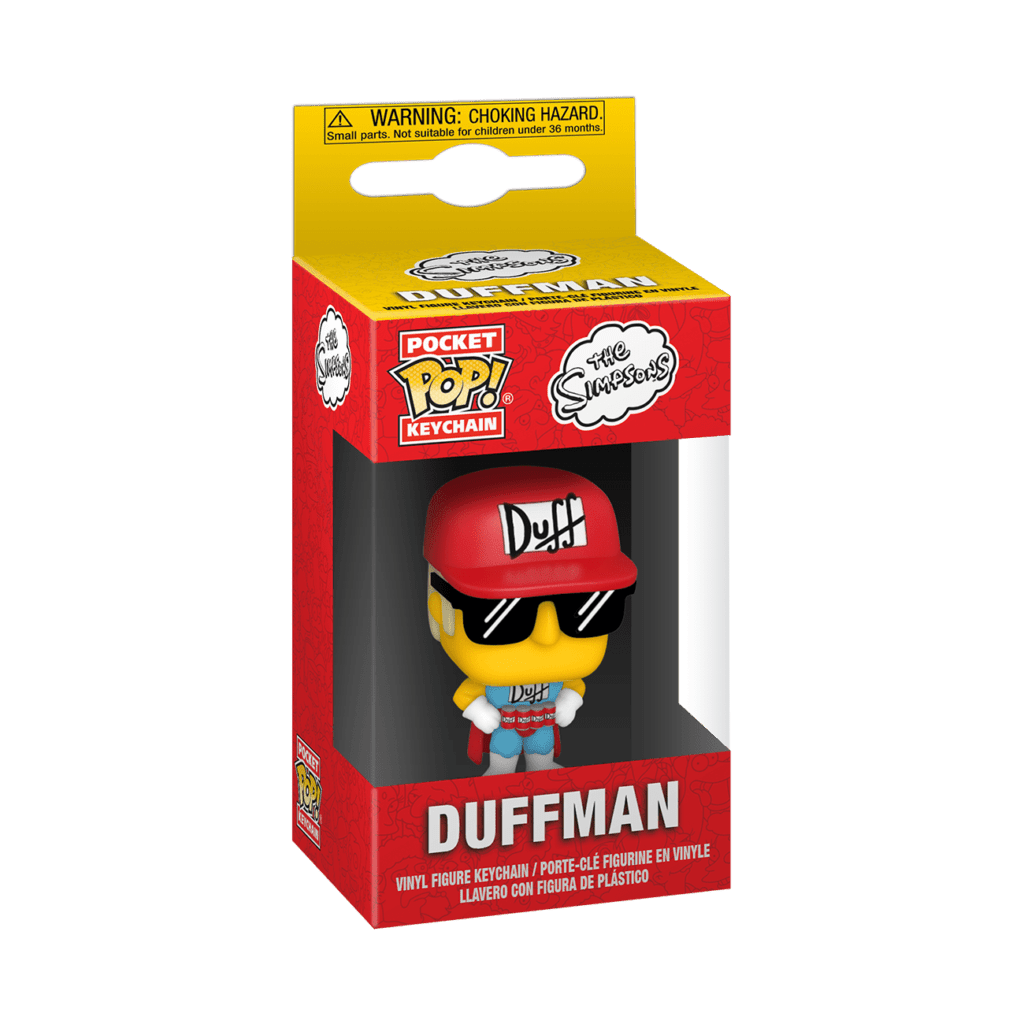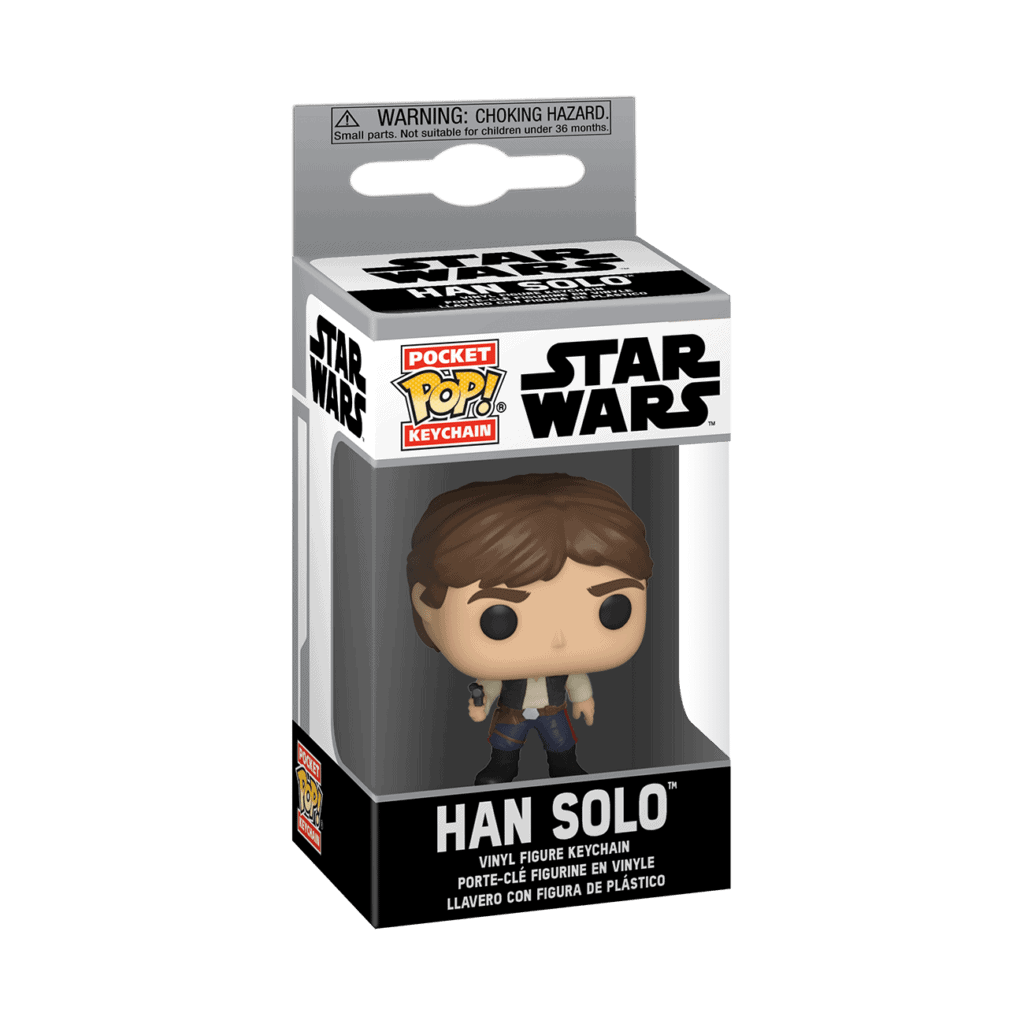 Once you've got your main collection well on its way, you might want to think about venturing into the world of Pop! Keychains. These are mini versions of their larger counterparts—the same character in the same pose but small enough to fit on a keyring. Pocket Pop! figurines are made with the same attention to detail as regular Pops and come in the same varieties.
From Disney princesses and Harry Potter characters to Marvel superheroes. For those who love nothing more than having their favorite franchise with them at all times, these keychains are a great way to take your collection beyond the shelves.
Pop! Ornaments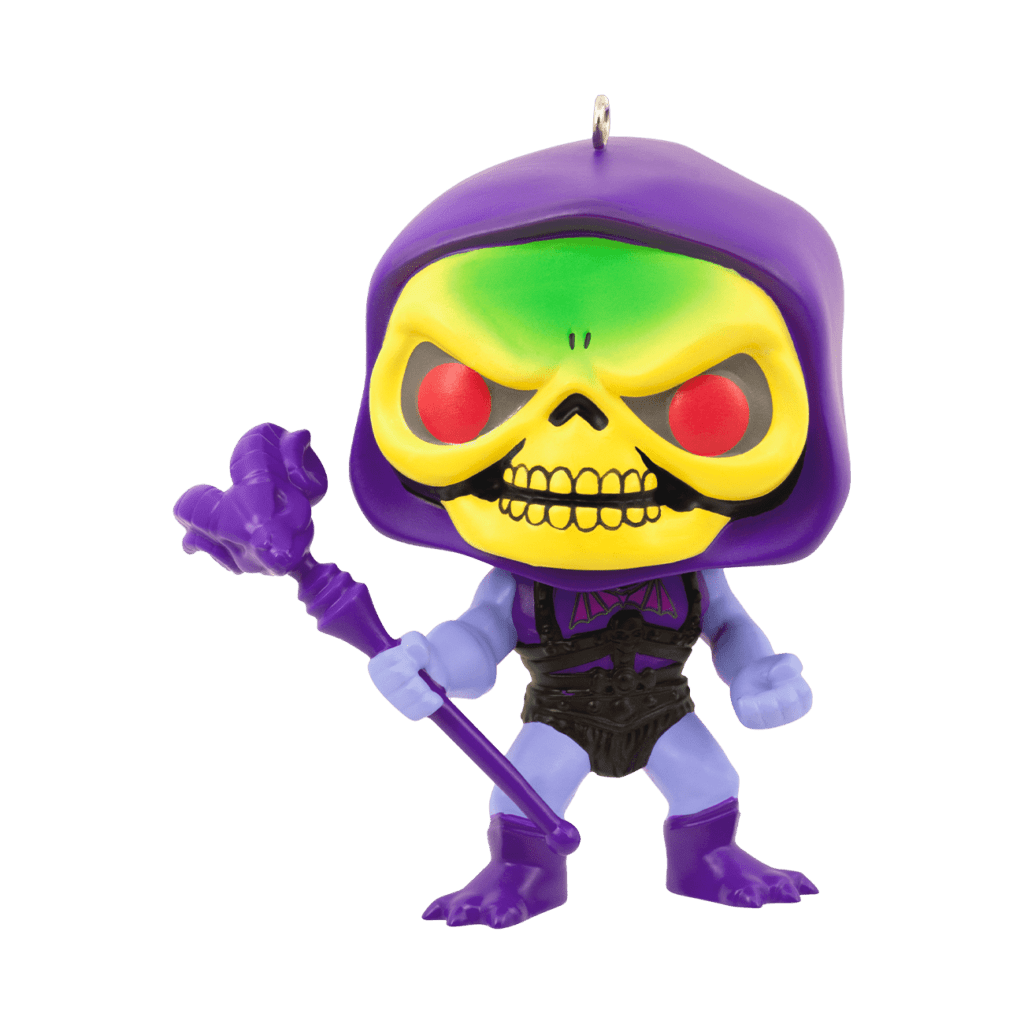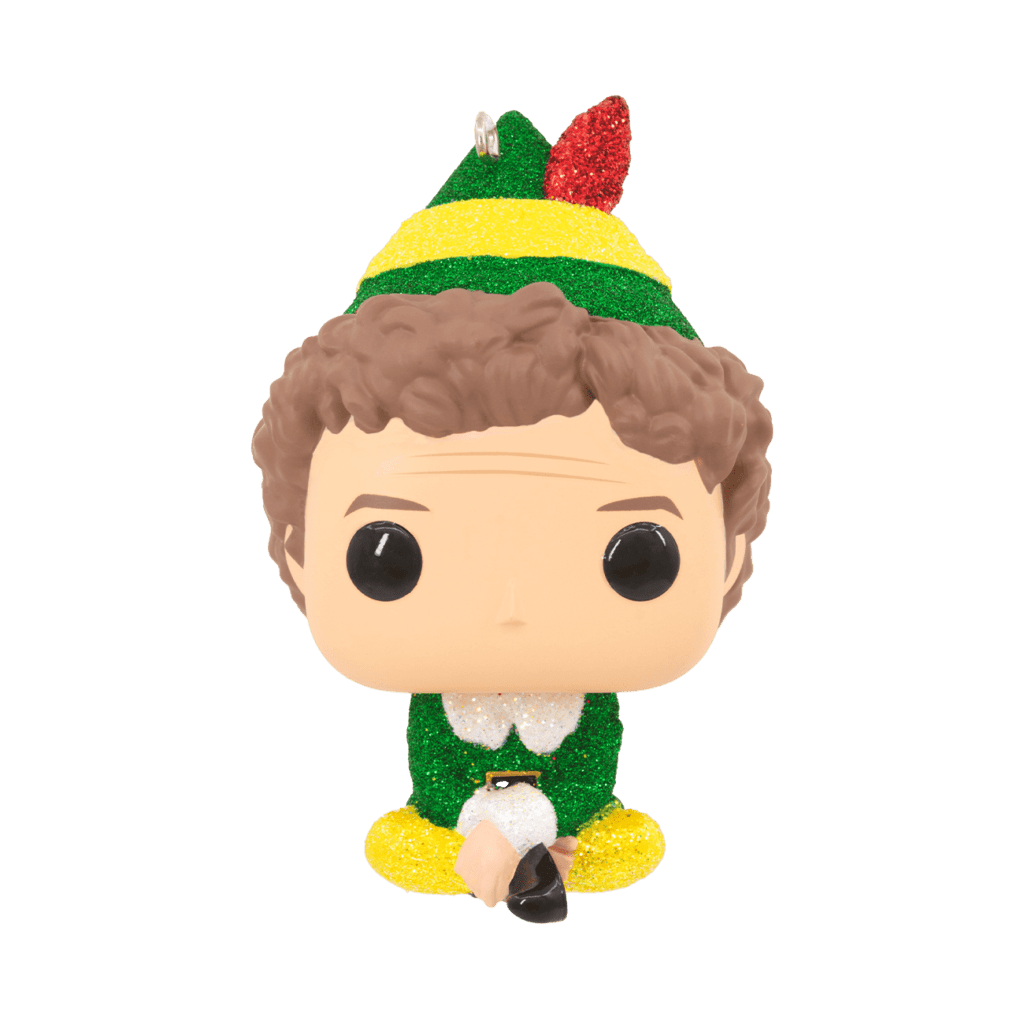 Pop! Ornaments are miniaturized Funko Pop! figurines that include a string for hanging. Most have the standard features of larger Funkos, like blocky heads, simple facial features, and small bodies.
Pop! Party Lights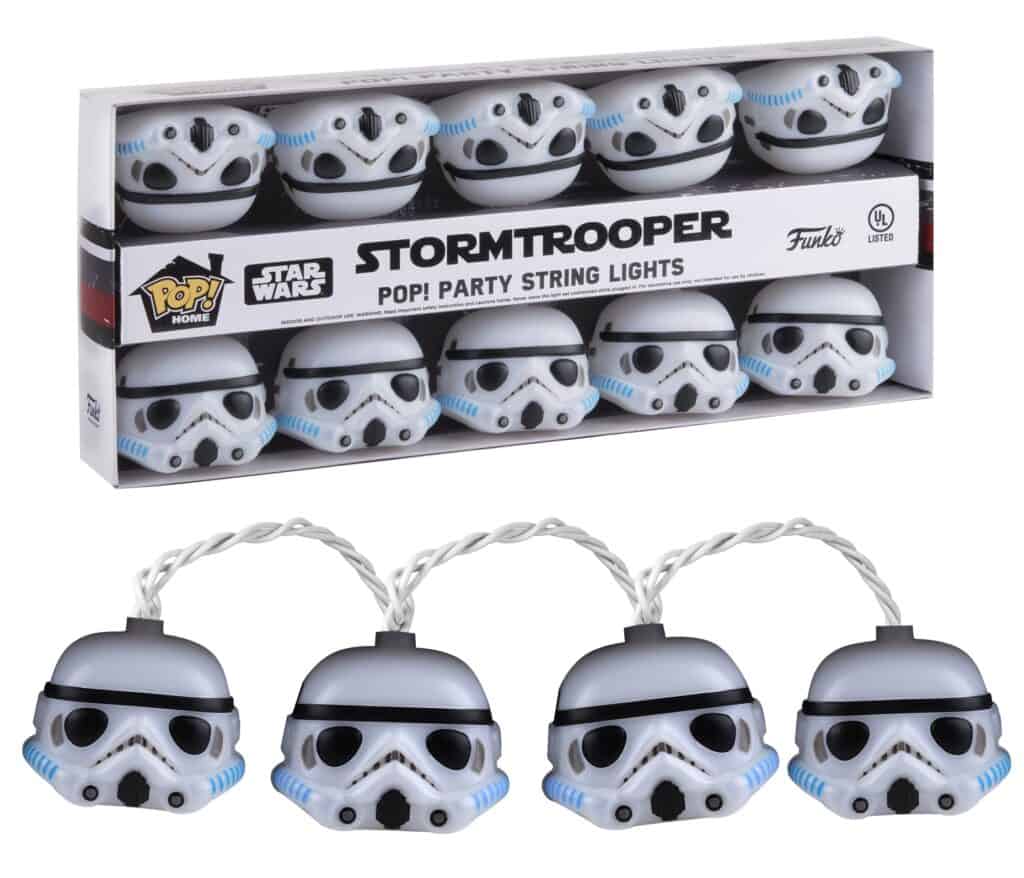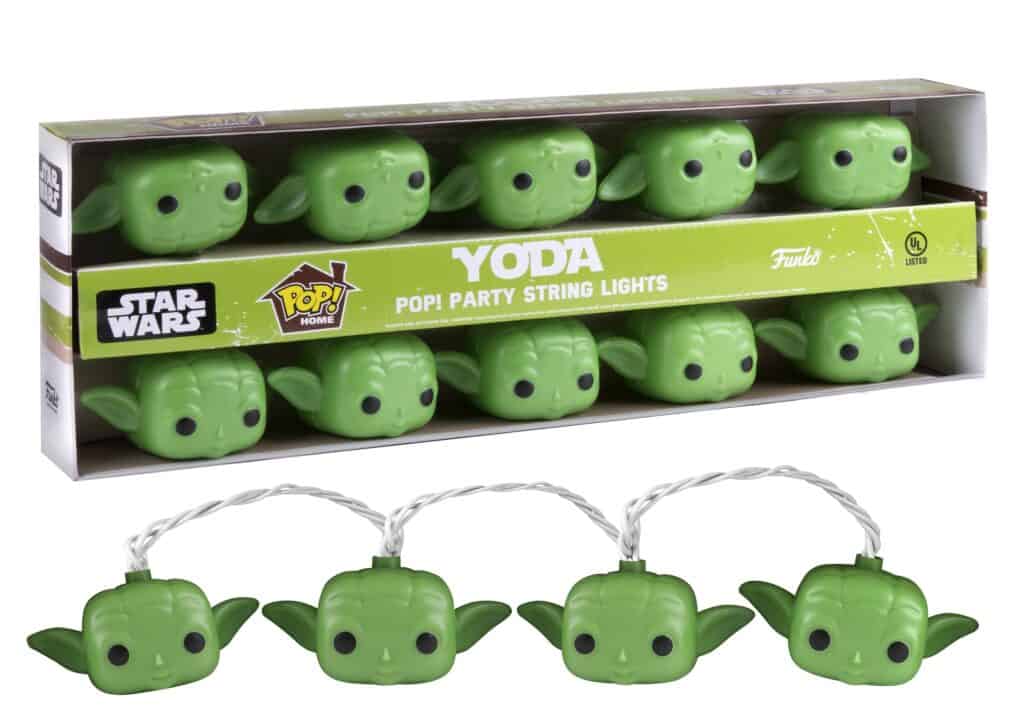 Pop! Party Lights are the next step in your Funko Pop collecting journey. They allow you to take the light bulb out of the ceiling and into your hands, transforming it into a decorative item reflecting your fandom. These portable lights transform any event into a celebration: a housewarming party or an elegant dinner for two. Bring your favorite characters to life with each flick of the switch!
Pop! Pez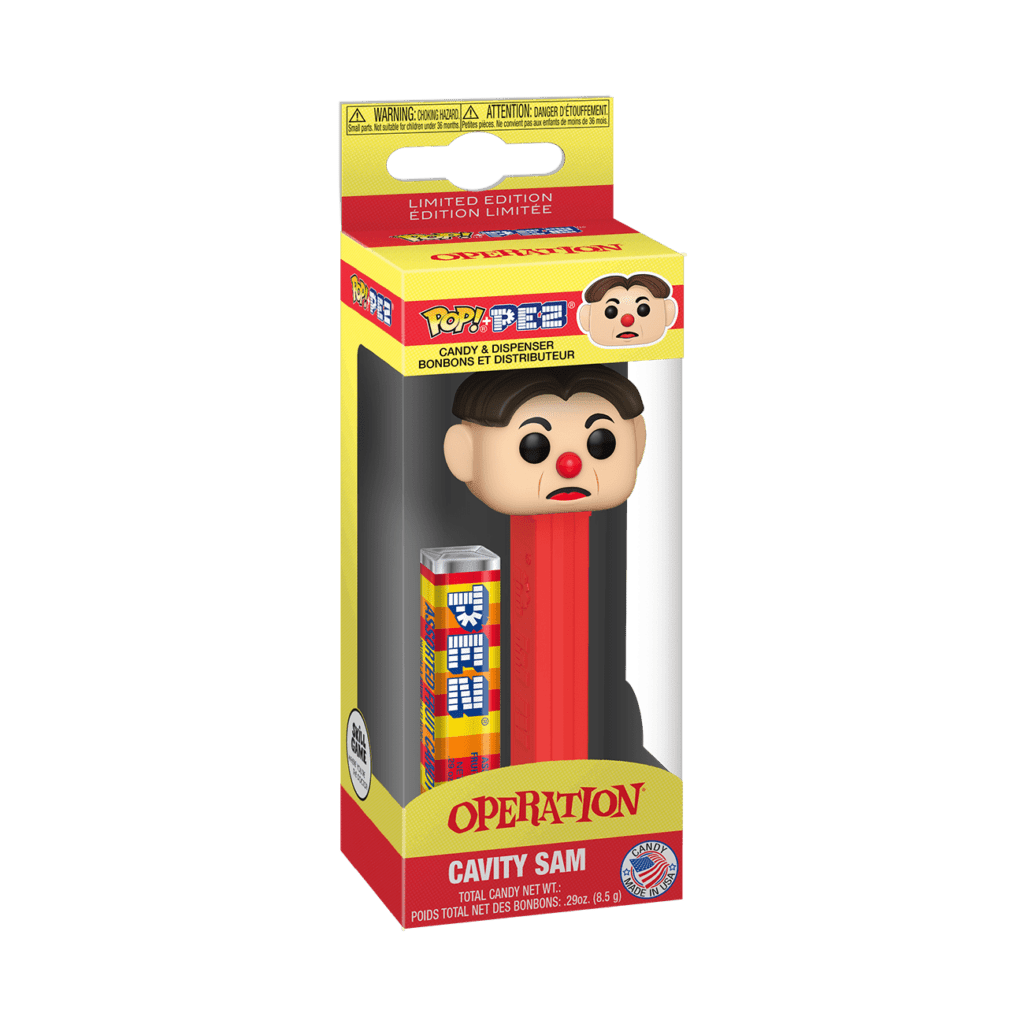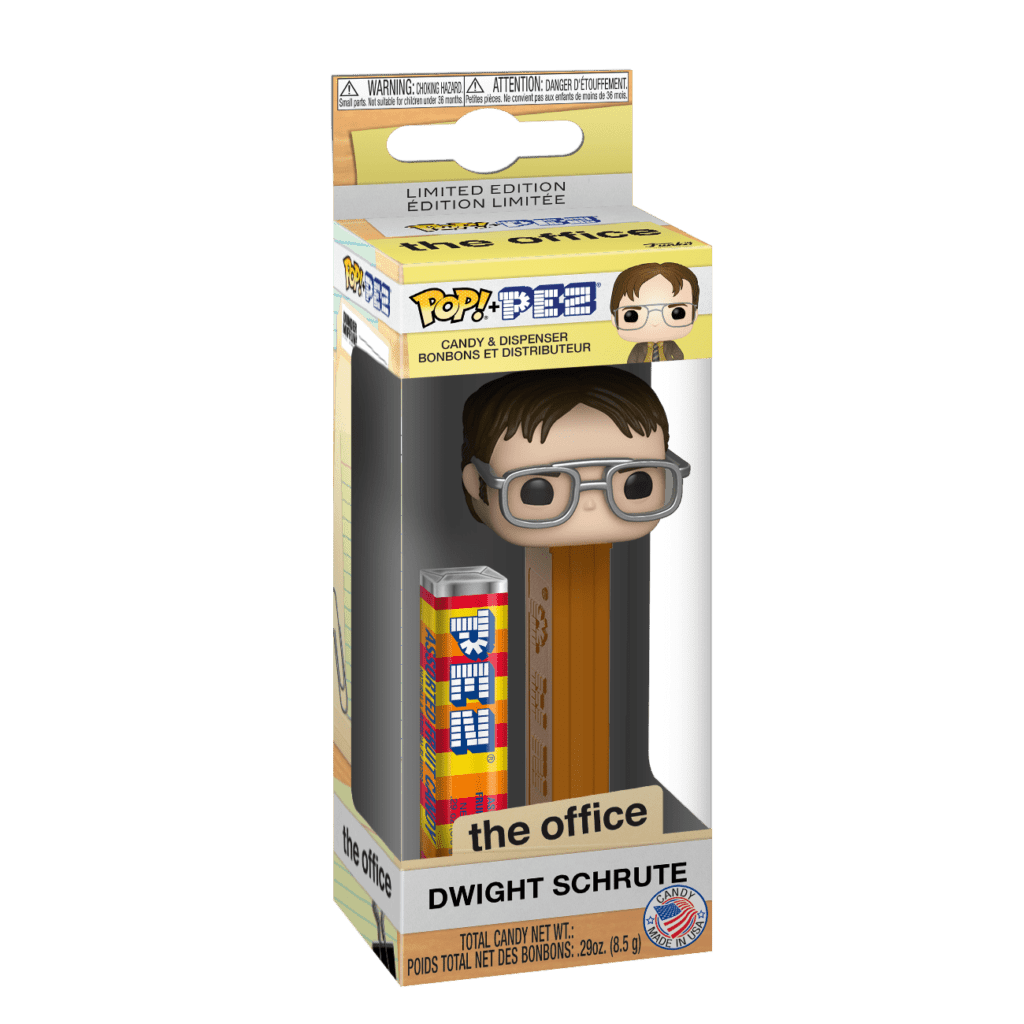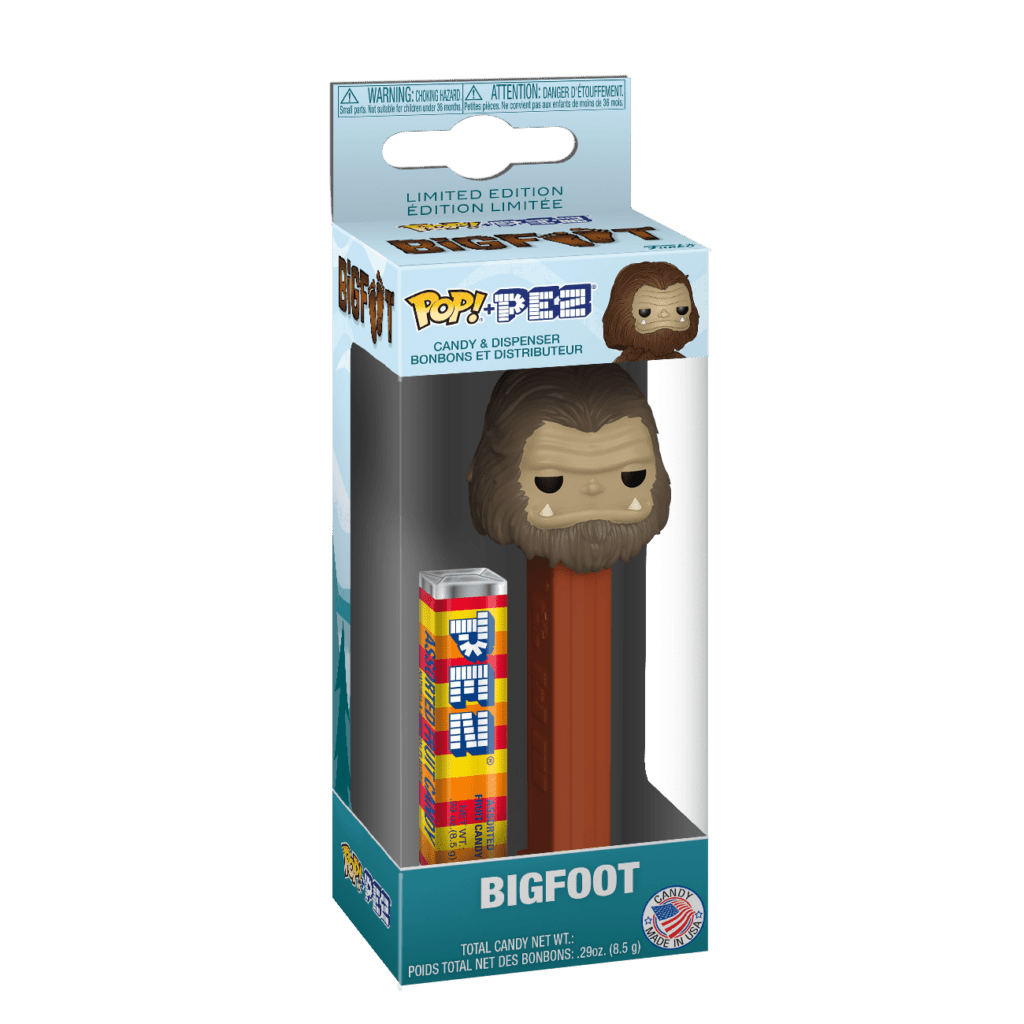 You might think Pop! Pez is just a thing for kids, but you're wrong. This little treat comes with a delicious piece of candy. 
Pop! Pins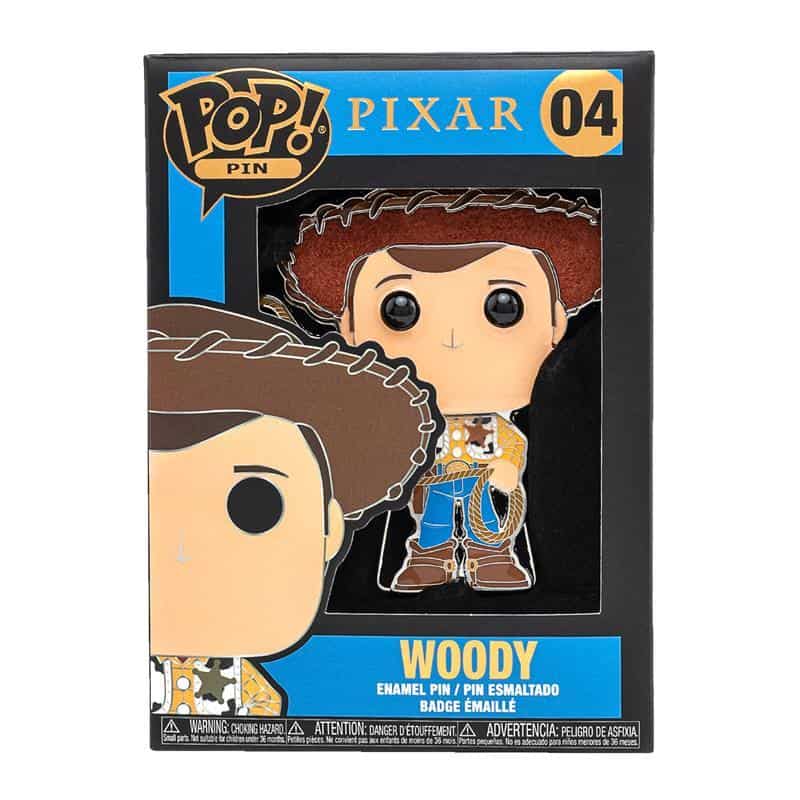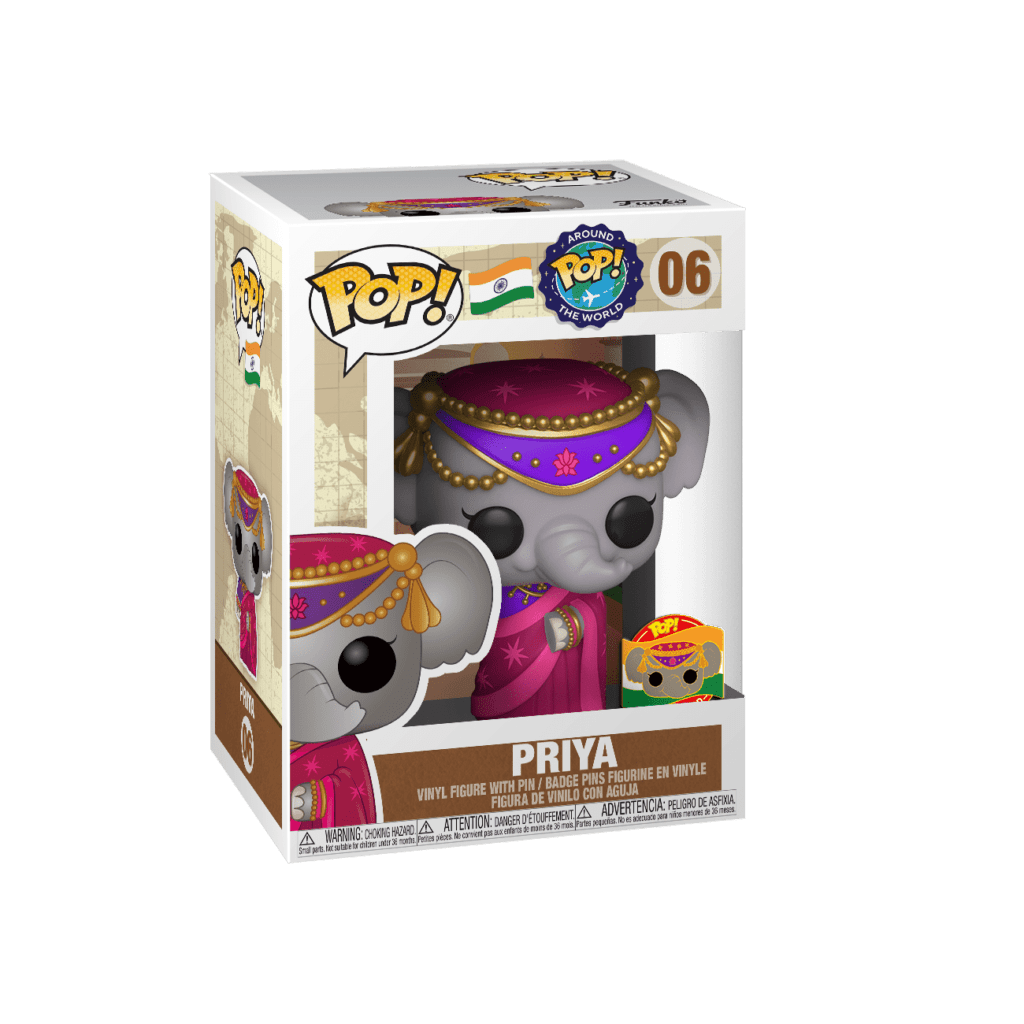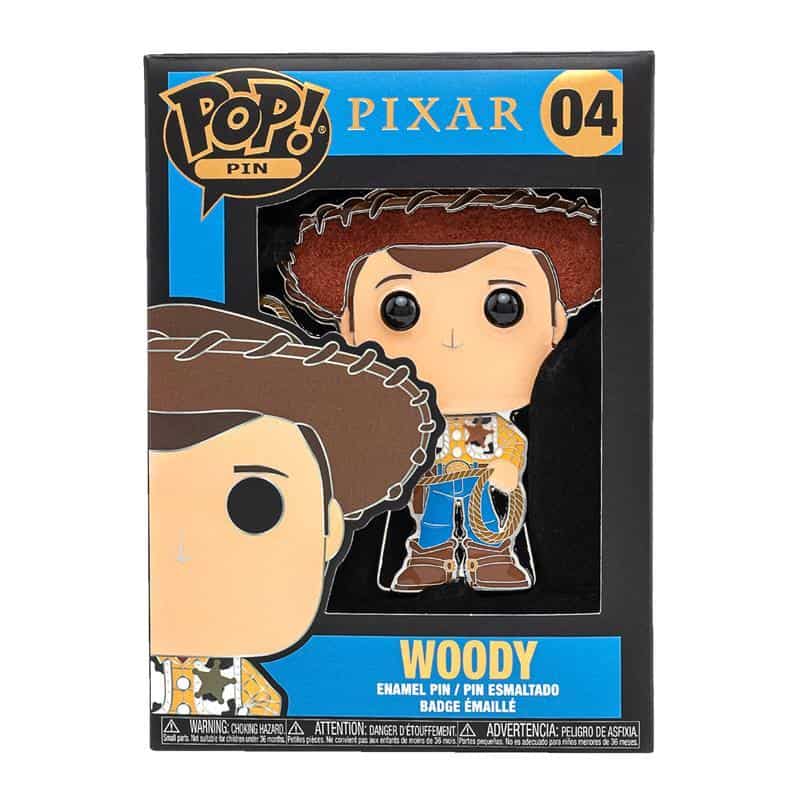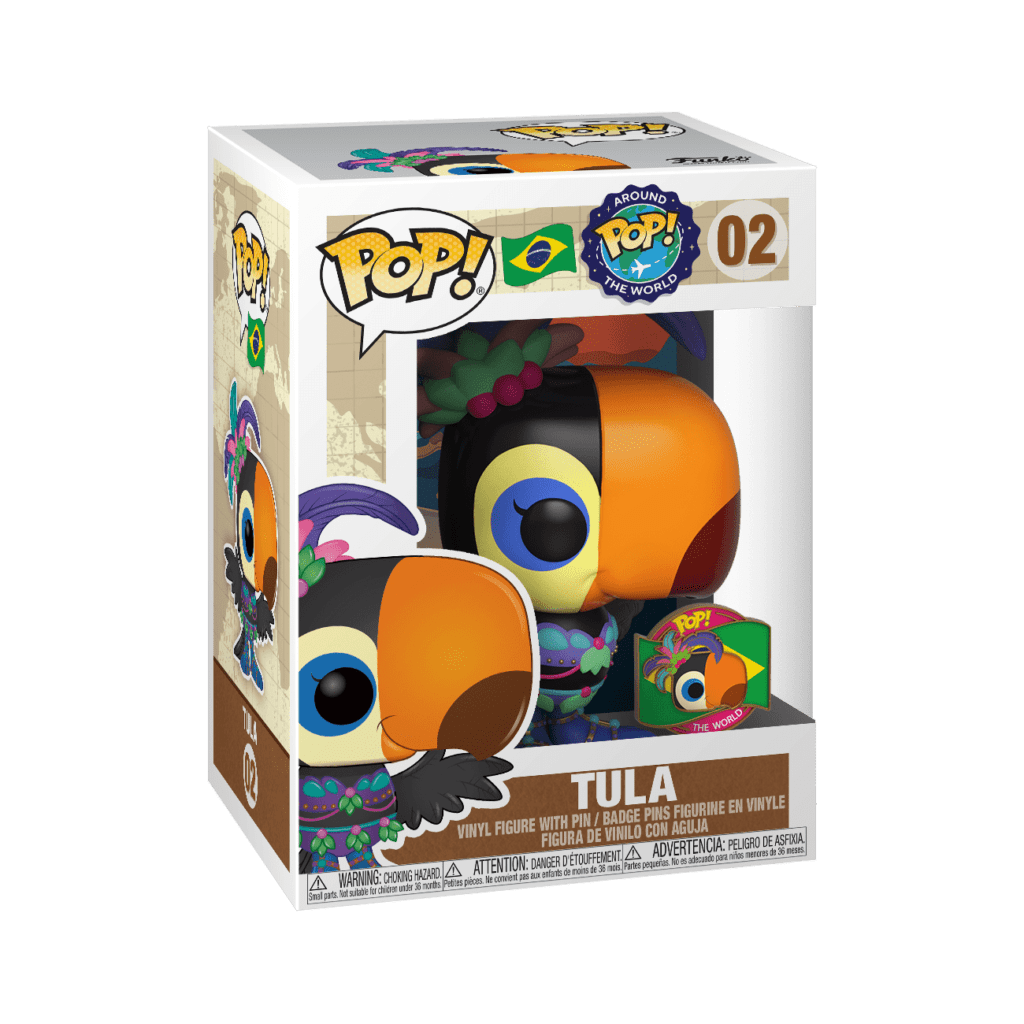 Pins are smaller, but their plush velveteen material is super soft to touch. They make for a nice add-on for when you want to collect figures of characters that aren't available as Pop! figures.
Pop! Sockets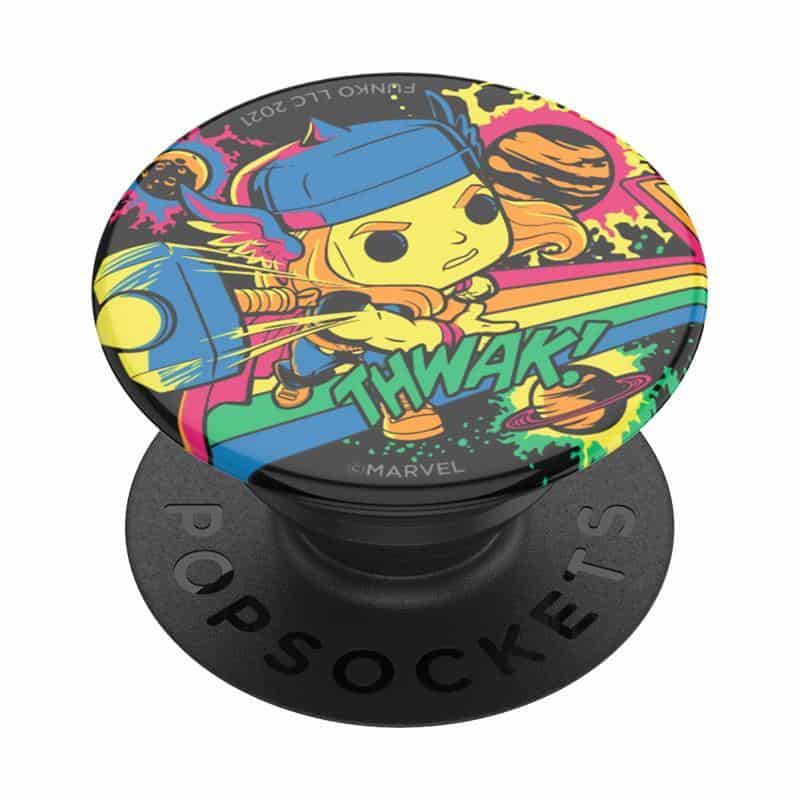 Pop! Sockets are small attachments that stick directly to the back of your phone or phone case, holding it in place and allowing you some extra grip. You can get them in various designs, from simple solid colors to licensed designs from popular brands like Disney and multiple characters from comics and TV shows.
Pop! & Buddy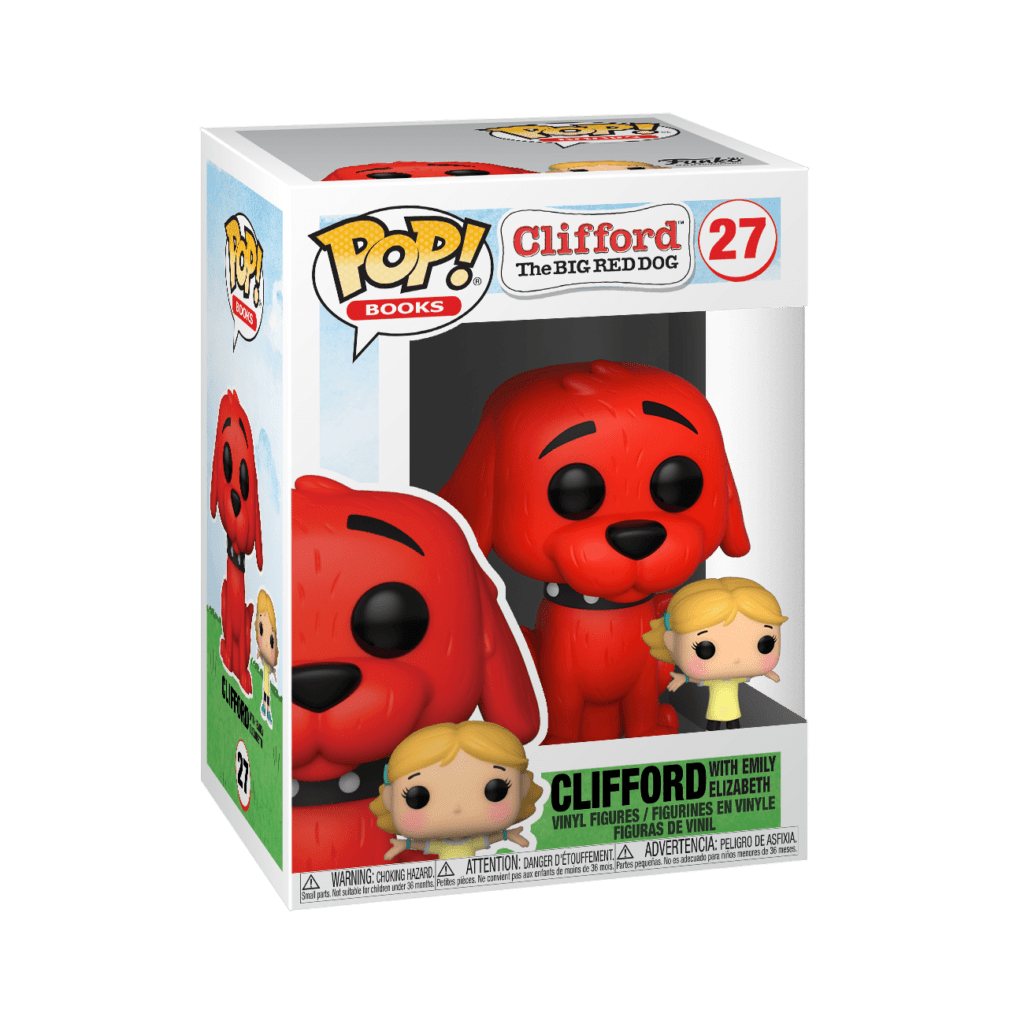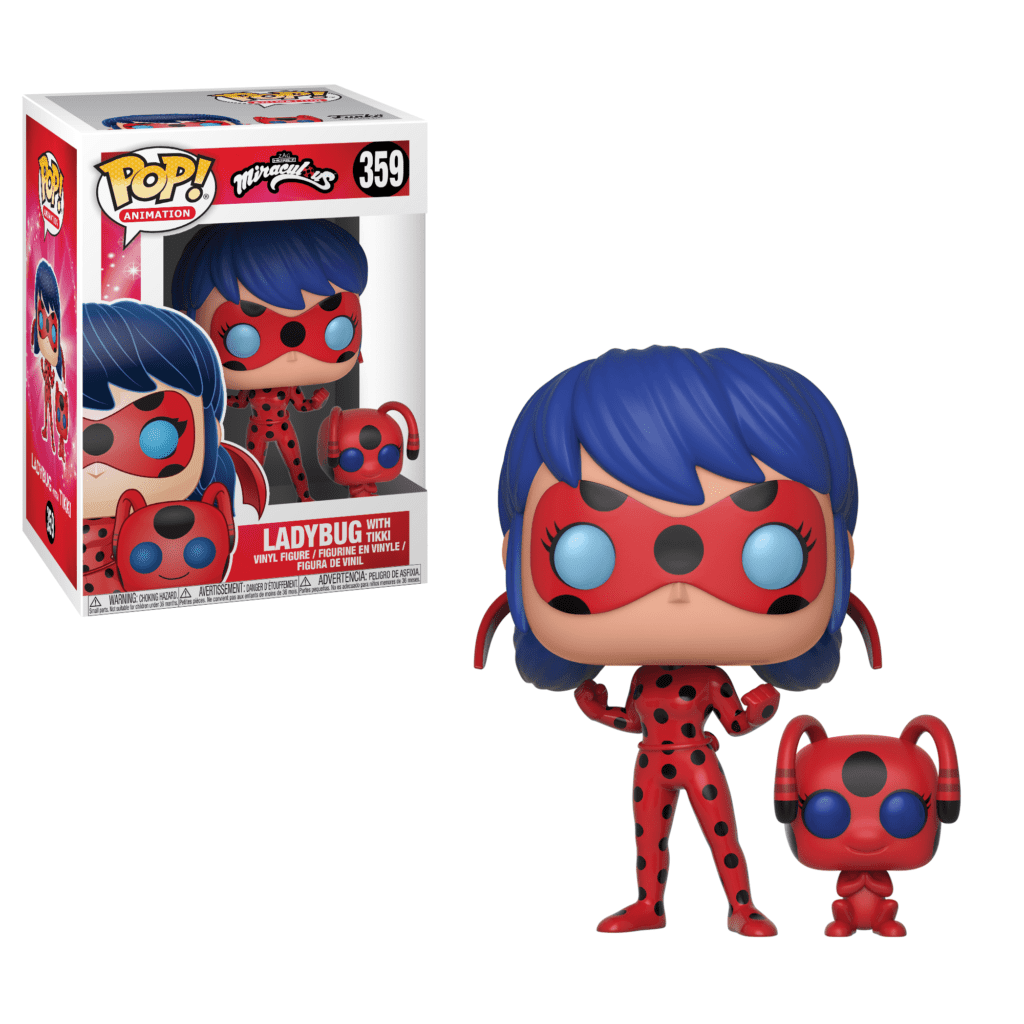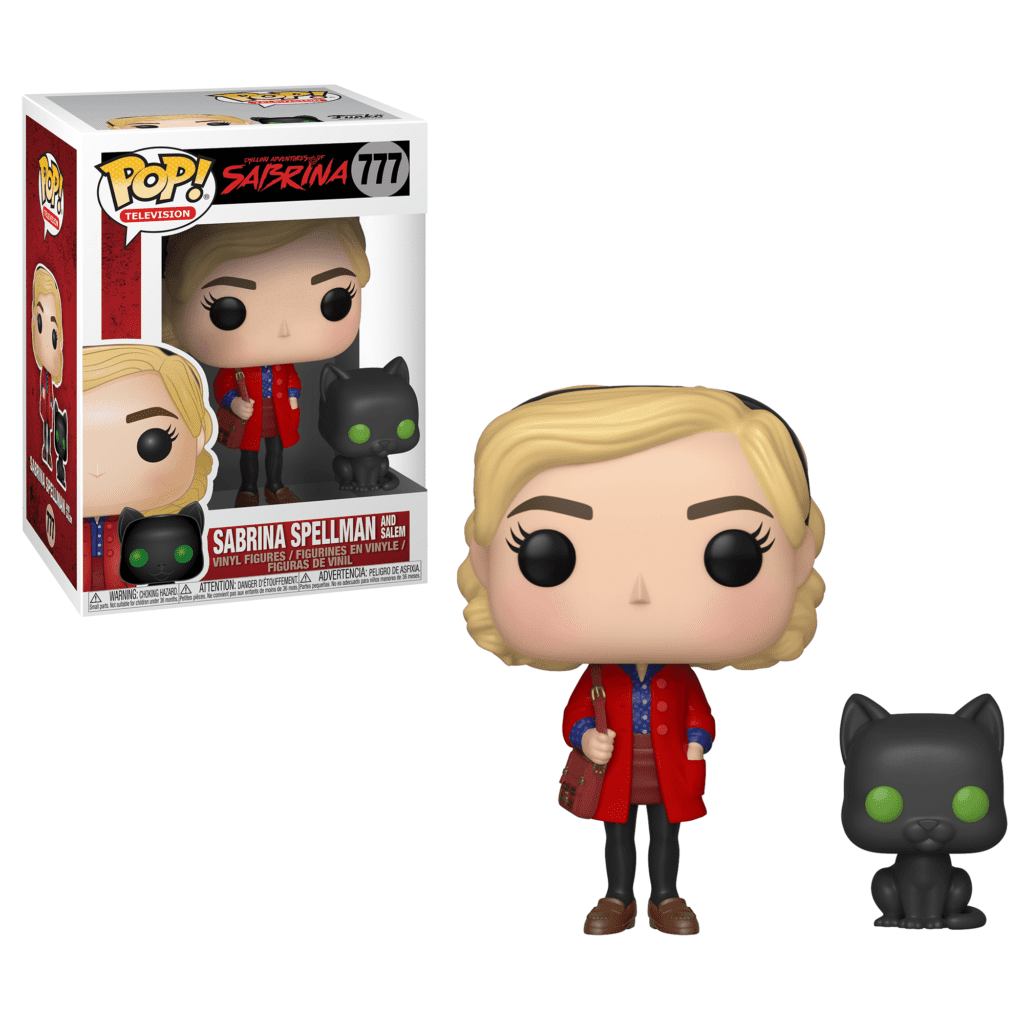 These are usually standard-size vinyl figures with a tiny separate companion figure. Examples would be: Pop! Sabrina Spellman and Salem of The Chilling Adventures of Sabrina collection, Pop! Clifford with Emily of the Clifford the Big Red Dog collection, and Pop! Miraculous Ladybug with Tikki of the Miraculous Ladybug collection.
Pop! DIY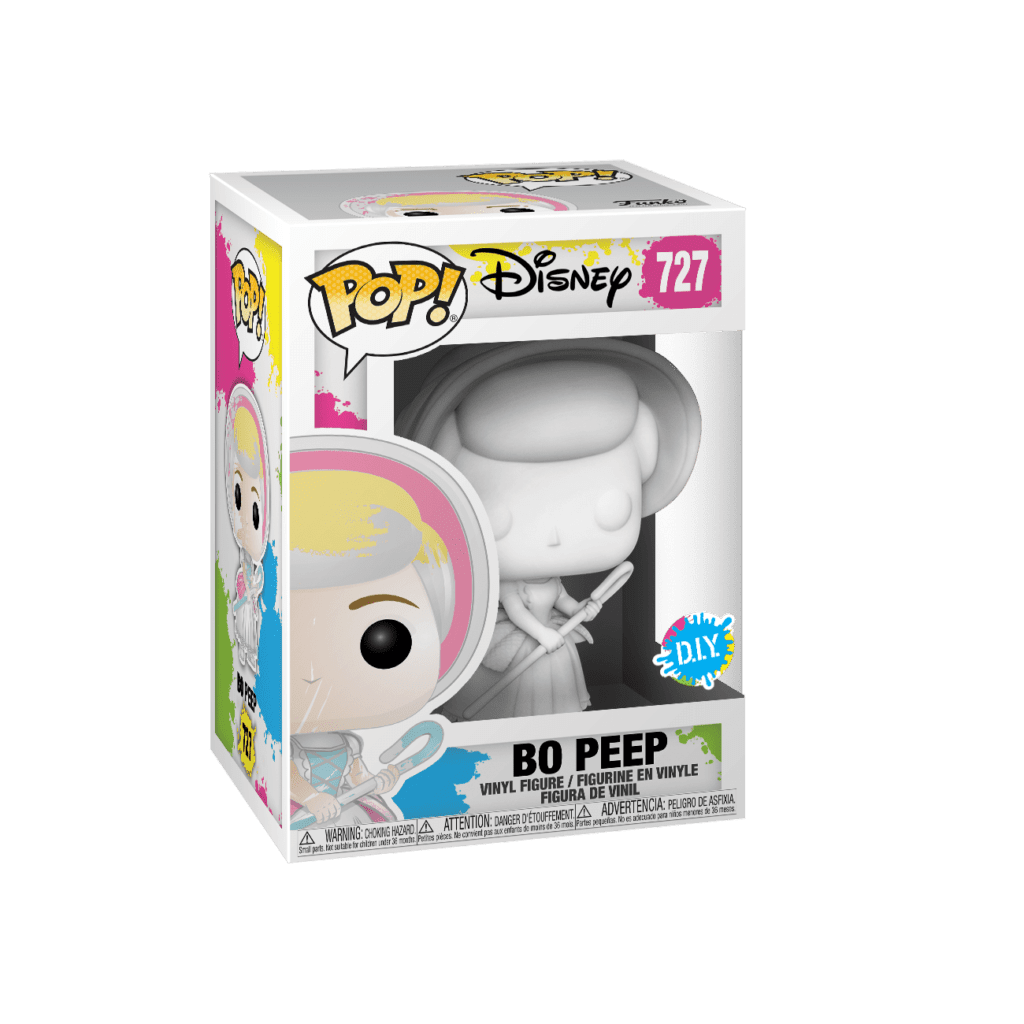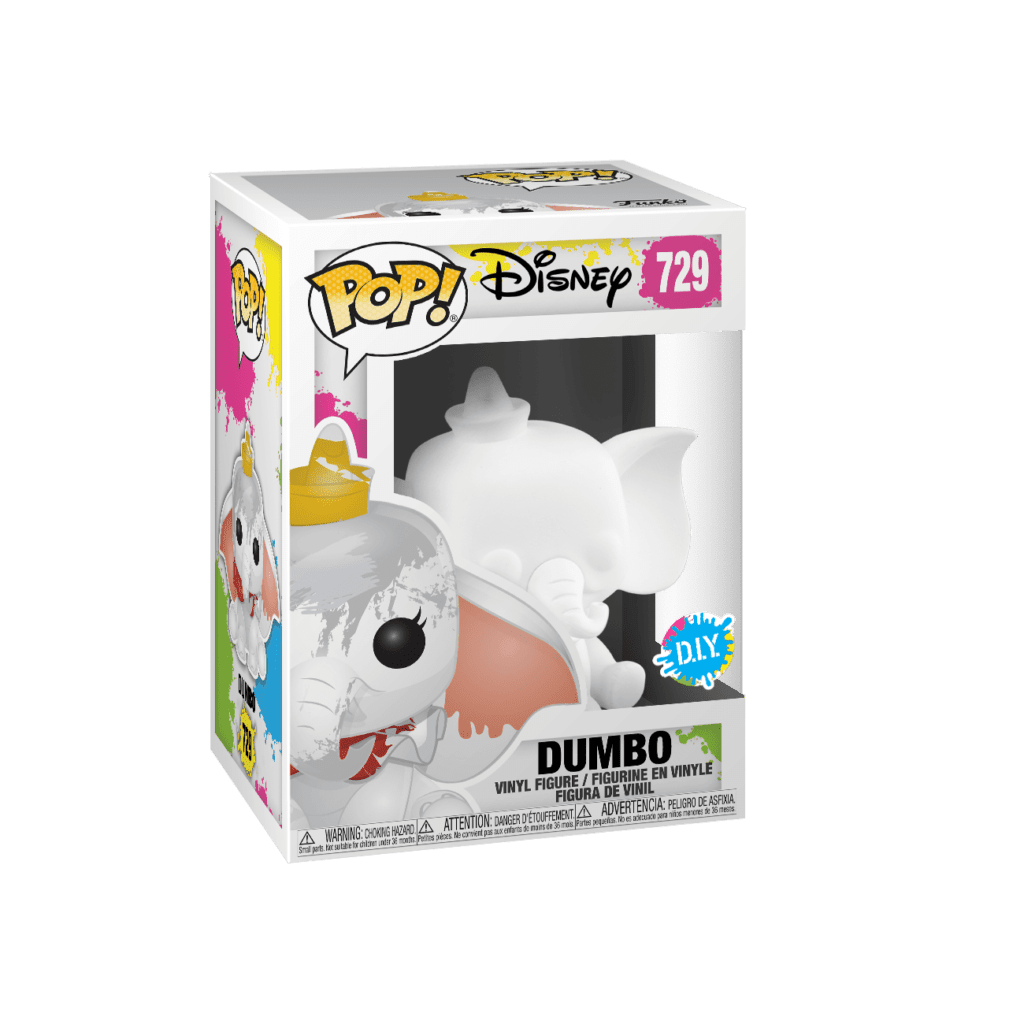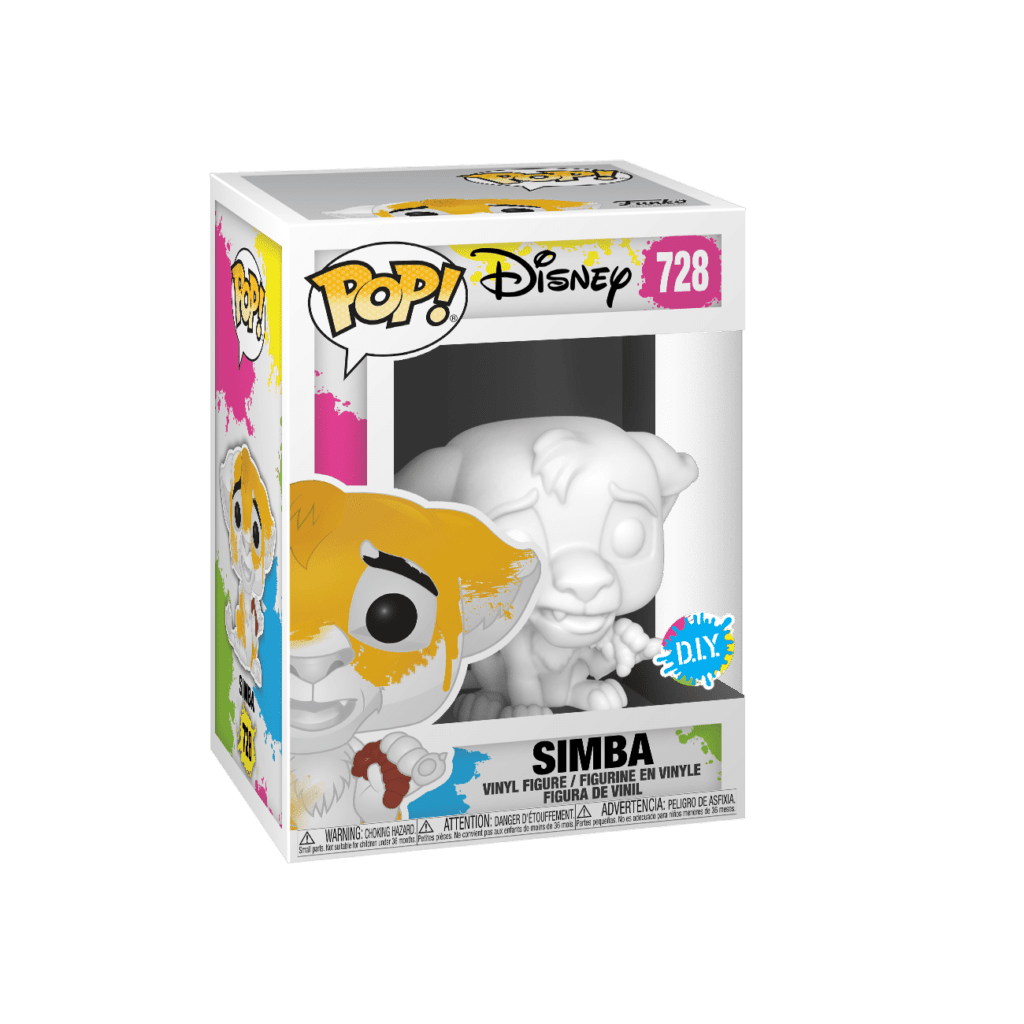 The Pop! DIY vinyl figures are fantastic. These extra unique Pop! figures are Standard size vinyl figures coated in white primer and ready for you to paint and color.
Pop! Mugs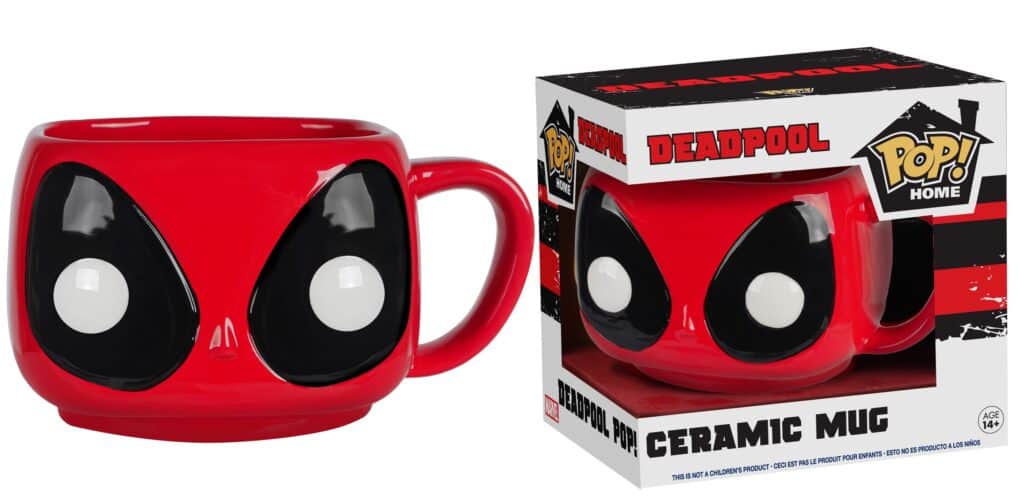 Did you know that Pop! Mugs are a thing? They are.
Pop! Mugs are unique and fun! They are a great way to express your fandom for your favorite character or show. In addition, you can use them for drinking, as a decorative piece on your desk, or even as a pen holder.
Pop! Watches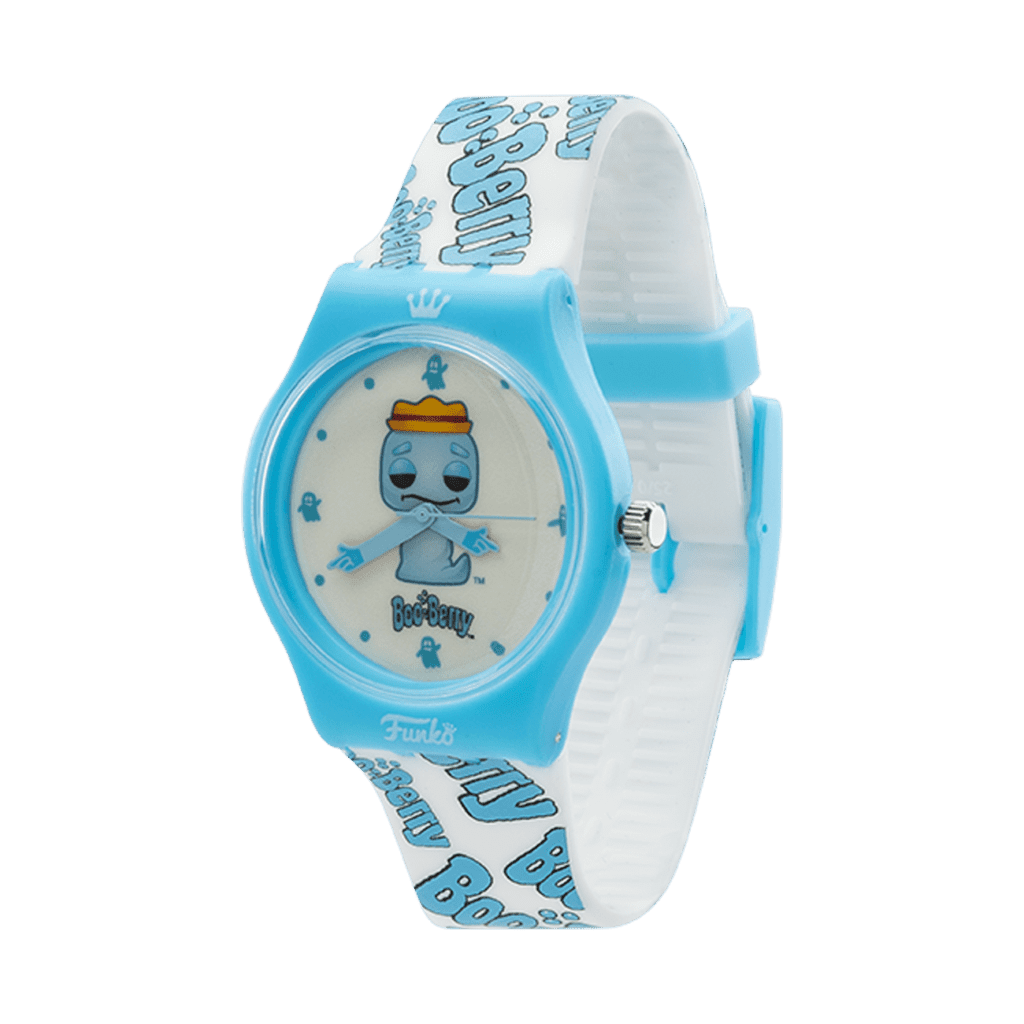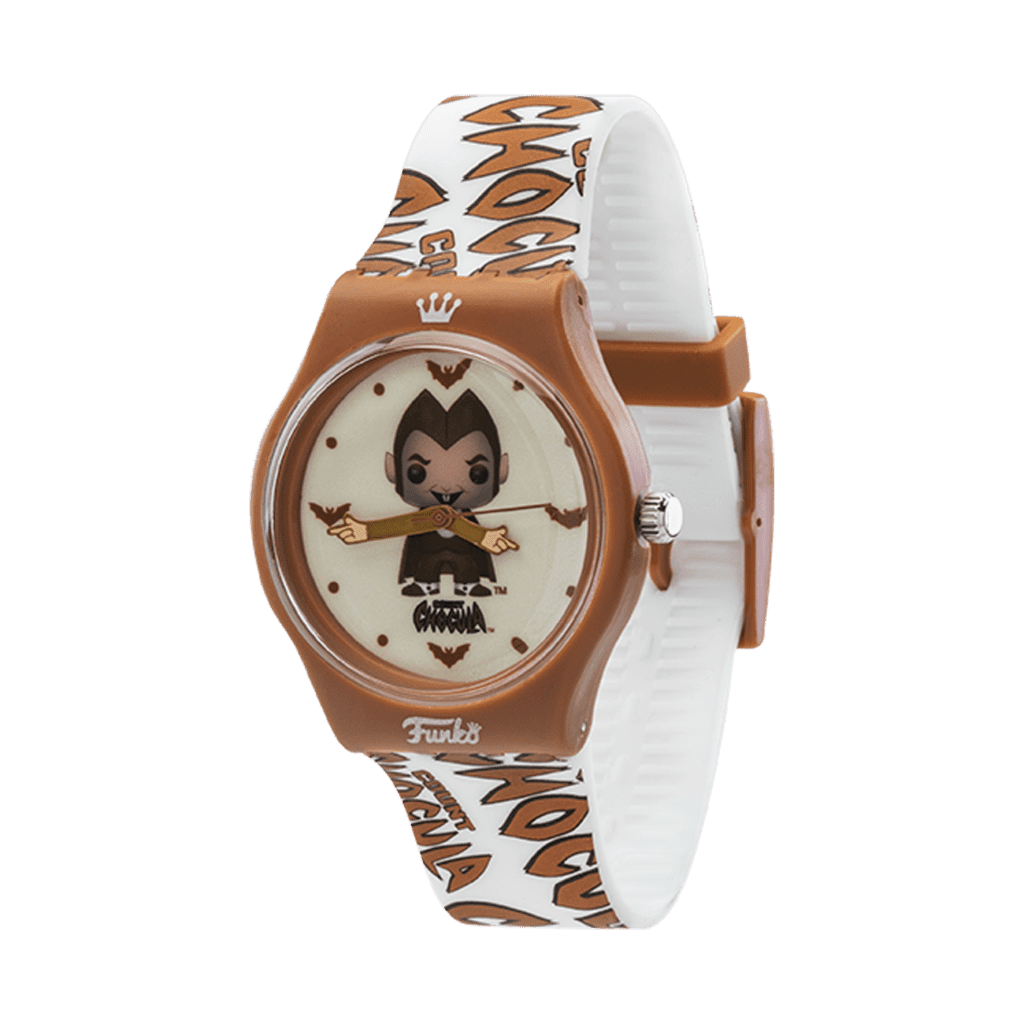 Pop! Watches are watches that are designed with Funko Pop! figures design. I was able to find several on eBay, where they range in price from about $45 to $120. If you're interested in adding this item to your collection, you'd better act fast because they're gone for good once they're gone.
Pop! Deluxe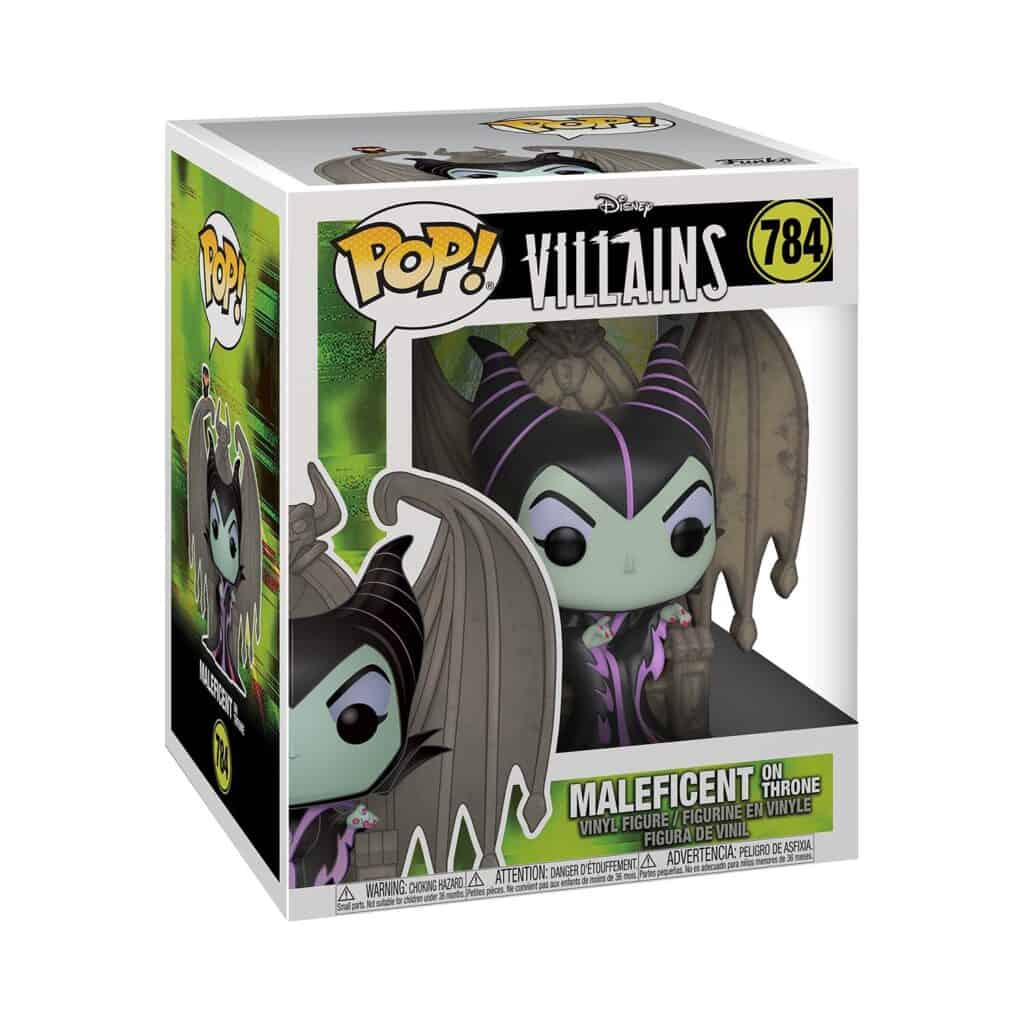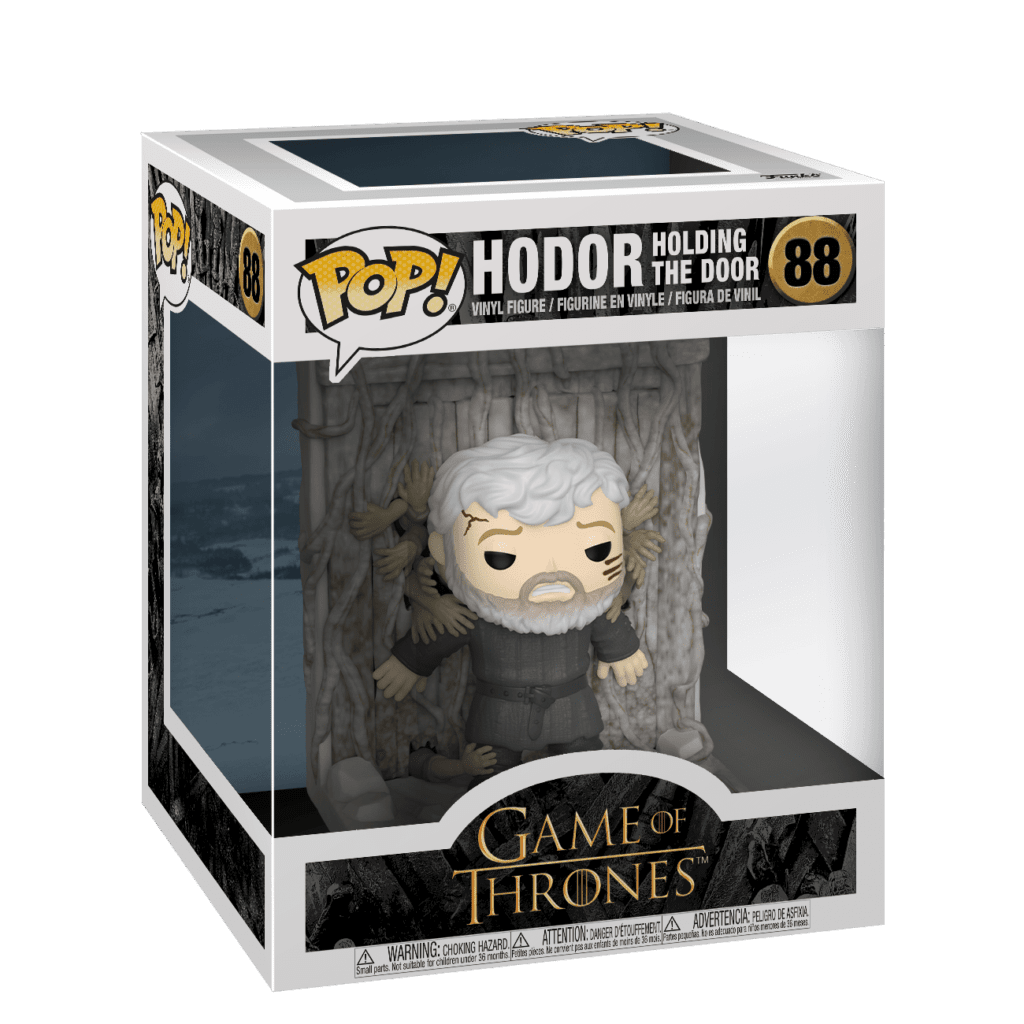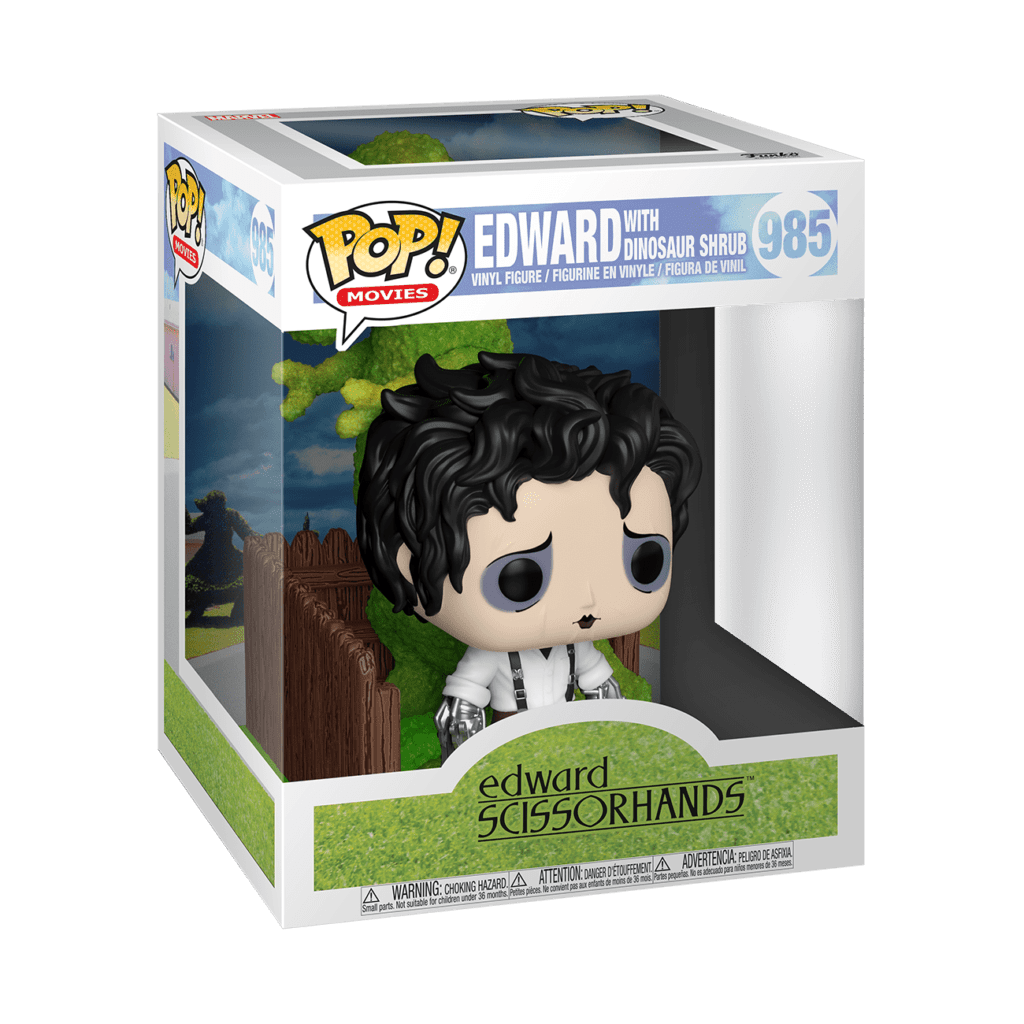 The next type of Funko Pop! that you may encounter is the Pop! Deluxe. These are typically characterized by one distinct figure set in a small scene. Similar to the exclusives, these are more expensive than the standard Pop! It retails for about $20-$30, depending on the series and character. A few examples include:
Pop! Edward Scissorhands with Dinosaur Shrub of the Edward Scissorhands set
Pop! Maleficent on Throne of the Disney Villains collection
Pop! Hodor Holding the Door of the Game of Thrones collection
Pop! Die-Cast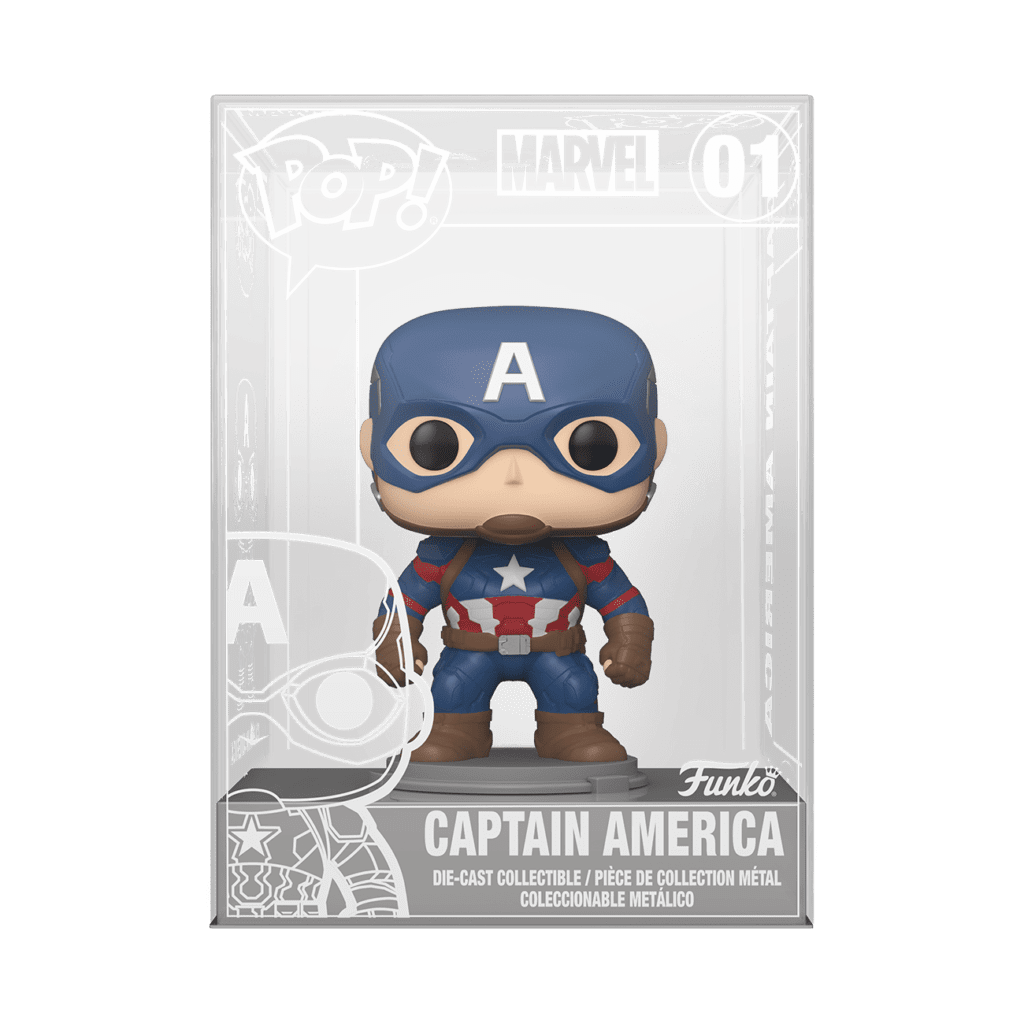 This series is perfect for collectors, as it gives you the best of both worlds: a Pop! that stays in pristine condition and a complete view of their beautiful paint job. The clear packaging looks just like a standard Pop! box except that you can see through it. 
Each figure is highly detailed and looks like they've stepped right out of their movie or show. They are laser-etched to look like your standard Pop! figure's packaging makes them the only series that can be displayed in regular Pop! form while still being able to admire its fantastic paint job. One example from this series is the Captain America Funko Pops (below). 
Pop! Game Cover and Pop! Album Cover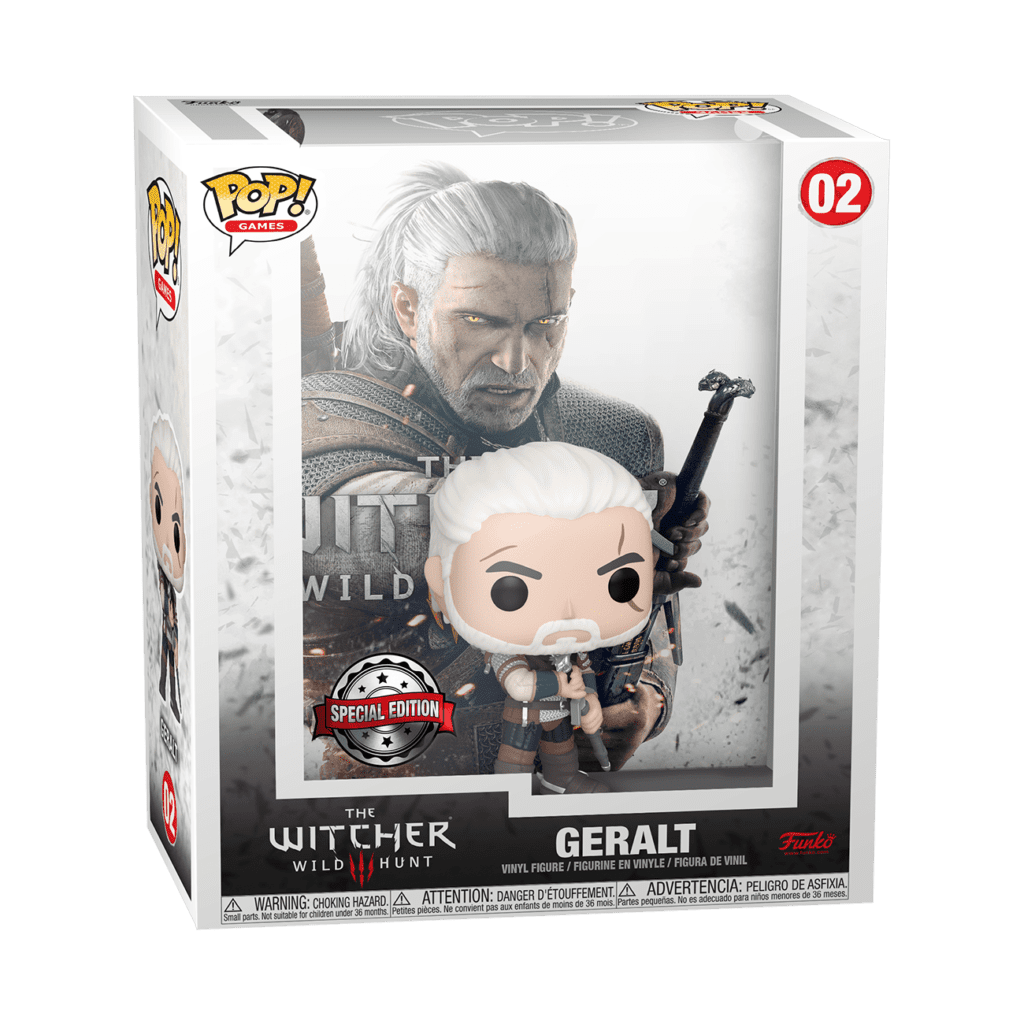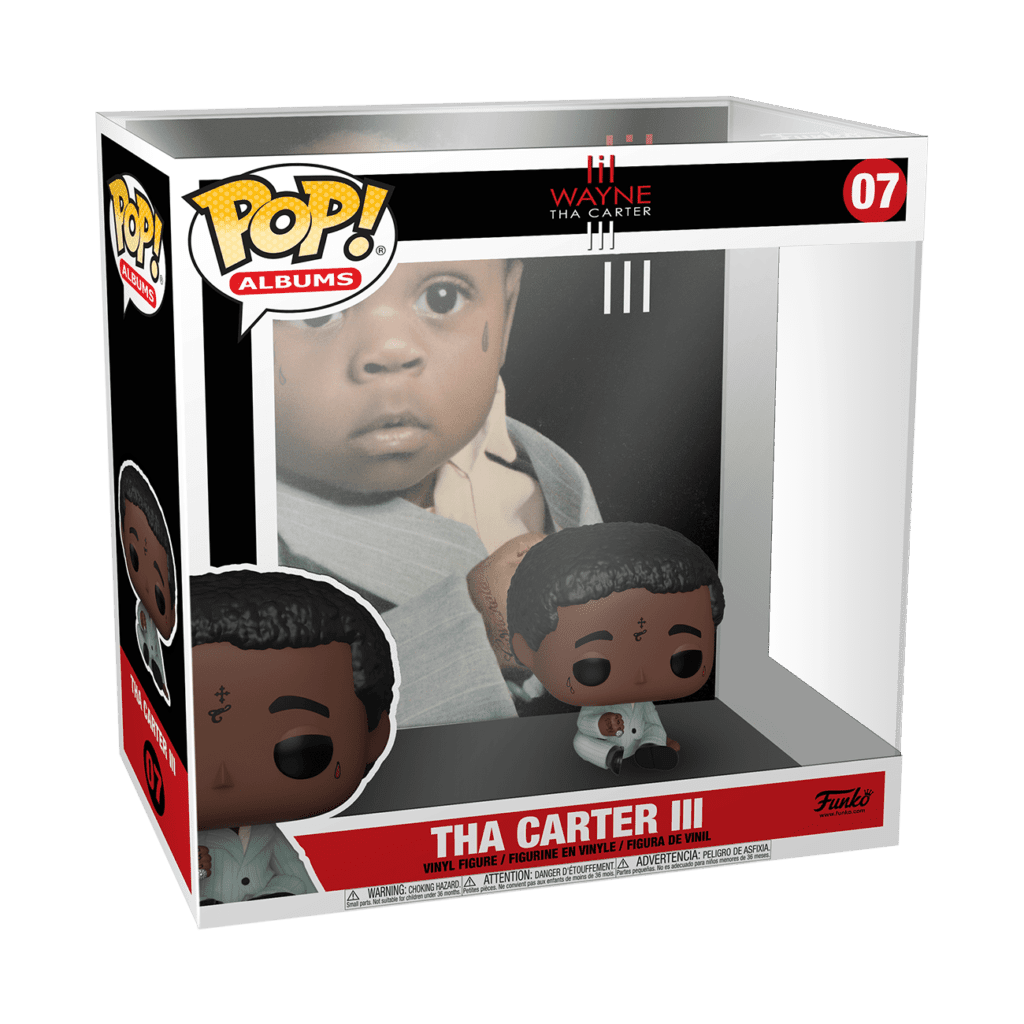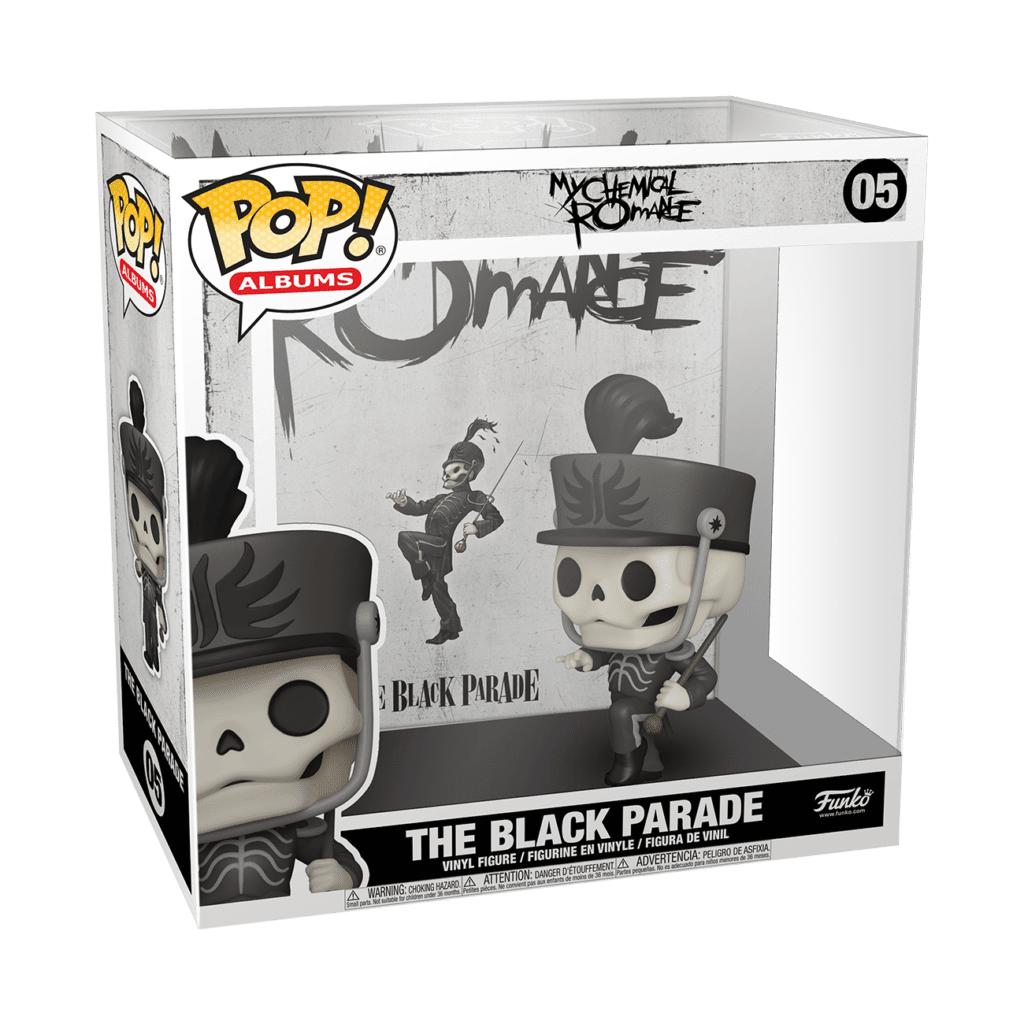 This collection is for you when you want to show off your love of video games or music and enjoy a little bit of Funko flair! 
Each Pop! Album Cover and Pop! Gamer Cover features a hard protector case with a figure inside. The case and figure can be easily displayed on a shelf. These collectibles allow you to easily commemorate and show some of your favorite albums and video games in an attractive way.
Pop! Rides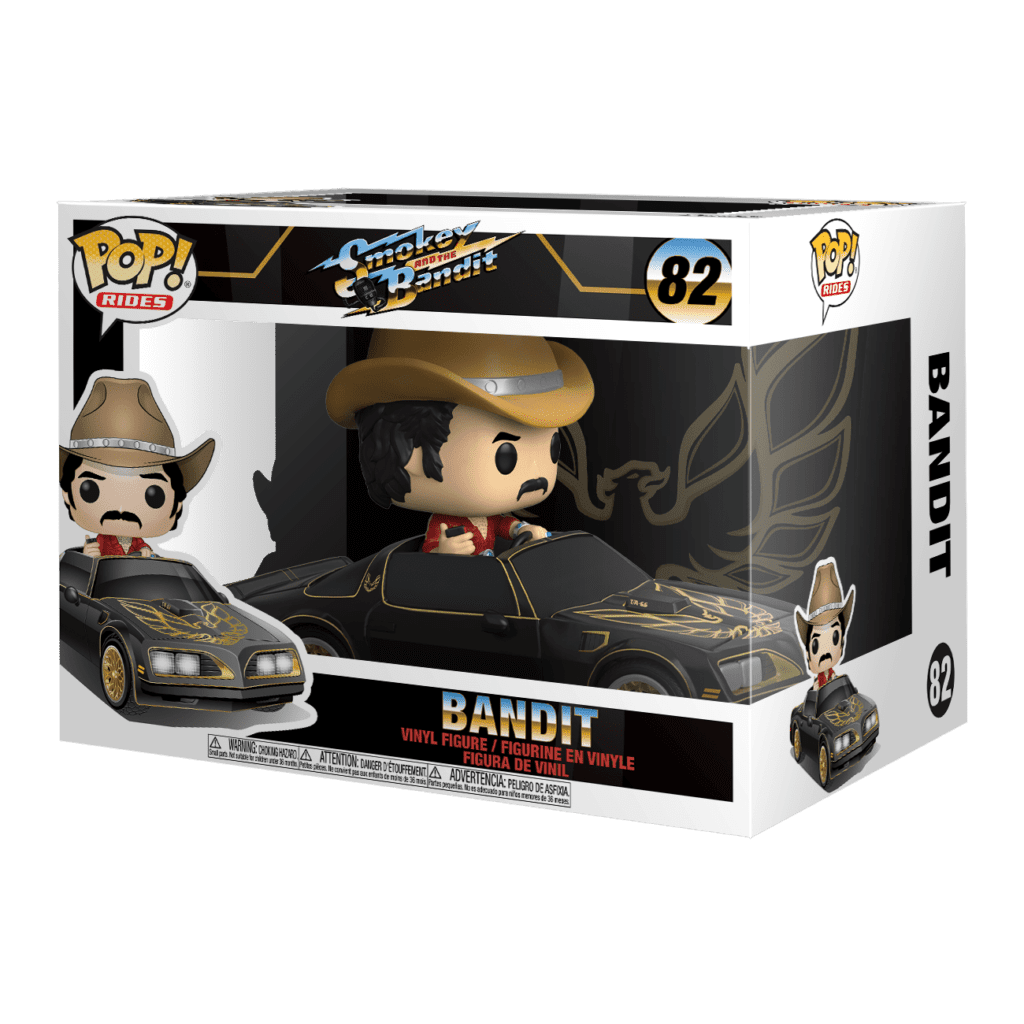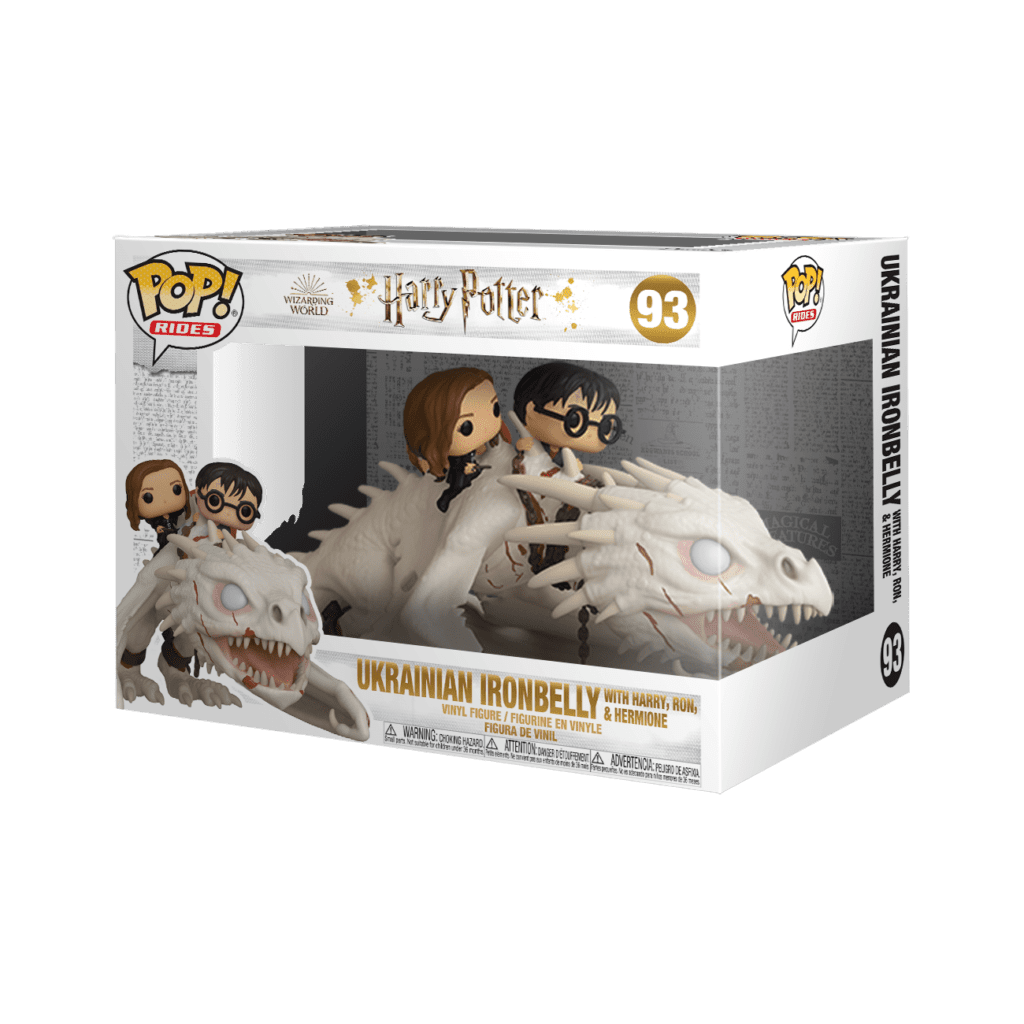 Pop! Rides are, as their name suggests, a Pop! figure with a vehicle or mode of transportation. The size of the Pop! Ride is dependent on the type of character and vehicle that it includes. There are three sizes of Pop!: standard Pop! Ride, Pop! Ride Deluxe and Pop! Ride Super Deluxe.
Pop! Trains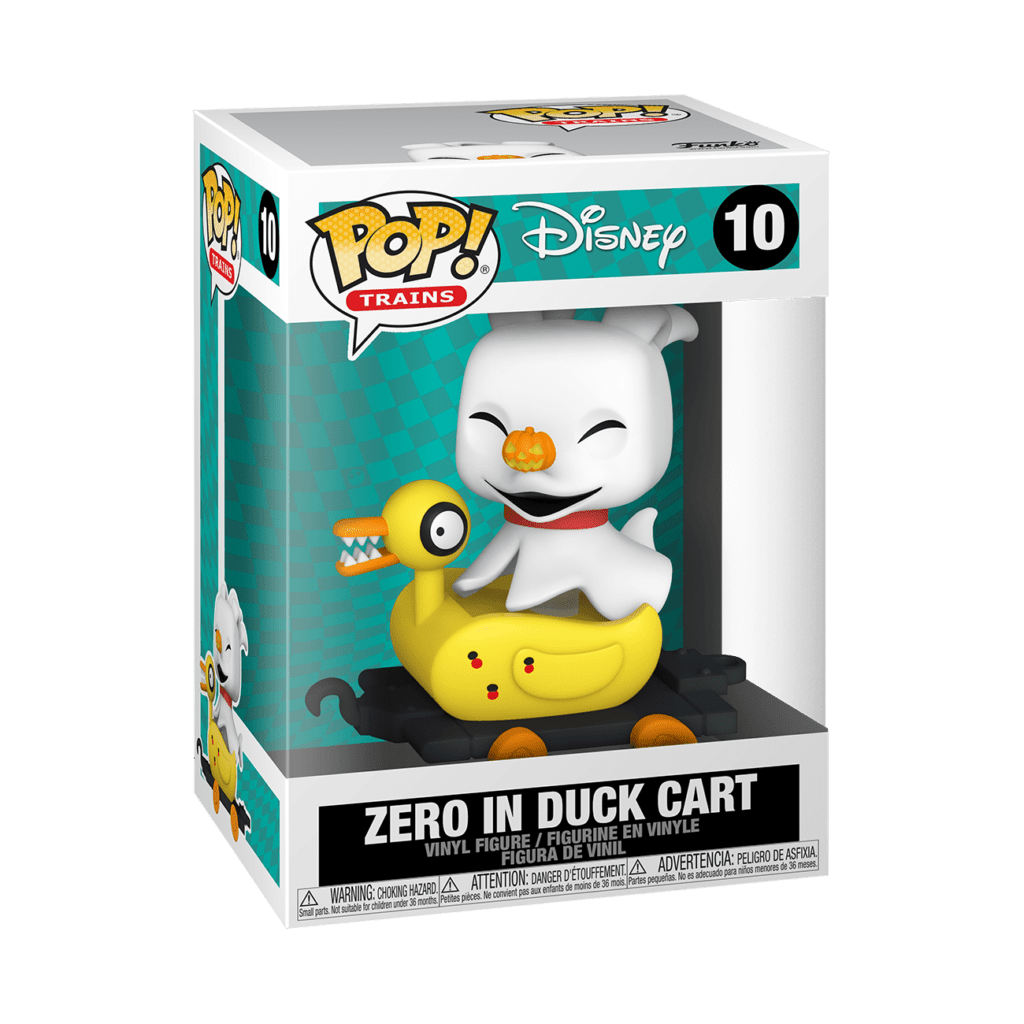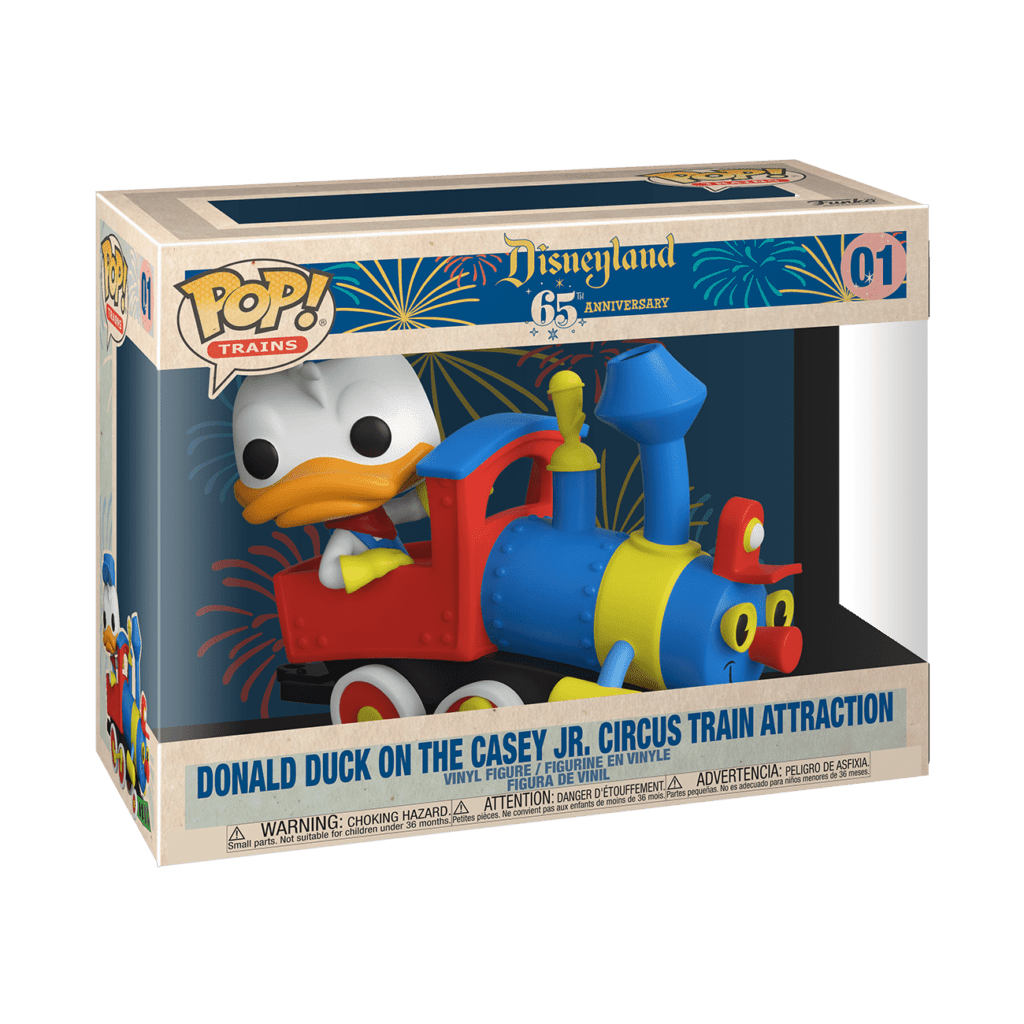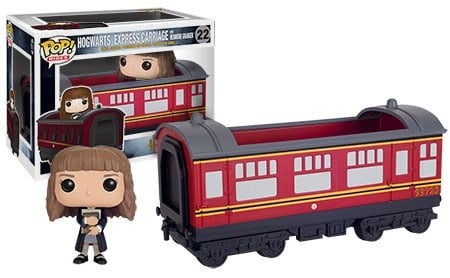 Similar to Pop! Rides, these collectibles feature a themed train car and a Pop! figure which can stand inside the train car. In addition, each vehicle can be hooked together to complete a cohesive train display.
Pop! Town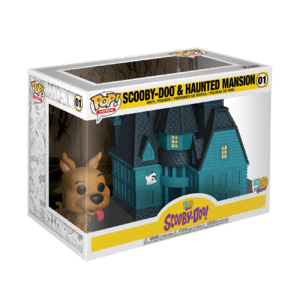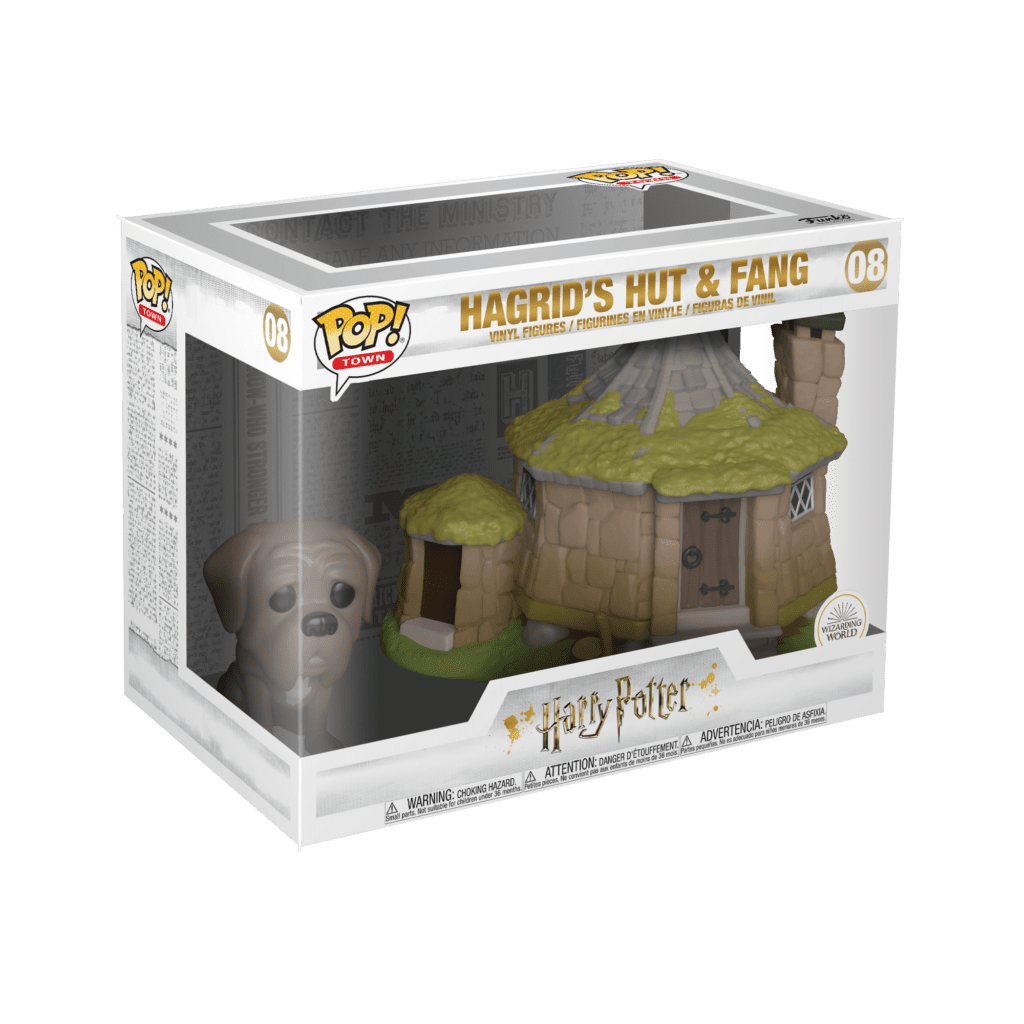 Next up, we have Pop! Town. These products are great for creating fuller scenes in your collection since they include a standard size Pop! and a vinyl figure building that correlates to the character. 
For instance, there's Pop! Hagrid's Hut with Fang (of the Harry Potter set), Pop! Sleeping Beauty Castle, Mickey Mouse (from the Disney collection), and Pop! Town Scooby-Doo and Haunted Mansion from the Hanna-Barbera line.
The range of these sets is pretty awesome, too; you can pick up anything from a tiny little shack to a glorious castle. But, of course, any beloved location can become its little centerpiece. Unfortunately, they're not as widely available as other collections—but if you find one you like in stores or online, it's worth snagging before someone else takes it home.
Pop! Moment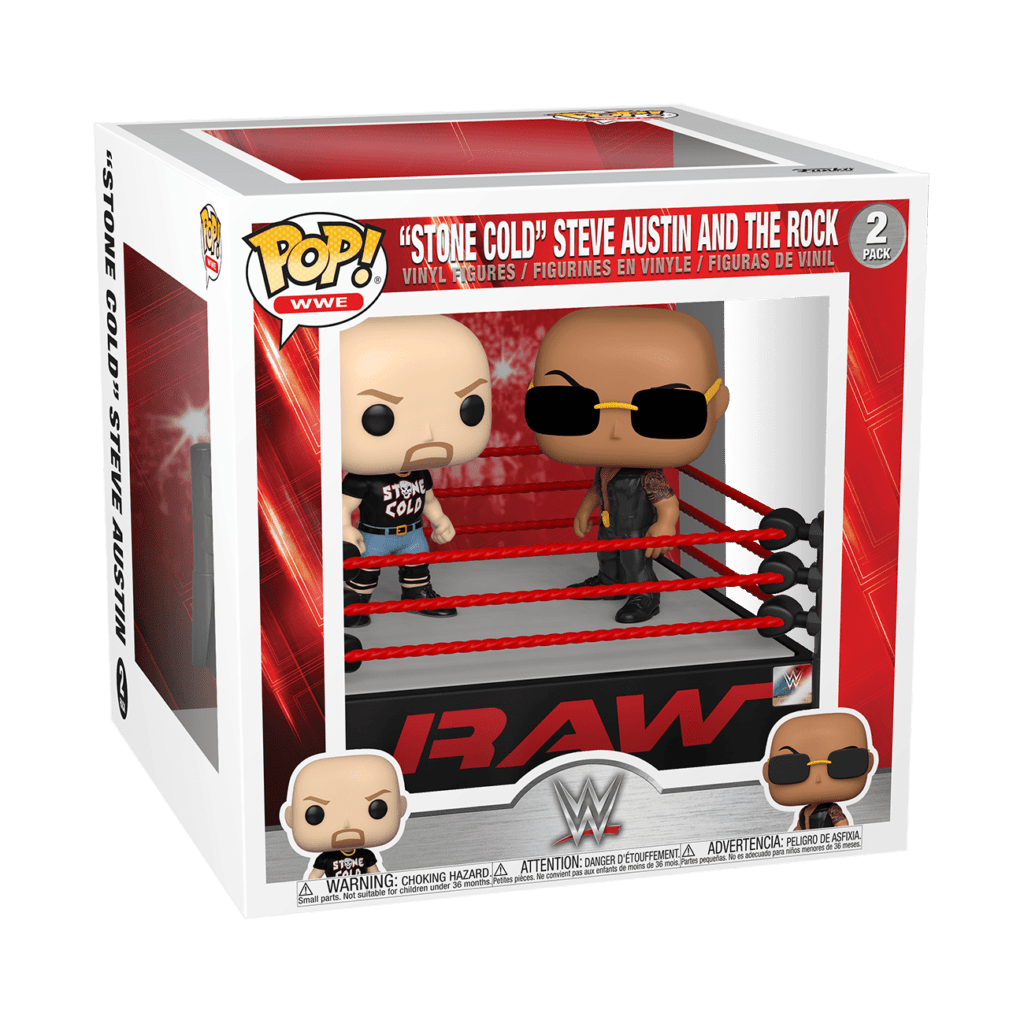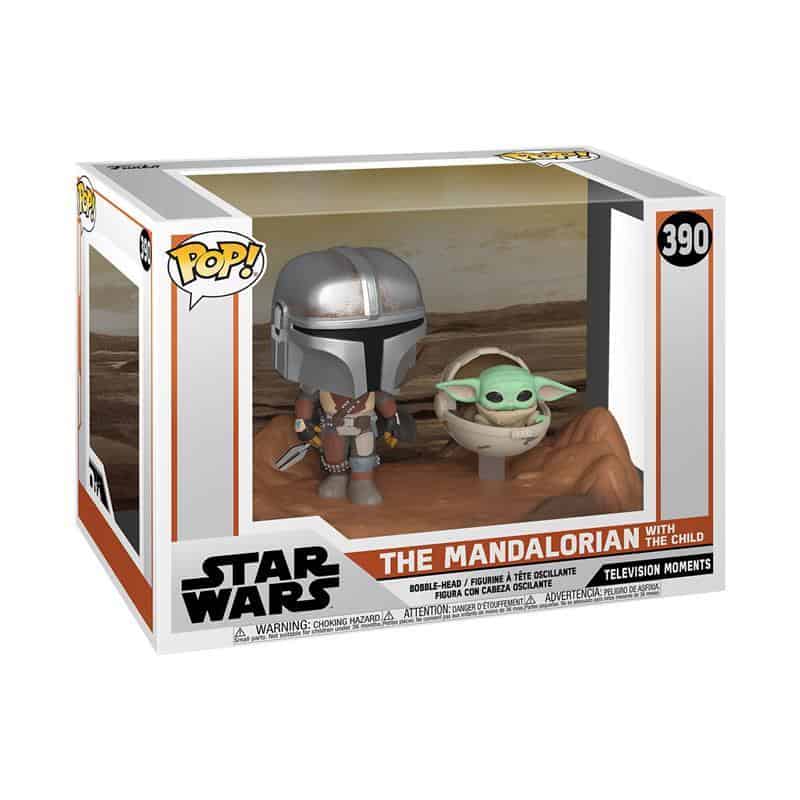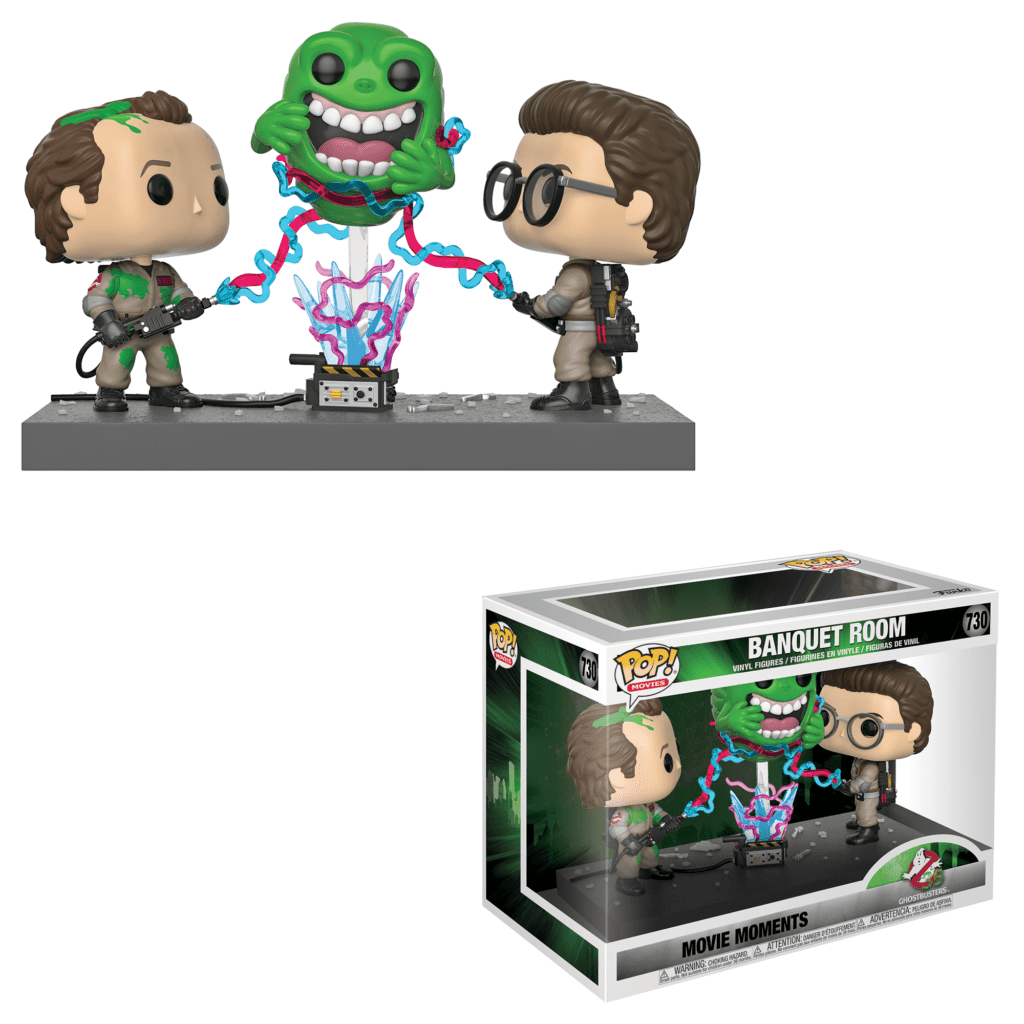 A Pop! Moment is an excellent addition to any collection. Whether the scene is from a TV show, movie, game, or a different popular culture source, these large figures depict multiple characters "acting out" a scene while fixed to their base. 
These are typically figures made to commemorate epic moments from their source material, like Pop! Harry Potter versus Voldemort (Harry Potter collection), Pop! Banquet Room – Ghostbusters (The Ghostbusters collection), and Pop! "Stone Cold" Steve Austin and The Rock (WWE set). 
Collectors who want bigger-than-life action should consider adding one of these models to their stash, as they will surely capture the magic of your favorite moment for years to come.
Pop! Disguise Man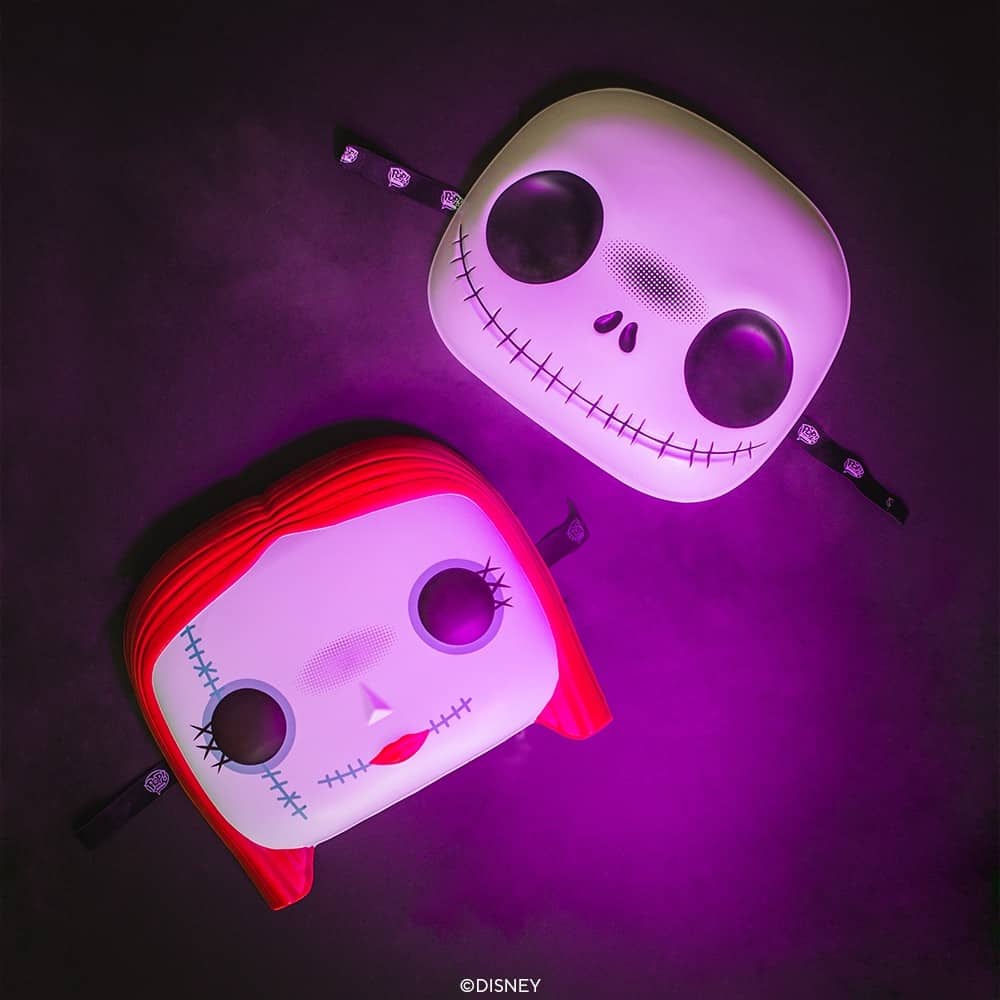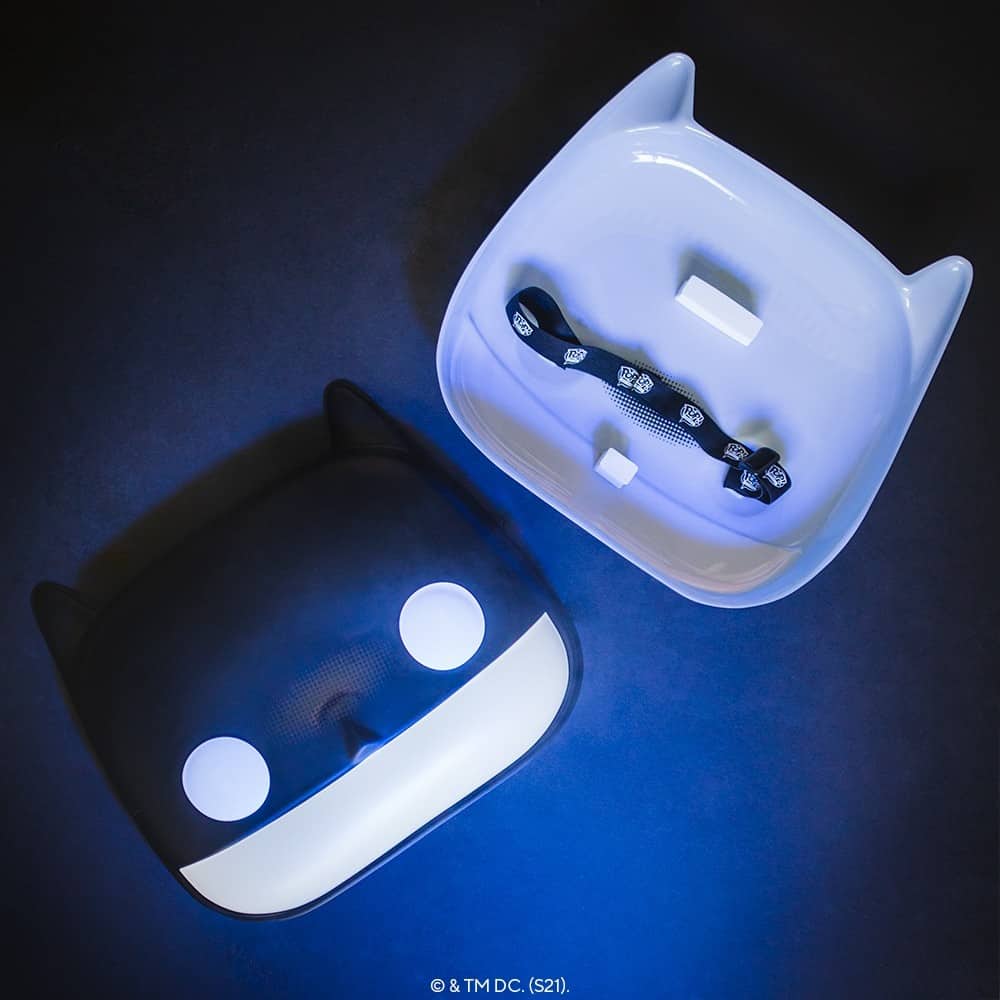 This is an exclusive Funko Pop! Vinyl figure that resembles a cosplayer's dream come true.
Funkoverse Game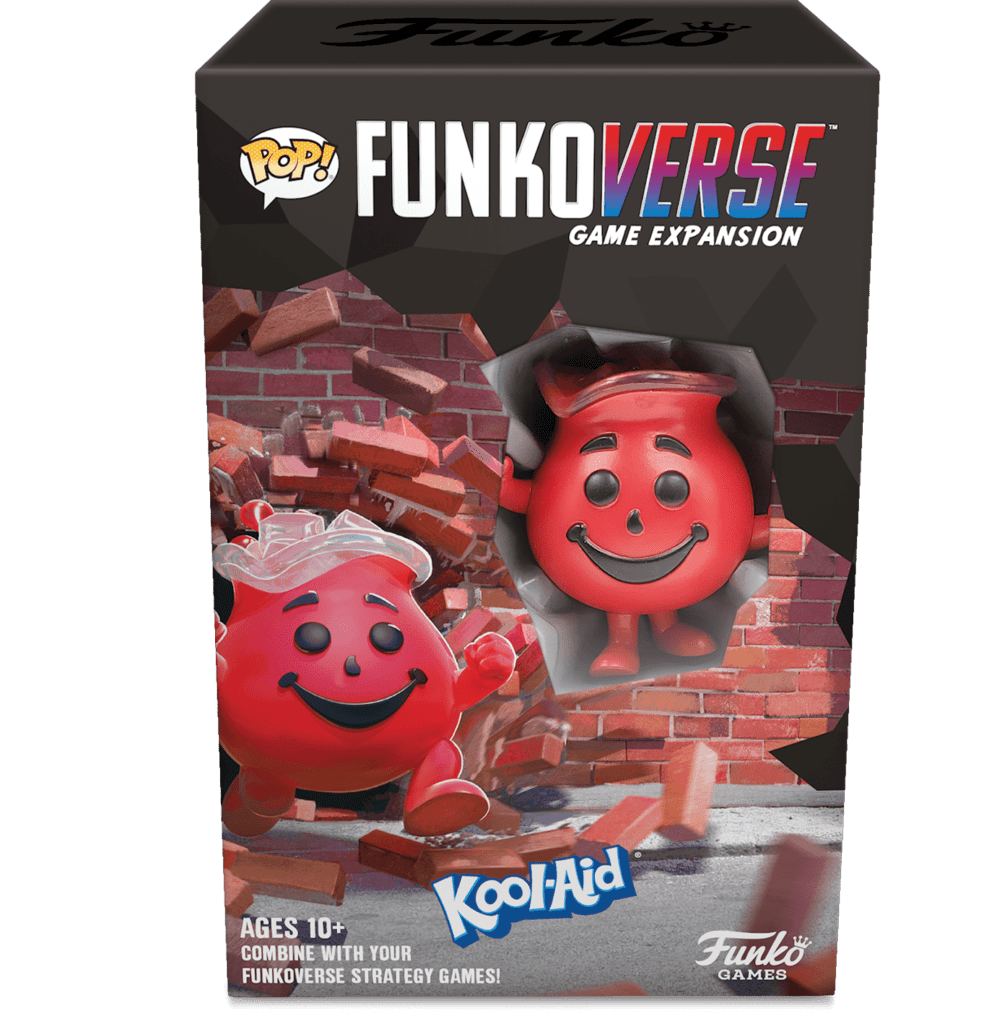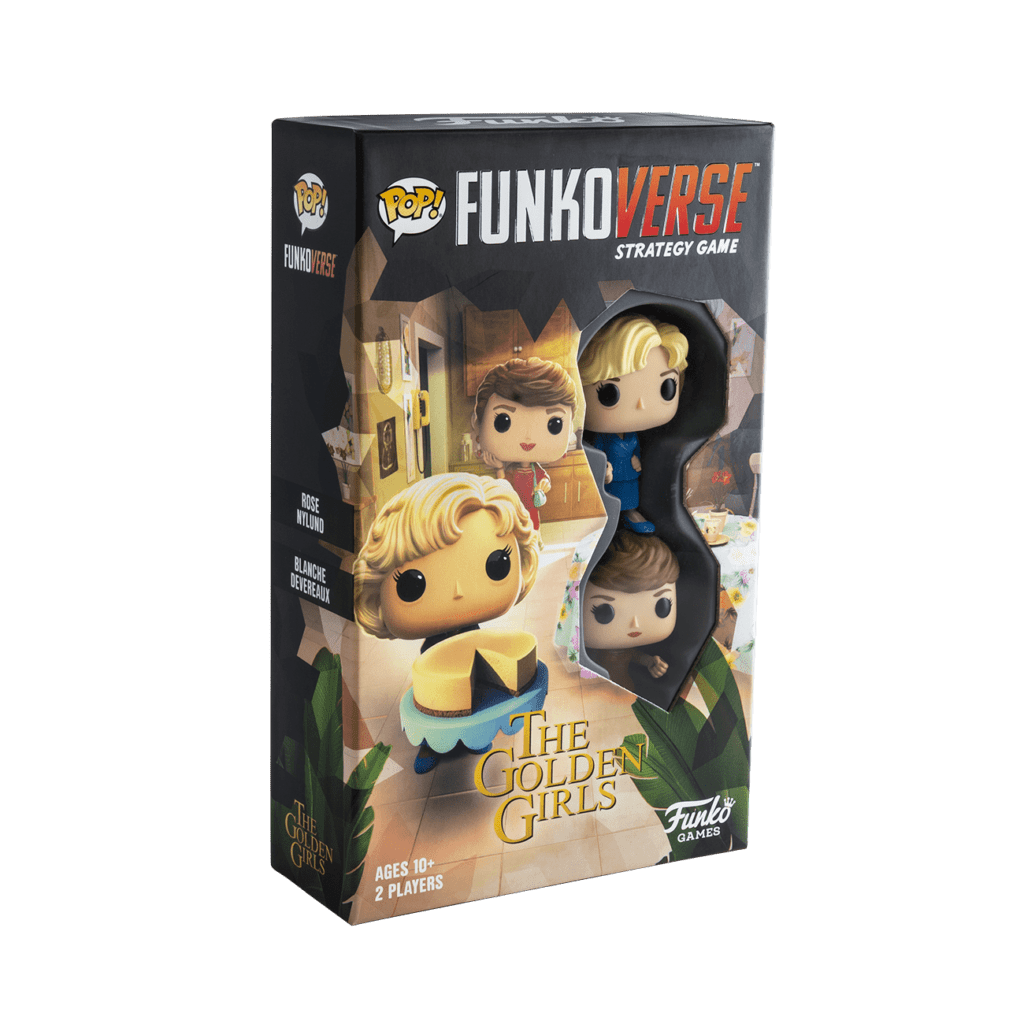 You know that Funko Pop! figures are more than just collectible toys if you're like me. They're also a means of communing with the people, places, and things you love.  I've collected them to represent my favorite characters from books, TV shows, and movies. And I've even started collecting some Disney theme park-specific ones to reflect the Disney Parks fan that I am.
But in addition to being an easy way to showcase your fandom and make great gifts for friends who share those same interests, Funko Pops! can be a lot more than just decorative items for your home or office space.  That's where games like Funkoverse come in—combining your favorite characters and going head-to-head in exciting game scenarios is something you have to try out if you're a serious collector of these adorable vinyl figures.
Pop! Variant Types
Chase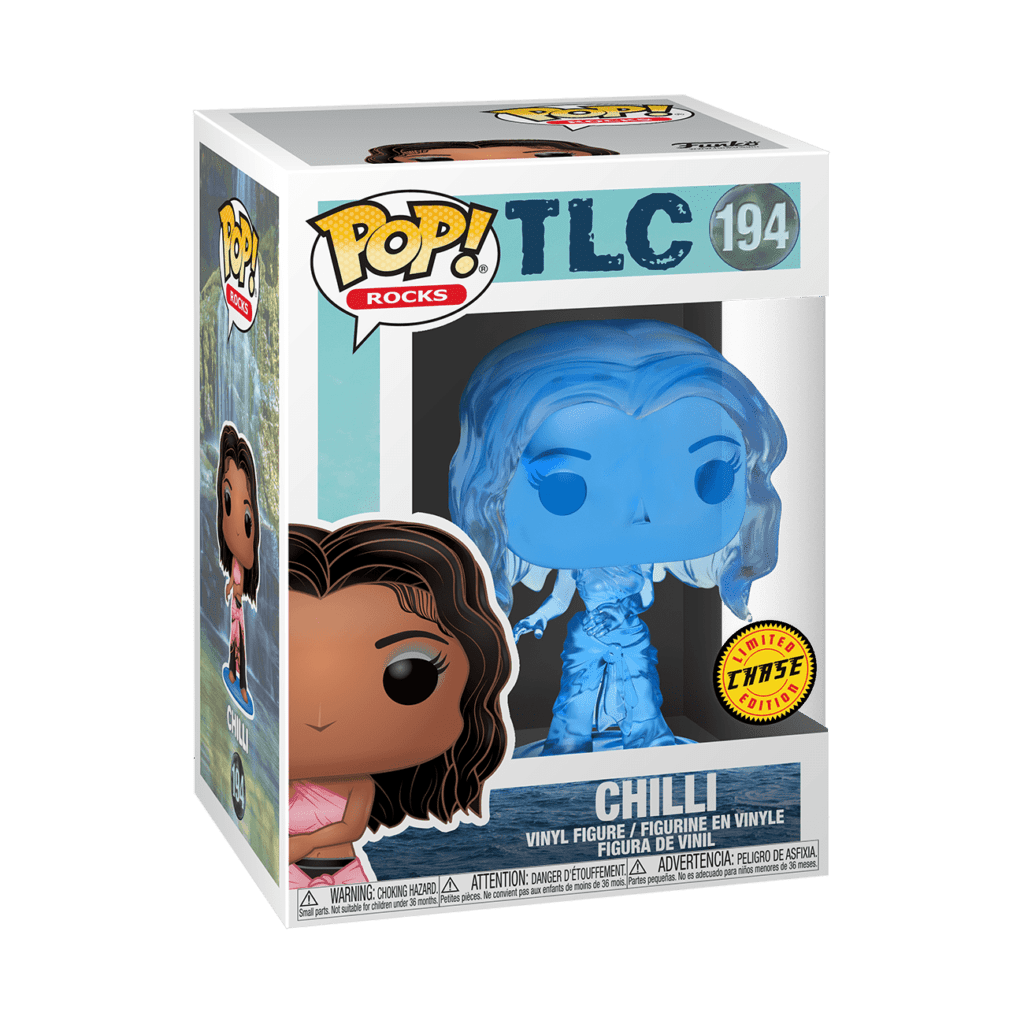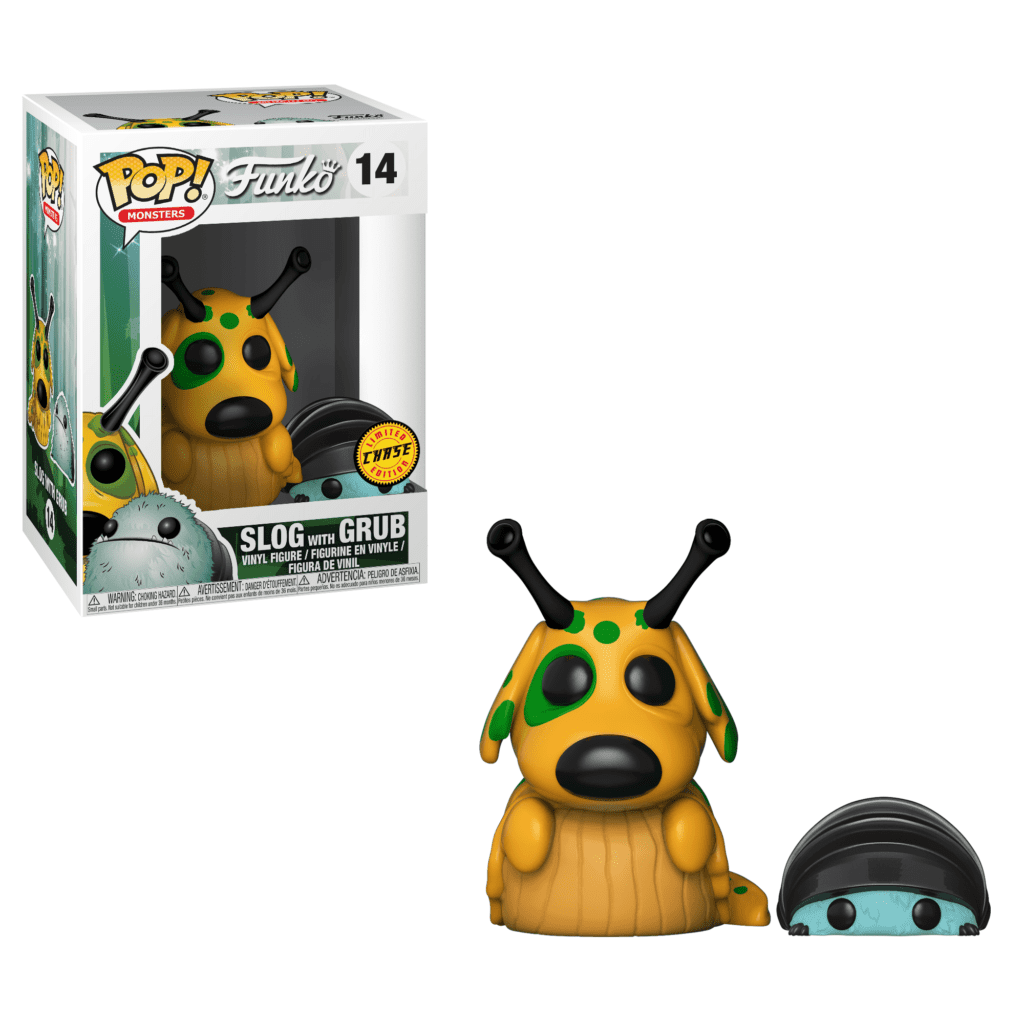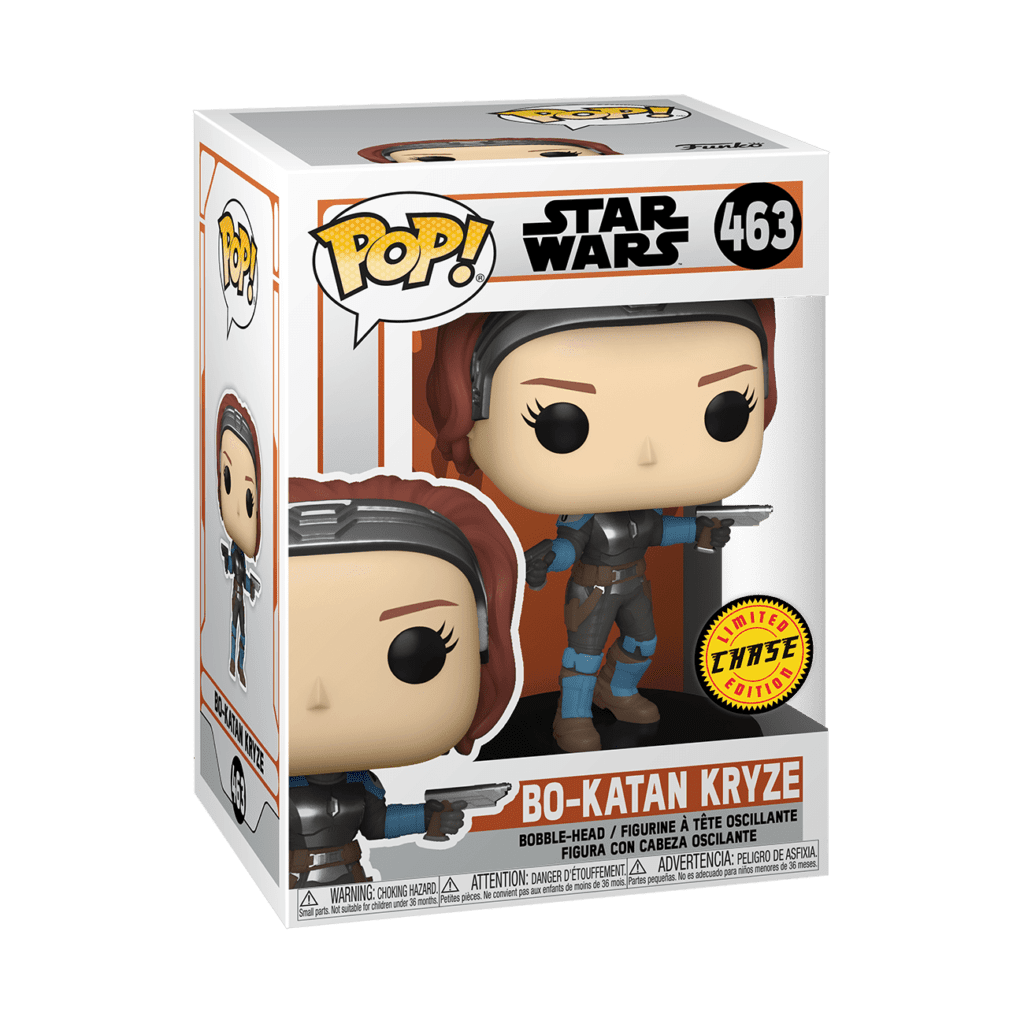 Sometimes your favorite characters come to you with a little something extra. For example, some figures will have what is called a chase variant, where they'll be slightly different from the original figure. It could be anything as simple as a colorful variant or as drastic as an entirely new pose! 
Currently, finding a chase is 1 in 6, but some older collections have much more difficult odds of finding one! Some examples of figures that have a chase variant are Pop! Bo-Katan Kryze (The Manadolrian™ set), Pop! Chilli (Pop! Music TLC collection), and Pop! Slog with Grub (Funko's Wetmore Forest collection).
Flocked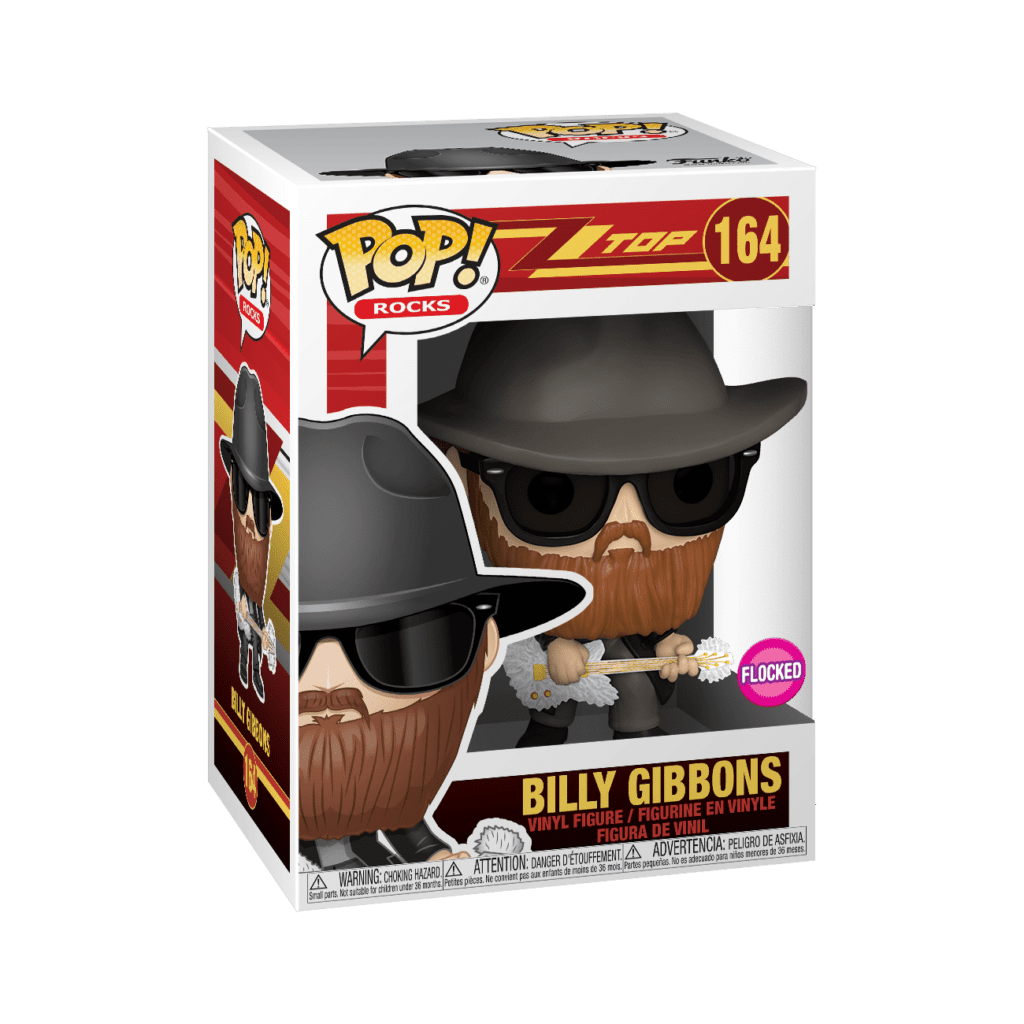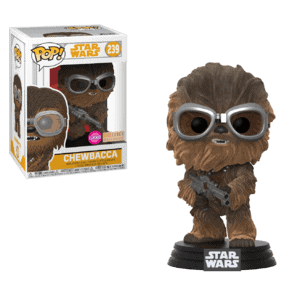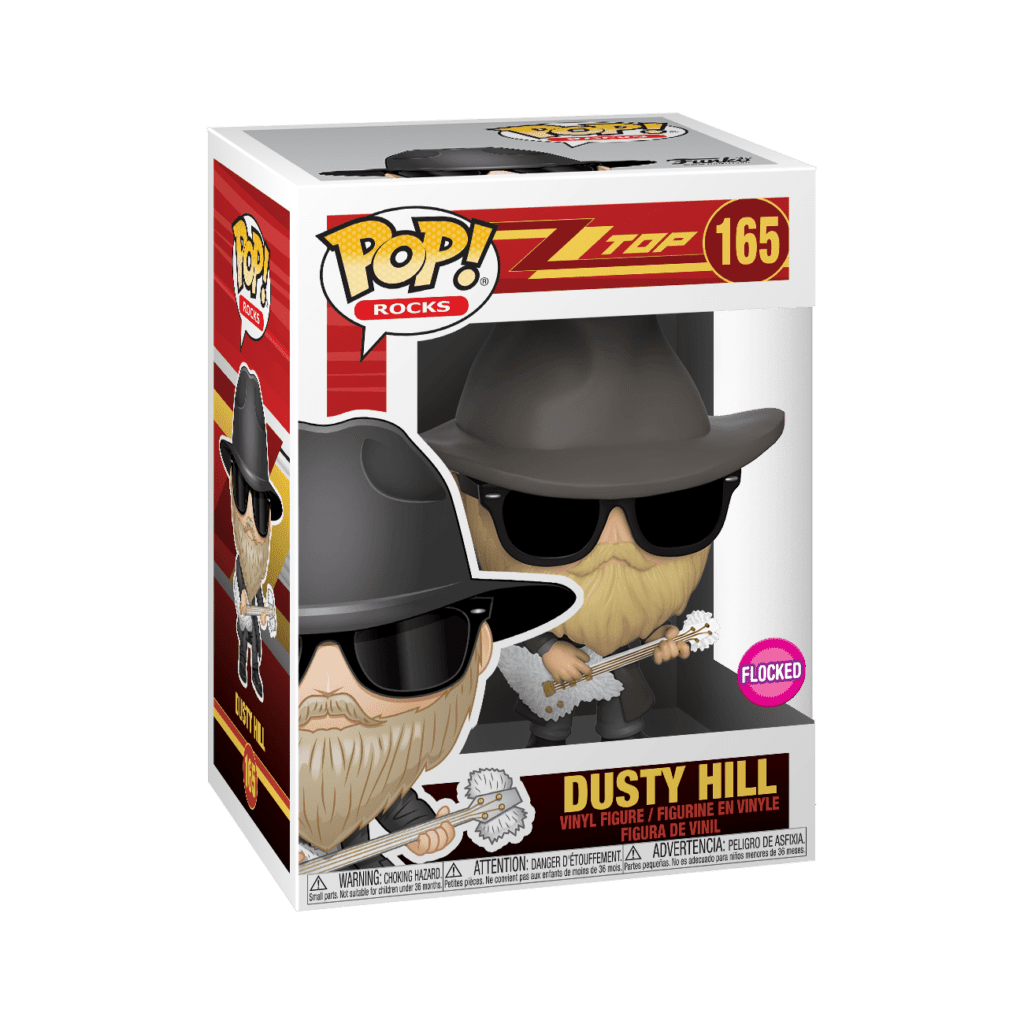 Funko releases a lot of special figures with unique textures. When a figure is "flocked," it means that instead of the usual smooth, vinyl texture, the figure has been coated with a soft, fuzzy texture. This is done to give figures like Dusty Hill and Billy Gibbons of the Pop! Music ZZ Top lineup of Pop! Chewbacca with his signature fur texture. 
Flocked figures are also often made to look like animals; examples include Max from Where The Wild Things Are and Gentlemen Ghost from DC Comics. It's no surprise that these figures would get their own flocked variants as felt is already used in toys and figurines of this nature (for example, Beanie Babies).
Diamond/Glitter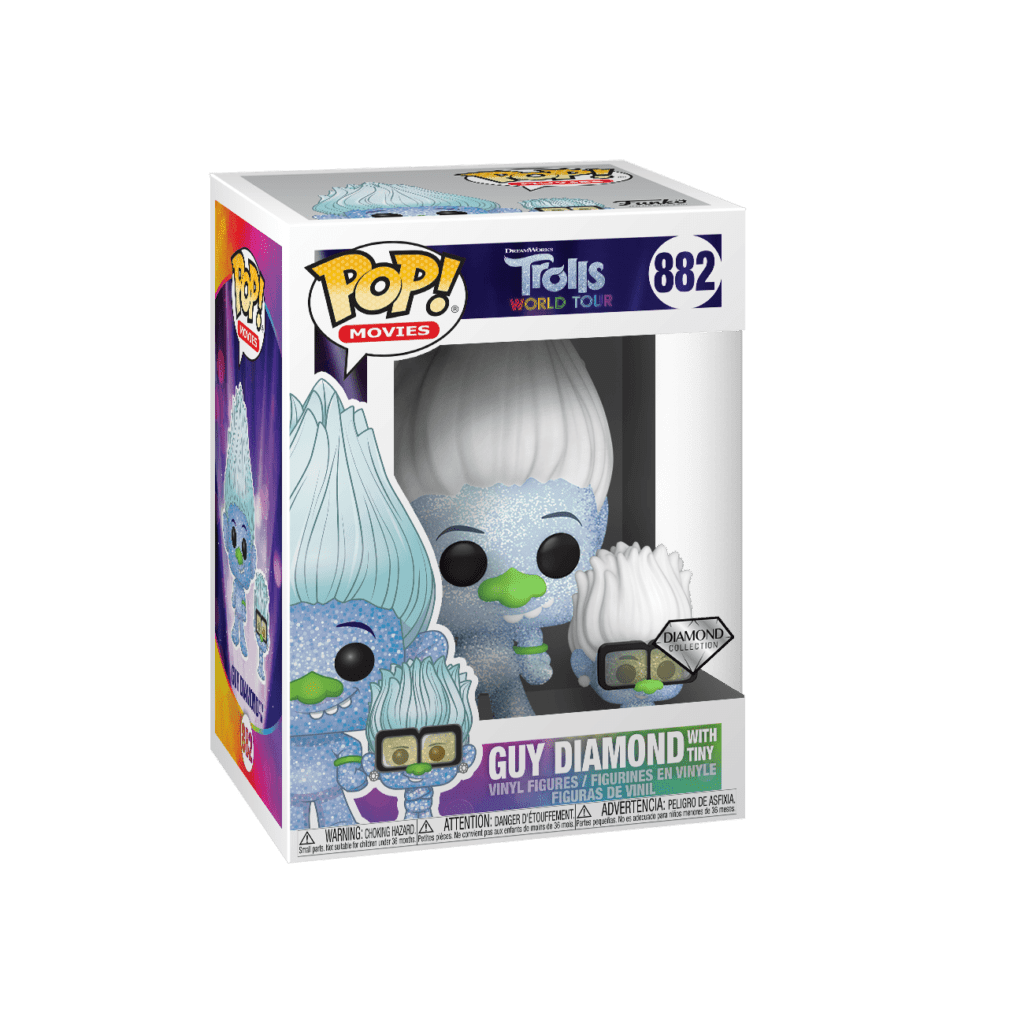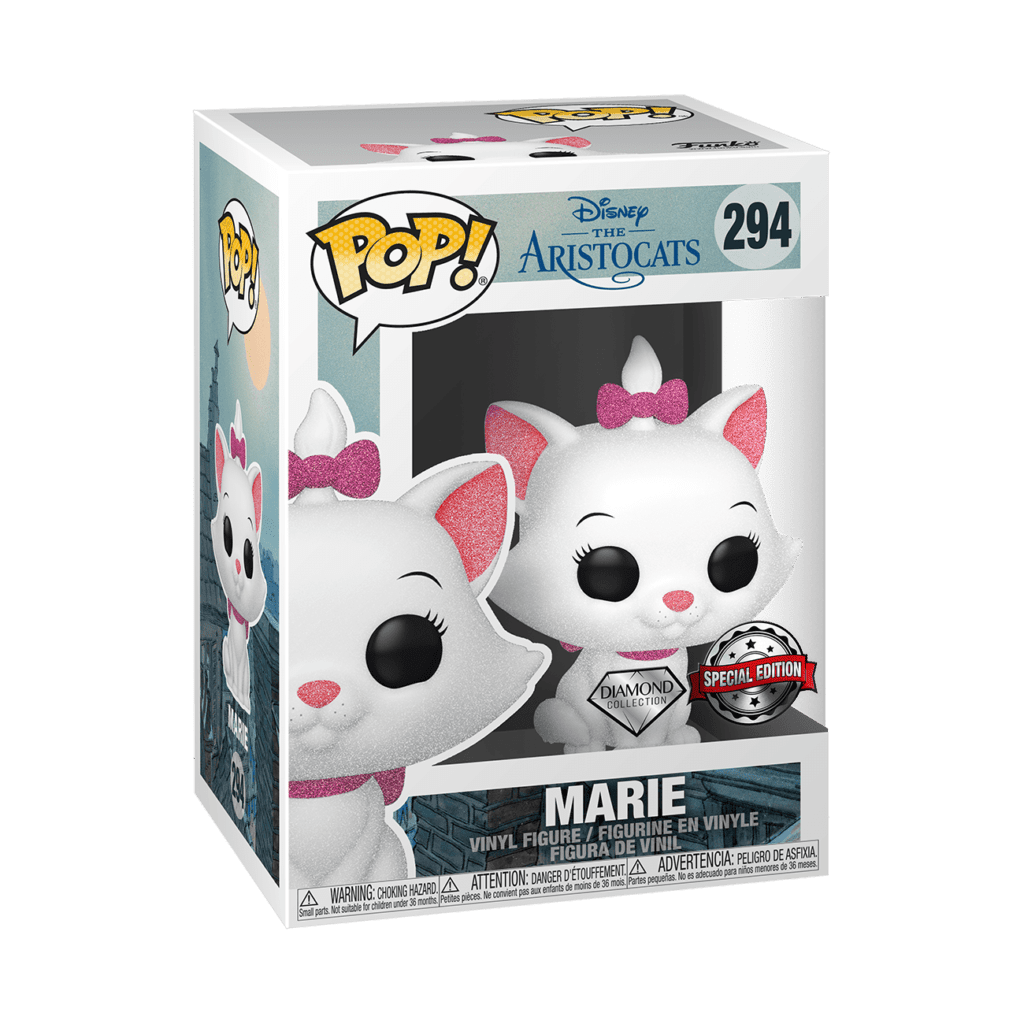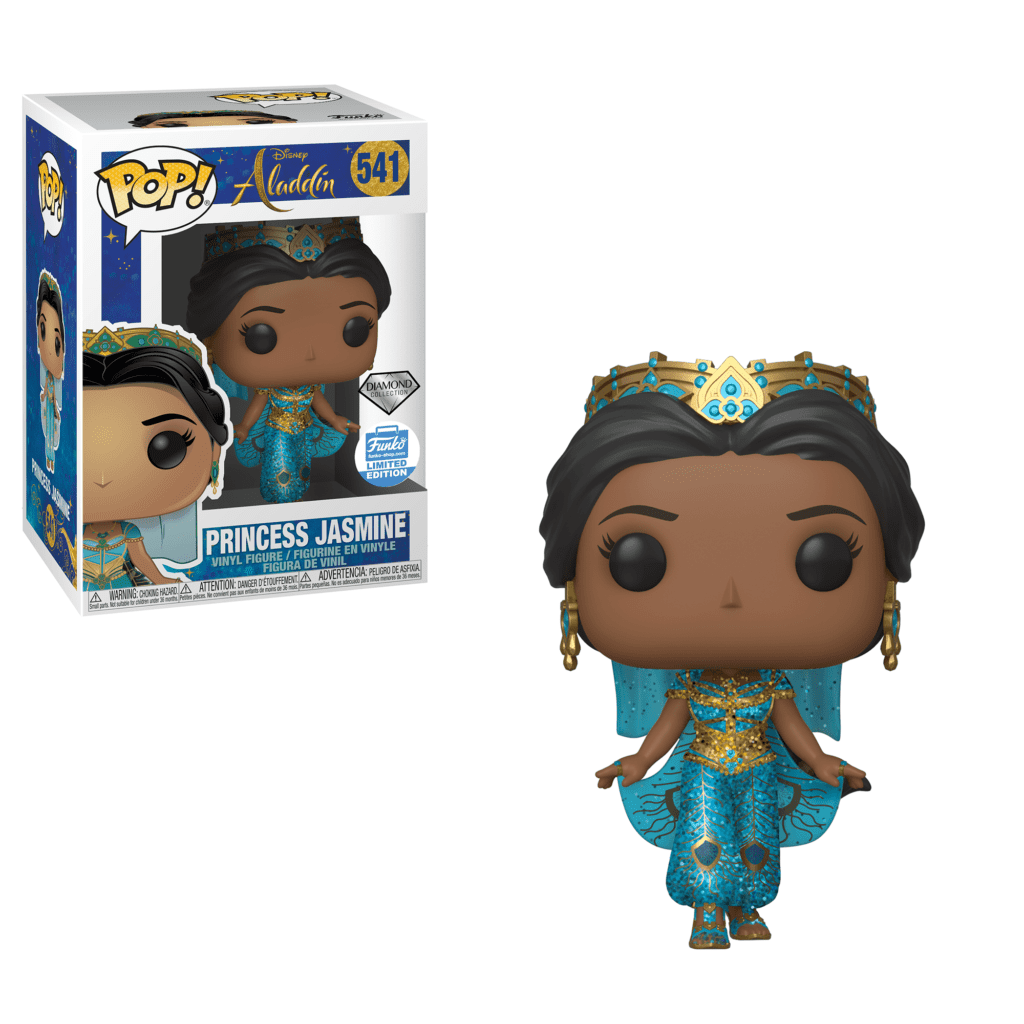 Sometimes you just want a little extra sparkle in your collection. A Glitter variant is a perfect addition to your Funko Pop! collection when you want something a little fancier than the standard fare but not quite as bold as a metallic variant. Some of our favorite Glitter Funko Pop! figures include:
Diamond edition Pop! Guy Diamond with Tiny from the Trolls World Tour collection
Diamond edition Pop! Princess Jasmine from the Aladdin collection
Diamond edition Pop! Marie from the Aristocats collection
Glow In The Dark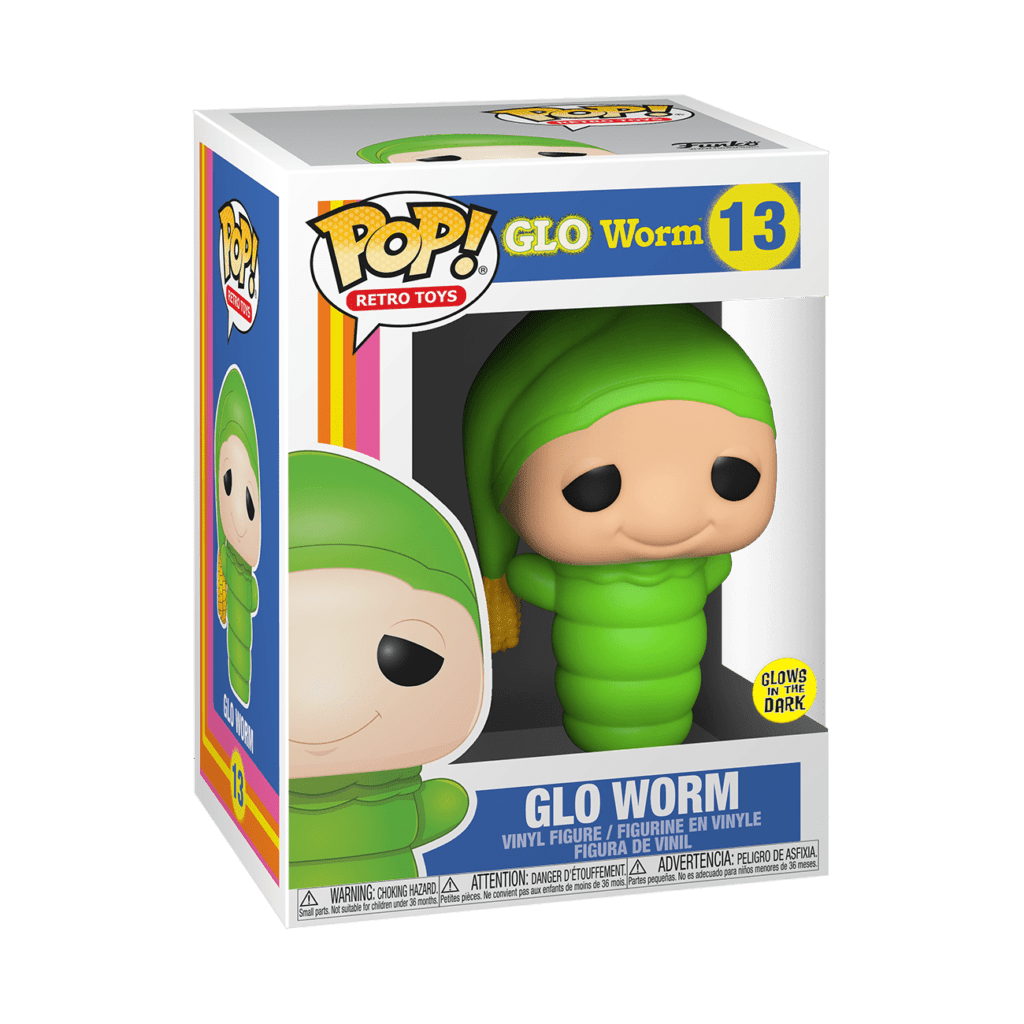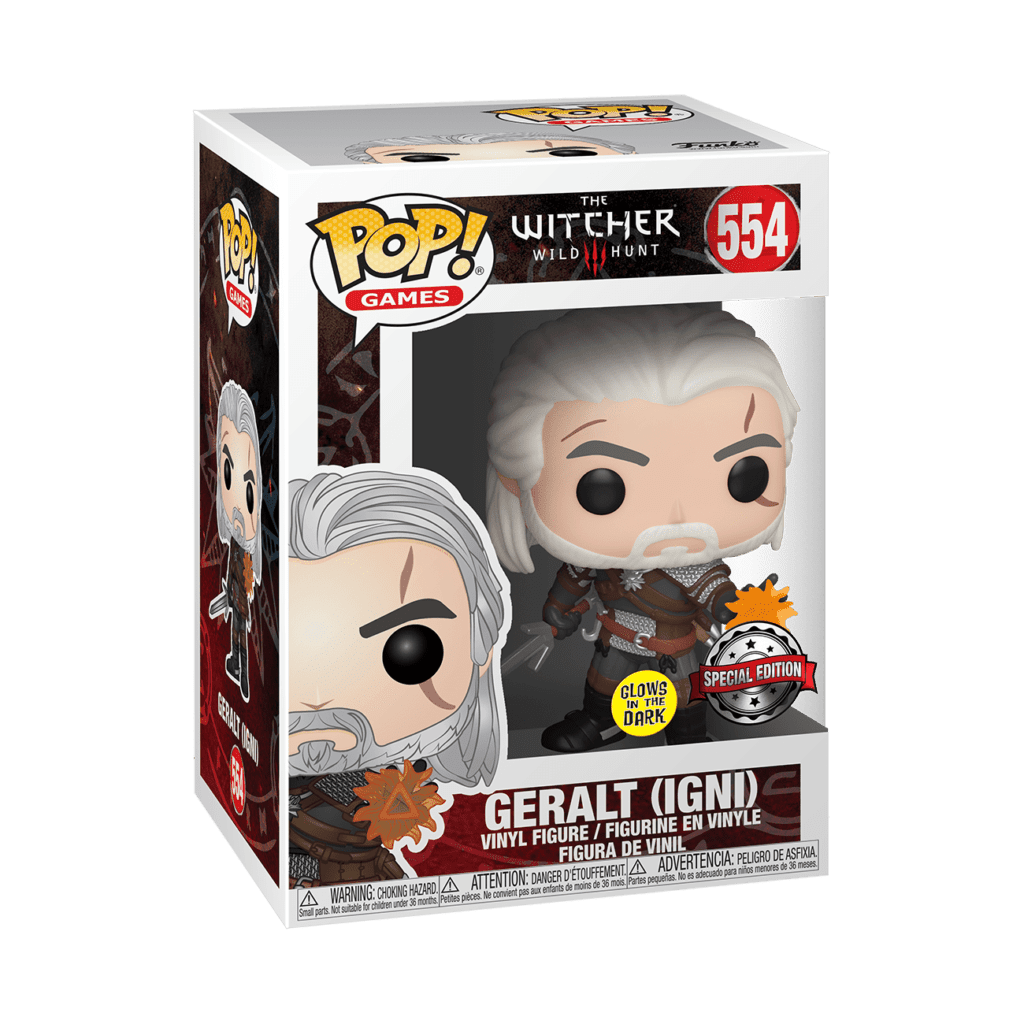 There's no better way to make your collection stand out at night than with a glow-in-the-dark Funko Pop! The glow in the dark variant may be a little hard to see at first glance since it can look very similar to a different version of the same character, but you'll see it glow in the dark.
Some figures glow all over, while others have specific areas that glow and create an interesting silhouette.  Check out figures like Pop! Geralt of The Witcher Wild Hunt collection or Pop! Glo Worm of the Retro Toys collection.
Metallic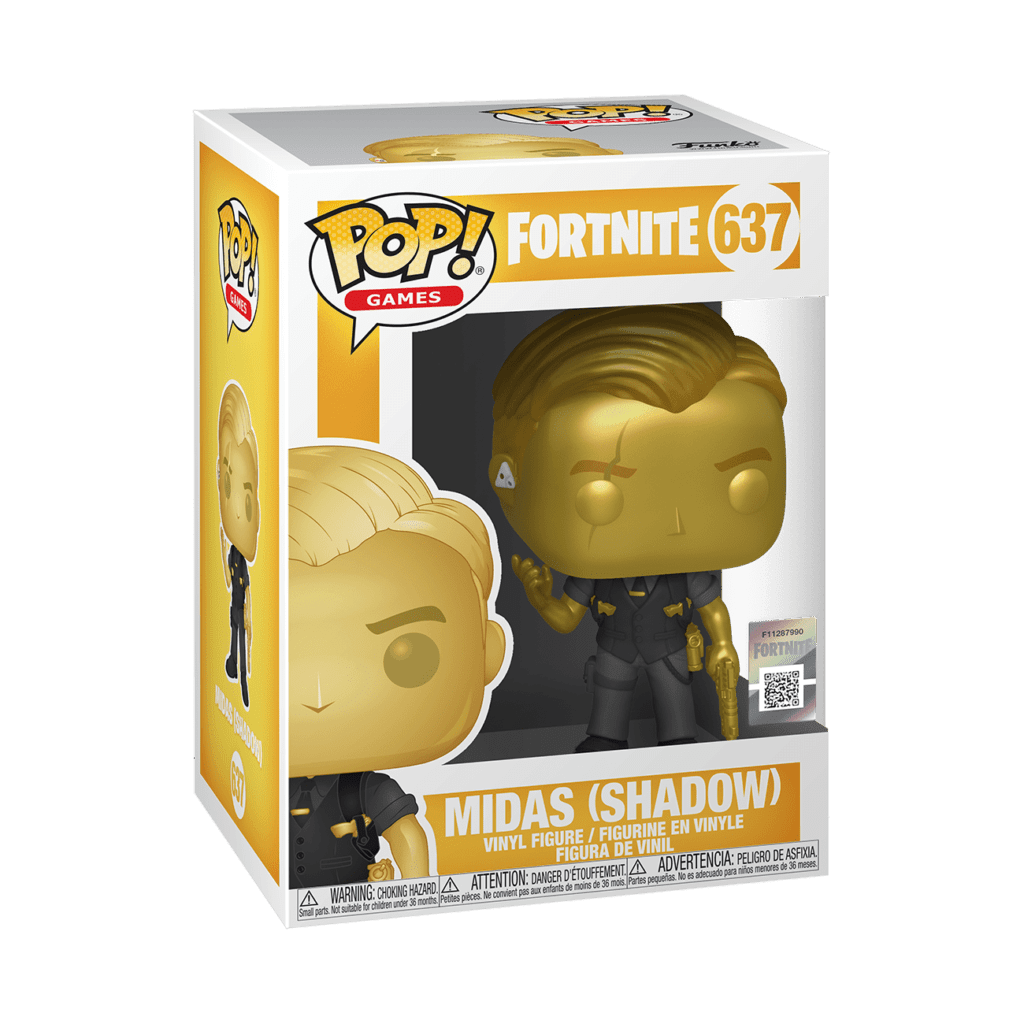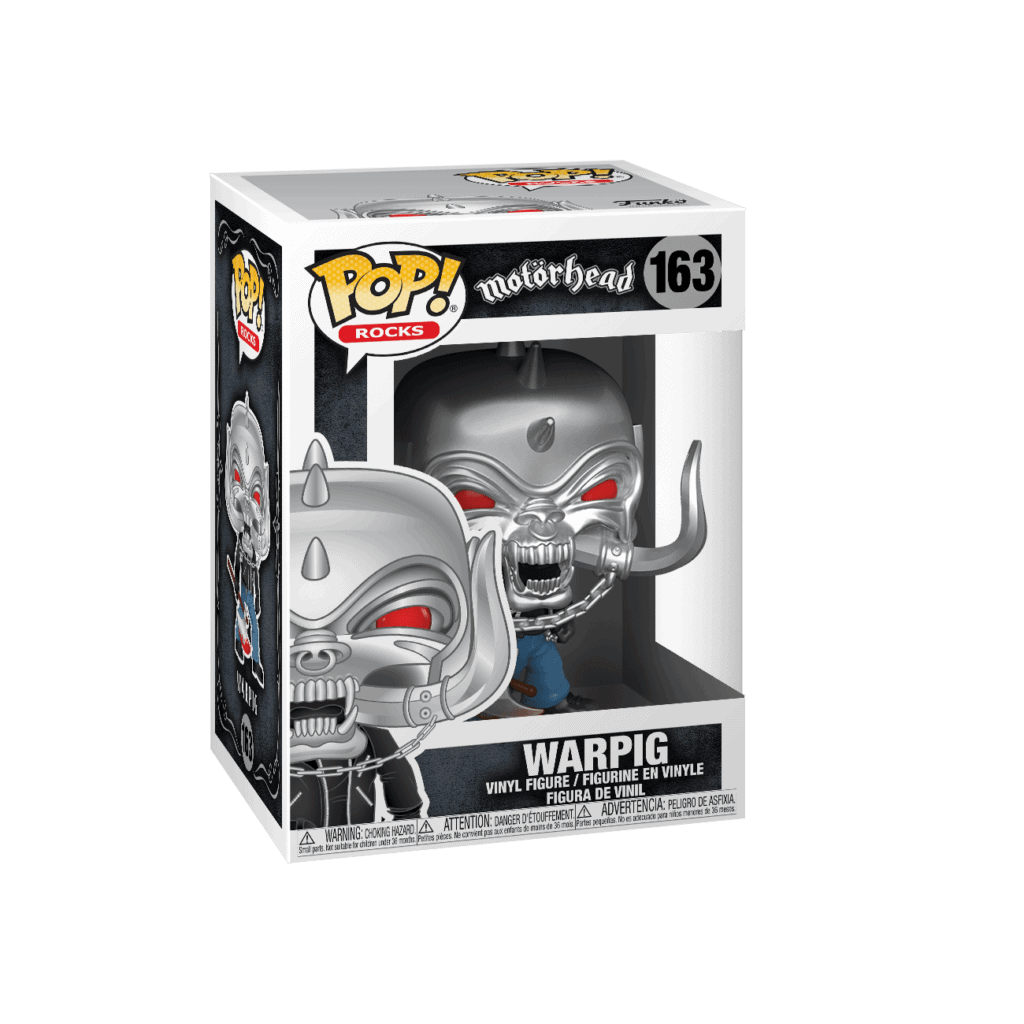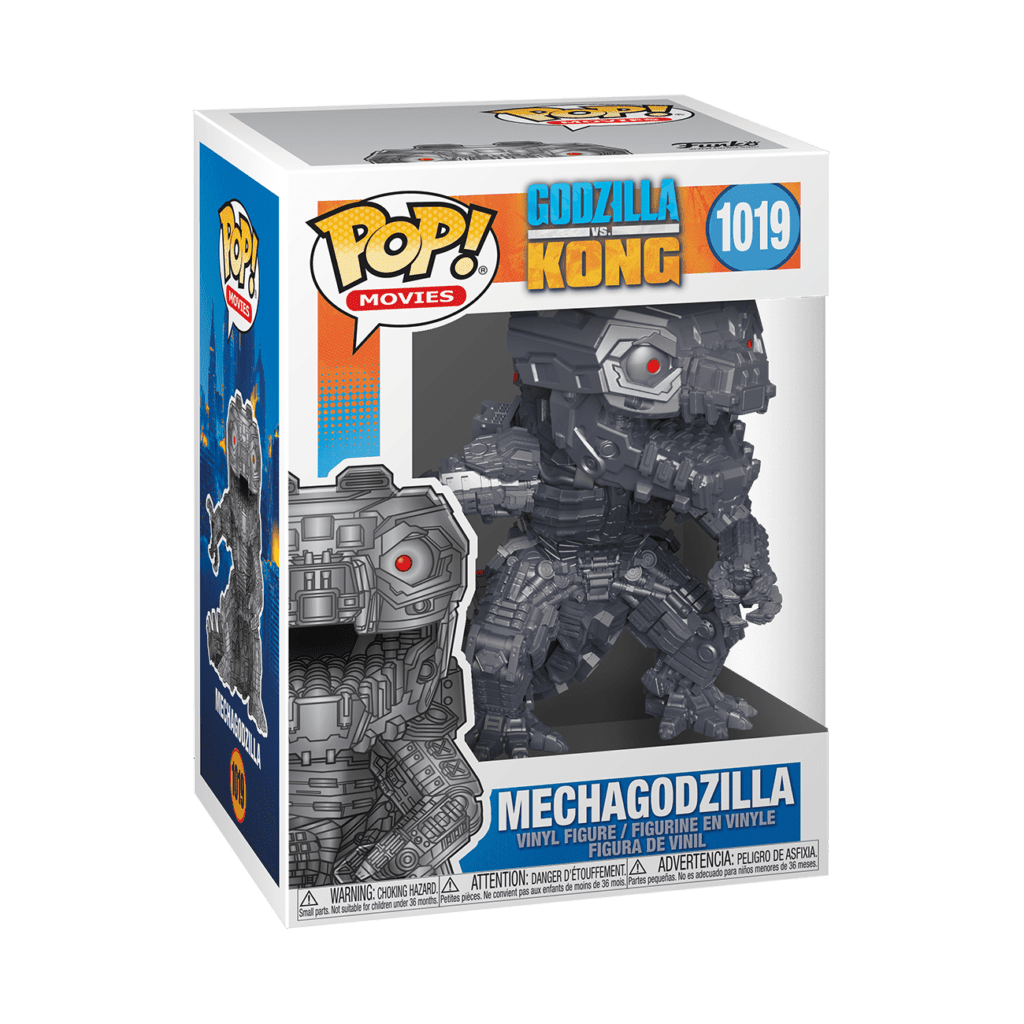 There are also metallic figures that look similar to their standard counterparts. However, some of their paints have a metallic sheen. Depending on the character, this could make them look like statues or add a special glimmer to their appearance.  Take a look at Metallic Pop! Warpig (Pop! Music Motorhead set), metallic Pop! Midas (Fortnite collection), and Pop! Mechagodzilla (Godzilla vs. Kong set).
Chrome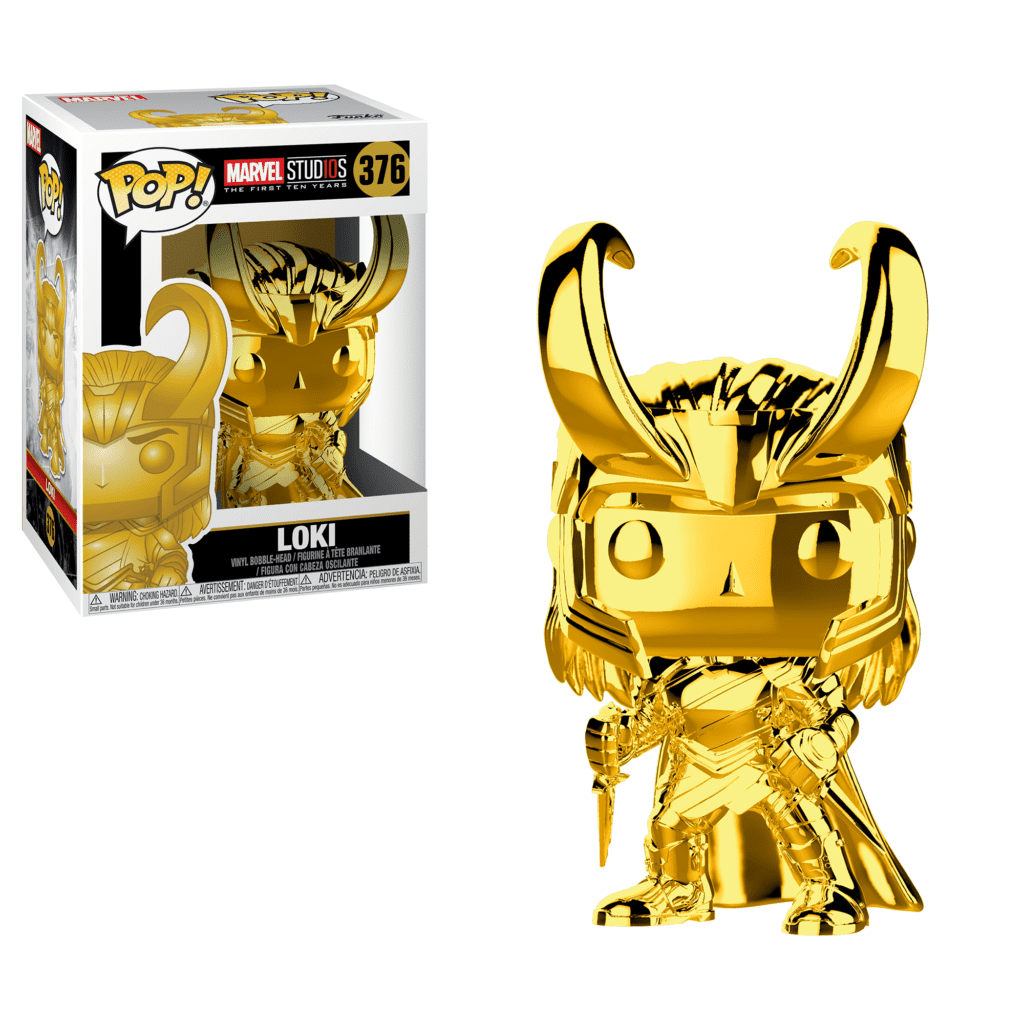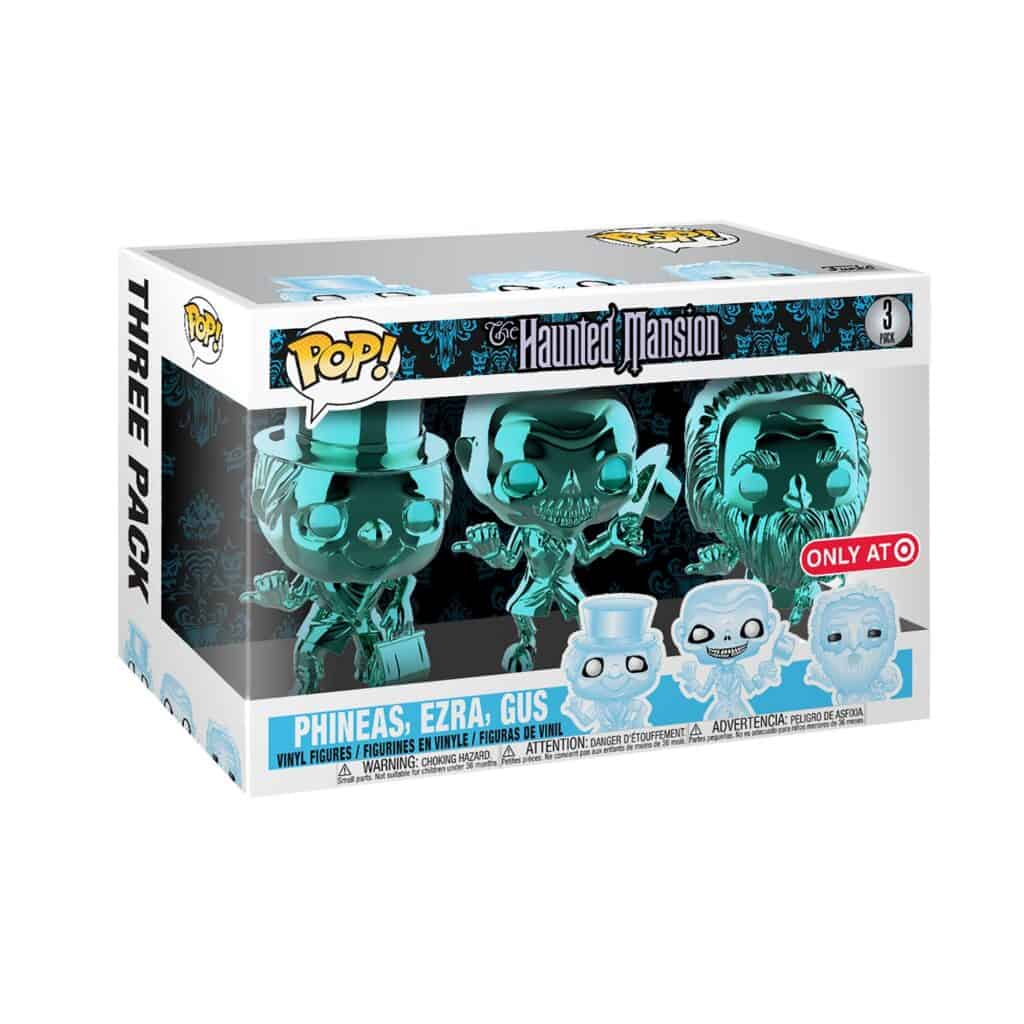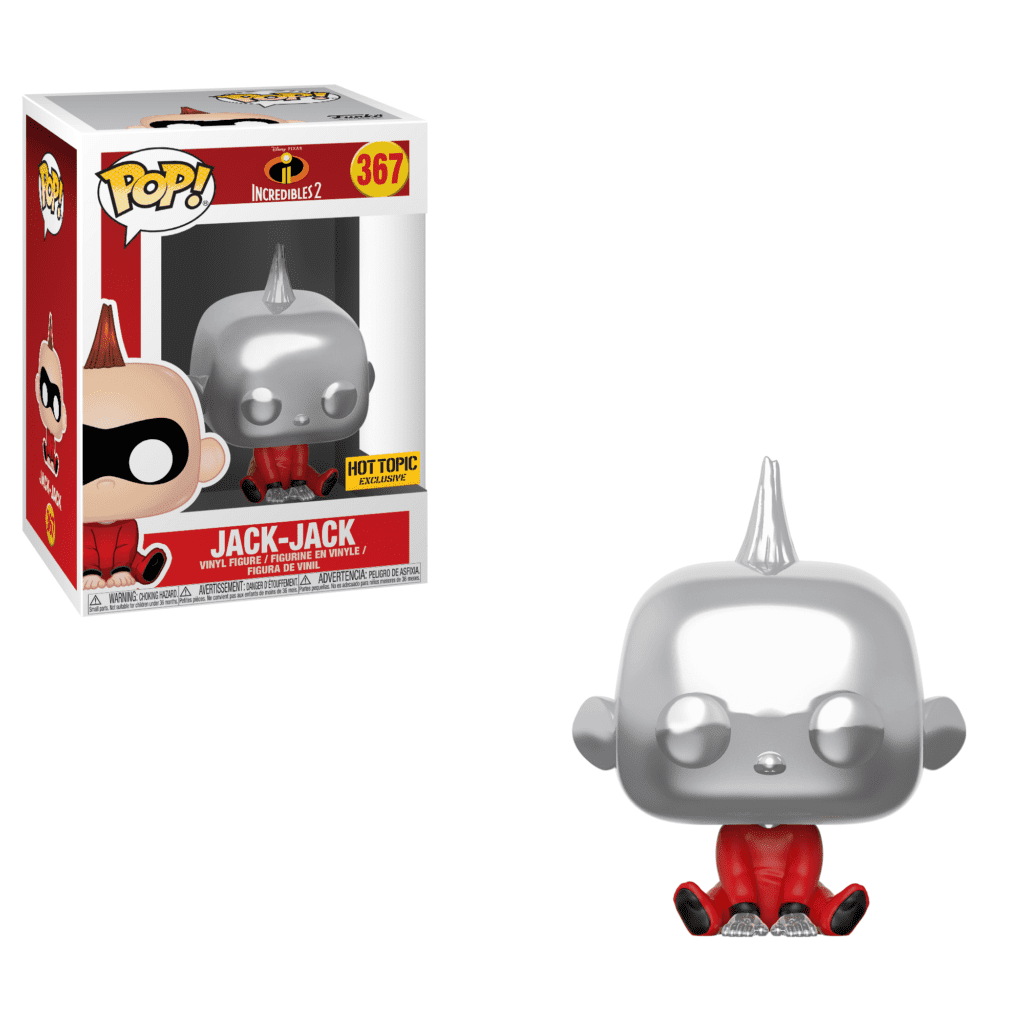 Then there's the kind of Pop! that makes people say, "Oooh, shiny." Chrome is typically coated in one color of chrome paint that can add a ghostly or trophy-like quality to your collection. Some great examples are The Haunted Mansion 3-pack of chrome Pop! Phineas, Ezra, and Gus. If you're looking for more whimsical options, there are also favorites like gold chrome Pop! Loki and chrome Pop! Jack-Jack (The Incredibles collection).
Black Light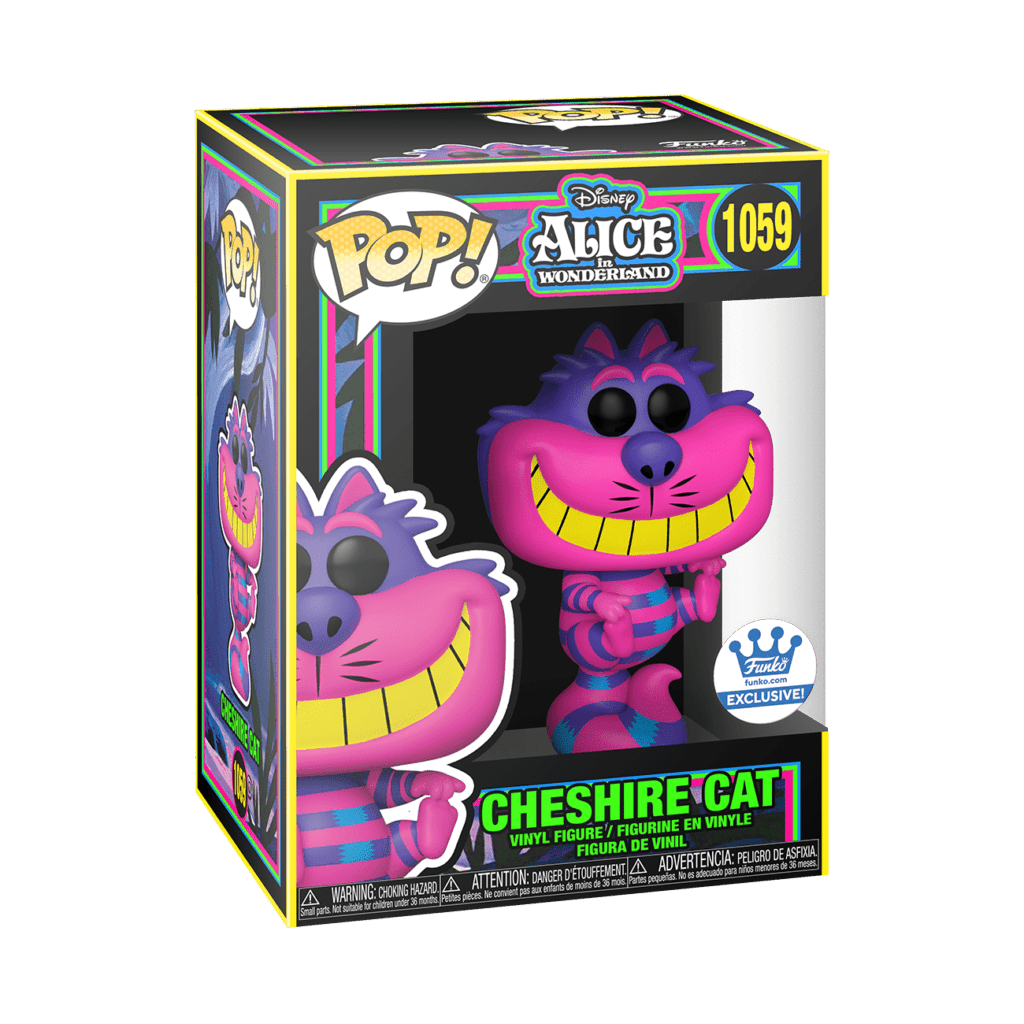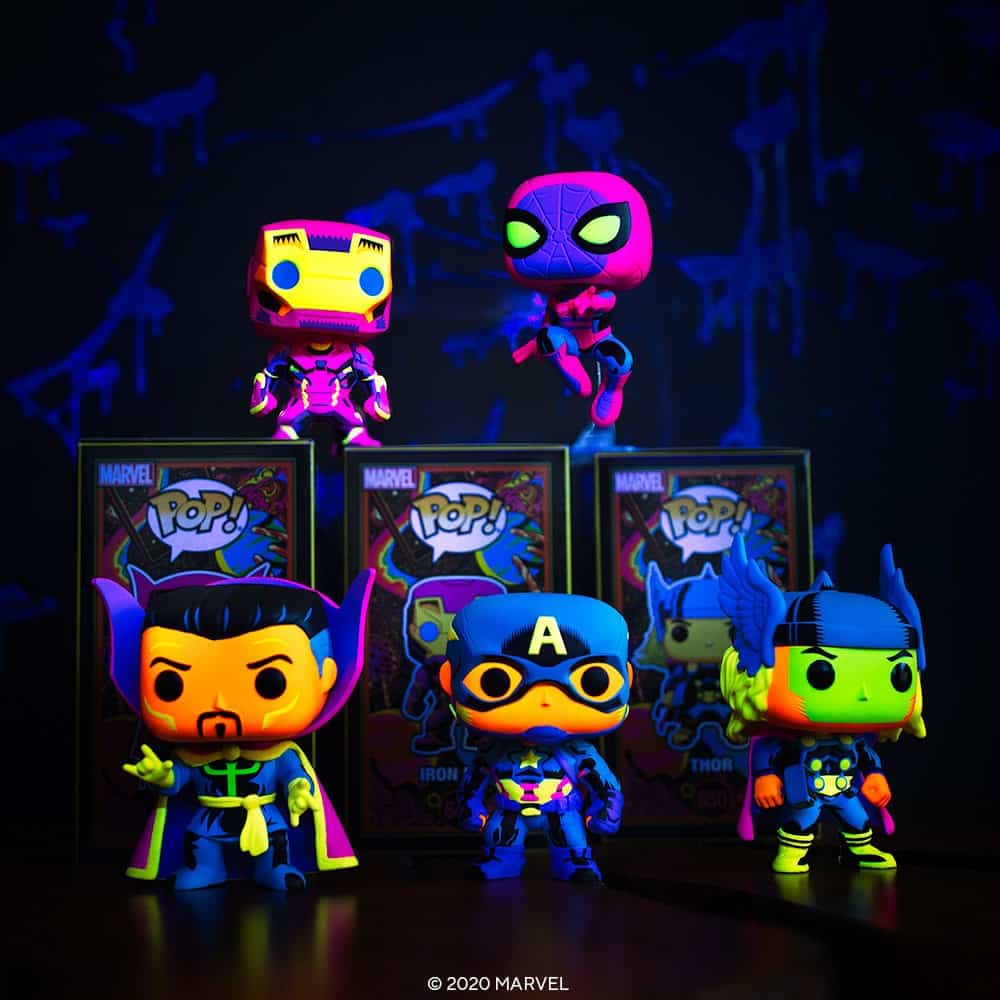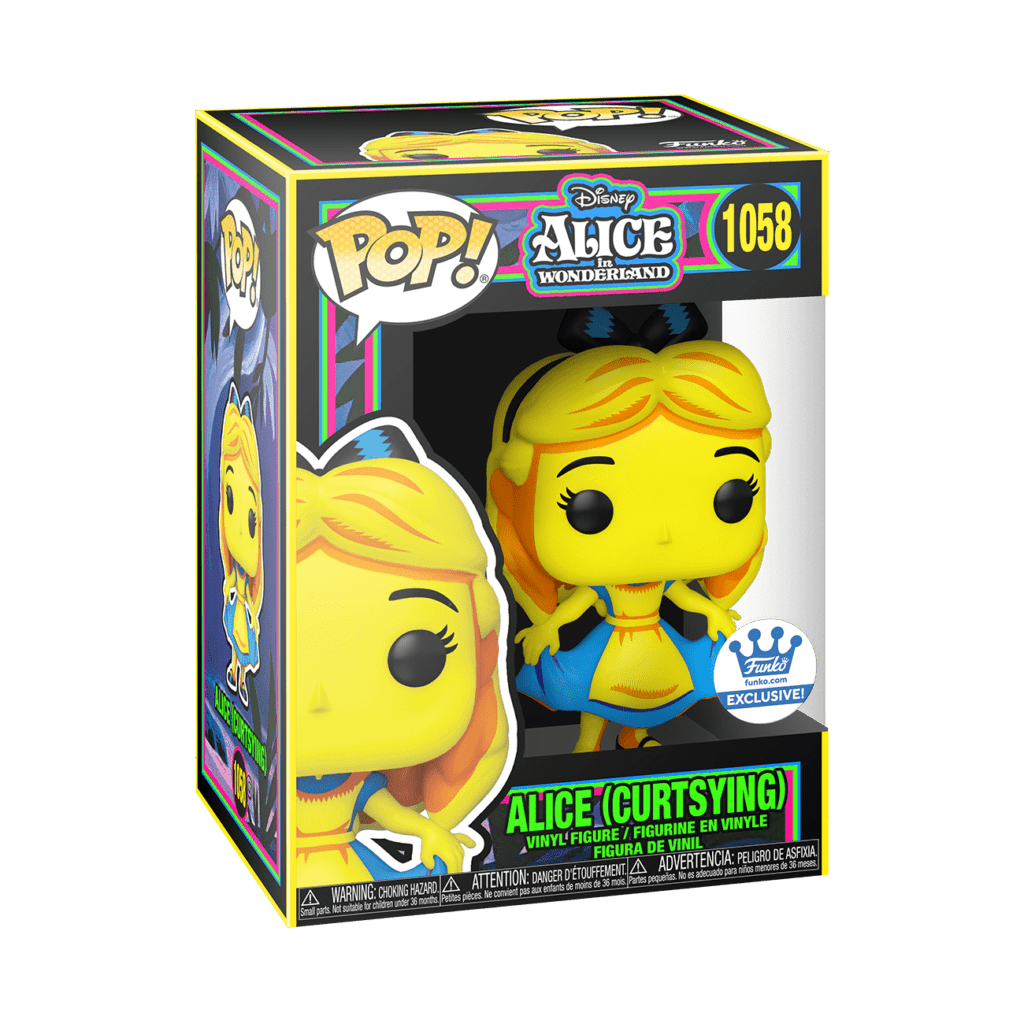 Not all pops are created equal. But, if you're looking to stand out, then the Black Light series is for you. Designed and colored to be the brightest and most eye-catching when placed under a black light, these pops are rad in any room. 
The Marvel Black Light collection is a great example and includes collectibles featuring Iron Man, Captain America, Thor, Doctor Strange, Spider-Man, etc. The Alice in Wonderland collection features blacklight Pop! Alice Curtsying and Pop! Cheshire Cat.
Pop! Skateboard Decks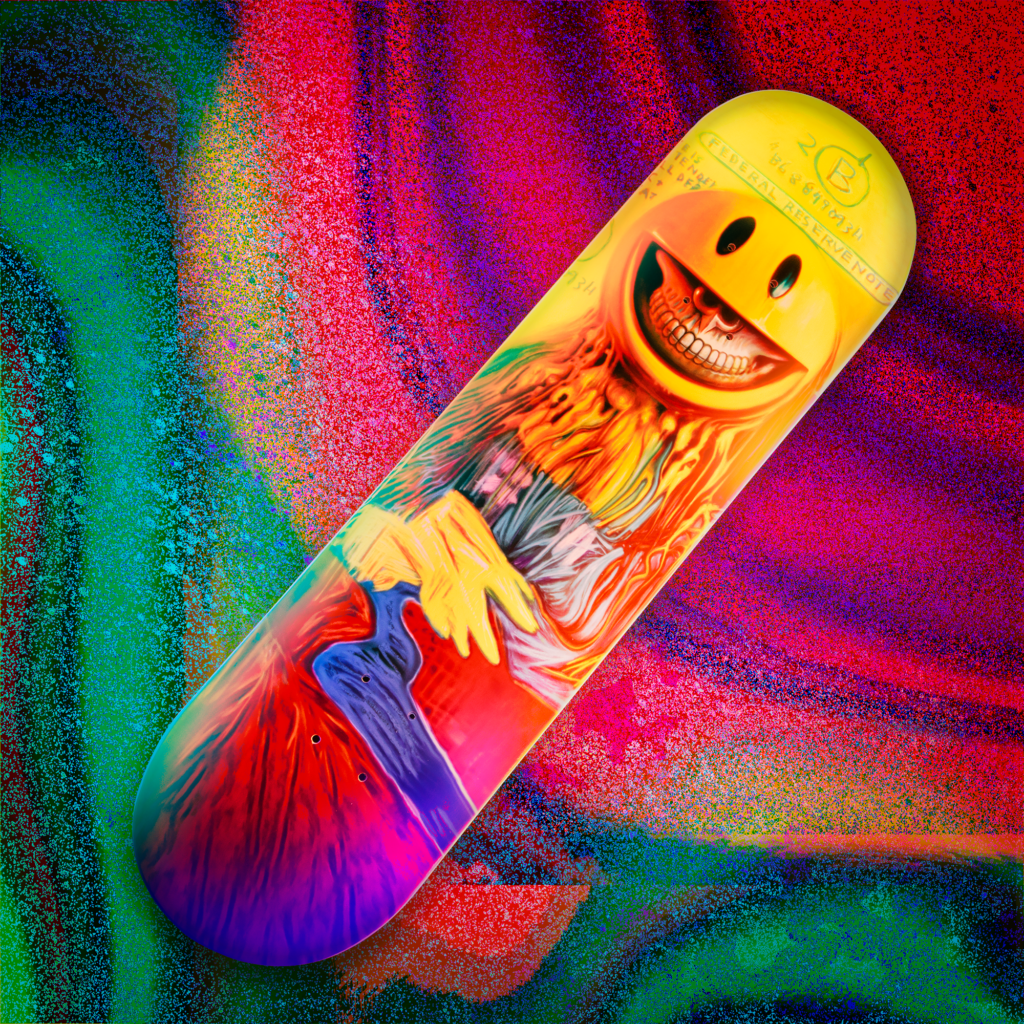 Funko skateboard decks are almost always exclusive to a convention, event, or retail partner. As a result, these boards may not always feature Pop! stylized art, but they are always stunning and pop culture-inspired.
Bobblehead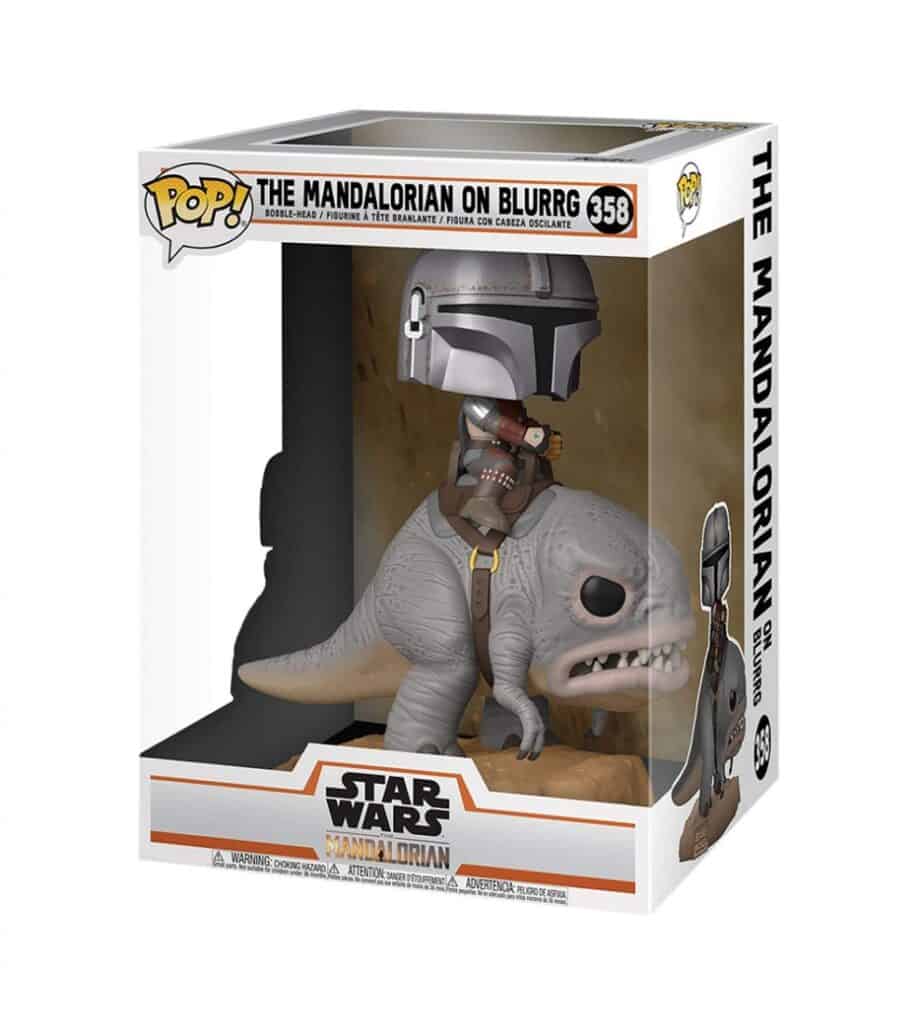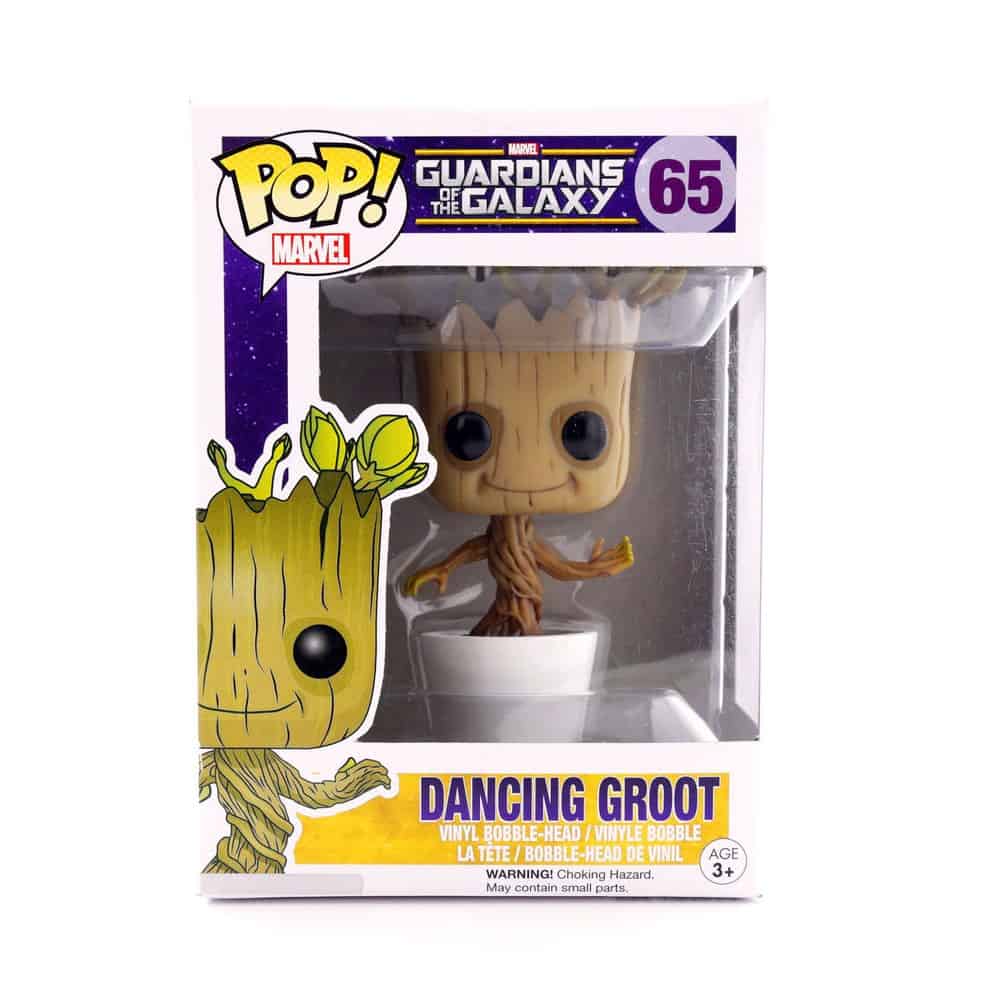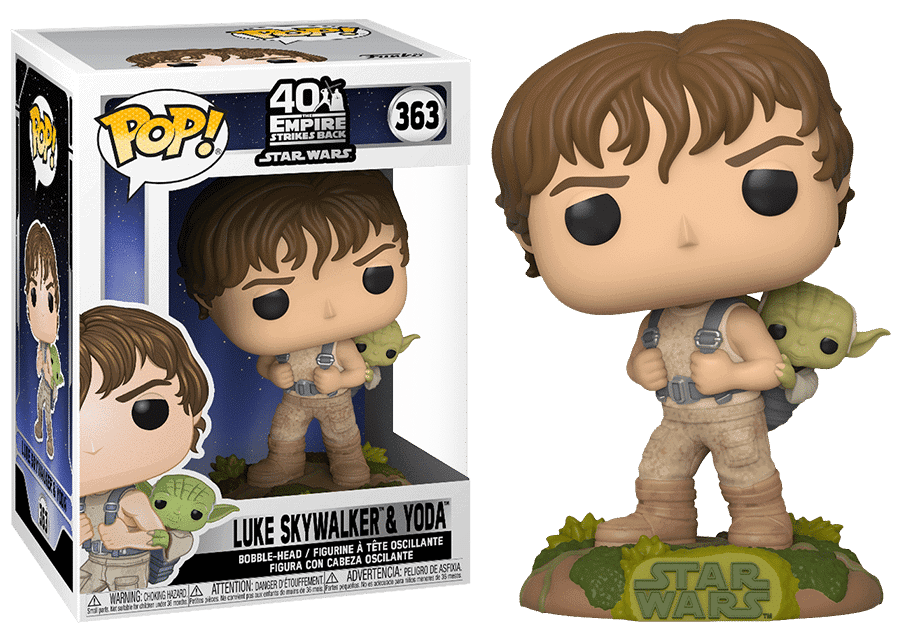 Every Star Wars Funko Pop is a bobblehead, and most Marvel figures are bobbleheads, too.
Exclusive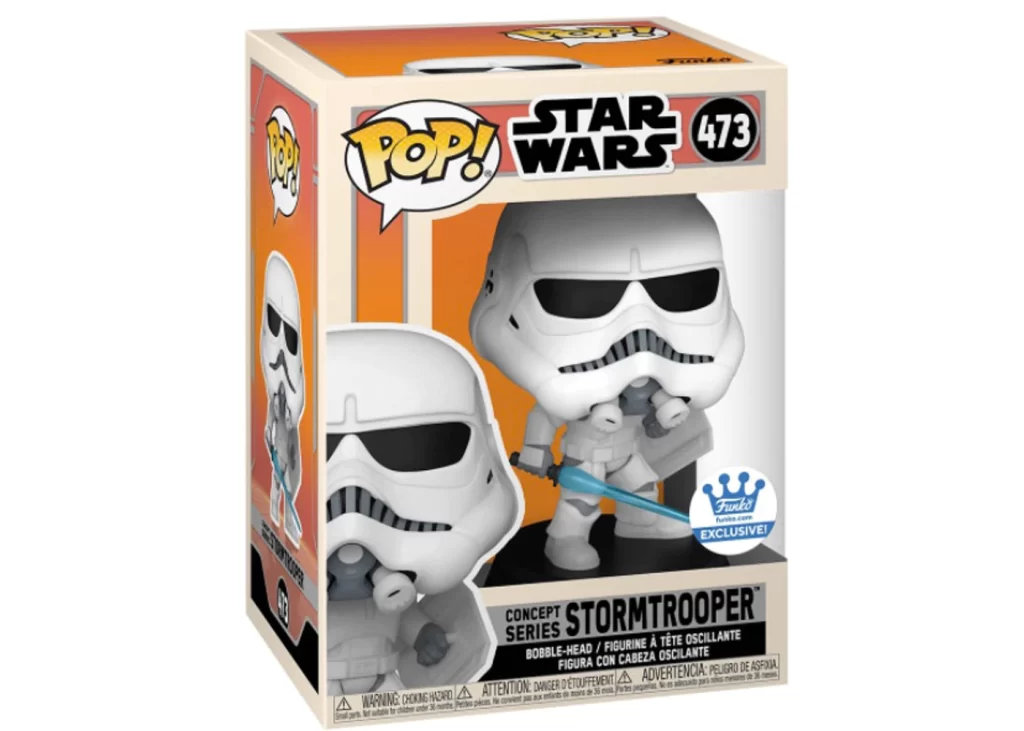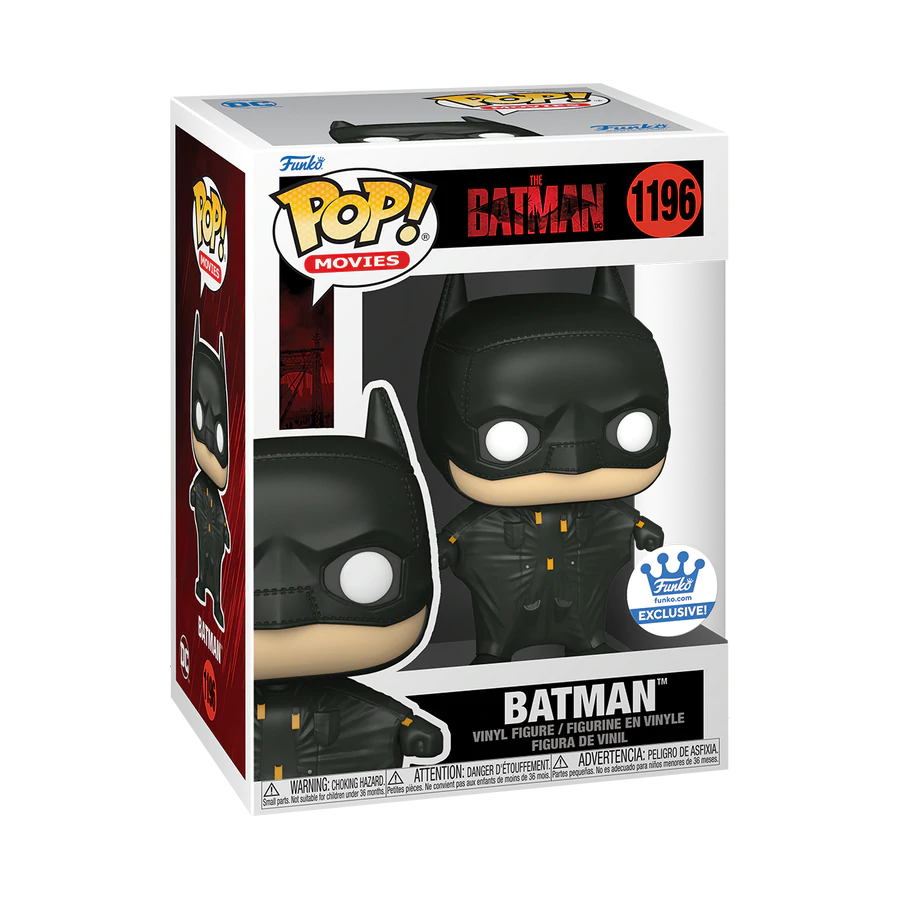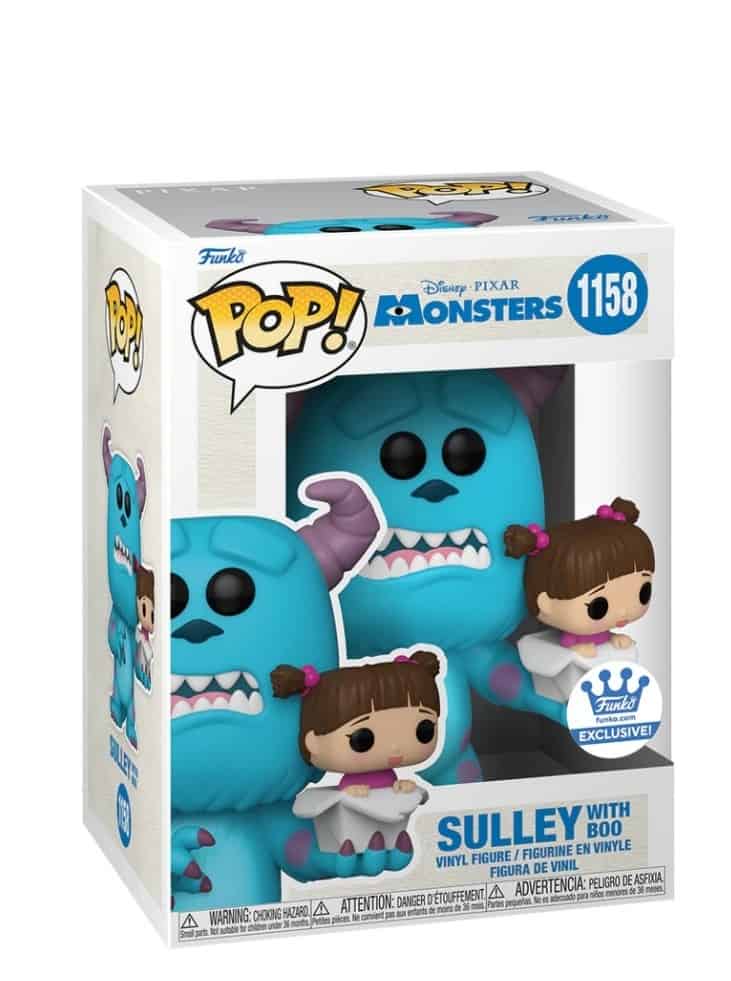 Exclusives are Pops only available from specific vendors or through specific events. As a result, you will often see Pops labeled as Funko Exclusives, Retailer Exclusives, Convention Exclusives, Shared Exclusives, and Exclusive Stickers.  Even though Rare and Vaulted are not official terms used by Funko, the terms have emerged in collector circles to classify different variations of Pops.
Convention exclusives are limited edition Pops! that you might find exhibitors giving away at a convention or purchasing while attending a convention.
Retailer exclusives can be found at stores like Target and Walmart, where they may be sold with an exclusive box design or other features. You can also find them in stores like Hot Topic, which sells special edition retailer-exclusive merchandise.
The most desirable convention and retailer exclusives will often sell for more than their regular counterparts. They're very limited in quantity and were never released to the masses (or were released in very small quantities).
Prototype

Prototypes are made before a Pop is mass-produced and released into stores for you to buy. These are used for testing and assessment of the new idea. Sometimes they are painted, sometimes they are not. 
These prototypes hold the history of Pop's creation and thus carry a high value within the collector community. You can think of these as poster prints from famous artists or early edition books by famous authors- things with historical value that we find fascinating as collectors.
Dorbz, Vinyl Vixens, Mystery Minis, Hikari and etc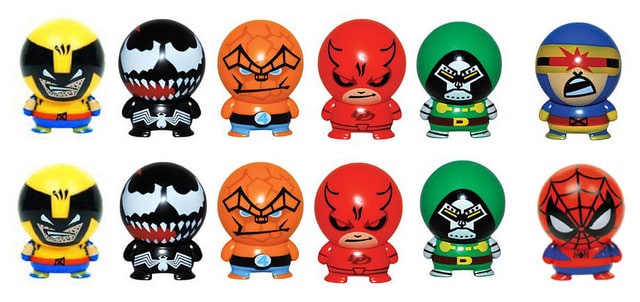 These product lines are just some examples of the items offered by Funko. These products are similar to Funko Pop!
Collecting Funko Pops FAQs
Is there a Funko Pop Community?

Yes, there is a Funko Pop community of people who love these little guys and are willing to spew money on them. These people call themselves "Funko Funatics," which sounds catchy. There's even an annual event called "Funko Fundays." You can find the community here.

When Was Funko Pops First Released?

Did you know that Funko originally started in 1998 with the production of bobbleheads? Yes, that's right – Mike Becker founded Funko. He was the initial mastermind behind what we now recognize as the most popular collectible toy on the market.

Are Funko Pop figures worth collecting?

This question is, without a doubt, the number one question we receive from people considering starting a collection of their own. The bottom line is that Pop!s are worth whatever you feel they are worth, and the amount of money you can make from selling your collection will be dictated by the market value at the time of selling. 
However, it's safe to say that 99% of all collectors do not collect for financial gain. However, if you look into making money out of the Pops. Who knows what will happen in the future? 

Who is Freddy Funko?

"Who the heck is Freddy Funko?" you might be asking yourself at this very moment. Freddy Funko has been around since the early days of Funko. It has evolved into a mascot of sorts for the company. He's taken on many forms, including dressing up as other popular pop culture characters. 

What is Funko Funatics

Funko Funatics is a forum to talk to other people who collect Funko Pops. You can post questions, discuss specific Pop figures or series of Pop figures, trade with others, and join in on group buys. If you're new to collecting and need some helpful advice from people who are really into it, this is the place for you!

What are Funko Fundays?

Funko Fundays is Funko's event to celebrate the great year and share new things with their fans! Usually held around the time of a big event like the San Diego Comic-Con or New York Toy Fair, there are a lot of limited quantity figures given to the Funatics, and a lot of news is shared.

What Is A Waffle?

A waffle is like a raffle. It is done on a Facebook Group, and the collectible you want to use for the waffle can be any item from your collection. You post it on the group, announce that you will do a "waffle" for it, and then people can enter their names in the comments. It's up to you how long you keep the entries open, but I usually do 24-48 hours.  The only rule is that if your name gets chosen, you are obligated to buy whatever item was waffled (even if you didn't want it).
Some people will tell you there is a difference between an auction and a waffle because of the price. They say that people can bid against each other in an auction, but in a waffle, they have to commit to buying at whatever the seller posted asking price. But honestly, I don't think anyone cares – as long as there's no bidding war and everyone who enters gets an equal shot at winning, even if they enter 5 minutes before it closes – they won't complain!

What Is A Flipper?

Flippers technically are someone who buys low and sells Pop at a higher value in a short time. 

What Does It Mean When A Pop Is Vaulted?

The term vaulted is a word thrown around in the Funko Pop collecting world. The most common definition is when a particular Pop is no longer being produced, but there are many reasons why this can happen. For example, Funko may decide to retire a design, or perhaps more commonly, they may encounter an issue with their license agreement with the franchise owner.

What is Funko Grail?

A Grail is a term used in the Funko community to reference anything expensive or hard to find (most of the time both).  These items can range from a Limited Edition Convention Exclusive to a Rare Vaulted Common Pop! Frequently, those Pops will sell for hundreds and even thousands of dollars.
Grail-hunting is one of the most satisfying ways to collect because it does two things: 

It pushes you and your wallet to find that elusive piece.
When you finally get it, people take notice. 

Often, I'll get comments on my collection, specifically about my Grail pieces. They're usually the first mentioned by fellow collectors who come over because they know instantly what they are just by looking at them.

What Is A Pop Asia Re-Release? Do I Want Them?

Several Pops have been re-released in Asia and look almost identical to the original release. The only way to tell them apart is by checking the box and the bottom of the box. An initial first run will not have an age bubble in the front bottom right-hand corner of the box. The other giveaway can be the manufacture date on the bottom of the box. Originals seem to be around 2010-12, and re-release pops are dated 2015 and above.

What Funko Pop websites should I follow?

The easiest way to keep up with all the new Funko Pop announcements and releases is to follow your favorite social media sites. Here are some suggestions to get you started:

Funko Pop! – The official Funko Pops and more shop tends to have the newest figurines first.
Funko Funatics – A community to share pictures of your Pops and answer any questions you may have about them in their Q&A session.
Official Twitter account Funko Pop.

What Do the Numbers on Pops Mean?

Each product has a code (e.g., JJL) that lets you know which factory the pop was manufactured at and its date (e.g., 150820).

Are Funko Pops Environmentally Friendly?

Funko Pops are made from PVC. Unfortunately, PVC is an environmentally unfriendly plastic. Funko has made some efforts to be more environmentally friendly, but these efforts have been criticized as too little, too late by environmental groups such as the Sierra Club.

What Is Collectors Corps/Loot Crate/Smugglers Bounty Etc?

All of the above are subscription box services released monthly and contain exclusive limited edition items that are sometimes exclusive. This is a great way to build up your Funko collection if you don't mind paying for the privilege of random chance.
Before you go…
If you're interested in trying Funko Pop collecting, we hope this guide has provided useful insights on your journey. Remember, starting small is okay—it's better that way. You can always get more as time goes on and as you get more experience with the Funko Pop brand. If you're still unsure whether Funko Pop collecting is right for you, don't hesitate to ask. Collecting is a fun hobby that can easily become a great passion, so enjoy your journey!
Check out my next article: "What Was the First Funko Pop Made?
Related Articles: