So what quarters are worth money? A quarter is a coin that's worth 25 cents. But quarters aren't always worth 25 cents. Some quarters are worth more than 25 cents. For instance, have you ever seen a quarter made in the 1940s? Check your pocket change because the quarters are worth more than 25 cents here.
What Makes Quarters Valuable?
There are a few reasons why quarters could be worth more than their face value. The main factors to consider are:
Condition – You may have a higher-value quarter if it's pristine.
Mintage – Some quarters were made in smaller quantities, making them rare.
Errors – If you have any errors in your quarter, it can be worth more money.
Variety – The U.S. Mint has created special varieties of quarters that could be more valuable.
Age – Older coins will usually have more value than newer coins.
21 Quarters That Worth A Lot
1796 Proof-Like B-2 Draped Bust Quarter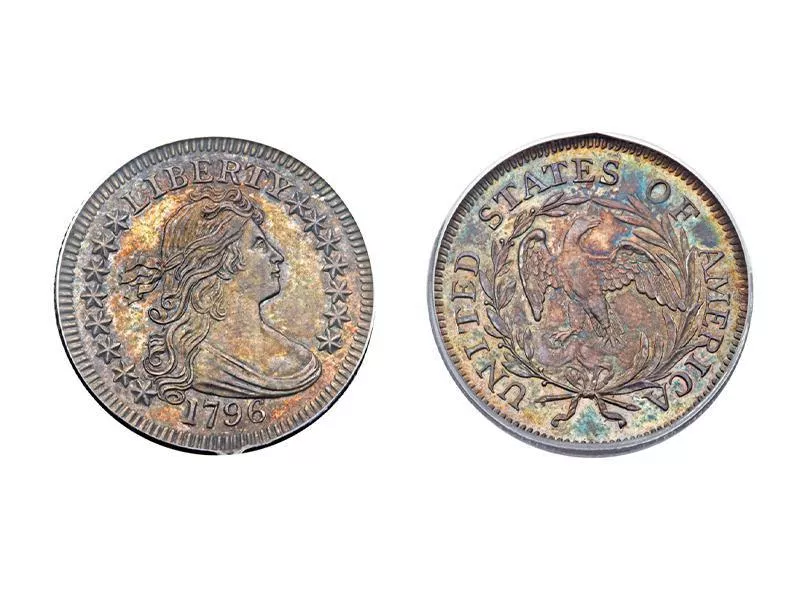 The first quarter ever minted, the 1796 Proof-Like B-2 Draped Bust Quarter is an important coin in the history of quarters.  Unfortunately, this coin was produced by the U.S. Mint with low mintage, with only 5,894 quarters produced in the second quarter of 1796, and an additional 252 were minted in February 1797. As a result, only a few of these coins have survived, and today they sell for thousands of dollars at auction.  This coin was sold in 2014 at Heritage Auctions for $411,250!
1805 B-2 Draped Bust Quarter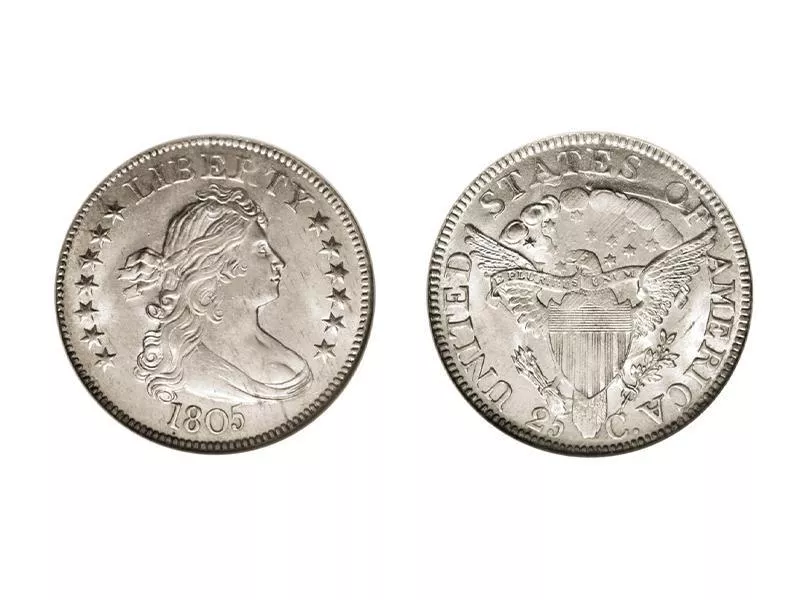 Another rare coin is known as the 1805 B-2 Draped Bust Quarter. This coin is special because it has a "mint frost." These coins went on auction in July 2014, and one of the four known varieties sold for $402,500.
1807 B-2 Draped Bust Quarter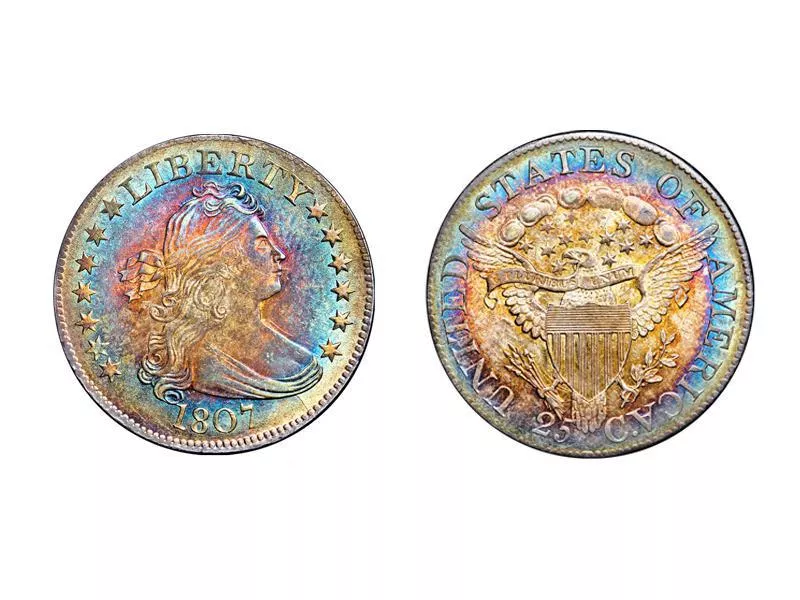 The 1807 B-2 Draped Bust Quarter is the rarest of all early quarters. It features unique obverse and reverse dies that weren't used in the early quarter series for any other quarter. The obverse die was unique because it featured 3 stars on either side instead of the standard 5. The die was initially meant to be used for a half dime but was then modified to make a quarter. The reverse die also featured a unique design as it had no period after "STATES."
A crack can be seen on each side, but both die shattered in later die states, making this example even more special. Unfortunately, only 2 examples exist today, and one sold at auction for $411,250! An extraordinary coin indeed!
1818 B-8 Capped Bust Quarter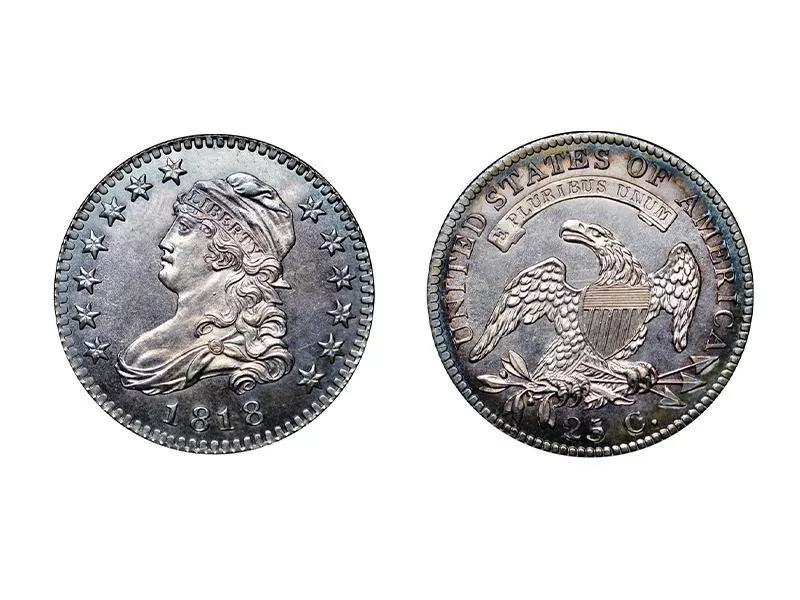 Only two are known to exist today. One is in the National Numismatic Collection at the Smithsonian Institution in Washington, D.C. The other was auctioned for $381,875 by Heritage Auctions on August 15th, 2013.
1823/2 Proof Capped Bust Quarter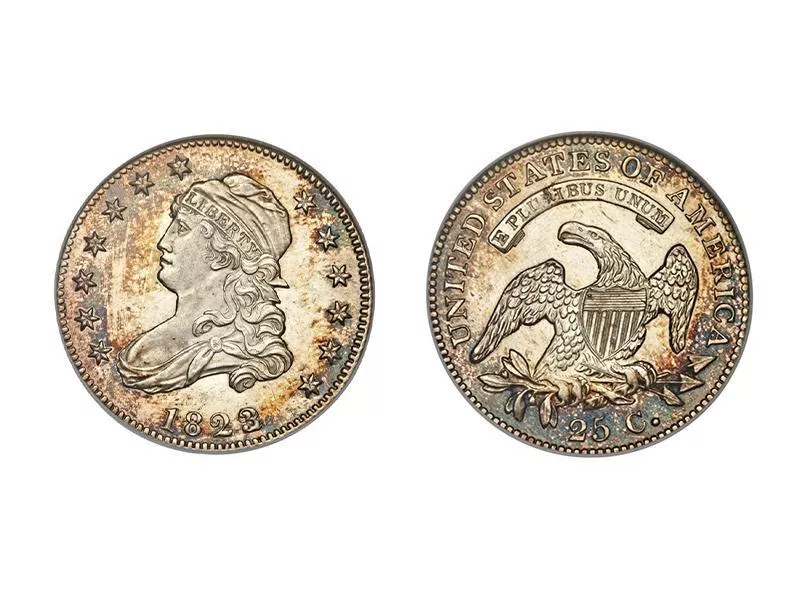 This 1823 quarter is an overdate coin. The numeral 2 can be seen under the 3 in the date. This overdated coin has an incomplete reverse design used for the half dollar and does not have the leaves around the eagle or the UNITED STATES OF AMERICA on the reverse. 
There are seven of these quarters known, but only one has been certified as proof by PCGS, with none being graded by NGC. The finest example sold at auction for $396,562.50 in January 2008 is graded Proof 63+ by PCGS.
1827/3/2 Capped Bust Quarter
The Capped Bust series has a fair number of overdated coins, but it is the 1827/3/2 quarter that takes the cake. Each of the three digits on the date is an overdate in this variety – two 7s and a 3 are visible beneath them.  This particular variety is scarce, and only nine examples exist. One of them was part of Eliasberg's collection and fetched $411,250 at auction.
Proof 1838 Seated Liberty Quarter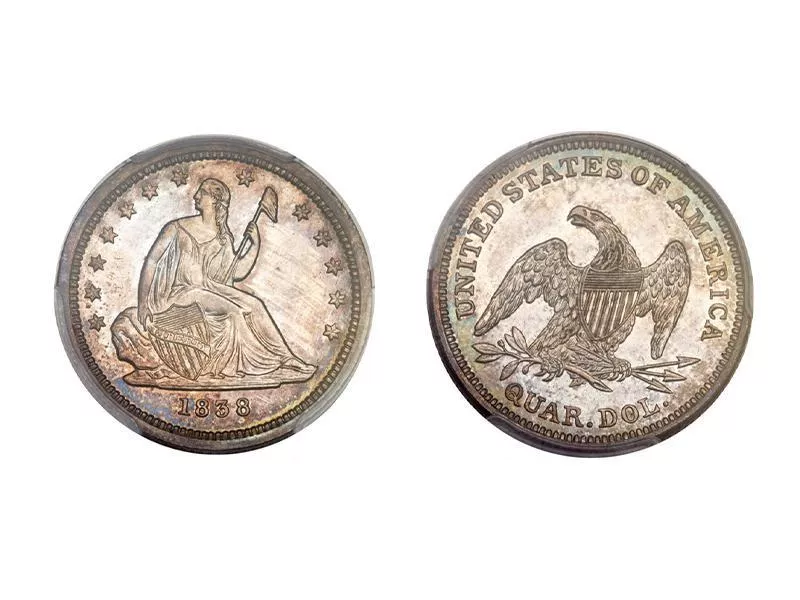 The 1838 Proof Seated Liberty Quarter was introduced when Secretary of the Treasury Levi Woodbury requested 20 samples in September 1838. Unfortunately, only one known proof exists today, and PCGS designates it as PR-65. 
The coin is the first in the No Drapery series, from 1838 to 1840. It is also the first year of Seated Liberty quarters. PCGS has certified this coin as PR-65, or Proof 65, which means it is a scarce coin with a perfect finish. This coin was sold at an auction for $381,875.
1839 Proof Seated Liberty Quarter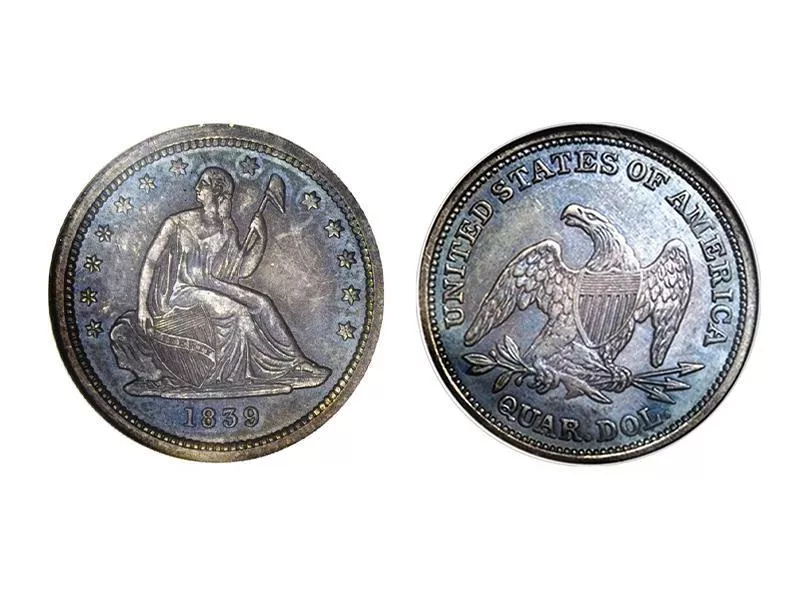 Proof coins before 1858 were rare, but those from the earlier years of proof production are much rarer. While a few proof coins were minted in 1838 when this new design was introduced, there's no record of such proofs created in 1839, leading some to believe this may have been the only one produced. 
Other experts have even said that if any other examples exist, they are probably counterfeit, so this may be the only one ever made! It was sold at auction by Heritage Auctions in August 2012 for $517,500.
1840-O Seated Liberty No Drapery Quarter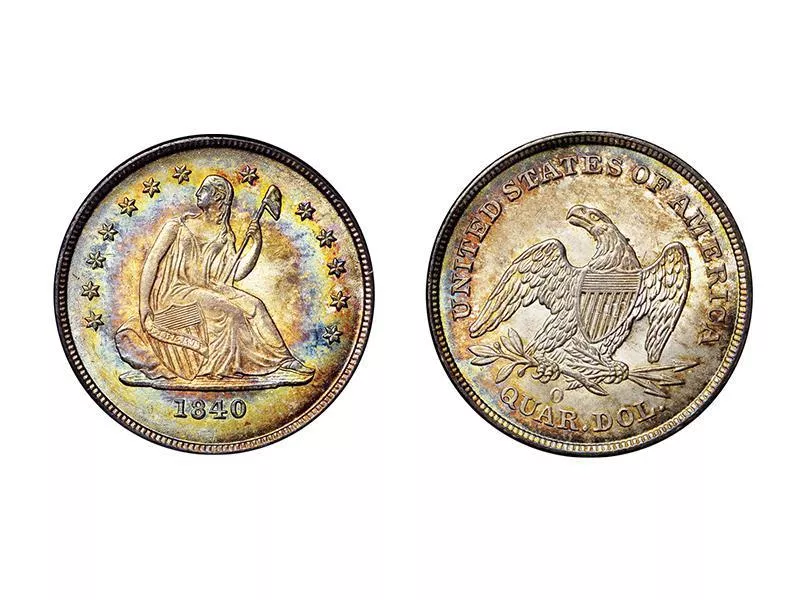 The 1840-O Seated Liberty No Drapery Quarter is an extremely rare coin that very few people have ever seen. Only eight of these coins exist, and very few remain in mint condition.  A recent example sold at auction for $329,000, making it one of the most valuable quarters. 
1841 Proof Liberty Seated Quarter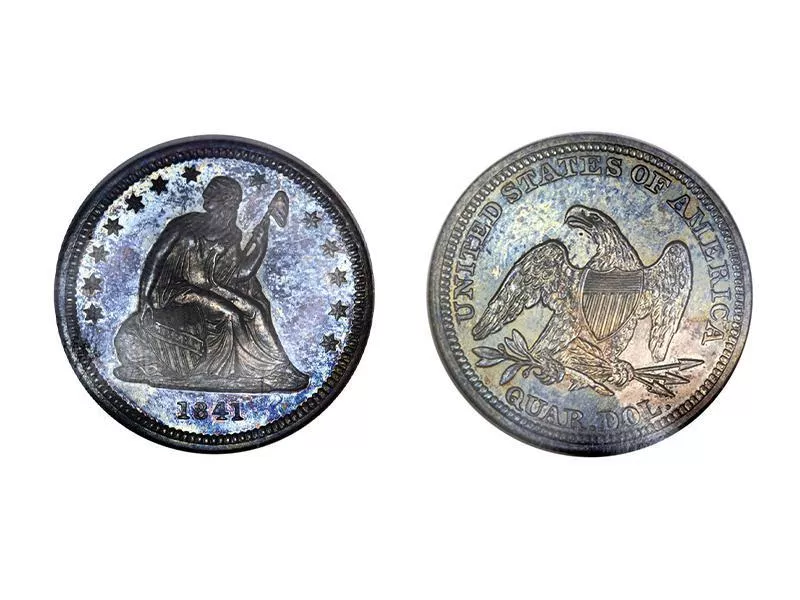 With only four proof quarters known to exist from this year, it's worth a lot of money if you have one in your collection. For example, a recent sale of an 1841 proof quarter went for $345,000 at an auction put on by Heritage Auctions.
1844 Proof Liberty Seated Quarter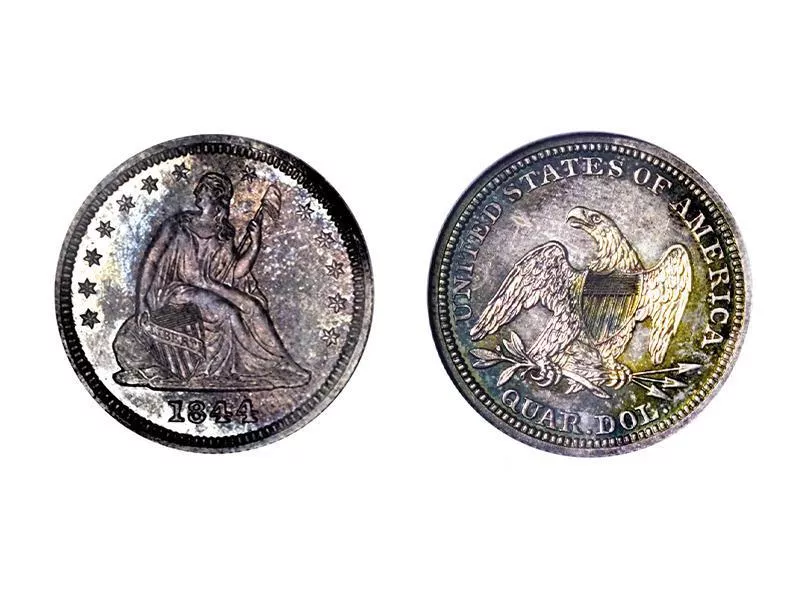 The 1844 Proof Liberty Seated quarter is a coin issued by the Philadelphia mint during the liberty seated quarter series from 1838 until 1891. Of the few coins printed in this series, only three are known to exist today. The last recorded transaction of this coin was sold at auction for $322,000.
1850 Proof Liberty Seated Quarter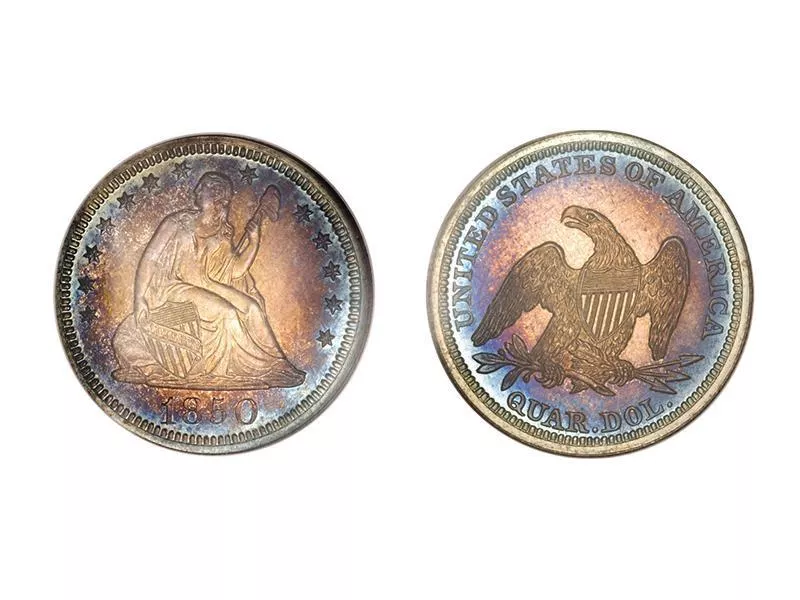 This is a fascinating coin because while only two or three 1850 Proof Liberty Seated Quarters exist, it's not the rarest. The coin is precious and worth more than most other coins on this list, as you might expect from something incredibly scarce.
However, in a historical context, you'll find many other coins far more valuable than this if it were possible for a time machine to be built and we could travel back to 1850. Then buying all three of these quarters for their face value of 25 cents each before they became invaluable (if you can call it that), you'd probably have more money than all but one or two people in the world!
1871-CC Liberty Seated Quarter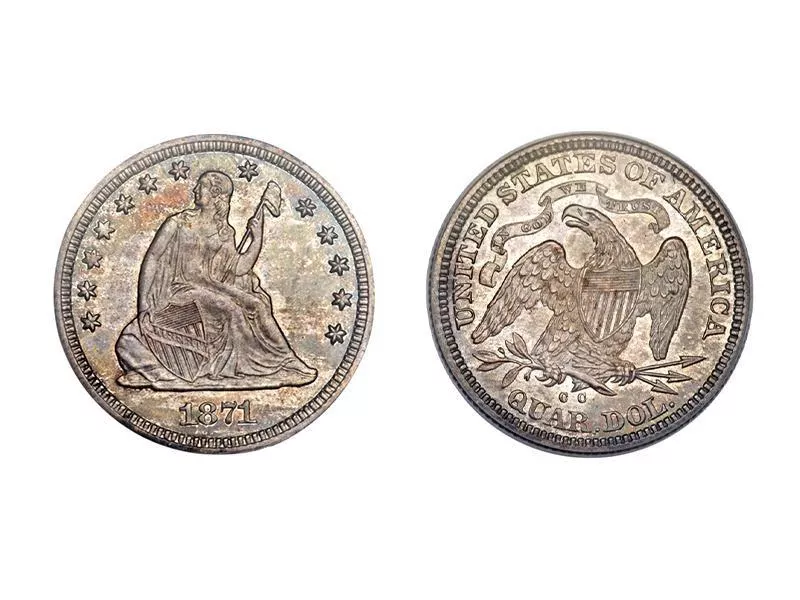 There were only 10,890 quarters struck at the Carson City Mint. Therefore, there are two mintmark punches evident on this coin. In addition, you'll notice that both one digits of this coin have evidence of repunched dates. That means they didn't get the date right on their first try. 
If you find this date and mintmark combination, check for evidence of a repunched date! Unfortunately, only three coins in mint condition of this date exist! One sold at auction for a whopping $352,500!!
1873-CC No Arrows Liberty Seated Quarter
In January 1873, the U.S. Mint at Carson City minted 4,000 silver quarters. The Coinage Act of 1873 raised the weight of silver coinage and required them to be melted before it could enter circulation.
The four known specimens are all in poor condition; one is held by the Smithsonian Institution and has a clear CC mintmark; the Nevada State Museum holds another specimen. The other two examples were found in a bank vault in 1940 and 1979, but their whereabouts are currently unknown.  The three known examples have been sold at auction for $126,500 (1987), $207,000 (1999), and $376,000 (2006).
1901-S Barber Quarter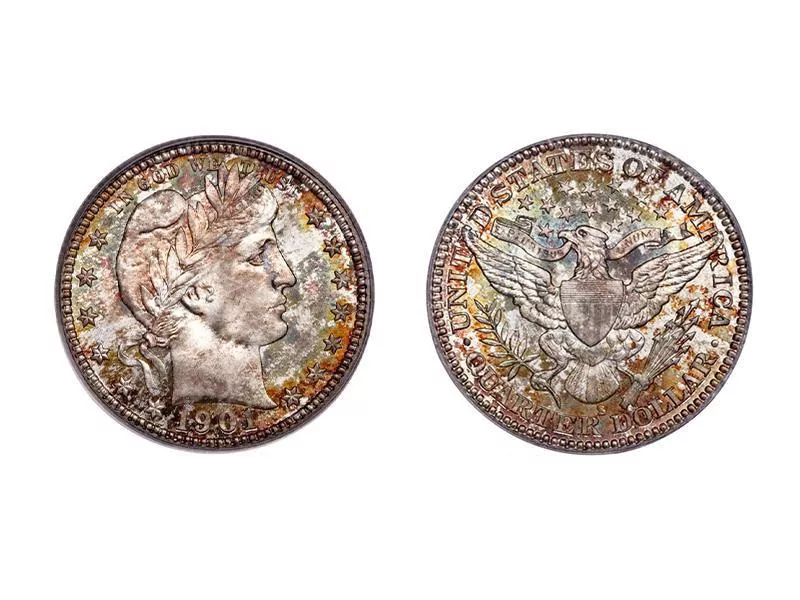 The 1901-S Barber quarter is a low-mintage coin with only 72,664 minted. The mintmark can be found on the reverse above the eagle's tail feathers.  This coin is scarce and valuable, with only two certified mints by PCGS and two Superb Gems by NGC. This scarce coin sold at auction: for $258,500
1919-S Full Head Standing Liberty Quarter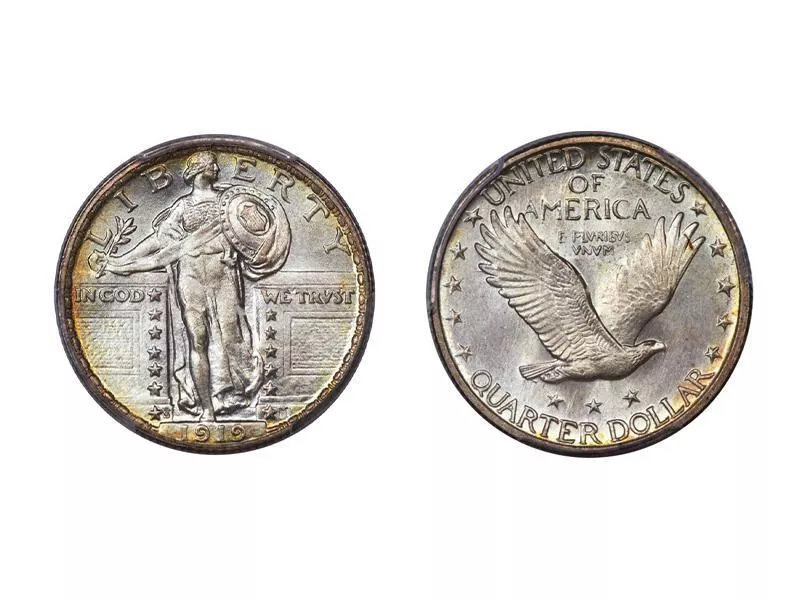 A 1919-S Full Head Standing Liberty Quarter (MS-63FH) is retail worth $25,000-$30,000.  The full head variety is from the first year that had a Standing Liberty Quarter minted and is extremely rare. Probably fewer than 10 of these exist in this condition.  This coin was sold at auction for $235,000
1927-S Full Head Standing Liberty Quarter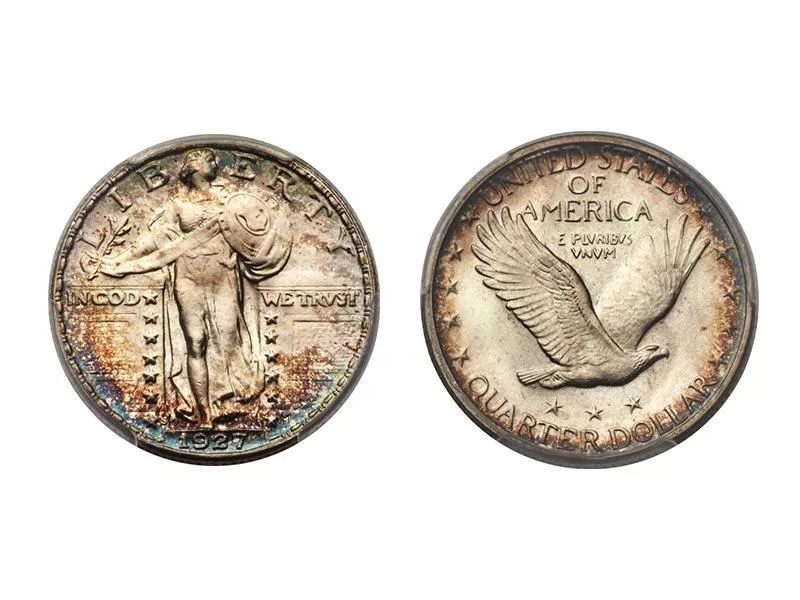 The Standing Liberty Quarter was issued from 1916 to 1930 and is considered by many one of the most beautiful coins ever struck by the U.S. Mint. The obverse shows Miss Liberty striding forward with a shield on her right arm and an olive branch in her left hand, while the reverse has an eagle flying high in the sky.
However, due to the complexity of its design, it resulted in dies being clogged with metal shavings which eventually caused the minting presses to jam or break down. Therefore, all quarters produced during this era were poorly struck, and soft details were abundantly noticeable throughout the coins.
There are three fine specimens today that were struck using well-preserved dies. In Dallas, Texas, an example graded MS-66 sold for $258,500 at Heritage Auction Galleries on January 3rd, 2019.
1932-D Washington Quarters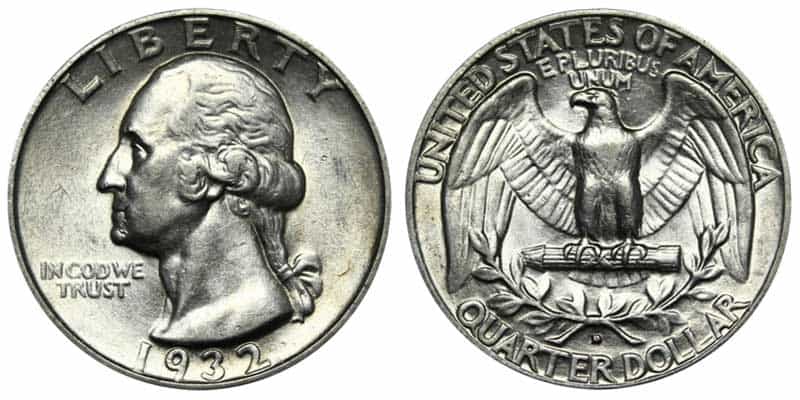 The first-year issue for the Washington quarter series is also the most common date in higher grades, with a low mintage of only 436,800 pieces.  Most examples are well-worn, as they were saved and hoarded in large numbers when they were first released. In circulated grades up to MS64 condition, it sells for more than $100. 
1932-S Washington Quarters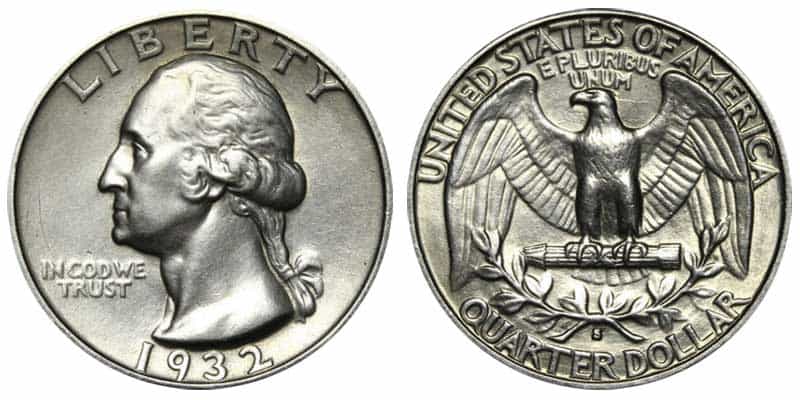 The lowest mintages for the Washington quarter series with just 408,000 examples. It is worth around $100 and up, depending on the grade.
2004-D Wisconsin Extra Leaf Quarters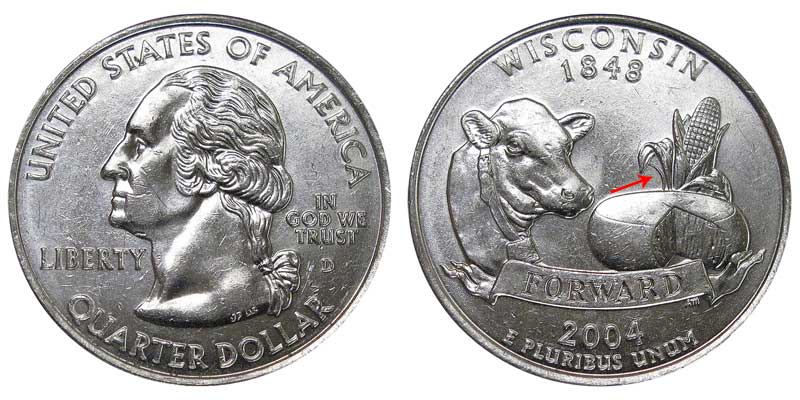 Two unusual die varieties of the 2004-D Wisconsin 50 State Quarters are characterized by extra foliage on the corn stalk that rises above the wheel of cheese on the obverse side—a high leaf and a leaf arcing just above. The examples of this 2004 Wisconsin state quarter variety can be traded for $50 to $100 in higher grades. 
Check your coins and find out if you have something valuable.
When starting a hobby, it's essential to research before investing inexpensive items. There are a lot of resources online, such as coin books, guides, and dealers, that can help you learn more about the various states, dates, and mintages of coins worth money.  It's also beneficial to check coin dealers for a price in advance. It's not uncommon for people to pay up to twice as much for a bronze coin when trying to sell it on their own.  It's always best to get the best price—you might be surprised at how cheap or expensive something is!
Takeaways
A rare quarter in your possession can be profitable because of its rarity and scarcity. The most valuable quarters are the ones that were made before 1965. The value of a quarter depends on its rarity, age, condition, and demand among collectors. If you have a rare one in your coin collection, you may want to get it appraised by an expert who can tell you its worth.
Related Articles: