The tradition of coinage in Germany dates back many centuries.
German coins are an interesting time capsule of German history and the states that came before it. Some fetch eye-popping sums of money.
And if you're looking for the rarest and most expensive German coin, you've found it!
In this article, we'll discuss some of the rarest and most valuable items to hit the market in recent memory. Want to learn more? Read More!
Rare German Coins:
Gold 6 Ducat (1659)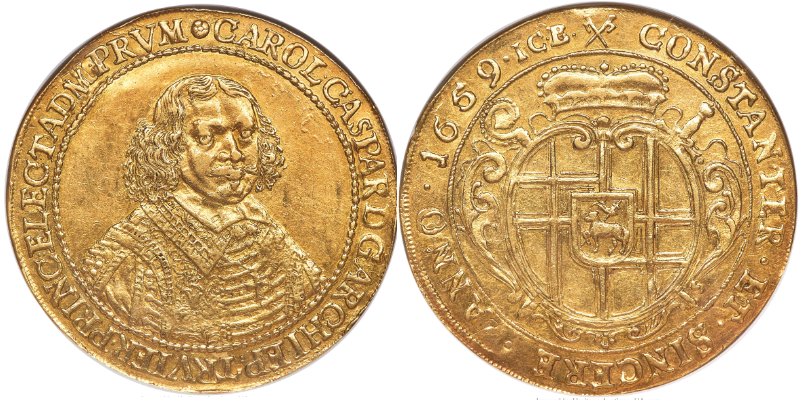 During the 17th century, when many German states still used their currencies, they struck this beautiful gold coin.
The portrait of Karl Kaspar von der Leyen can be found on one side.
He was an archbishop and an elector for the throne of the Holy Roman Empire, holding the title "Elector of Trier."
On the reverse is a coat of arms topped by the elector's hat and the year 1659.
Karl Kaspar is depicted in a three-quarters profile, which is likely a first for a coin.
This is the only one of its kind that has ever been discovered. The impartial coin graders at the Numismatic Guaranty Corporation (NGC) assigned it the grade of AU58.
58 is a grade out of a possible 70, with AU denoting an "almost uncirculated" condition.
The coin has been used only slightly, as indicated by the grading. It also has worth due to its nature as a gold coin.
If melted, the coin's gold content would have been worth about $1,100 in 2021.
Collectors placed a much higher value on this coin due to its scarcity and pristine condition. After being put up for auction, it sold for $156,000 (plus the buyer's premium).
Gold 8 Ducat (1598)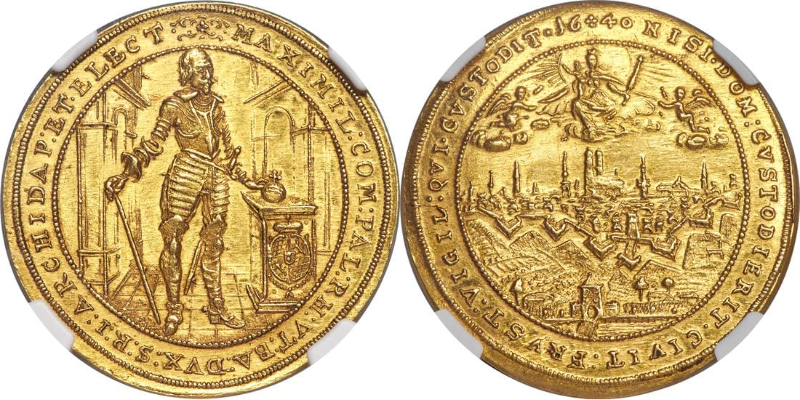 The German states have issued yet another stunning gold coin. This one was issued for Bavaria and predated the Karl Kaspar coin we discussed.
This one was written in 1598, at the tail end of the 16th century. On one side is a lifelike depiction of Saint Heinrich, who is seen here in full armor and holding an orb and scepter.
The electoral hat, date, and Bavarian and Pfalz coats of arms are depicted on the other.
The homage paid to Maximilian I during his coronation was the occasion for minting this coin.
Bavaria's prince-elector was named Maximilian. A citizen of the Holy Roman Empire, he would have been eligible to vote in the election of the Holy Roman Emperor alongside Karl Kaspar.
The coin's MS 62+ grade attests to its pristine condition at the time of sale.
It's a coin that was never meant to be used in regular currency and thus shows no signs of wear from being handled. Plus, it's a sizable amount.
In 2021, if you sold just the gold for scrap, you'd get about $1,500.
Despite its rarity, it is not the only one of its kind. Maybe that's why, despite its obvious superiority to the Karl Kaspar coin, it only sold at auction for $156,000.
Gold 8 Ducat (1596)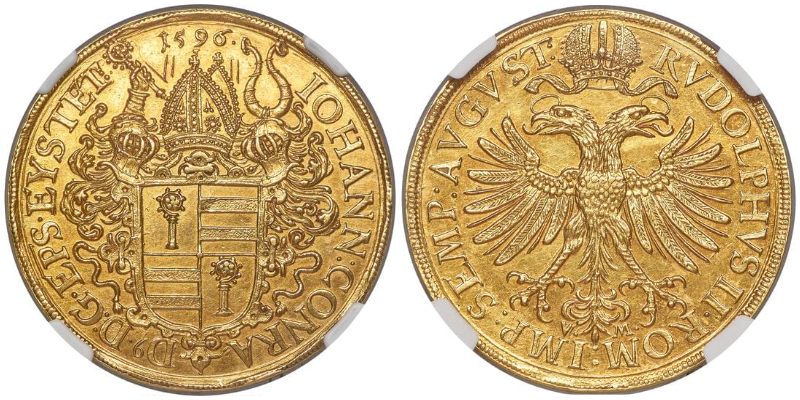 Eichstätt, Germany, is the home of this coin. The engraver Valentin Maler, regarded as one of the greatest of his time, struck this massive 8-ducat piece.
It was likely made to honor Johann Conrad von Gemmingen's appointment as Prince-Bishop in 1595.
This coin, however, was struck in 1596, making it a rare collectible.
One other exists but is in a state collection, so this one is likely unique in the private market.
The NGC certified it as genuine and gave it a UNC Details grade. Without a numerical grade, this indicates that the coin is in perfect condition.
That's because somebody scratched a "VIII" onto the obverse side of this coin as vandalism. The 8 ducats the coin is worth can be inferred from this.
The auction catalog implied that graffiti appeared on the coin at the same time as the coin itself.
In 2021, it went up for auction. Despite the vandalism, it sold for $168,000 to a collector willing to pay the additional premium.
Gold 27 Ducat (1701)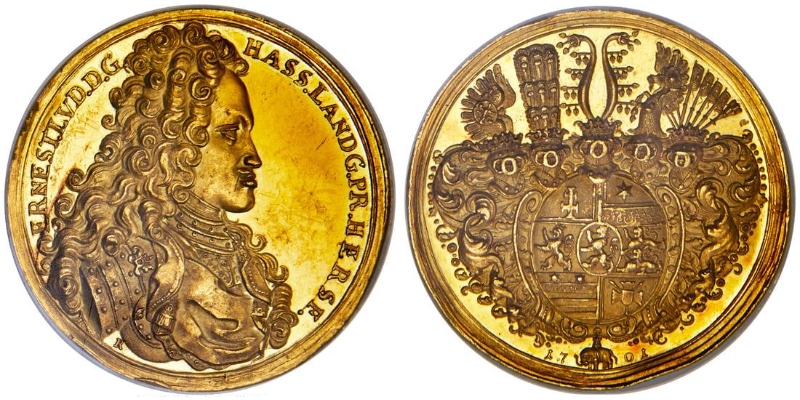 It is believed that this massive and exquisite gold coin is unique. The NGC thought it was a 25-ducat piece, giving it a mint state 62+ grade.
But if you go by the gold's weight, you can figure out it's worth about 27 ducats.
It was typical of ancient coins to lack a denomination on the face. Johann C. Roth, an esteemed artist, did the engraving.
And this coin is considered by some to be his crowning achievement.
One coin from the same year is the closest match we have found; however, it is smaller, silver, and features a slightly different design.
That's why this was such a rare find—even among collectors. And in 2021, when it went under the hammer, it brought in $180,000 (plus premium).
Gold 6 Ducat (1745)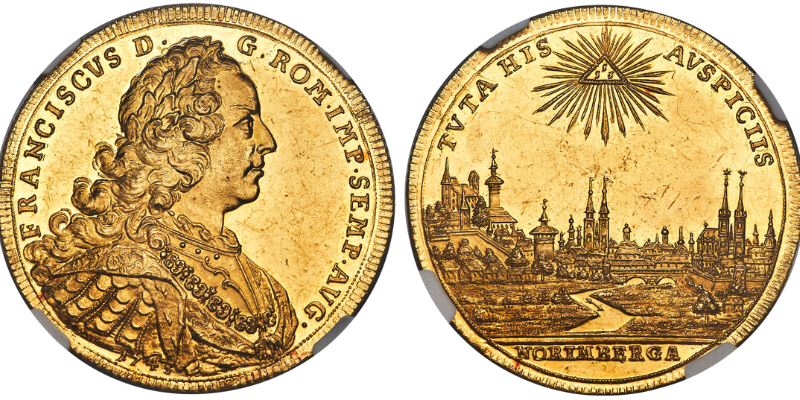 In 1745, the city of Nürnberg, which we now call Nuremberg, was a free city, or city-state, within the Holy Roman Empire.
It was once one of Europe's most significant urban centers. But its fortunes dwindled over time, and in 1806 it was merged into Bavaria as a state.
The reverse of this gold six-ducat coin features an exquisite city engraving. The reverse features a likeness of Emperor Franz I.
NGC described its quality as "proof-like" when awarding it an MS60 grade.
Specially struck for museums and libraries, proof coins are even more beautiful than mint state coins.
In addition, it was a very uncommon coin. In the previous two decades, only five similar items had been auctioned.
In 2021, it was put up for auction and fetched a staggering $216,000.
Gold 6 Ducat ND (1745-1765)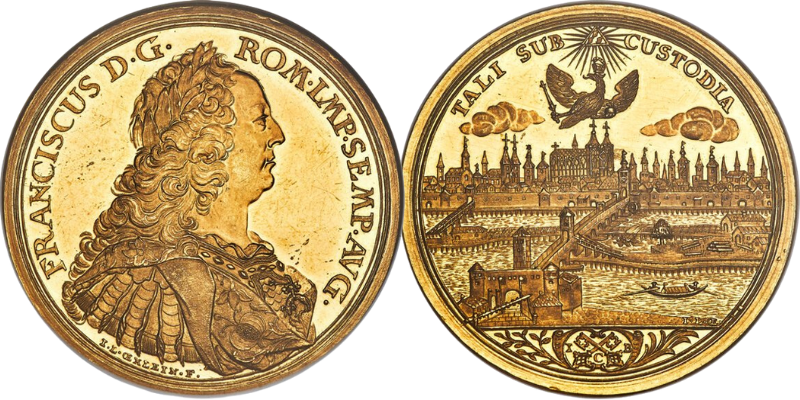 Like many other German city-states, Regensburg issued its currency.
The Roman Empire was the final resting place for this 6-ducat coin.
However, this one was certified as a "mint state" by the NGC, meaning it had never been in circulation.
The quality is so high that it was given a 62* rating. A coin with a star has excellent "eye appeal" or aesthetic quality.
The quality of the strike is nearly identical to that of the proof. It features Emperor Franz I's likeness, name, and various titles on one side.
On the flip side is a picture of Regensburg that is stunning in its attention to detail.
The coin was likely struck between 1745 and 1765, though its date is unknown. There were probably only three of these coins made.
They might have put a symbol on the Dresden Peace Treaty.
One possible explanation is that the treaty was sealed with a coin presented to the head of state of each of the three powers involved.
Regardless of its true provenance, the coin is stunning. In 2021, it was offered at auction and brought in $240,000.
Gold "Death" 10 Ducat (1611)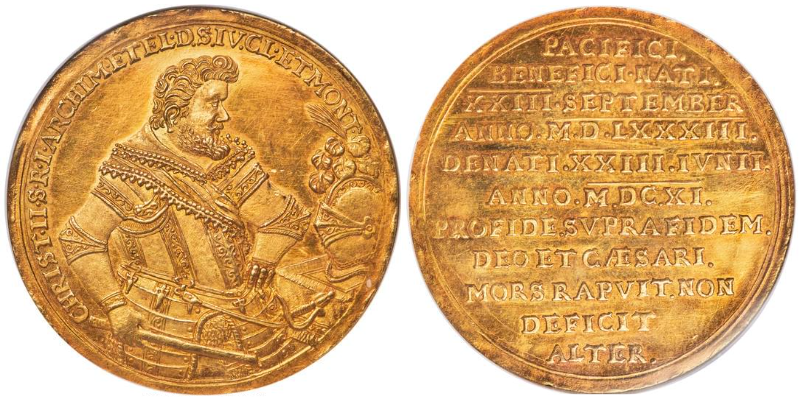 In 1611, the German state of Saxony had this 10-ducat coin struck for use in the region.
It's a beautiful piece that the NGC has certified as MS65*. That classifies it as a "gem," the finest coin type.
Additionally appealing to the eye, as indicated by the star. Prince-Elector Christian II's portrait in armor and helmet is featured on one side.
As indicated by the inscription on the coin's reverse, this was a "death" coin minted to commemorate the Prince's passing.
Only two examples of this rarity have been available at auction in the past forty years.
In 2021, it hit the market with an asking price of $288,000 and sold for that amount.
Gold 15 Ducat (1795)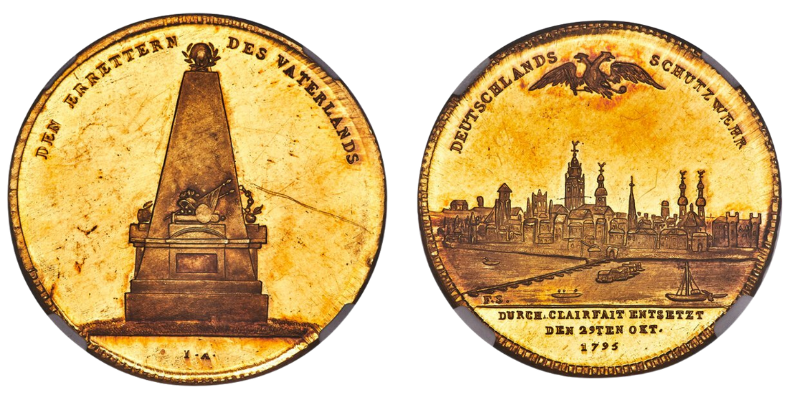 The War of the First Coalition, commemorated on this coin, was a turning point in that war.
The city of Mainz, Germany, which the French had besieged, was finally freed on this day.
There is a stone monument on one side and a view of Mainz on the other.
The NGC awarded the coin its highest possible grade of "mint state 62" and a "star" designation.
The strike is of high enough quality that it may have been made for presentation to a powerful person.
Maybe they had some sort of role in the fighting. Collectors will be especially interested because it is the sole known example.
In 2021, it went to auction and fetched a staggering $300,000.
Gold 20 Ducat ND (1611-1633)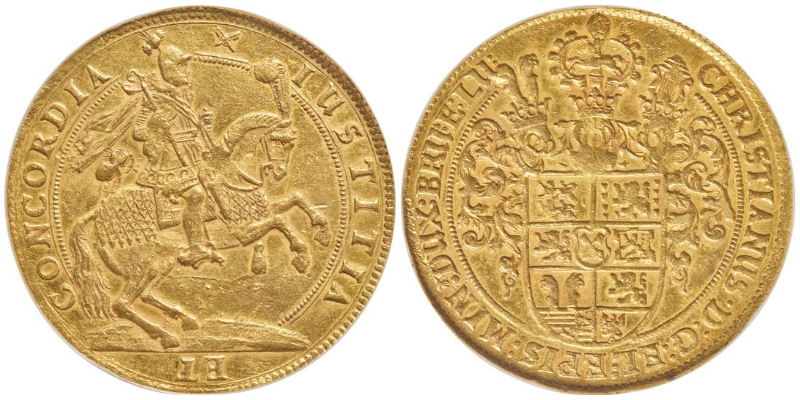 Even at its original face value of 20 ducats, this massive gold coin was extremely valuable.
It was likely made between 1611 and 1633, despite the lack of a dated stamp.
Christian the Elder, depicted on the coin, ruled the principality of Lüneburg during those years. The Bishop of Minden was a man named Christian.
Upon the passing of his older brother, he assumed control of Lüneburg, which he maintained until his passing.
This coin is the only one of its kind known to exist.
Christian's portrait on horseback graces one side, while his coat of arms adorns the other.
The inscription "justice and concord" appears on the coin. Perhaps it's a nod to the imperial troops that occupied the diocese beginning in 1623.
It went up for auction in the year 2021. After adding in the buyer's premium, the total came to $336,000.
Gold 10 Ducat (1695)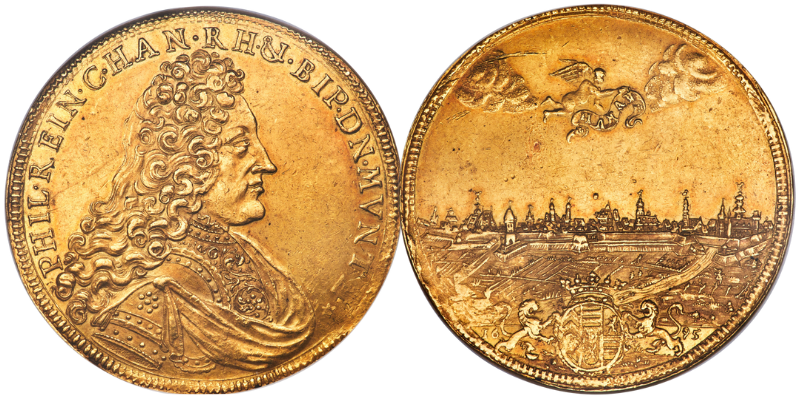 This gold Hanau-Lichtenberg ten-ducat coin is one of only two known to exist.
It was struck in 1695 and is the only coin of its kind. Philipp Reinhard ordered its creation.
The obverse features his likeness, while the reverse features one of the few existing depictions of Lichtenberg.
The obverse "legends" appear to be double-struck. The letters "RE" are discernible below the "TZ." It's not in pristine condition by any means.
With only minor flaws, the NGC designated it as an "almost uncirculated" (AU58) condition.
However, the coin's rarity ensures it will sell for a substantial sum. In 2021, it brought in $372,000 at auction.
Gold 10 Ducat (1623)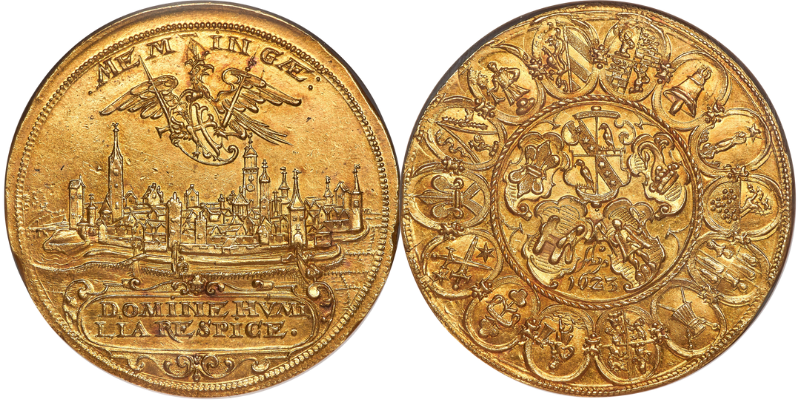 The city-state of Memmingen issued this 1623 coin. It's 10 ducats in value and made of gold. It's of stunning beauty.
The city of Memmingen is depicted in stunning detail on the Obverse.
The back features an intricate design with the coats of arms of the city's mayors and 14 other council members' shields interspersed among them.
The coin is of the Regimenstaler variety. Typically, silver was used to strike these. And this is the only one ever found to be made of gold instead in Memmingen.
Perhaps it was especially struck as a token of appreciation for a high-ranking government official. The NGC certified its pristine condition as 62+.
The final sales price for 2021 was $384,000 (including the buyer's premium).
Before you go…
And so, we have concluded our exploration into the contenders vying for the title of the most valuable German coin. These coins, my friends, are truly a sight to behold. They possess a captivating beauty that is matched only by their immense value. Oh, the stories they tell! Each represents a remarkable moment in the rich tapestry of German state history. They are made of gold, which makes them particularly attractive to those who appreciate a touch of bling in their coins! I hope you've enjoyed learning more about these amazing specimens.
Check out my next article: "Top 9: Most Valuable Mexican Coins!"
Related Articles: