If you're a Funko Pop figure collector, you know that they can quickly get out of hand. Even though they are cute and small, they tend to pile up and become hard to deal with. However, there are ways to organize your Funko Pops so they don't take over your house.
How to Organize Funko Pops?
Organizing your Funko Pop collection can be a fun and rewarding experience but can also be overwhelming.
However, there are several ways to organize your Funko Pops, so we've put together this guide on how to organize Funko Pops for you!
Ways to Display Funko Pops:
Display Using a Bookcase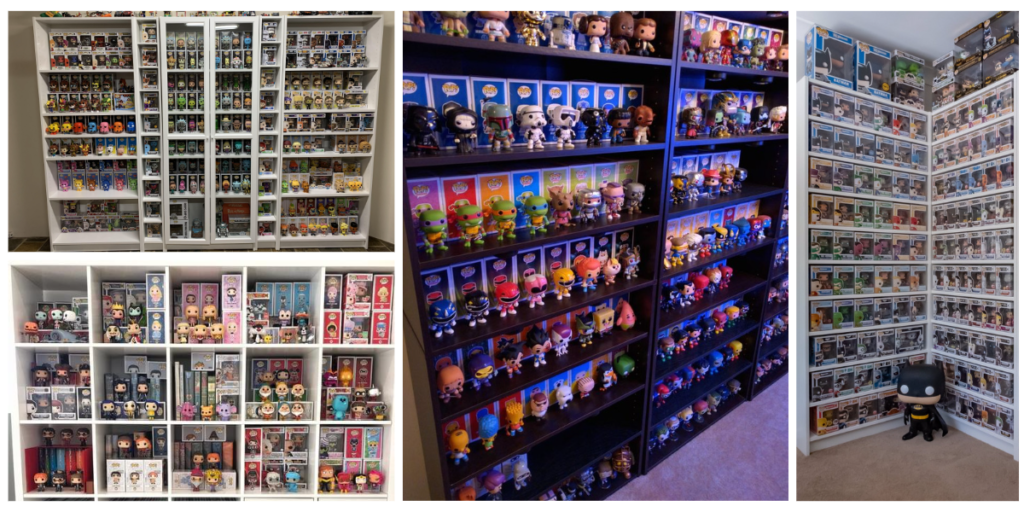 Place your bookcase where it will be easy to see. Look around your house for bookcases that you could use for something else.
For example, if you don't have any extra furniture, you might want to buy or build a new bookcase to show off your figures. If you want people who come to your house to see your Funko Pops, you could put the bookcase in the living room.
Choose a bookcase with shelves that can be moved if you want to buy one. This makes it easier to put your Funko Pops in the right place while still in the box. If you don't want people to see your Funko collection, you can keep it in your bedroom.
Put the Funko Pops you like the least on the top shelves. Sort your figures, putting your favorites in one pile and the rest in another.
Put the Pops you care less about on the top shelves of the bookcase. Even if they aren't your favorites, you'll still be able to view them from a higher level! Put your smaller Funko Pops on the top shelves.
Even though they won't be as easy to see, putting the lighter items on top of the bookcase and the heavier ones at the bottom is better.
Put your smaller Funko Pops on the top shelves. Even though they won't be as easy to see, putting the lighter items on top of the bookcase and the heavier ones at the bottom is better. Put the Funko Pops that are the bulkiest on the lower shelves.
Put your really big figures on the bottom shelves to keep them safe. Even though the extra-large Funko Pops look cool, it's important to remember how the bookcase is built. So, just like how you put the lighter Funko figures on the top shelves, put the heavier ones on the bottom.
Display Shelf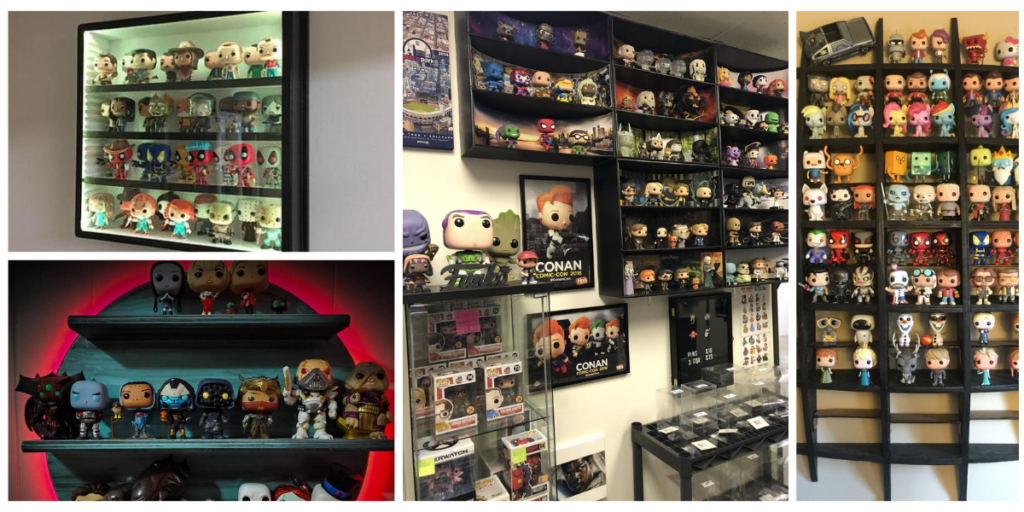 You can set up floating shelves to make creative arrangements for your Funko Pops. You can buy or make a few shelves that you can hang on the wall.
Set them up asymmetrically or in rows along the wall to make it look like a traditional set of shelves. If you want to be more creative, choose triangular floating shelves that will fit in the corner of a wall.
You can show off your Pops at different heights with a shelf that goes up. Put a shelf with risers to arrange your figures uniquely on a flat surface.
Since most Funko Pops are the same height, don't put all your figures out of their boxes in one big group. Instead, put your favorite Funkos at different heights so they can all be seen simultaneously.
You can buy a shelf with a theme to show off Funko Pops from a specific series. Look online for special edition display cases with TV shows, movies, and games. If you have a lot of figures from one franchise, it might be worth buying a special case for them.
Display Cases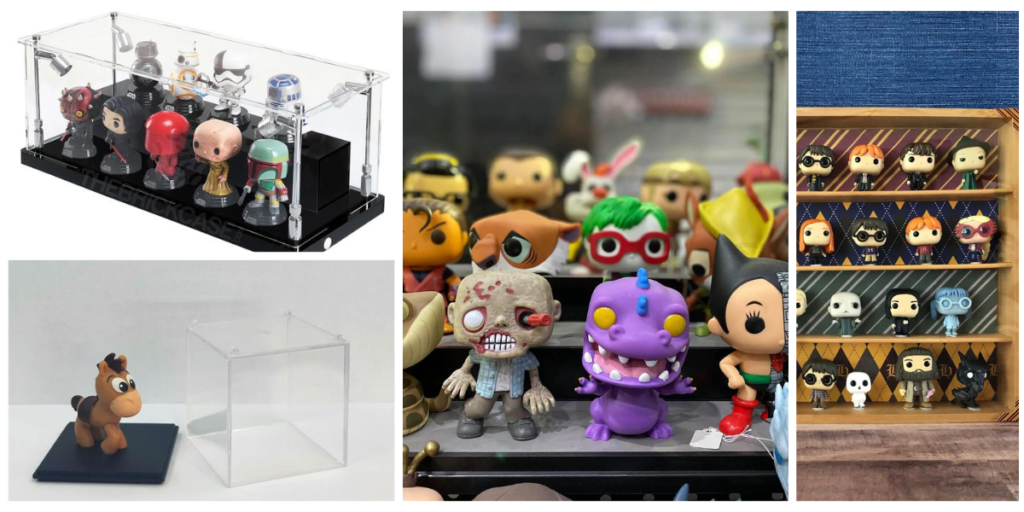 Your favorite Funko Pop can be kept in a special case. Give your favorite figures their display case. Keep your Funko in its box to fill a whole case, or take it out to show it off.
If you want to decorate your home with a splash of color, these cases can fit into small spaces. If you want to show off some of your most-loved Funkos, you can put the mini display case in front of other figures.
Your favorite Funko Pops can also go in an acrylic case. Put together a bunch of figures from the same series, or don't put them in any order.
Use the risers in an acrylic case to show off your Pops as if they were in a class picture. Make sure that all your figures are the same height for this display.
You could also set up a glass case to put your figures somewhere fancy. For example, put your Funko Pops in a tall glass case to make them the center of attention in the room.
This method is about the same size as a bookcase and lets you show off your figures like a store. Larger glass cases cost more than $1,000, so you can use something like this to show off your more expensive Funko Pops.
Another cool way to show off your Funko Pops is to use a baseball bat holder. Start by going to a craft or hobby store to buy a display case for the bats. Use the long and narrow space to make long lines of your Funko Pops. If you want to stay even more organized, give each display case a different series.
Before you go…
We hope this article has helped you organize your Funko Pops collection. We know it can be hard to keep track of all the characters, so we want to ensure we have some tips and tricks to help you along the way! After that, it's up to you how you want to display your collection! Happy Funko Collecting!
Check out my next article: "How To Display Funko Pops Properly?"
Related Articles: