New York City is a hub of some of the best coin dealers in the world. So there are plenty of options if you're looking to buy or sell coins. Here are 10 of the top coin dealers in NYC:
Best Coin Dealers in NYC:
Global Gold & Silver

Global Gold & Silver is one of the coin dealers in New York City. They have a vast inventory of new and old bullion and rare coins.
Their selection of gold and silver coins is awe-inspiring. They have been in the business since 2008!
"I had an appraisal appointment this afternoon at Global Gold and Silver. They are very knowledgeable, patient and professional. Im very happy with the service they provide."

Kris S.
Brigandi Coins & Collectibles

Brigandi Coins & Collectibles is a family-owned business serving the New York City area since 1959.
Brigandi Coin Company is a dealer of rare sports memorabilia, baseball cards, rare U.S. coins, paper currency, and precious metals (Gold, Platinum, and Silver).
Their clientele is a group of distinguished collectors who demand quality vintage memorabilia to add to their extensive collections.
In addition, they love to collect and enjoy the history of each piece of memorabilia. The Brigandi family has collected beautiful antique items dating back to the 1940s.
Today, they still collect exceptional sports and rare numismatic pieces, many of which are displayed in their Manhattan store.
Their reputation for purchasing only the best items at the highest prices is well-known among dealers worldwide.
"Over several years I have done business with the Brigandi family. Their professionalism and wonderful rapport made every experience delightful. I have recommended them often and will continue to bring my wares to them always."

Patrice N.
Vieira Coins & Collectibles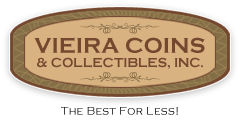 Vieira Coins & Collectibles specialize in coins and paper money from the U.S. and worldwide, as well as wholesale coin and collectible supply. Besides coins and paper money, they buy Gold, Silver, and watches.
They can ship worldwide and accept PayPal, major credit cards, and money orders. Vieira Coins & Collectibles is your premier Webshop and coin shop in New York City.
"Friendly guy, gave me a very fair price on some coins I had in my collection. Quite literally sold them to Vieira for *3 times* what any dealer in Manhattan offered me, so I'm glad I decided to stop by here after getting a couple of lowball quotes."

Ben K.
Stack's Bowers Galleries

Stacks Bowers has had a location in Midtown Manhattan since 1933. Over the past 83 years, they have auctioned collections for royalty, museums, institutions, famous collectors, and regular clients worldwide.
Today they buy and sell millions of dollars worth of rare coins and precious metals from their retail location at 123 W 57th St.
In addition to doing a large business directly buying rare coins, they also hold the regular coin and currency auctions several times a year.
"The highly professional employees here make doing business an honest, hassle-free affair. They're welcoming, patient and you know you're in a good place the moment you enter. I had previously visited shops on 47th and the experience can be likened to a hellscape. I was shocked at how patronizing and dishonest they were. Conversely, I was thrilled with the experience I had here. I'll definitely be back!"

Jenni S.
Astoria Coins & Collectibles Corp.

One of the oldest stores left in Astoria, Queens! This historical coin shop is a time machine for nostalgia!
It has been around in the same spot (30th ave & 21st) since the 1960s and the same Astoria family since 1975!
Astoria Coins and Collectibles Corp was established in 1994. This shop is like no other place you will ever visit!
Whether you are from the neighborhood or just passing through, it's a must-see! But plan and be sure to make an appointment first!
"I need 10 Stars to effectively rate Frank and Jennifer's fabulous coin shop. This was my second time visiting with them and I could have stayed all day. Their knowledge and kindness shine through with every transaction. They are customer focused and go above and beyond to help whether you are looking for a unique gift or wanting to sell your treasured coins."

Linda A.
Bullion Trading

For over 25 years, they have offered the best customer service and the narrowest spread in prices at their 47th Street location.
As direct buyers, there is no middleman, and their up-front disclosure of all fees means that you know exactly what you will have to pay.
In addition, they maintain an extensive inventory, so you can count on finding the right items to build your portfolio while buying gold or silver bullion in NYC.
Bullion Trading LLC is licensed with the NYC Department of Consumer Affairs and BBB accredited; they pride themselves on fair pricing as part of their standard sales approach.
Whether wholesale or retail, a seasoned investor or a beginner, you receive the best price every time you deal with their knowledgeable, highly trained staff.
As with their gold bullion, they can also offer a wide selection of choices for purchasing silver bullion in NYC.
Since bullion is a broad term encompassing bars, rounds, grains, and coins, you have many options for owning a secure investment.
"We were searching for gold coins on 47th, and had horrible experiences. Folks were generally very slimy, and it felt unsafe. We found Bullion Trading using an online search, and went on over. Although it's an avenue of the Americas address, the building entrance is on 45 th. It was a nice experience. The person who helped us, Elizabeth, was awesome.

The prices were consistent with prices for similar sized small coins that we received at another store on 57th, (but the stoe on 57th didn't have any in stock). Since the coins were a gift, Elizabeth coordinated with the owner Isaac, to find some nice coins that were packaged. We saved over $90 over what was being charged on 47th. It was a very positive experience, and Elizabeth and Isaac were very knowledgeable in all the various coins."

Eric T.
Bullion Exchanges

Bullion Exchanges is a reputable precious metals retailer with industry expertise located in the heart of the Diamond District.
They are considered one of the top coin dealers in NYC. Bullion Exchanges carries a wide variety of products including, but not limited to, metals like the ever-popular gold and silver and the newly emerging platinum and palladium.
As one of the top online and brick-and-mortar coin dealers in NYC, they offer products and services that appeal to first-time precious metals buyers, coin collectors, and long-term investors.
At Bullion Exchanges, they buy gold, silver, platinum, and palladium bullion directly from mints and distributors.
This ensures the highest quality product arrives in brand-new sealed tubes unless otherwise noted.
In addition, upon arrival at their facilities, all products are thoroughly examined by their quality assurance team, which provides their customers with added confidence that they are being sold in brand new, mint condition.
"Bullion Exchanges is the best place to purchase metals. I have done price comparisons with other online dealers and Bullion Exchanges always seem to be the cheapest. The products I have received from Bullion Exhanges have been in mint condition.
The staff at the front desk are friendly and knowledgeable. I plan to purchase from Bullion Exchanges in the future."

Kam H.
Lou's Coin Shop
Your local specialists in all things historical, curious and collectible, including rare books, ancient and foreign coins, war memorabilia, tokens, trinkets, etc.
They buy and sell. They're also interested in more recent artifacts of human culture, including comic books, tabletop miniatures, and video games.
"I was looking for a few specific items, the kind gentleman allowed me to look and there I found the things I was looking for and much more. I was delighted with his knowledge and his friend "bookey" 's input. All around very good. Honest and clean business."

Slavic Z.
American Coin & Stamp Co Inc

Their extensive inventory allows them to cater to beginner and advanced coin collectors with discriminating tastes, whether buying or selling your collection.
Being confident that they're over half a century of experience makes American Coin and Stamp Co. INC your choice and a name you can trust.
"This place should be everyone's go-to for coins and stamps. They have an extremely wide selection of coins, very fair prices, and a very nice staff. I've been here several times and every time have walked out with more than I expected to buy. Anything you can think of, they carry. The two guys behind the counter are both very knowledgeable, and don't try to waste your time. I will definitely continue to shop here!"

Noah M.
Staten Island Coin Investors
In business for over 40 years, They offer private consultation and appraisal of your holdings. They have been in the business since 1978.
They had two stores in Staten Island. However, the rent became excessive, so now they do business by appointment.
They will come to you! They pay the highest prices Since they no longer have rent to pay. It is more private and secure, so you don't have to lug your collection around.
"Professional and knowledgable.  Was more honest than anyone I've dealt with in this business."

Robert D.
Before you go…
We hope you enjoy our list of the ten best coin dealers in NYC and find it helpful. Make sure to check these places out while in New York City to avoid being ripoff by scammers!
Check out my next article: "13 of the Best Coin Dealers in Ottawa."
Related Articles: